The 50 Best Free Tourist Attractions in the United States
They say the best things in life are free. In terms of fantastic travel destinations, this timeless phrase rings true. From the awe-inspiring ancient million year old rock formations of Sedona, to the Saguaro studded Sonoran desert, to the white sand beaches of Florida's Gulf Coast, to man-made marvels like the Golden Gate Bridge and the monuments of Washington D.C., free natural and architectural wonders are all around us waiting to be explored.
Check out this list of 50 fantastic free tourist attractions. With waterfalls, scenic drives, historical points of interest, art and history museums, beautiful hiking trails, and more, you can easily find somewhere free and fabulous to base your next travel adventure around!
In no particular order…
1. Bellagio Fountain show
The most marvelous thing to do on the Vegas Strip is not gambling, dining at an award-winning restaurant, or seeing a grand show. The top thing to do in all of Vegas is watching the spectacular Bellagio Fountain show, a choreographed dancing music show on the resort's 8.5 acre man-made lake. More than 1000 fountains dance to all types of tunes (from classical to rock) as water shoots up to 460 feet in the air. Each show is truly unique, so you can enjoy this wonderful free attraction no matter how many times you visit Vegas.
2. The Freedom Trail
Explore some of the most prominent historical sites in one of the country's most beautiful and historically significant cities. A 2.5 mile walk along a brick trail will take you to 16 points of interest including Boston Common, the country's oldest park, the Old State House (built in 1837 – the oldest surviving building in Boston), Faneuil Hall (built in 1742 – America's first town meeting site), and The Paul Revere house (built in 1680 – Revere's home during The American Revolution). The architecture along the trail is mesmerizing and there are plenty of opportunities to enjoy fresh seafood and authentic Italian food.
A full guide to exploring The Freedom Trail
3. Golden Gate Bridge
Take a thrilling walk across the country's most iconic suspension bridge. Bridge construction began in 1933 and ended in 1937. The now iconic bridge opened up transportation from San Francisco to Marin County. Today, the trademark orange color and art deco appeal draws over 10 million tourists per year. The 1.7 mile long pedestrian path can be enjoyed via walking, biking or a free tour (advance sign up required). Plan on 30-45 min. Additionally, the Golden Gate National Recreation Area offers a number of trails featuring beautiful viewpoints of the bridge.
Read more about the history of the bridge
4. Central Park
The country's most beautiful (and first landscaped) urban park is located right in the middle of the hustle and bustle of America's most exciting city. No trip to New York City would be complete without a stroll through this iconic park. From summer lilies and peonies, to spring cherry blossoms, to autumn foliage, to ice skating in the winter, there is a picture-perfect scene no matter the season. Besides enjoying the beautiful cityscapes, there are plenty of free attractions to enjoy including the Strawberry Fields John Lennon tribute.
5. Cloud Gate sculpture at Millennium park
"The Bean," as it is referred to by locals, is an amazing work of art by British artist Anish Kapoor. Do take advantage of seeing one of the world's largest permanent art displays while visiting The Windy City. It is located in Millennium Park, a popular destination for free summer concerts and winter ice skating (free if you have your own skates!). The reflective nature of the shiny sculpture (with the beautiful skyline in the backdrop) makes for a fun picture taking destination.
Millennium attraction and event guide
6. Chicago Lakefront Path
With a prime location along beautiful Lake Michigan, this 18.5 mile long recreational path is easily one of the country's most active and scenic. There is no better place in the country to enjoy urban scenery, beautiful waterfront views, and urban amenities all in the same place. Free attractions along the route include: Navy Pier, Buckingham Fountain, beaches and parks, and the Lincoln Park Zoo. Amazing skyline views present throughout. If you feel like shelling out a few bucks, the gorgeous Museum Campus lies directly on the route (The Field Museum and Art Institute are well worth the admission price).
7. The Strip
All the glitz and glamour of the man-made entertainment extravaganza known as The Strip has made Vegas one of the top tourist destinations in the world. While taking a Vegas vacation can mean spending big bucks gambling, shopping, and seeing premier shows, there are plenty of free attractions. Just taking a walk down The Strip will give your eyes plenty to feast upon. From lifelike replicas of famous monuments like the Eiffel tower, to free fountain shows, to the stunning Wynn Gardens and Bellagio Conservatory, you don't need to spend a dime on any entertainment.
8. Griffith Observatory
The world's most visited observatory lies amidst all the traffic and congestion of Los Angeles. While the city is more known for Hollywood and movie stars, there are plenty of gorgeous hiking trails and outdoor activities to enjoy. In 1896, the land which the Griffith sits on was donated to the public by philanthropist Griffith J. Griffith who believed astronomy should be accessible to all. On a clear night, you can stargaze and enjoy dazzling night views of the L.A. skyline. By day, you can hike your way through the Santa Monica mountains, enjoying tremendous views of the entire valley, as well as up close and personal views of the famous Hollywood sign.
9. Indian Rocks Beach
Florida's Gulf Coast beaches have long been considered some of the best in the world. With beautiful white sands and crystal clear waters, tourists flock from around the world to swim, sunbathe, and enjoy the abundant sunshine. Indian Rocks is a little gem located just 30 miles outside of Tampa. One of the few beaches not surrounded by much commercialization, it maintains an old-fashioned "Old Florida" appeal. Big waves for swimming, excellent shelling, and frequent manatee sightings are just an extra bonus!
The best free things to do on Florida's Gulf Coast
10. Sedona aka "Red Rock Wonderland"
Sedona is easily one of the most mesmerizing places in the world. If you love nature, hiking, and natural health, there is no better vacation destination in the US. Towering red rock formations surround the entire region and there are seemingly endless jaw dropping hiking trails to take in the marvelous scenery. Various scenic drives and overlooks allow non-hikers to also enjoy the scenery. New age shops, galleries, boutique shops, health spas, and healthy restaurants have made Sedona a popular health destination. The high desert community is located about an hour and a half north of Phoenix and just a half hour outside of Flagstaff, another beautiful & active mountain destination.
11. Savannah historic district
For any history lovers out there, Savannah definitely ranks amongst the best tourist destinations. There is so much to see and do packed into the tiny historic district. With 22 beautiful public squares, pretty parks and fountains, beautiful inns, and historic churches, you will want to bring a good camera. It's easy to explore the city on your own 2 feet due to the easy to navigate grid layout. Highlights include Forsyth Park with its' iconic centerpiece fountain, the Cathedral Basilica of St. John the Baptist (built in 1839), Bonaventure Cemetery (from Midnight in the Garden of Good and Evil) and Chippewa Square (home to the famous Forrest Gump bench scene).
12. Siesta Key Beach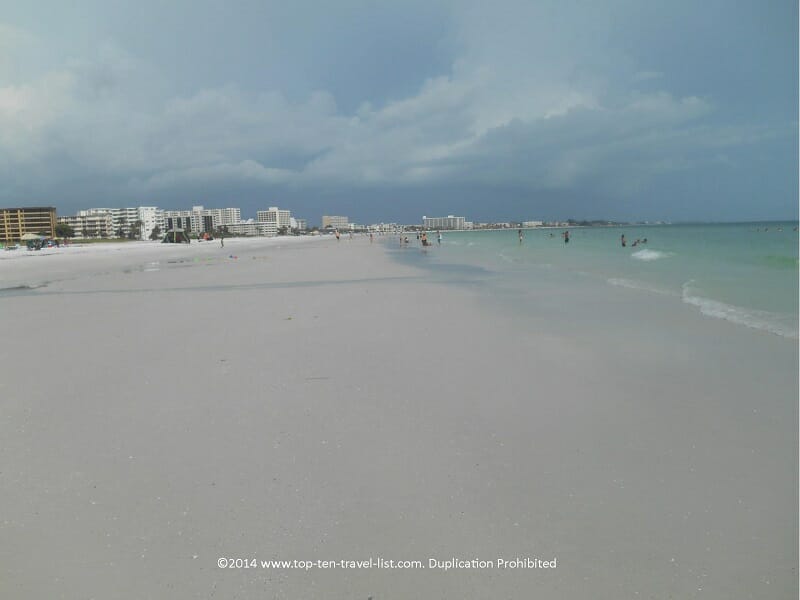 This Sarasota gem features the whitest and softest sand you will ever set foot upon. In fact, the sand is so spectacular that the beach hosts an international sand sculpting competition every year. Tourists flock from all over the world to enjoy the wide stretch of sand and the clear waters which seem to stretch on forever (8 miles in fact!). After your day at the beach, take a stroll around lovely Siesta Key Village, lined with lush plant life, and beachy restaurants and cafes.
13. Smithsonian Museum of Natural History
With 17 massive Smithsonian museums to explore in the Nation's Capital, you can easily spend weeks enjoying incredible historical artifacts and beautiful art pieces. The Smithsonian Museum of Natural History draws plenty of crowds thanks to an extensive fossil collection, a brilliant Hall of Geology, and dozens of realistic lifelike dioramas featuring mammals of North America and Africa in their native habitats.
Full guide to exploring the Smithsonian Museum of Natural History
14. Rockefeller Center Christmas tree
One of the prime destinations in Midtown Manhattan is Rockefeller Center, home to the Radio City Music Hall, NBC Studios, and the official Lego and Nintendo Store. Tourists line up early in the morning to enjoy their 15 minutes of fame on The Today Show and free tickets can be obtained (submit request in August for the lottery) to see Saturday Night Live. Most famously, the Center is home to the nation's most stunning Christmas tree. Dating back to 1933, it's one of the country's oldest and most famous tree lighting ceremonies. Join the likes of millions of tourists from around the world (and Kevin from Home Alone 2) at the nation's most iconic tree.
15. La Jolla Cove
San Diego is home to many lovely beaches, some great for beachcombing, others for surfing, sunset viewing, and amusement rides. La Jolla Cove is quite iconic in that you can see dozens of sea lions and seals in their natural habitat. On any given day, you are bound to see them lounging in the sand or on the rocks. Snorkeling, kayaking, and scuba diving are also popular.
More beautiful pics from La Jolla Cove
16. Hiking trails in the Sonoran Desert
The Sonoran Desert of Arizona is one of the most enchanting places in the world. Only in this desert, which happens to be the wettest and most lush in the world, does the exotic Saguaro cactus grow. Seeing this rare plant upclose, as well as many other species of cacti, is truly a once-in-a-lifetime experience. There are so many fantastic and free trails to enjoy throughout the state, primarily in the vast open spaces of land surrounding Phoenix and Tucson. A few of the best free options:
South Mountain Park – 50 miles of trails at one of the country's largest municipal parks.
Camelback Mountain – Iconic hike to the summit of the tallest mountain in Phoenix.
Phoenix Mountain Preserve – Nature oasis in the heart of Phoenix. HIke to Piestewa Peak for amazing views.
Tumanoc Hill – Iconic uphill (700ft elevation gain) Tucson hike up to 3108 foot mountain summit.
Sweetwater Preserve – 13 miles of trails meander through diverse desert plant life. Great mountain vistas.
17. The Rocky Steps & Statue
Recreate one of the most iconic movie scenes of all time at the world renowned Philadelphia Museum of Art. The famous scenes where Rocky ran up the steps during his training with "Gonna Fly Now" in the background is one of the most iconic movie moments of all time. Not only can you enjoy your own movie moment, but you can enjoy one of the best art museums in the world for free (pay-as-you-wish) every Friday night. Also be sure to take your pic by the Rocky III statue located just next to the museum.
18. Torrey Pines State Natural Preserve
This nature oasis is located within the San Diego city limits, yet feels a world's away. The 2000 acre coastal gem is home to miles of beautiful trails. While most of the trails are quite short, the views are nothing short of spectacular. With views of the Pacific Ocean, wildflowers, cacti, and ferns, your eyes will never be bored. Swimming and surfing are very popular at what easily is one of San Diego's most picturesque beaches.
More details on beautiful Torrey Pines
19. Clearwater Beach
Dig your toes into the soft white sand of this iconic beach, a frequent recipient on many "best of" lists. In addition to wonderful beach walking and sunbathing conditions, Clearwater is one of the liveliest destinations on the Gulf Coast. Pier 60, a popular tourist attraction, features an 1080-foot fishing pier, a baithouse, and telescopes. The nightly Sunsets at Pier 60 festival features vendors, free weekend movies on the beach, and live entertainment.
More pics of gorgeous Clearwater
20. New York Public Library
Take a self-guided tour of one of the most magnificent buildings in New York City. The main branch located in Bryant Park is nothing short of amazing. The Beaux-Arts style building (built in 1911) is fascinating both inside and out. Outside you will likely remember the lions featured in the opening credits of Ghostbusters. The beautiful Main Reading Room (pic above) was site of the famous 1st ghost encounter scene. The murals throughout the building are quite incredible and the architecture alone warrants a tour. Also of interest is an original manuscript of the Declaration of Independence.
History of the New York Public Library
21. Blue Ridge Parkway
This breathtaking 469 mile drive has been nicknamed "America's Favorite Drive." Considering the path runs from the beautiful Great Smoky Mountains in Tennessee to Shenandoah National Park in Virginia and features gorgeous mountain scenery throughout, it's no wonder why. With so many enchanting waterfalls and hiking trails to enjoy, plus numerous attractions, the Parkway is a wonderful vacation destination for nature lovers and photographers alike. Stay in nearby Asheville and enjoy convenient access to the Parkway, plus easy access to the town's renowned art galleries and restaurants.
Best Parkway attractions, waterfalls, and summit hikes
22. "The Land of Waterfalls" – Western North Carolina
The mountainous portion of Western North Carolina is home to over 250 waterfalls. As one of the most concentrated waterfall regions in the country, it's an easy bucket list contender for nature lovers. These wonders of nature are located within the mesmerizing Pisgah National Forest, as well as the North Carolina side of the Smoky Mountains. Some are easily viewable by the road, while others require a hiking adventure through beautiful wooded forest. Highlights include:
Whitewater Falls – The highest in the state at 411 ft
Looking Glass Falls – A 60 foot tall roadside beauty
Linville Falls – A 150 foot waterfall in the gorgeous Linville Gorge
Soco Falls – Enchanting double waterfall on the Cherokee Indian reservation
Deep Creek Triple Falls – 3 waterfalls via one hike in Bryson City (Smoky Mountains)
The best waterfalls of North Carolina
23. The Magnificent Mile
One of the country's most prestigious shopping districts is Chicago's magnificent mile. The bustling 1 mile street is home to many upscale shops, restaurants, and hotels. Although you could drop some major cash here, it's a wonderful place to window shop and take in the city's gorgeous architecture. From the 100 story John Hancock building, to the 74 story Water Tower place skyscraper (opened in 1975 as the city's first indoor mall), to the 36 story neo-Gothic Tribune Tower skyscraper (now a luxury residence), architectural marvels surround you in every direction. Free events occur throughout the year including one of the city's top Christmas events: the Magnificent Mile Lights Festival.
24. Library of Congress
One of the most gorgeous buildings to explore in D.C. is The Library of Congress. Founded in 1800, it's the oldest cultural institution. Free self-guided tours are open to the public, although timed tickets must be booked online in advance. The gorgeous design was based off the Paris Opera house. Everywhere you turn you see another gorgeous mural or mosaic – it truly is a visual masterpiece. The main Reading Room with its' domed ceiling is particularly stunning. The library holds a number of important historical documents including Jefferson's rough draft of the Declaration of Independence.
History of the Library of Congress
25. Bellagio Conservatory gardens
The beautiful Italian themed resort remains one of the best in Vegas despite many flashier and newer additions. The Bellagio Conservatory is one of the premier attractions on The Strip, and fortunately, it's free for all to enjoy. Each season, the 14,000 acre space changes to reflect the sights and sounds of the season. The Christmas display, featuring thousands of poinsettias, is by far the most spectacular. 2022 featured a "Gingerbread Dreams" theme featuring a 42 foot tree with 10,000 lights and over 8000 ornaments, a gingerbread village, and Coca Cola polar bears constructed of hundreds of carnations.
26. US Capitol building tours
A tour (advanced reservations required) of the beautiful US Capitol building is a must-do on any first time visit to D.C. Tickets are free and include a 45 min-1 hour guided tour through The Crypt, the Rotunda, and the National Statuary Hall. You will learn lots of unique historical tidbits, plus see some really incredible architecture including 2 statues (of prominent figures) representing each state. The murals are unbelievable, especially the Apotheosis of Washington in the eye of the Rotunda.
27. New England fall foliage tours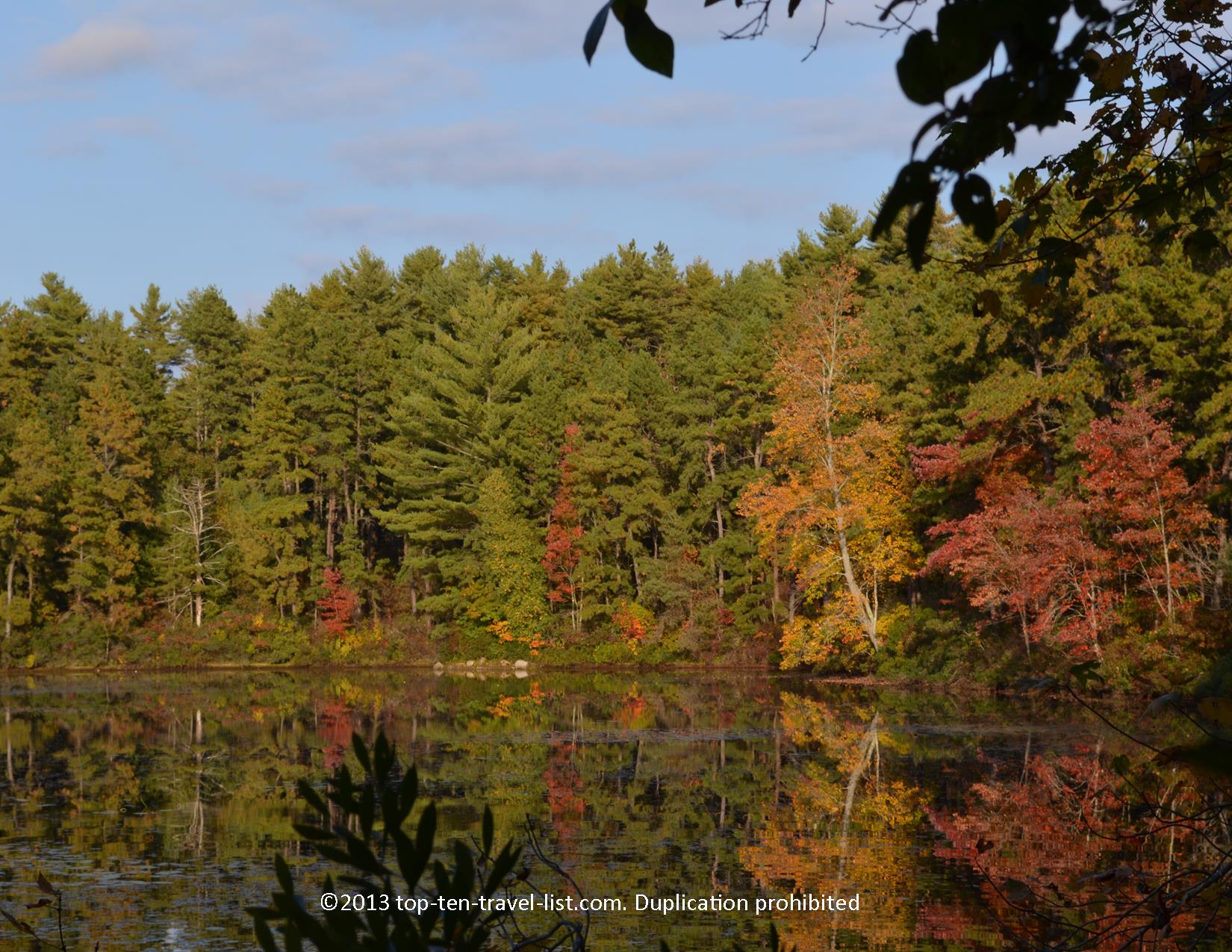 The New England states of Maine, New Hampshire, Connecticut, Vermont, Rhode Island, and Massachusetts are easily the most gorgeous places to be during the peak of fall. Whether via hiking, boat rides, or scenic drives, there are endless places to enjoy the vivid hues of autumn. Fortunately, there are so many wonderful free state parks to enjoy. A few of the best free fall foliage hotspots:
Myles Standish State Forest – Gorgeous 13,000 acre forest in Southeast Massachusetts near historical Plymouth.
Minuteman Bikeway – Gorgeous 11 mile paved bike trail through the beautiful Boston suburbs.
Blue Hills Reservation – Large recreational oasis just 10 miles outside of Boston.
Devil's Hopyard – Gorgeous Southeastern CT state park home to a covered bridge and waterfall.
Roger Williams Park – Large park featuring numerous recreational facilities and a zoo.
28. Niagara Falls
An eighth world wonder is an unofficial title given to mesmerizing places which didn't make the original seven world wonders ranking. Niagara Falls is oftentimes considered one of the "7 natural wonders of the world." While it is not the tallest waterfall in the US, it is an enchanting site worth putting on your bucket list. It is considered the most voluminous due to the high flow rate. Niagara Falls is composed of 3 waterfalls: Horseshoe, American, and Bridal Veil. While many attractions are pricey, it's free to view the falls via the observation deck and hike at beautiful Niagara Falls State Park.
29. Coconino National Forest
The largest ponderosa pine forest in the world lies within the Coconino National Forest in Flagstaff. The northern portion of Arizona is a nature lover's dream destination with enough gorgeous hiking trails to last a lifetime. Northern Arizona sees a 4 season climate with attractive 80 degree summers. Thus, it's no surprise that Phoenix residents flock here in droves to escape the heat of the desert. Many trails feature gorgeous views of the San Francisco Peaks, the state's tallest mountain range at 12,637 ft. Some are fall foliage hotspots, while others are perfect for a tranquil winter snowshoeing adventure. Take a look at a few of the best!
Aspen Nature Loop – 1.5 mile stroll featuring wonderful views of nearby volcanic fields.
Cookstove Trail – Rough 0.7 mile uphill climb to a premier viewpoint of Oak Creek Canyon.
Inner Basin trail – 1.7 mile uphill climb through dense aspen groves. Best fall color hike in the West.
Slate Mountain – Gorgeous 2.5 mile hard hike to an amazing overlook of the San Francisco Peaks.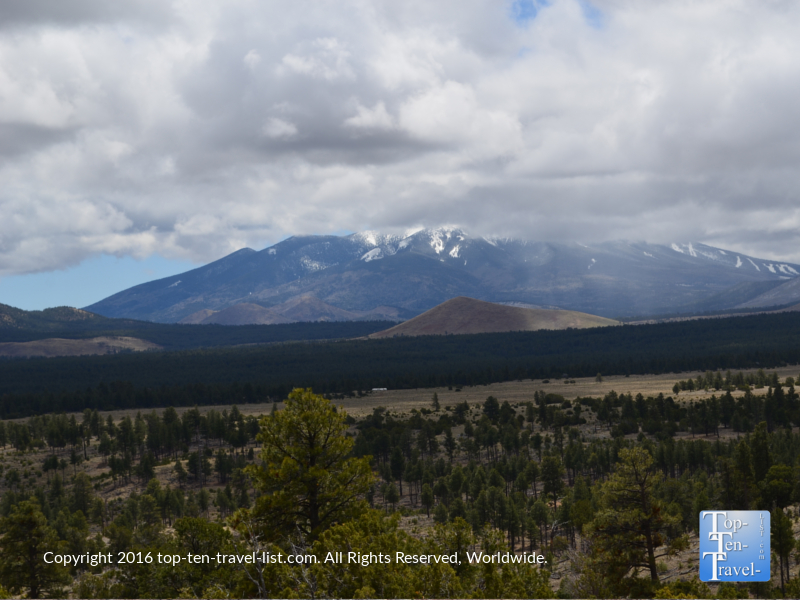 30. Brandywine Falls at Cuyahoga Valley NP
The most scenic waterfall in the Midwest can be easily accessed via a short, yet scenic hike at Cuyahoga Valley National Park. As one of the nation's few free national parks, Cuyahoga is definitely worth going out of your way for, especially if you are visiting the Cleveland region. In addition to seeing this magnificent 60 foot waterfall wonder, there are a number of great hiking trails, plus a scenic train ride and a popular paved biking trail.
31. Great Smoky Mountains National Park
The beautiful Smoky Mountains of Tennessee are another wonderful free national park to add to your bucket list. Not surprisingly, the Smokies are the most visited national park in the country with over 14 million tourists per year. There is so much to see and do here including wildlife watching (the park is home to the largest concentration of black bears), scenic drives (the 5.5 mile Roaring Fork Motor Nature trail is stunning), hiking trails, and waterfalls (Laurel Falls is an easy accessible 1.5 mile hike). While many attractions can be pricey (like the new Skybridge) – there are more than enough beautiful hikes to keep you occupied.
33. Fall color hikes at Arizona Snowbowl in Flagstaff
Flagstaff, located in the northern portion of Arizona, is easily one of the most beautiful towns in the country. Surrounded by the San Francisco Peaks and located within the country's largest ponderosa pine forest, there are more than enough gorgeous hikes to keep you busy your entire trip, no matter how long that may be. One of the best areas for nature lovers, Arizona Snowbowl, is one of the best leaf peeping destinations in the country. The aspen trees transform into the most magnificent golden yellow hue each fall. A few mesmerizing fall color hikes to add to your bucket list:
Aspen Nature Loop – Gorgeous 1.5 mile hike through colorful aspen groves. Great mountain views!
Veit Springs – Contrasting ponderosa and aspens line an easy 2 mile nature stroll.
Arizona trail – Lengthy trail with many access points. Start your adventure at Aspen Corner, a prime leaf peeping destination.
34. "The Strand" bike path
Nothing says Southern California like beautiful sandy beaches, volleyball and surfing, palms trees, and sunshine. You can enjoy it all on the 22 mile long Marvin Braude aka "The Strand" bicycle path. This is hands down the most scenic, lively, and active beachfront biking path in the country. You will get in a great workout, plenty of sunshine, and also have the opportunity to enjoy various iconic sites along the way including the Santa Monica Pier, Manhattan Beach, and Venice Beach.
More free things to do in Southern California
35. The Cincinnati Museum of Art
This beautiful, large, free museum's claim to fame is being the first purpose built art museum west of the Mississippi. If you find yourself visiting Cincy, you will definitely want to put seeing the expansive collection high up on your bucket list. With more than 67,000 works, spanning a time period of over 6000 years, you could easily spend a few hours taking it all in. The gorgeous Romanesque Revival building opened in 1881. Particularly impressive is the East Asian art collection which happens to be one of the oldest and most impressive in the US.
Explore the Cincinnati Art Museum
36. Mt Lemmon Scenic Byway
This stunning drive begins just a few miles outside of Tucson at an elevation around 2000 feet. Over the span of 27 miles, the scenery changes from exotic cacti to green pine trees as you reach the base community of Summerhaven. At 9157 feet, Mt. Lemmon is a cool escape come summer and a fun snowy destination come winter (it's home to the southernmost ski resort in the US). It's also one of the only places to see fall foliage near Tucson. Start your adventure with a vigorous 4 mile hike along the Aspen and Marshall Gulch loop trail.
More free things to do in Tucson
37. Independence Hall tours
Every history buff should plan a visit to "the birthplace of America." Philadelphia is home to "America's most historic square mile" with more than 60 National Historic Landmarks comprising the area. Most notably, the iconic Liberty Bell and Independence Hall draw millions of tourists per year. Free tours of Independence Hall, where the nation's most important founding documents were signed, is a must-do on any first timer's trip to the historic city. Tours are 15-20 minutes long and will take you to the Assembly Room where the Declaration of Independence and US Constitution were signed.
38. Waterfalls of the Columbia River Gorge
If you love waterfalls, then you will definitely want to plan a trip to Portland, Oregon. From here, you will have easy access to more than 90 waterfalls in the beautiful Columbia River Gorge. This spectacular canyon is 80 miles long, up to 4000 feet deep, and separates the states of Washington and Oregon. Here are a few of the top waterfalls to see:
Multnomah Falls – 620 foot beauty is the tallest in the state and the most visited natural site in the Pacific Northwest.
Latourell Falls – This 294 ft beauty is the closest to Portland.
Horsetail – 176 foot beauty featuring a most unique shape.
More info on the Columbia River Gorge
39. Redwood National and State Parks
The stately redwood trees are amongst the most majestic trees on earth. The California coastal redwoods are the tallest trees on Earth, growing to a height of 300 to 350 feet. One of the most beautiful places in California is Redwood National and State Parks, a protected area of beaches, forests, and grasslands along the Northern California coast. There are numerous means to take in these natural beauties including scenic drives, hiking trails, and bike paths. On the 1st Saturday of each month, you can enjoy a scenic bike ride on the Newton B. Drury Scenic Parkway (during this time, the road is closed to vehicles).
More ways to take in the beauty of the Redwoods
40. The world's largest bicycle museum
Bicycle Heaven is one of the most popular attractions in Pittsburgh. This small free museum is jam packed with vintage bicycles. From rare Bowen Spacelanders (worth up to a whopping $40,000 today in mint condition) to famous movie bikes (from Pee-Wee Herman's iconic red ride to Beatles and Happy Days themed bikes), there is so much retro to take in here. With funky nostalgic memorabilia, a Neon sprock room, and more classic rides that you could possibly imagine, a visit to Bicycle Heaven is a true blast to the past.
More freebies in the Pittsburgh metro
41. Alligator Alley at Circle B Reserve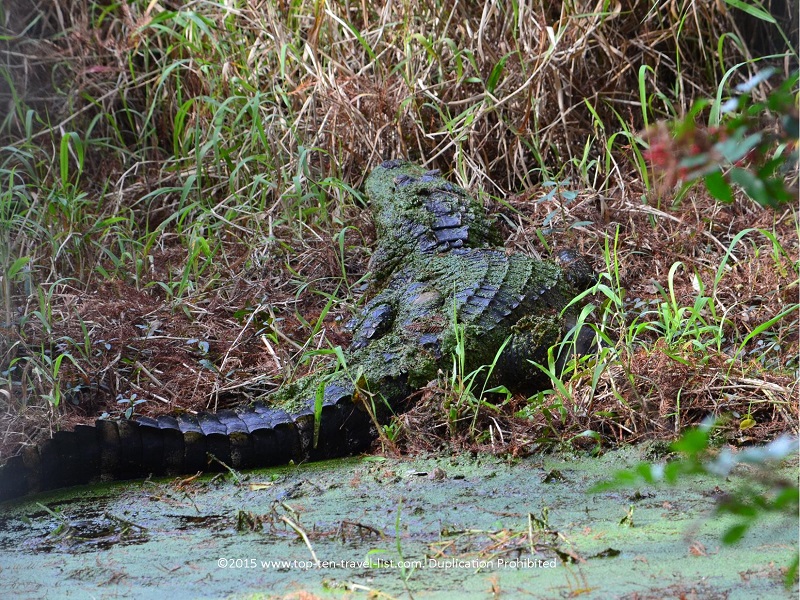 Assuming you do not have herpetophobia (a fear of reptiles including alligators), a visit to Circle B. Bar Reserve in Central Florida is a must-do. This park is home to Alligator Alley, a 1 mile shady trek through an oak canopy. You are bound to see lots of alligators at this park, some a bit too close to comfort. If you would like to see lots of animals (including armadillo and gopher tortoises) enjoying their natural environment, then this is definitely the place to be. Also a great bird watching destination. Keep your distance and follow proper safety procedures at all times!
The best free things to do in the Orlando region
42. San Juan National Forest recreation
This massive 1.8 million acre forest in southwestern Colorado is a true gem for nature lovers to explore. Adventure awaits with hundreds of miles of trails to enjoy, plus opportunities for mountain biking, fishing, skiing, and horseback riding. Fall is the best time to plan your trip as the high elevation forests are alive with gorgeous golden aspens. You will find many beautiful waterfalls including Treasure Falls, an easily accessible 105 foot waterfall located just outside of beautiful Pagosa Springs.
Full list of activities and trails within the San Juan
43. The Rodin Museum
Museum Row on the Benjamin Franklin Parkway in Philly is home to a renowned collection of museums. One of the top to visit is The Rodin, which houses one of the largest collection of Rodin works outside of Paris. Viewing the outdoor gardens (which feature the iconic Thinker as well as many other incredible sculptures), is always free. Admission to the indoor galleries (featuring over 150 incredible works) operates on a pay-as-you-wish format.
More freebies Old City Philadelphia
44. The world's longest continuous sidewalk
At 4.5 miles long, Bayshore Blvd. claims to be the world's longest continuous sidewalk. A trip to Tampa would not be complete without a bike ride, walk, or jog down this beautiful tropical path. With gorgeous mansions to one side, the bay on the other, and the skyline in the distance, it's the most scenic place for a workout in The Bay. With palm trees and sunshine year-round, Bayshore is a perfect fun-in-the-sun vacation destination.
More free fun in the Tampa metro
45. Mesa Falls Scenic Byway
The 28 mile long drive in southern Idaho is quiet, beautiful, and home to 2 incredible waterfalls and several lush state forests. Attractions along the way include Upper and Lower Mesa Falls and Harriman State park. The Upper Falls is 114 feet tall, 200 ft wide, and extremely powerful. The spectacular setting on the Snake River within the Targhee National Forest can't be topped. A viewing platform will allow you to get up close and personal.
The best things to do in Southern Idaho
46. Times Square
It's cheesy, overcrowded, a bit dirty, and even a bit dangerous, although seeing all the bright ads of Times Square is worth a visit at least once, if anything just to say you have done it. More than 50 million tourists visit Times Square each year. Being home to so many digital Billboards and also the Broadway district, it is considered one of the entertainment capitals of the world. Although there are many shops and restaurants, you can easily entertain yourself just taking in all the lights, action, and excitement. And of course, there are endless people watching opportunities.
47. The Grand Strand
This 60 mile stretch of uninterrupted coastline along South Carolina is a beach lover's paradise. The most popular vacation destination is Myrtle Beach. This beach is the most active with a lively boardwalk and one of the country's tallest Ferris Wheels. Litchfield and Atlantic beach offer a more tranquil setting for beach walks, sunbathing, and reading.
48. Nature preserves of Tampa Bay
The Tampa metro is loaded with gorgeous preserves. While the beaches tend to get all the tourist attention, there are so many beautiful free preserves to enjoy during your time here. From bird watching, to gator watching, these preserves will allow you to get up close and personal with wildlife of the Florida Gulf Coast. Armadillos, gopher tortoises also make frequent appearances. A few of the best free preserves to add to your bucket list:
John Chestnut (Palm Harbor) – Features a beautiful boardwalk path through cypress swamps.
Weedon Island (St. Petersburg) – Skip the beach in favor of a relaxing walk at this natural gem featuring miles of trails and an overlook tower of the Bay.
Moccasin Lake (Clearwater) – Great bird watching destination home to nature trails & bird exhibits.
The best nature preserves in Tampa Bay
49. Welcome to Las Vegas sign
The iconic 25 foot neon sign marks the southern end of The Strip. On any Vegas vacation, you will definitely want to plan to get your picture in front of the sign featured in endless movies and TV shows. Really, it's the best free souvenir. The sign is lit up at night and in various colors to commemorate various holidays/events.
50. Congaree National Park
This free national park is conveniently located just 18 miles outside of Columbia, South Carolina. Most notably, it is home to the largest tract of old growth bottomland hardwood forest left in the United States. An easy 2.5 mile long walk along a maintained boardwalk trail will take you past a variety of beautiful trees including bald cypress, tupelo, oaks, maples, and loblolly pines. The park is home to a number of Champion Trees (trees which are the largest of their species) including a 169 foot Loblolly pine.
More pics/details on Congaree National Park
**Stay tuned for Part 2! As we continue to travel to beautiful and exciting places across the US, we will comprise our next top 50 list!