Tips for Hiking in Arizona's Sonoran Desert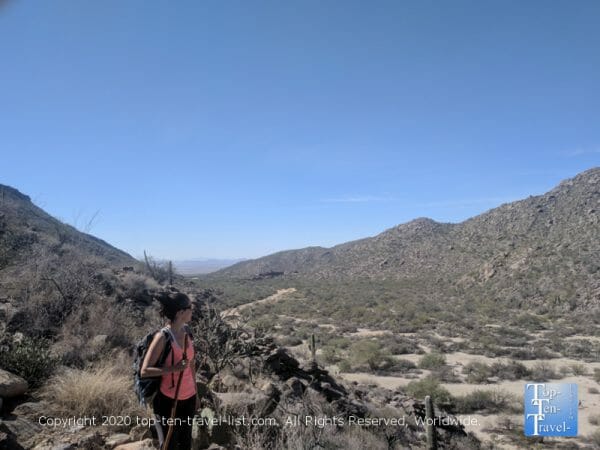 After years of hiking in the harsh desert climate of Arizona, I have come up with some helpful advice for dealing with the uncomfortable conditions. Of course, hiking during the cooler winter months is ideal. However, if you do find yourself visiting during any other time of the year, you will want to follow some safety precautions. Asides from intense heat, dehydration, monsoons, poisonous snakes & spiders, and wildlife are additional possible threats to take into consideration.
Regardless of the inherent dangers, Arizona really is home to some of the most incredible scenery anywhere. Hiking should be number 1 on your to-do list on any visit. Most visitors take the beauty of the desert for granted and never take time to explore any of the gorgeous trails. Step away from the man made attractions and get out there and enjoy the unique beauty of the desert. The Saguaro cactus is one of the most mesmerizing plants in the world, and uniquely found only in the Sonoran Desert.
That being said, here are a few tips and tricks for hiking in this most unusual landscape.
Avoid hiking in temps over 90 degrees
Never set out on a hike if the temps are already past 90 degrees. Above 90 is considered in the danger zone. Even with the dry weather, it can feel much hotter with the intense sunshine. The earlier you get out and the cooler season, the easier this will be to do. During the intense summer months, the temps are usually at the 90 degree mark by 9am. Most trailheads have a temperature gage which let you know the risk level based on the current temps.
Head out at sunrise
The massive difference between the low and high temps for the day can vary by as much as 30 degrees. Because of the ground absorbing the sun's heat all day, sunrise hikes are preferable to sunset hikes. It's much, much cooler in the morning hours, not to mention quieter and less crowded as well. Near sunset, the heat just radiates up from the ground and the sun is still quite intense. During the winter months, it can actually be quite cool in the mornings, with lows often in the 40's-50's, which is ideal for hiking.
Keep it short
First time desert hikers will want to keep it short. This also goes for anyone hiking during the hot summer season. With the intense sunshine, heat, dry conditions, and uneven rocky landscapes, a desert hike can feel much longer. 2 miles is plenty enough to see see a lot of cacti and enjoy a fresh nature walk. In the summer, keeping it short is even more important to prevent dehydration and heat exhaustion.
Bring with plenty of water
Don't underestimate how much water you need. Bring more than you think you will need. In the case of desert hiking, a camelbak is preferred. This is a light water backpack which holds up to 2L of water. No need to lug around multiple water bottles. It's super convenient, plus has extra pockets for sunblock, snacks, etc. I also usually throw in an extra water bottle to throw over my head if I get too hot.
Bring with a few salty snacks
It's important to eat more salty snacks to restore electrolytes especially if you are drinking extra water. You can buy specialty energy cubes at a sports store or just simply pack your own. Trail mix, pretzels, crackers and peanut butter packets are a few recommended choices. For longer hikes, you may want to carry an electrolyte replacement drink or energy bar.
Plan for a big breakfast post-hike
You will want to get out there early to take advantage of the cool conditions. Save your big breakfast post-hike. Simply eat a few small snacks – some fruit like a banana, trail mix, etc and then head to a local restaurant after your hike. In the Phoenix metro, check out Scramble or Butterfield's Pancake House. In metro Tucson, check out Seis Tacos or Cup Cafe at Hotel Congress.
Opt for flat trails during the hot season
Skip any trails with major elevation gain during the warmer months. With hot and dry conditions, any big gain in elevation just adds to the misery and makes the hike feel much longer and harder. Keep it simple when it is hot. I mistakenly tried to hike Piestewa Peak in Phoenix (a very difficult uphill hike) early in the morning on a hot summer day and quickly learned my lesson! During the summer season, skip any uphill hikes, no matter the time of day. There are plenty of wonderful flat, easy trails to choose amongst!
Keep your distance from all wildlife
Although a rare occurrence bobcats, gila monsters, and even mountain lions are occasionally seen on the trails. In fact, I have seen 2 bobcats while hiking in the Tucson area. While bobcats may look cute, keep in mind that they can take down a predator much larger their size. It's always a better idea to keep your distance. Take a look at these safety precautions on what to do in the case you come across any wildlife.
Know what to do if you see a rattlesnake
Rattlesnakes are fortunately not all too commonly sighted by hikers. Fortunately, after hundreds of hiking adventures, I've never come across any poisonous snakes. However, it helps to plan your hikes outside of prime snake season. April to October is considered rattlesnake season, so you will want to take extra safety precautions during this time period. Bites are rare, although they can be deadly. Here's a helpful ASU article detailing what to do if you see a rattlesnake.
Be aware of scorpions
Scorpions are nocturnal creatures, so you are unlikely to see one on a trail unless you are hiking at night. If you do come across one, do keep your distance! On the other hand, if you are interested in creepy crawlers, many parks offer guided night hikes! This is definitely the safe way to observe these dangerous creatures…
Watch out for cactus needles
It hurts pretty bad to be stung by a cactus. I have gotten stung both at home and on the trails on multiple occasions. While it is unpleasant on either occasion, at least at home you have the equipment to deal with the tiny needles. Seriously, there are dozens of tiny needles you need to remove with a tweezer. It's not a fun experience and it can hurt for hours afterward. Keep your distance when taking a picture. Check out this handy Tucson guide on what to do if you are stung.
Research free local trails if on a budget
You do not necessarily have to pay a hefty state or national park entrance fee to enjoy the beauty of the desert. In fact, there are numerous free preserves and parks all over the Phoenix and Tucson area. While the trails are usually a bit more maintained and more programs are available at the bigger pricier parks, a free trail may be a great alternative for anyone looking to save a few bucks. At the end of this article, I give a few of my picks for budget friendly trail options.
Wear a GPS watch
I find for any type of exercise, whether it be a walk, jog, or hike, it helps to know how far you have gone and how much time you have left. These handy GPS watches make it so much easier to track your distance, time, pace, and even heart rate. When hiking in such harsh conditions, it really helps to know your current progress. I find it so much more motivating tracking my distance, rather than just walking aimlessly!
Bring with a hiking stick
A hiking stick comes in handy when hiking anywhere, not just in the desert. First off, it gives you more traction, especially when going downhill or climbing over rocks. It also gives you a sense of balance. And lastly, it helps ward off wildlife in a life or death situation (hopefully this is not the case!).
Dress appropriately
First off, hiking shoes are a must! Do not wear gym shoes! You will have better traction with the hiking shoes especially when maneuvering up and down rocks. Also wear workout clothing. If it is cooler in the morning, dress in layers. You can always remove clothing if you need to. I prefer to wear pants as opposed to shorts even if it is hot out. With the cactus needles and dust, I would prefer not to take my chances. Compression socks are also great for your circulation.
Stay on the designated trail
Never venture off any trail. With the already harsh conditions, you do not want to end up lost without any water. Most trails are adequately marked. Be sure to track your distance and always stay on the trail! This also reduces your chance of getting stung by cactus or bitten by a snake.
Be aware of Valley Fever risks
Valley fever is a fungal infection common in the Southwestern states. The fungus natural lives in the soil. The virus is transmitted most often in windy conditions via the breathing in of the fungus spores. While most people recover without complications, at risk people may develop serious respiratory issues. Avoid hiking in windy conditions. University of Arizona has a helpful Valley Fever article detailing the condition.
Leave the dogs at home
Lots of sad reports always circulate about pets getting Valley Fever. If possible, it's probably best to leave them at home rather than exposing them to the elements. If you would still like to bring your furry friend along, read up on these Valley Fever prevention tips.
Bring your camera
There are so many gorgeous photo opps on any given hikes. You will definitely want to have your phone or a good camera handy. The best overall photos can be taken near sunrise before the sunlight becomes too intense. For amazing silhouette photos, plan for a sunset hike.
Sign up for a ranger program
Both state and national parks offer all sorts of unique free programs. A guided ranger walk is a great way to learn more about the ecosystem. Instead of just passing through, you will get to learn more about each unique aspect of the desert. Saguaro National park hosts interesting events throughout the year.
Check the forecast during monsoon season
Do not go out for a hike if a monsoon is predicted. Hiking in these conditions can be very dangerous and many hikers get stranded/injured by not following precautions. It's best to save your hike for another time of year as this season is so unpredictable weather-wise. If you do decide to go out, make sure you check the forecast first.
Recommended State/National Parks in Tucson
Fantastic Free hikes in Tucson
Linda Vista Trail (Oro Valley, 0.75 miles, Easy)
Sweetwater Preserve (Tucson, 11 miles of trails, Varying terrain)
Bowen Hidden Canyon Trail (JW Marriott Starr Pass resort, Tucson, 2 miles, Easy)
Honeybee Canyon (Oro Valley, 2 miles, Easy-mod)
Recommended Fee hiking areas in Phoenix
Fantastic free hikes in Phoenix
South Mountain Phoenix – Kiwanis trail (2 miles, easy)
Scottsdale McDowell Preserve – Gateway trail (4 miles, moderate)
Camelback Mountain (Phoenix, 3 miles, Hard, Hike outside of summer)
Piestewa Peak (Phoenix, 4.4 miles, Hard, Hike outside of summer)
Pinnacle Peak (Scottsdale, 3.5 miles)