20 Incredible Free Tourist Attractions in the West
From the beautiful Pacific Coast beaches of California, to the stunning Saguaro desert of Arizona, to the mesmerizing red rock formations of Colorado, Arizona, and Utah, natural wonders are abundant throughout every Western state. Fortunately, most of the best wonders of nature cost absolutely nothing to visit. Assuming you find a cheap flight and hotel, a trip out West can actually be pretty budget friendly if you focus on all the breathtaking natural wonders populating the region. Although there are many fabulous paid attractions i.e. Yellowstone, The Grand Canyon, Horseshoe Bend, Zion National Park, and countless others, this list will focus on wonderful free tourist attractions to take advantage of. For those seeking a budget friendly Western vacation destination, this list serves as a great starting point.
1. South Mountain Park
Location: Phoenix, Arizona
The beautiful cacti studded Sonoran desert is one of the most unusual & mesmerizing places in the country. South Mountain Preserve in Phoenix is a massive 16,000 acre desert oasis offering more than 50 miles of trails. It's one of the largest urban parks in the country, offering endless opportunity for exploring the rare desert landscapes. Here you can enjoy a range of outdoor activities including mountain biking, hiking, and horseback riding. If you are not up for a vigorous hike in the hot desert (winter hikes are much more comfortable!), consider a scenic drive up to the summit. This 5.5 mile drive will allow you to take in the gorgeous cacti and mountain scenery without breaking a sweat! As for hiking, start with the short, easy, yet beautiful 2 mile Kiwanis trail which features a great lookout of the mountains.
2. Boise Greenbelt
Location: Boise, Idaho
Boise is a wonderful vacation destination for outdoor enthusiasts and nature lovers. One of the city's best assets is the 25 mile long Boise Greenbelt which runs a scenic course along the Boise River. The majority of the path is tree-lined with convenient access to many great city parks and attractions along the route. You will want to check out Zoo Boise, Julia Davis park, and the Anne Frank Human Rights memorial. The best time to plan your ride, jog, or walk is during the beautiful fall foliage season. This time of the year the trees will be alive with golden hues, wildlife is active (so many deer sightings!) and the path much less congested!
3. Multnomah Falls
Location: Cascade Locks, Oregon
With more than 2 million visitors per year, breathtaking Multnomah Falls comes in tops as the most visited recreation site in the Pacific Northwest. In an area loaded with natural beauty, this is saying something! It is the tallest waterfall in the Columbia River Gorge (one of the most concentrated waterfall regions in the country) at a whopping 620 feet! A moderate 2.4 mile hike will take you to the top of the falls. Note that the falls will be at their strongest during the winter and spring season. However, you can simply walk 0.2 miles to a footbridge to enjoy a decent view of the falls without working up a monster sweat.
4. Mesa Falls Scenic Byway
Location: Southern Idaho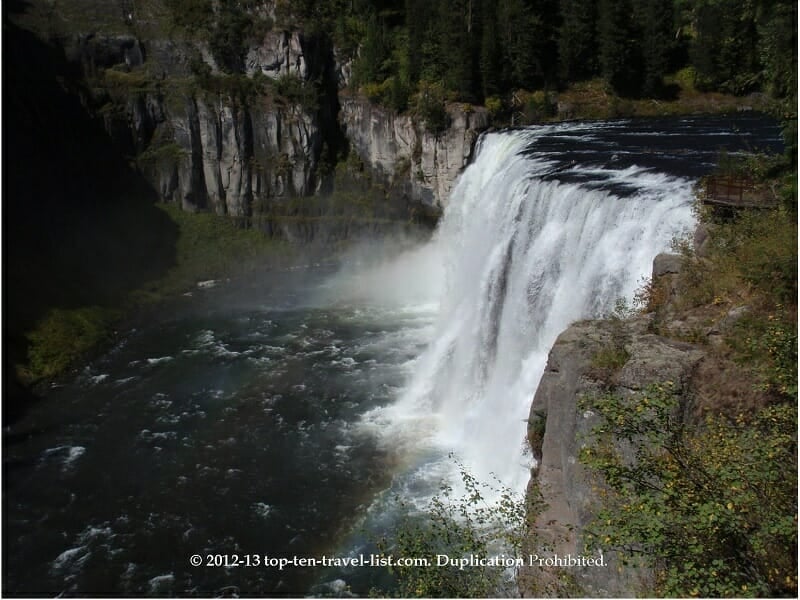 One of the most scenic drives out West is an underrated gem in Southern Idaho known as the Mesa Falls Scenic Byway. The 29 mile drive starts at the junction of US 20 and Idaho 47 in Ashton. The byway follows a scenic course through the Caribou-Targhee National forest. Lower Falls is 65 feet while Upper Falls is 114 feet, 200 feet wide and very powerful. A short boardwalk trail will allow you to take in the beauty of Upper Falls, while Lower Falls is viewable via an overlook just off the byway. Overall, it's a quiet and gorgeous drive with uninterrupted nature to enjoy all around. During the winter, the road is only open to snowmobiles and cross country skiing – a fun way to enjoy the scenery and get in a great workout!
5. Coconino National Forest
Location: Northern Arizona
One of the most mesmerizing places in the country is Northern Arizona. The exciting and geographically diverse region, home to the San Francisco Peaks (the highest mountain range in Arizona at 12,637 ft) is loaded with natural wonders. The 1.8 million acre Coconino National forest features a diverse range of scenery, from 200+ million year old towering red rock formations in Sedona to the world's largest ponderosa pine forest in Flagstaff. There are so many scenic drives, hikes, biking trails, and winter sports to enjoy here every season. It would be hard to list all the marvelous wonders in this area as you could spend years exploring the beauty and never see enough. Here are a few of the best freebies in the Coconino:
Aspen Nature Loop – 2 mile loop on the western slope of the San Fran Peaks. Gorgeous fall foliage.
Cookstove trail – Steep 0.7 mile climb to an amazing overlook of Oak Creek Canyon.
Devil's Bridge – Iconic hike to the largest sandstone arch in Sedona.
Inner Basin Trail – Amazing hard 1.7 mile climb through the heart of the San Francisco Peaks.
Slate Mountain trail – Steady 2.4 mile climb to an 8215 foot overlook of The Peaks.
More great hiking options in Flagstaff and Sedona
Another one for the bucket list – Oak Creek Canyon drive – a gorgeous 14 mile route beginning at 7000+ feet near Flagstaff and dropping more than 3000 feet in elevation near Sedona's awe-inspiring red rocks.
6. Shoshone Falls
Location: Twin Falls, Idaho
This beauty on the Snake River in Southern Idaho is nicknamed "Niagara of the West." While not as photo worthy, Shoshone Falls is actually higher than Niagara at 212 feet. The best time to visit is during the spring and summer months when water flow is highest. Along with a scenic overlook, there are a number of hiking trails as well as picnicking areas to enjoy. If you love waterfalls, you will want to put this one on your bucket list. Shoshone is a great detour on the way to Boise, as well as a great addition to any Idaho natural wonder sightseeing trip.
More Idaho natural wonders to explore
7. San Diego beaches
Location: San Diego, California
"America's Finest City" is home to some of the country's best beaches. Fortunately, the breathtaking beaches are free for all to enjoy. With so many enticing options, there really is something for everyone here. Mission Beach is one of the more popular tourist options. It's a great choice if you are seeking lots of beachside entertainment. With a beautiful boardwalk, an amusement pier, and plenty of restaurants and bars, Mission is an exciting choice for active beach goers. Other popular options include: La Jolla Cove (sea lion watching hotspot), Coronado (beautiful white sand beaches), and Torrey Pines (gorgeous & relaxing).
8. San Juan National Forest
Location: Southwest Colorado
This diverse 1.8+ million acre forest is the highlight of Southwestern Colorado. If you are vacationing in nearby Pagosa Springs, Durango, or surrounding mountain communities, then you will definitely want to enjoy a hiking adventure in the San Juan. There are endless treasures to explore here, the best time being during the vivid fall leaf peeping season. Particularly impressive are the many jaw dropping waterfalls you can explore, some fortunately easily accessible. The best is Treasure Falls, a 105 foot jaw dropping beauty viewable via the road or better yet via a moderate 0.7 mile hike through beautiful forest. For the little effort required, this is easily one of the best bang-for-your buck hikes in the San Juan.
9. Redwood National and State Park
Location: Northern California
Not only are they the world's tallest trees (they can grow upwards of 300 feet!), but the majestic redwoods are also the most mesmerizing. Any nature lover will definitely want to plan a visit to Redwood National and State Park to see these stately trees in person. You will find numerous means of observing these trees including hikes, bike rides, and scenic drives. Newton B. Drury drive is a scenic route through old growth redwood forest in Prairie Creek Redwoods State Park. The famous Avenue of the Giants (runs parallel to Hwy 101) is an incredibly scenic 31 mile route. Humboldt Redwoods State Park features over 100 miles of hiking trails. This truly is a magical place where you can get lost in otherworldly nature.
10. Latourell Falls
Location: Columbia River Gorge
This impressive 224 foot tall beauty is easily one of the most incredible waterfalls in Oregon. It is the first waterfall on the Columbia River Gorge Scenic Highway. The hike is short at just over a mile to get to the falls although the payoff is big! As a bonus, this is one of the closest waterfalls to Portland (just a half hour away), and thus, a great daytrip for nature lovers/hikers visiting the city. Also just a few miles away lies the incredibly scenic Crown Point Vista House overlook, called the "Crown Jewel of the Columbia River Gorge." Awesome views although it can get extremely windy here! Note – Bridal Veil and Horsetail Falls are 2 other waterfall beauties in close proximity if you have the time!
More beautiful waterfalls in the Columbia River Gorge
11. Scottsdale McDowell Preserve
Location: Phoenix, Arizona
Another beautiful hiking oasis in the Sonoran desert, Scottsdale McDowell preserve, deserves a place on your Southwestern bucket list. First off, it's one of the country's largest parks and features over 200 miles of trails. Second, it's easily accessible from major cities like Phoenix and Tucson. Third, there are a variety of trails for everyone, from novice hikers to the most advanced. Whether you are seeking an easy nature stroll or a multi day adventure, you will find a beautiful option here. All hikes feature fabulous views of the diverse cacti and gorgeous mountain ranges – that is one thing you can count on! Advanced hikers will want to pursue the Tom's Thumb challenge – a vigorous 2.5 mile climb featuring 1300+ft elevation gain. It's strenuous but rewards with incredible vistas.
Scottsdale McDowell hiking guide
12. Golden Gate Bridge
Location: San Francisco, California
Walking across the 1.7 mile long Golden Gate Bridge is an iconic experience. This is a wonderful detour on the Pacific Coast Highway. Walking tours are available, however, you can simply enjoy a self guided tour and take in the beauty of the Bay area. While there are many dazzling bridges throughout the country, the Golden Gate Bridge is the most photographed in the world. Bridge construction began in January of 1933 and the bridge opened to the public in 1937.
Read more unique facts about the Golden Gate Bridge
13. Marvin Braude Strand bicycle path/SoCal beaches
Location: Southern California
As far as scenic exercise destinations go, the iconic Marvin Braude ("the Strand") bike path in L.A. is hard to top. 22 miles of pure beauty and excitement can be enjoyed on this most famous stretch of pavement. From volleyball hotspots Redondo and Torrance Beach, to the historic Manhattan Pier, to the eclectic street performers of Venice, to Muscle Beach where Arnold Schwarzenegger once trained, to the lively Santa Monica Pier, there is so much beauty & history to explore here. The views are gorgeous, the people watching always entertaining, and the access to top notch L.A. attractions (without dealing with traffic) super convenient. So get in some exercise, enjoy the lack of traffic and congestion, and spend the day exploring L.A.'s best beach towns.
14. Griffith Observatory
Location: Los Angeles, California
L.A. is home to many wonderful museums – The Getty, La Brea Tar Pits and Museum, and the Los Angeles County Museum of Art to name a few. The best of the all is the wonderful Griffith Observatory where you will be able to observe the night skies, explore space exhibits, and hike a variety of trails in the Santa Monica mountains. At the Griffith, you can explore various space related exhibits, see shows at the Samuel Oschin Planetarium (extra fee), and observe the night skies through public telescopes. Philanthropist Griffith J. Griffith donated the land for public use for all to enjoy. What sets Griffith aparts from other museums are the outstanding views of the L.A. skyline and Hollywood sign. A number of trails are available, many featuring amazing views of the most iconic sign of the entertainment industry.
More must-dos in Southern California
15. Bellagio Conservatory & Fountain show
Location: Las Vegas, Nevada
The Bellagio is still one of the nicest resorts on The Vegas Strip, despite the recent addition of many luxurious 4 and 5 star resorts. Even if you are not staying at the property there are a number of great attractions to enjoy. The free Bellagio Fountain show is a spectacular display incorporating music and light with over 1000 fountains. It's one of the best freebies on The Strip, and thus, draws big crowds so get here 15 minutes prior to the show to ensure a prime spot! The Bellagio Conservatory, which changes along with the seasons, is a gorgeous 14,000 square foot botanical garden featuring thousands of manicured plants and flowers. The Christmas display is the most enchanting as it features thousands of colorful poinsettias, polar bears made of carnations, and festive holiday displays.
16. Torrey Pines State Natural Reserve
Location: San Diego, California
One of the most gorgeous tourist attractions in San Diego is definitely Torrey Pines State Natural Reserve. At this 2000 acre coastal gem, you can enjoy miles of beautiful hiking trails and beaches. All of the trails feature amazing views of the coast and are relatively short and easy. For anyone looking to get in a light workout without much sweat and also enjoy the beach, Torrey Pines is the winner in San Diego.
17. Chiricahua National Monument
Location: Southern Arizona
The "Wonderland of Rocks" as it has been nicknamed should be added to any adventure seekers/photographers bucket list. Chiricahua National Monument is a true treasure located just 2 hours outside of Tucson. An 8 mile scenic drive and 17 miles of hiking trails take you past jaw dropping rock formations. The unique hoodoos and balancing rocks found throughout the park are truly incredible and unusual, especially to see in person. Start with the incredible scenic drive and then enjoy an easy 1 mile starter hike along the Echo Canyon Grottos trail. If you are up for exploring more, there are number of fantastic moderate trails where you can explore the ancient rock formations further.
More great daytrips from Tucson
18. Santa Monica Mountains National Recreation Area
Location: Los Angeles, California
No visit to LA would be complete without taking some time to explore the Santa Monica mountains. With 153,000 acres of land and 500 miles of trails for public use, it comes in as the world's largest urban park! If you prefer to take your adventures outdoors over attending movie show tapings and exploring Hollywood stars, hiking in the Santa Monica mountains should be a real treat. Definitely add Zuma Beach, Santa Monica State Beach, Point Magu State park, and Will Rogers State Beach to your itinerary. A great trail for beginners is the Los Liones in beautiful Topanga Canyon State Park. The full hike is about 7 miles RT, however, there are many beautiful overlooks so you can go out to your comfort level (Topanga Fire Road is 3 miles RT and a great stopping point for first timers).
On an interesting side note, more than 100 mountain lions have been found in the mountains since 2002!
More great hikes in the Santa Monica mountains
19. Bridger Teton National Forest
Location: Wyoming
A great alternative to Grand Tetons National Park is exploring Bridger Teton National Forest. This 3.4 million acre nature oasis comprises part of the Greater Yellowstone ecosystem. With so much land, there is endless opportunity for recreation all year round, whether it be hiking, camping, horseback riding, biking, or winter sports like cross country skiing and snowshoeing. Wildlife is abundant with grizzly bears, bighorn sheep, and moose calling the forest home. Gros Ventre Rd. is an incredibly scenic (and free) drive featuring wonderful mountain vistas and endless opportunities to see wildlife in their natural environment. Also Moose Wilson Road is a scenic 7 mile route between Teton Village and Moose, WY. A great spot for wildlife watching especially bears and moose!
20. Mt. Lemmon Scenic Byway
Location: Tucson, Arizona
This breathtaking 27 mile drive starts just outside of Tucson and travels up over 6000 feet in elevation to a Sky Island known as Mt. Lemmon. What makes this drive so incredible is that you get to take in such diverse scenery. A Sky Island is basically a higher elevation isolated mountain area surrounded by lower elevation areas which differ dramatically in scenery. From exotic Saguaro cacti, to hoodoos and rock formations, to pine trees and aspens, you will get to see so much in so little time. At the base, you can enjoy various hiking trails, leaf peeping in the fall, and even a ski resort in winter (the southernmost ski resort).