10 Interesting Day Trips Less than 2 Hours from Tucson
Southern Arizona is the only place in the world where the magnificent Saguaro cactus grows. As Tucson is home to the tallest and longest living Saguaro, visiting Saguaro National Park or Catalina State Park (which are both loaded with thousands upon thousands of cacti) is by far the top thing to do while visiting the area. You must take advantage of being able to explore these unique desert landscapes while you are in town. While many people are not a fan of the desert climate & landscape, you have to admit that the stately Saguaro cactus sure is an awe-inspiring sight that you cannot replicate anywhere else.
Despite the arid nature of the area, there are a number of man-made lakes to explore if you are a water lover. The Southern Arizona region is also home to interesting assortment of attractions, from historic landmarks , to small artsy downtown towns, to authentic Mexican restaurants, and even a ski resort.
The many hiking trails around Tucson and Phoenix give you plenty of opportunity to explore the desert, taking in the diverse variety of cacti and desert plants, all while enjoying scenic mountain vistas. While Tucson and Phoenix are comparable in many areas, Tucson takes the cake when it comes to breathtaking mountain scenery. Asides from hiking and spending time outdoors, there are a number of attractions and day trips to consider after you have completed the must-do national and state parks mentioned above.
Here are my top 10 day trips within a 2 hour drive of downtown Tucson.
1. Mt Lemmon/Summerhaven
Mt. Lemmon, the highest point in the Catalina Mountain range at an elevation of 9000+ feet, is located within the Coronado National Forest about 45 minutes outside of Tucson. A trip to Summerhaven, a small community on the base, is definitely the most interesting day trip from Tucson. Here, you will get to experience a huge diversity of scenery within a short time frame.
Mt. Lemmon is known as a "Sky Island," which is basically an isolated forested mountain surrounded by desert lowlands. Mt Lemmon is part of the notable Madrean Sky Islands, found throughout the states of Arizona and New Mexico. The beautiful 30 mile Catalina Scenic Byway starts just outside of Tucson and takes you on a thrilling picturesque journey. This drive rises 6000 feet in elevation, as you travel from cacti covered mountains at 2000 ft up to the towering pines found near Summerhaven (elevation 8000ft).
The Mt. Lemmon area is a major respite from the brutal summer heat of the Sonoran Desert, and thus, the Mt Lemmon hiking trails are the only safe places to hike during the harsh summer season.
Things to do in Summerhaven
When you arrive at Summerhaven, you will find numerous things to do. You have the choice of dining at 2 restaurants overlooking the aspens & pines, treating yourself to some homemade fudge or a giant chocolate chip cookie at the Cookie Cabin, grabbing a trail map and enjoying a hike amongst the cool pines, relaxing with a picnic lunch, or enjoying some powder at the seasonal ski resort. Mt Lemmon typically receives nearly 200 inches of snow per year (although 2017 has been a miserable year snow wise). Skiing, snowshoeing, and playing in the snow are popular winter past times for those looking to escape the mild 70 degree days of a Tucson winter (if only for a day).
2. Picacho Peak State Park
Picacho Peak is one of the most beautiful places to hike near Tucson, with the additional advantage of not being very crowded. The park lies just 40 minutes north of the city on I-10. As the park is situated about half way to the Phoenix metro area, it's a nice stop to break up the drive if you happen to be traveling out this way. Picacho means "big peak" in Spanish and its' impressive 3374 foot summit is clearly visible while driving. The interesting shape, combined with being one of the few rock formations standing out amongst the flat desert land makes it had to miss. The weird shape is resultant of an eroded rock which was overlain by a lava flow.
Most of the trails here are easy with gorgeous views of the Saguaro. Because this state park is so isolated, it does not attract nearly the amount of attention the others parks do, and thus, stays nice and quiet. There is one very difficult trail to the top which affords great views of the Catalina Mountains, although gloves are needed to grip the cables and the trek is very difficult. I recommend sticking to the easier trails which are just as scenic without all the intense extra effort. Picacho Peak works as a nice escape from the city as there really is not much business or traffic around the area. You really get the feel here of hiking in the desert wilderness all by yourself. The same cannot be said for the popular tourist trails around Tucson.
Spring is the best time to visit as the temps are not as high and the wildflowers are beautiful. The one downside of visiting Picacho is the lack of restaurants in the area. Either grab a bite in Tucson before you leave (5 best breakfast places in Tucson). The Rooster Cogburn Ostrich Ranch is also nearby, although a bit of a tourist trap in my opinion.
3. Saguaro Lake
Although Southern Arizona is not exactly a hotbed for water based recreation, there are actually a number of attractive man-made lakes scattered throughout the region. The most scenic of these is gorgeous Saguaro Lake near Mesa, about halfway between Phoenix and the ghost town Sunflower.
Saguaro Lake was formed in 1930 by the Stewart Mountain Dam, It was one of the last of the reservoirs to be built on the Salt River. This beautiful lake is surrounded by picturesque mountains which are loaded with thousands of Saguaro cacti. From here, you can see Four Peaks which is the highest mountain range in the Phoenix area (the highest point is Brown's at 7659 ft). The lake is pretty big with 22 miles of shoreline. You will see just about every water lover out here – kayakers, fishers, jet skiers, paddleboarders, and boaters. It's definitely the top spot for water based recreation near Phoenix. It's not unusual to see wildlife especially early in the morning.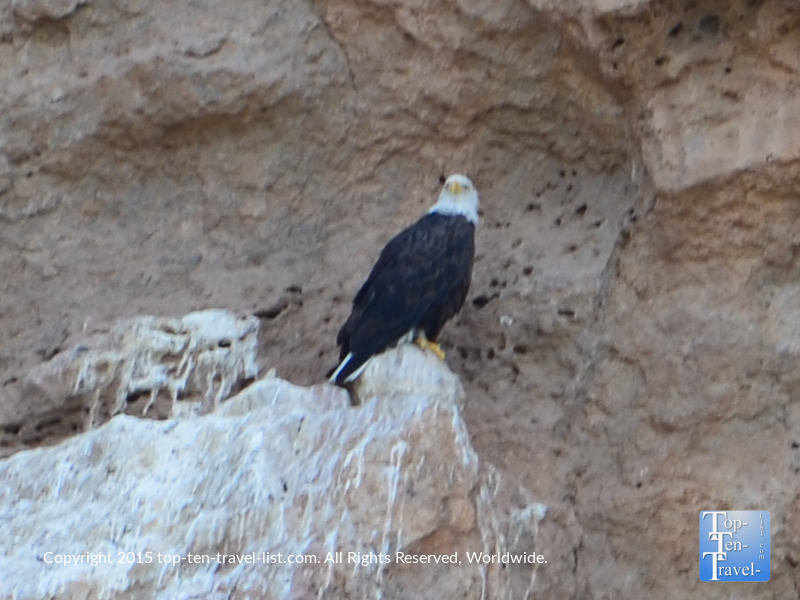 Desert Belle cruises
A cruise around the lake (Desert Belle is the best) is definitely my top recommended activity for visitors new to Phoenix. Narrated cruises are the most relaxing way to absorb the beautiful desert vistas (and learn about the area's history).
4. Patagonia Lake
While Patagonia Lake is the closest lake to the Tucson area, it is not overly impressive. I would definitely put this day trip on the bottom of your list as the 2 hour drive is a bit of a hassle especially considering the limited amenities and lack of other activities in the area. While the lake is nice enough (really any water in Arizona is impressive), there really is not much else to do in town and the restaurant options are mediocre and limited.
There is a nice trail around the lake, however, it is poorly marked – so much so that even an avid hiker like myself got lost. On the other hand, the free roaming cows was a unique sight and seeing a lake in Arizona is always a treat in comparison to the arid surroundings. The 250 acre lake is popular fishers, boaters, and kayakers. If you do not have your own boat you can rent one or relax on a narrated pontoon ride. Patagonia is known to be a great bird watching destination.
If you dead set on seeing water, then Patagonia is your closest choice. The scenery along the way is very pretty and the drive is not at all congested. There are a number of detours along the way to make the drive more interesting including the top rated Kartchner Caverns State Park near Benson.
5. Tubac
Tubac, established in 1752 as a Spanish presidio, is now a popular daytrip destination for shoppers and art lovers. The small community lies about 40 miles south of Tucson and is home to many unique boutique shops and art galleries. Tubac's slogan is "the place where art and history meet." The close distance from Tucson and numerous art related events held throughout the year draw in thousands of Tucson locals and visitors throughout the year.
The shops of Tubac all specialize in unique Southwestern style art and you can pick up all sorts of cool pottery pieces, glass blown art, sculptures, and every other type of Southwestern craft and knick knack you could possibly imagine. The hand painted pottery pieces are really colorful and eccentric. Be on the lookout for special art walks and annual events like the Tubac Festival of the Arts.
If you are heading out this way you will also want to make a quick stop at the Mission del San Xavier, a beautiful historic Spanish Catholic Mission built in 1797. This mission happens to be the oldest still standing European structure in Southern Arizona.
6. Saguaro National Park
A visit to beautiful Saguaro National Park should top your list when visiting Tucson. Saguaro is definitely one of the most interesting national parks due to the rare desert plant life found in abundance here. If you want to see and take lots of cacti pictures and get in a nice workout to boot, then Saguaro should top your to-do list while in town. Surprisingly, this national park does not get nearly as crowded as some of the other parks in town.
There are 2 entrances here, both offering their own unique trails, scenic drives, and programs throughout the year. Your pass is good for both parks for 7 days, so try to explore each if time permits. If not, choose the Tucson Mountain Park district (West) if you are more interested in seeing lots of cacti, and the Rincon Mountain District (East) if you are seeking amazing mountain views. The trails at both parks are beginner friendly. In comparison to other parks in the region, Saguaro trail are easy to follow. Saguaro NP is definitely more organized (not to mention safer) for those not accustomed to the desert heat and aridity. Hikes range from really easy paved treks of less than a mile to all day intense adventures.
More info on Saguaro National Park
7. Tombstone
Tombstone's appropriate nickname is "the town too tough to die." Today, over 130 years from its' founding, it remains one of the most authentic western towns still standing in the US. With realistic gunfire reenactments, historical attractions and tours, stagecoach tours, and underground mine exploring, you will feel as if you have stepped back in time to the Wild West. Here you can walk the same streets that Wyatt Earpth and Doc Holliday walked, enjoy a drink in Big Nose Katie's Saloon, stroll around the historic Boothill Graveyard, deck yourself out in Cowboy apparel, take a paranormal tour, or watch a lively show at the OK Corral.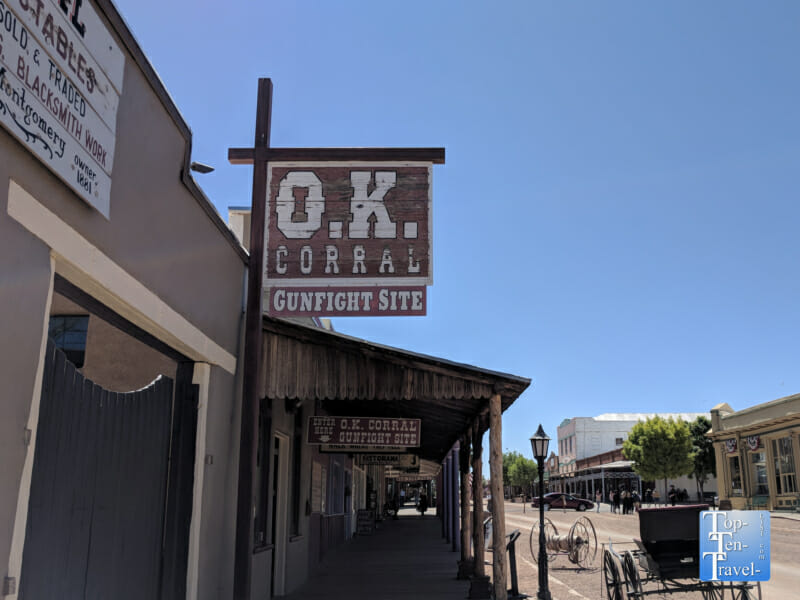 It's hard not to feel like you are in one of those old western movies. Personally, I cannot help of thinking of Back to the Future Part 3 while walking around rustic Allen Street. If you are heading out to Bisbee, Tombstone is just a half hour away so a great add-on activity to break up the long drive.
8. Madera Canyon
Madera Canyon, a Sky Island in the Santa Rita Mountains within the Coronado National Forest, is a great place to hike, picnic, bird watch, or camp. The beautiful scenery and lack of crowds make it one of my favorite natural hiking escapes in Southern Arizona. Underrated and under visited, this beautiful canyon makes for a much more interesting daytrip than the more popular, overhyped destinations like Bisbee and Tubac.
Located just 25 miles south of Tucson, Madera is worth checking out if you are seeking a great natural hiking destination. Not only are the views gorgeous, but there are endless opportunities for bird watching (the canyon is a resting place for migrating birds). There are numerous hikes to choose amongst, each giving you a glimpse of Southern Arizona's diverse plant life which includes cactus, aspens, and pines. The canyon is home to a diverse range of wildlife not found in the Tucson area including black bears, mountain lions, bobcats, ring tail cats, and wild turkeys. With over 256 species of birds documented including 15 species of hummingbirds, Madera Canyon is considered the 3rd best birdwatching destination in the US.
9. Phoenix metro area
Being the 6th largest city in the country, it's no surprise that Phoenix has much more to offer than Tucson. For starters, Phoenix has 4 pro sports teams, and is also home to the better zoo, the better hiking preserves, the better waterparks, bigger lakes, and many more interesting museums and tourist attractions.
The area is newer and more attractively landscaped than Tucson. There are lots of nice resorts to choose amongst including the famous historic Bitmore and the We-Ko-Pa which is home to one of the top golf courses in the country. If you have to choose between the 2, Phoenix is by far the better vacation destination if you are seeking lots to do. However, if you do end up in Tucson, a daytrip to Phoenix is definitely worthwhile for the reasons mentioned above.
As mentioned above, Saguaro Lake would be my top pick for new visitors. The Phoenix Zoo, although quite small for such a big city, is nicely landscaped with a nice variety of animals. Other must-do's while in town include hiking at South Mountain Park or the Scottsdale McDowell Preserve, taking a Frank Lloyd Wright architecture tour, and strolling around Old Town Scottsdale.
And, if you are up for a challenge, you may want to endure the hard but rewarding trek up Camelback Mountain. At 2704 feet, it is the highest peak in the Phoenix region. A longtime favorite of locals and visitors, this hike (there are 2 options to the summit) is epic. To beat both the crowds and intense heat, you will need to get here early.
25 must-do's in the Phoenix metro area
10. Bisbee
Bisbee, a former copper mining town in the Mule mountains, is a very popular daytrip from Tucson. While the town itself is a bit overrated and dingy in my opinion, it may be worth the 2 hour drive if you are interested in taking a mine tour. Or better yet, also plan for a stop at Tombstone (directly on the route). The Queen Mine underground tour is the most popular attraction and what draws tons of tourists each year. Bisbee is known as "The Queen of the Copper Camps" due to the large presence of copper in the area. The mines closed in the 70's although you can still take a browse through an interesting mine museum.
There are lots of local restaurants and a great little coffee shop with nice outdoor seating (Bisbee Coffee Company). Most of the restaurants are pretty basic – the Screaming Banshee Pizza serves some good woodfired pizza, although in a small, cramped former gas station.
Other attractions and activities include a Mining Museum, Ghost tours, and a few dozen or so shops. Nothing really to write home about and really (in my opinion) only worth visiting if you are into mines as there are many more charming towns in Arizona.
The most interesting thing to do here is taking a walk down the eerie, mostly abandoned Erie Street in Lowell, an old mining town which pretty much resembles a ghost town stuck in the 50's. Here you will find one business still operating – the Bisbee Breakfast Club, a local's favorite which offers hearty comfort food in a fun old-fashioned setting. Also be sure to take a peak at the Lavender Mine, a former open pit copper mine located right off the highway just outside of Bisbee near Lowell.
A few pics of this creepy ghost town below
Flagstaff & Sedona
Note: I have not included Sedona and Flagstaff on this list as they are a bit too far for a day trip and offer so much that you need at least a weekend to take in the scenery and attractions. If you have enough time for a weekend getaway or are up for a lengthy drive, these are by far the best vacation destinations in Arizona. Sedona is a nature oasis with towering red rock formations, gorgeous hikes, jaw dropping scenic drives, and beautiful resorts. It's an amazing small town with amazing scenery and should be your number one place to see during your Arizona vacation. Here are my 29 must do's in Sedona if you are up for the drive.
Flagstaff is a 4 season small mountain city located amidst the largest ponderosa pine forest in the country. Asides from beautiful hiking trails, the city is just a short drive from many natural wonders, is home to a thriving downtown with lots of local restaurants, and is home to the state's biggest ski resort (Flagstaff is one of the snowiest cities with over 200 inches per year!). The drive is long and boring, however, you can make the last 45 minutes of the drive more bearable by taking the incredibly scenic Oak Creek Canyon drive right into Flagstaff. And if you do plan on spending the weekend, here are 50+ fun & free attractions to check out.