Tombstone: The Town too Tough to Die
Fans of old Western classics featuring the likes of gunslingers like Wyatt Earp & Doc Holliday will definitely want to plan a visit to the authentic western town of Tombstone. Located just 2 hours south of Tucson, Arizona, it's a quick, fun daytrip for those interested in exploring "the town too tough to die." Tombstone is best known for the infamous 30 second lawmen vs. outlaw shootout at the OK Corral, and thus, there are numerous gunfight reenactments to enjoy during your visit. The spirit of the Wild West is alive and well to this day in Tombstone.
How Tombstone got its' name
Tombstone was founded as a silver mining town in the 1880's by Ed Schieffelin. Many wonder how the dreary name came about. Ed, an army scout often ventured out into the wilderness to find minerals despite warnings not to do so. A fellow army scout told him "The only rock you will find out here will be your own tombstone."
With the help of Governor Safford, Schieffelin founded the Tombstone Gold and Silver Mill & Mining Company, valued at 5 million. Ed filed claims for 19 different mines. Today, you can tour The Good Enough Mine, one of 25 silver producing mines in the area. The name comes from the fact that Schieffelin thought the wealth of silver found there was "good enough."
Read more about the history of Tombstone
The rise and fall of Tombstone
Of the many mining towns in Arizona, Tombstone is by far the most famous due to the historical significance of the town, and of course, the popular 90's film Tombstone. By the 1880's, Tombstone was booming as the many brothels, theaters, and saloons provided much needed entertainment for the hard worked miners. At one point, Tombstone was one of the largest cities in between San Francisco and St. Louis.
By 1900, the population dwindled down to just 700 residents and Tombstone began to resemble a ghost town. However, it remains the Cochise county seat today thanks to a thriving tourism industry. The Cochise courthouse and gallows yard now operate as a museum.
Tourism revival
Today, the tiny town sees almost half a million visitors per year! There are numerous festivals and events throughout the year. Helldorado days, the longest running festival in Tombstone (the tradition began in 1920 and continues each October), celebrates the old Wild West days of the 1880's. Wyatt Earp Days is another popular event, this one held each May. A full lineup of events includes a chili cook off, street entertainment including shootouts, and look alike contests.
An authentic tour of the Wild West
Instead of visiting a movie set (Tombstone was actually filmed at Old Tucson), you get to walk down historic, dusty Allen Street taking in the sights of old landmarks like the OK Corral, historic western saloons, and the Bird Cage Theater, referred to at one time as "the wickedest theater between New Orleans and San Francisco." The infamous brothel/saloon was a murder hotspot, and during your tour, you will see more than 140 bullet holes. If you are up for a scare, the theater runs regular ghost tours. If you are a fan of Ghost Adventures like me, you have probably seen it investigated by Zak Bagans.
Unlike many western towns which have been recreated to resemble the old west, Tombstone itself is rich in historical significance. The city has preserved a number of its' historic buildings, thereby giving you a true authentic feeling of actual being in The Wild West. Numerous museums spotlight artifacts from the 1800's including the Tombstone Epitaph building where the oldest run paper in Arizona is still published.
Historic Allen Street
While strolling down the wooden plankway of Allen Street, you'll come across a number of saloons, restaurants, and endless gift shops selling cowboy apparel and Southwestern souvenirs. There are a handful of interesting museums for history buffs to check out (check out Tombstone Historama). Walking around taking in all the old western architecture really is a step back in time – it's tempting to pick up a cowboy hat and some boots and pretend like you are in a western for the day. Or simply, visit one of the old time photo studios and dress up like an outlaw for some cool take home photo mementos.
Dining in Tombstone
There are a handful of restaurants in Tombstone, many oozing with old time Western charm. Big Nose Kate's Saloon is by far the best choice due to the live entertainment, rustic ambiance, and varied menu. Old West aficionados can don up in western gear and stand behind the bar for a memorable photo opp. For breakfast check out the OK Cafe, a cute local diner serving hearty entrees and good coffee, in a cute western themed dining room. You may also want to stop by for a drink in one of the historic saloons – check out The Crystal Saloon, which opened in 1879, making it the oldest in Arizona.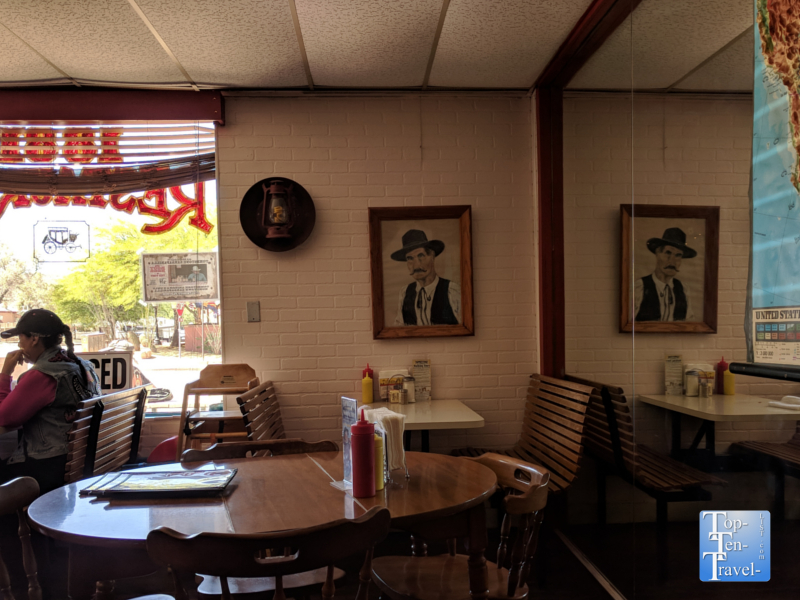 What to do
Trolley tour – Taking a trolley tour is the best way to learn more about the history of Tombstone. The Old Tombstone Western Theme Park offers a fantastic narrated tour, which is both fun and educational. Even western history buffs are sure to learn something new. You'll learn all about the history of Tombstone and even some interesting little known facts. You'll pass all the main sights within town, before heading out to Boothill Graveyard. Highlights of the tour include a look at Wyatt Earp's house and The Sagebrush Inn, (where John Wayne frequented while in town).
Gunfight show – The most lively gunfight reenactment takes place several times daily at the Old Tombstone Western theme park. This high energy show perfectly combines action with a bit of comedy. It's a lot of fun even for those not particularly into westerns like myself. The actors are all really entertaining and willing to take photos with everyone after the show! I recommend purchasing the combo gunfight/trolley pass as they are both worth doing and you will save yourself a few bucks this way. Arrive early to ensure a seat in the shady section!
Mini golf – If you purchase the Trolley/Gunfight combo, you can add a round of mini golf for just a few extra bucks. The course is small, yet something extra to do to kill some time. Avoid during the hot summer season!
Boothill Graveyard – This historic graveyard is located just a few miles outside of town. If you are really interested in history, you may want to stop here, although there really isn't much to see. Upon arriving, you will receive a map with prominent gravestones to check out and you can stroll around at your leisure.
Old Tombstone Western Theme Park – Here you will find a number of attractions including the shootout show and mini golf mentioned above, a shooting gallery, gold panning, a restaurant & cantina, and of course, plenty of fun photo opportunities.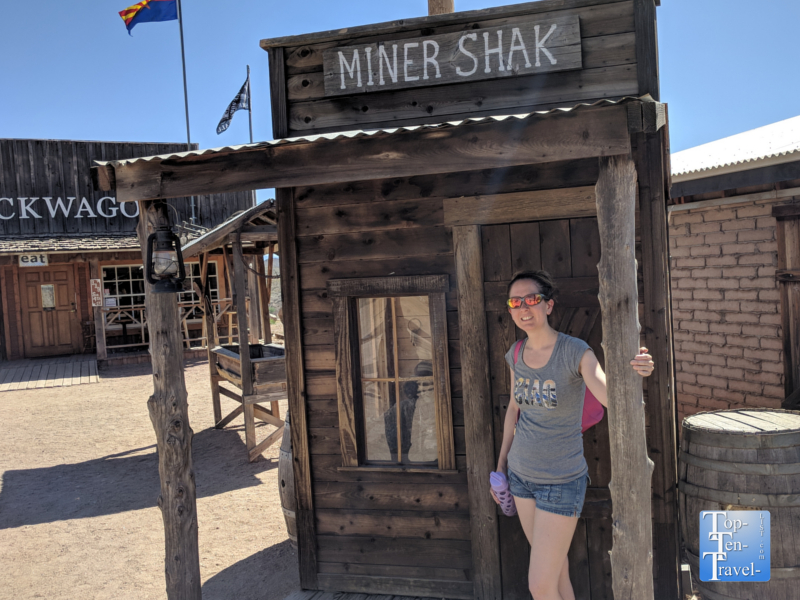 Why you should visit Tombstone
Overall, Tombstone is a fun daytrip destination for fans of old Westerns, history buffs, and anyone looking for an interesting & quick weekend escape from Tucson. I wouldn't necessarily go out of your way to visit Tombstone unless you are really into Westerns. Not being a fan of Westerns myself, I still had a fun time and found plenty to do, although probably would not plan a return visit.
Tips for a great visit
Plan your visit outside of the summer season! It is extremely hot and there is absolutely no shade! If you do decide to visit at this time, bring with a large water bottle and arrive early to the gunfight show to find a seat in the shade.
Avoid holiday and special event weekends due to the insane crowd levels.
Search Groupon for special deals. The Old Tombstone Western theme park offers a great combo including a gunfight show, min golf, and trolley tour for 2 for just 30 bucks.
If coming from Tucson, leave early in the morning to get a head start over the crowds. Arrive early enough in the morning and you'll be able to stroll down Allen Street and enjoy a nice breakfast sans the crowds.
For those looking to stay overnight, The Tombstone Grand Lodge and the Landmark Lookout Lodge are both highly regarded.