20 Spectacular & Free Tourist Attractions in the Southwest
The Southwestern US is home to some of the most amazing natural wonders in the country. From beautiful underrated national parks, to the Saguaro studded Sonoran desert, to ancient million year old red rock formations, to beautiful high altitude pine and aspen forests, there is a gorgeous place to hike, bike, photograph, camp, drive through, and/or simply explore no matter where your adventures may take you. Here are 20 fantastic free (minor parking charges may apply) otherworldly tourist attractions in the Southwest to get you started.
Note that there are many wonderful attractions with admission fees not included on this list i.e. Zion National Park, the Grand Canyon, White Sands, and Saguaro National Park. For this list, I have focused on bucket list worthy free wonders!
1. Horseshoe Bend
Location: Arizona/Utah border
This unique natural wonder is located within the Glen Canyon National Recreation Area. Not surprisingly, it is one of the most photographed places in the Southwest. The unique curve that the sandstone follows around the Colorado River truly is photo worthy. The hike is short at 0.6 miles, but very steep and sandy – wear hiking shoes for extra traction. While you may have seen Horseshoe in pictures, to see it in person truly is an enchanting experience. Looking 1000 foot down at the vivid bluish-green Colorado river truly is a mesmerizing experience. Note that there are many accidents each year so do not venture too close to the edge.
2. Scottsdale McDowell Preserve
Location: Scottsdale, Arizona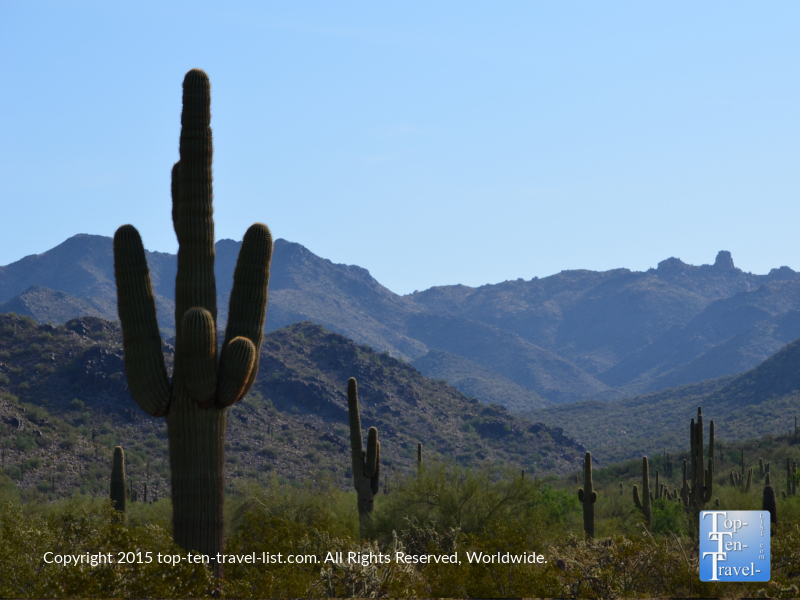 One of the most beautiful places to hike in the entire Phoenix metro area is Scottsdale McDowell preserve. At 30,500 acres, it is the largest nature reserve in the US. With 200 miles of trails to explore, there are more than enough opportunities to get up close and personal with the unique flora and fauna of the desert. For beginners, the 2 mile Saguaro Loop nature trail is a fantastic choice. For advanced hikers, the hard but rewarding climb up Tom's Thumb (1200 ft elevation gain) is a must-do. Besides seeing gorgeous exotic cacti and soaking in beautiful mountain scenery, you may run into small mammals such as bobcats, gila monsters, and tortoises. Keep in mind rattlesnakes inhabit the preserve. Keep away from cactus needles (they hurt!) and also avoid hiking during the 100+ degree months.
More info on the Scottsdale McDowell preserve
3. Mt. Lemmon Scenic Byway
Location: Just outside of Tucson, Arizona
One of the most spectacular drives in the Southwest is 27 mile long Mt. Lemmon Scenic Byway. What sets this drive apart is the diversity of scenery, which ranges from Saguaro cacti, to hoodoos, to pine forests. As the elevation varies from ~2000 near Tucson to ~9000 at the base, the difference in plant life and temperatures truly is truly astonishing. With a 20-30 degree temperature drop, Mt. Lemmon is a popular summertime cool down destination for desert dwellers. Along the scenic route, there are many hikes, picnicking areas, and overlooks to enjoy. When you reach the base, there are endless hiking trails to take in the beauty of the high altitude pine and aspen forests. It's a great leaf peeping destination in fall and also a snowy winter wonderland (home to the southernmost ski resort in the US!).
4. San Juan National Forest
Location: Southwestern Colorado
This 1.8 million acre forest is the gem of Southwestern Colorado. Accessing the hundreds of miles of trail is easy from several great tourist destinations including Pagosa Springs and Durango. The high desert scenery ranges from alpine meadows, to spruce/aspen/ponderosa forests, to canyons. Diverse opportunities for recreation include hiking, mountain biking, nordic skiing, fishing, horseback riding, and camping. Most notably, the forest is a mesmerizing place to leaf peep – the aspens come alive with a medley of golden hues each September/October. Best of all, there are many waterfalls to discover including the most beautiful: 105 foot Treasure Falls which is easily accessed via a half mile trail. Note: for those unable to hike, it is partially viewable roadside!
5. Coconino National Forest
Location: Northern Arizona
Northern Arizona is one of the most beautiful vacation destinations in the country. Flagstaff, home to the San Francisco Peaks, is a wonderful base for exploring the Grand Canyon, as well as many other natural wonders. The massive 1.8 million acre Coconino National Forest is a year-round destination for hiking, biking, snowshoeing, cross country skiing, and leaf peeping. Most notably, it is home to the largest ponderosa pine forest in the country. From the high altitude pine/aspen forests of Flagstaff, to the enchanting red rocks of Sedona, you will never tire exploring beautiful uninterrupted nature at its' best. Adventure seekers come from all over the world to climb to the top of Humphreys Peak (the highest in the state at 12,637 ft).
Check out a few of the best trails in the Coconino National Forest in Flagstaff and Sedona
6. City of Rocks
Location: Southwestern New Mexico
This unique state park is located in the Chihuahuan desert region of southwestern New Mexico. The unique name comes from the strange rock formations which resemble a city layout. Some of these incredible rock wonders rise up to 40 feet tall! Surrounding the rocks are paths which look like city streets. It is estimated that the rocks formed 39.4 million years ago as a result of a volcano eruption. Today, it is an otherworldly place to add to your New Mexico bucket list. Other activities on-site including hiking, camping, and picnicking. Be on the lookout for special events like nighttime stargazing walks.
7. Tumanoc Hill
Location: Tucson, Arizona
Hiking 700 feet up to this National Historic Landmark summit is the iconic Tucson experience. Today, Tumanoc is managed by U of A for ecological research. The 1.5 mile trek is really challenging, although the mountain and city views throughout and especially atop are breathtaking. Along the route, you will see lots of cacti and possibly local wildlife (javelina, coyote). The entire path is paved, clean, and well-maintained. Restrooms and water fountains are found midpoint. Some choose to stop here and turn back as the path (the last half mile or so) gets much steeper! To beat both the crowds and intense heat, it's best to hike early (fortunately, the trail opens at 4am). As a bonus, it is close to downtown so lots of great restaurants in the vicinity (check out Seis tacos at Mercado San Agustin!).
8. Chiricahua National Monument
Location: Southeastern Arizona
This otherworldly park in the Chiricahua mountains of southeast Arizona is one of the hidden gems of the state. Although it is often overlooked due to more popular tourist attractions like Sabino Canyon and Saguaro National Park, the enchanting & unusual scenery makes it well worth a spot on any adventure lovers and photographers must-see list. 17 miles of trails will take you through a "Wonderland of Rocks." The mesmerizing oddly shaped rock formations are the result of the Turkey Creek volcano eruption 27 million years ago. Today you can hike, enjoy an 8 mile scenic drive, and birdwatch on over 12,000 acres of uninterrupted beautiful natural space.
More info on Chiricahua National Monument
9. Oak Creek Canyon scenic drive
Location: Northern Arizona
Nowhere in the Southwest will you experience 14 miles of such beauty. This incredibly scenic road begins a few miles outside of the ponderosa forests of Flagstaff and continues on until reaching the red rock wonderland of Sedona. Every inch of this drive is loaded with awe-inspiring scenery. From the green enchanting ponderosa pine forests, to the towering ancient red rocks, it really is marvelous. Along the way you can visit authentic Native American craft markets, hike, and enjoy a beautiful perennial creek. Must-do's include hiking the Cookstove and West Fork trail, breakfast at Indian Gardens, and sliding down natural waterslides at Slide Rock State Park.
More info on the Oak Creek Canyon scenic drive
10. Dripping Springs Natural Area
Location: Las Cruces, New Mexico
Las Cruces, New Mexico is a great vacation destination for art and outdoor lovers. The small community is surrounded by the beautiful Organ mountains. The best hiking area in this mesmerizing mountain range is Dripping Springs Natural Area. The 3 mile Dripping Springs trail, located within Organ Mountains-Desert Peaks National Monument, takes you past old mineral springs as well as Boyd's Sanitorium (pic below) – once used to house tuberculosis patients in the early 1900's. As many died here, it's no surprise that today it is considered haunted. In addition to enjoying the natural beauty and historical significance of the area, Dripping Springs is a bird and wildlife watching destination. Mule deer and coyote make frequent appearances as well as various bird species (cactus wren, desert cottontail, black throated sparrow).
More info on Dripping Springs Natural Area
11. Petroglyph National Monument
Location: Albuquerque, New Mexico
If you are at all interested in history, then you will want to add this little Albuquerque gem to your bucket list. As one of the largest protected petroglyph sites in the country, it's definitely worth a look on any visit to Albuquerque. Native American and Spanish settlers carved these rock symbols 400-700 years ago. There are a number of short hikes to enjoy, the best being the 2 mile Rinconada Canyon trail where you will get to see over 300 incredible ancient drawings. Hiking is very rustic with nothing but desert landscapes and occasional wildlife sightings. Bonus – great views of the Sandia mountains!
12. Sunset Wupatki Scenic Drive
Location: Northern Arizona
This 34.5 mile long scenic drive is one of the top attractions in Northern Arizona. After checking out the Grand Canyon and Sedona, you will want to explore some of the hidden gems of this spectacular region of the country. Not only does the drive feature incredible mountains overlooks (including a wonderful view of the San Fran Peaks at Bonito Meadow – pic above and the Painted Desert), but there are many attractions along the route. At Sunset Crater, you will be able to see the remains of the most recent volcanic eruption in Arizona (~1000 years ago). At Wupatki, you will be able to explore various ancient Hopi pueblos including 900 year old Wupatki featuring over 100 rooms!
13. South Mountain Park
Location: Phoenix, Arizona
At 16,000 acres, South Mountain is one of the country's largest urban parks. There is plenty of space here to enjoy the exotic beauty of the desert. Whether you are into hiking, mountain biking, or simply seeking a scenic drive where you can enjoy the view without the effort, there is an option for you at South Mountain. In addition to 58 miles of hiking, biking, and horseback riding trails, there is a great drive for those who prefer not to exercise in the hot, dry summer heat. Summit drive is a 5.5 mile road which begins at the entrance. Bonus – on "Silent Sundays" (the 4th Sunday of the month), the park's main road is closed to vehicle traffic to make way for walkers, bikers, joggers, etc.
More great hiking areas in Phoenix
14. Allen Street in Historic Tombstone
Location: Tombstone, Arizona
Fans of the Wild Wild West and cowboys will definitely want to plan a visit to "the town too tough to die." The historic mining boomtown was once the largest city between St. Louis and San Francisco. Over 100 saloons operated at one point, with the oldest, The Crystal Palace (est. 1892), still in business. Historic Allen Street still looks the same today as it did in the 1800's when Wyatt Earp and Doc Holliday were involved in legendary shootouts. From the O.K. Corral, to the Bird Cage theater, there are many historic sights of interest to explore. Lots of photos to take on Allen Street, plus shops to browse, and old timey restaurants (check out Big Nose Kate's saloon). History buffs will also want to check out Boothill Graveyard including the 3 men killed at the O.K. Corral gunfight.
A full guide to visiting Tombstone
15. Red Rock Scenic Byway
Location: Sedona, Arizona
This incredibly scenic 14 mile drive runs a beautiful course from I-17 to The Village of Oak Creek. Of course, to enjoy even more beauty you can continue on to the equally beautiful Oak Creek Canyon drive mentioned earlier. Highlights along the drive include The Chapel of the Holy Cross (a mesmerizing church built between 2 massive rock formations), Little Horse Trail (a 3 mile moderately easy trek featuring big red rock views), and Bell Rock Pathway (an easy but long trail that is also a known vortex energy site). Whether or not you stop at any trails or scenic overlooks, dramatic viewpoints of some of Sedona's most outstanding rock formations accompany you for the entirety of the route. The drive is a bucket list contender all on its' own.
More info on the Red Rock Scenic Byway
16. Coronado National Forest
Location: Southeastern Arizona & southwestern New Mexico
Tucson is home to 5 incredible mountain ranges. There are endless hiking trails to enjoy in and around the city. Coronado National Forest encompasses 1.78 million acres in southeastern Arizona and southwestern New Mexico. The forest is home to an impressive mix of plants and wildlife. Six Sky Islands make up the forest (Sky Islands are isolated mountain ranges which vary dramatically environmentally with surrounding low elevation areas). Because of the diverse geography, you can go from the Saguaro cacti studded desert to mountain snow in the same day! Sabino Canyon is the most popular tourist destination although there is a small entrance fee. Here you can take a narrated tram ride, hike diverse trails, birdwatch, and more.
Other great hiking destinations in the Coronado NF near Tucson include: JW Bowen Hidden Canyon, Madera Canyon, Linda Vista, Pima Canyon, and Aspen Draw at Mt. Lemmon.
17. The Strip
Location: Las Vegas, Nevada
Although this is the only man-made wonder on this list, it surely deserves a spot! Just walking down the famous 4.2 mile long Strip is a feast for the eyes. You do not have to spend a dime to take in all the excitement, glitz, and glamour. From replicas of famous world monuments, to opulent themed resorts featuring amazing architecture, to dazzling fountain shows, to amazing gardens, freebies lurk around every corner. A few of the best-of-the-best to add to your must-see list include:
Bellagio Fountain show – Wonderful choreographed music & light show featuring 1000+ fountains
Bellagio Conservatory – 1000's of gorgeous flowers incorporated into a changing seasonal display.
Flamingo Wildlife Habitat – Free roaming flamingos, exotic birds, and waterfalls in a lush garden setting.
Welcome to Las Vegas sign – Take your pic by the iconic 25 foot tall sign.
Check out my full guide to Vegas freebies
18. Camelback Mountain
Location: Phoenix, Arizona
Although you will find hundreds of great hiking trails throughout the Phoenix metro, none are as iconic as Camelback Mountain. It is the highest mountain in Phoenix at 2704 feet. The hike begins just 20 minutes outside of downtown Phoenix and draws massive crowds daily. This is one you will want to get up very early for (sunrise) – both to beat the crowds and heat! Two trails (both extremely difficult) involve an elevation gain of over 1400 feet to the summit which resembles a camel's hump, hence the name. After an intense workout and much scrambling, you will be treated to a panoramic view of the city and surrounding beautiful desert scenery. The cacti are beautiful although you will want to keep your distance as getting stung hurts badly (for hours afterward!). Also be aware of rattlesnakes.
19. US 82 Scenic drive/Mexican Canyon trestle
Location: Southern New Mexico
This is an incredibly scenic, curvy 30 mile drive in Southern New Mexico through the Lincoln National Forest, from the hot low desert of 4300+ ft Algomorado to the cool pines of 8600+ ft Cloudcroft. Not much in the way of amenities along the route, just pure uninterrupted natural beauty. Beautiful mountain scenery accompanies the drive and when you near Cloudcroft, you will see many gorgeous aspens and pines. Once arriving in Cloudcroft, you will have plenty of hikes to choose amongst in the Trestle Depot Recreation area. For those not interested in a rough high altitude hike, the 120+ year old Mexican Canyon railroad trestle is viewable via an observing deck just before reaching Cloudcroft on Hwy 82.
20. Peavine National Recreation trail/Watson Lake
Location: Prescott, Arizona
The 5.5 mile long Peavine trail runs a scenic course in the Granite Dells (1.4 billion year old granite formations) adjacent to Watson Lake Park. It's one of the most beautiful spots in the state to enjoy a scenic bike ride, run, or walk. Originally built by the Santa Fe Railway in 1893, it is now one of the only rail trails in Arizona. Great lake views throughout and you can also connect to the Watson Lake trail for a longer ride. Afterwards head over to Watson Lake for a day of hiking, picnicking, canoeing, or kayaking – it's a beautiful place to enjoy nature. End your night by enjoying a local restaurant or saloon in downtown Prescott – rated one of the best Main Streets in Arizona.