Exploring the Beautiful Lava Flow Trail at Sunset Crater National Monument
Sunset Crater, the youngest cinder cone of more than 600 in the San Francisco Volcanic Field, is a must-see attraction located about 15 miles north of Flagstaff. It is one of 7 natural wonders located near Flagstaff. The convenient distance from Flagstaff makes it an easy side trip to incorporate into any vacation. In addition, the proximity to other great attractions, like Wupatki National Monument, means you can easily visit 2 great national monuments back-to-back, making your drive more worthwhile. Your admission ticket includes access to both Sunset and Wupatki within a 7 day period.
History of Sunset Crater
Recent evidence shows that the volcano erupted sometime between 1040-1100 and lasted for several months or years. It is not expected to erupt again as activity in the San Francisco Volcanic Field has been very slow for the past 6 million years. If anything, an eruption should occur east of the crater.
Read more about the history of Sunset Crater
Things to do
There are several things to do during your visit at Sunset Crater. You can start by exploring the Visitor's Center where you can learn more about the history of the area. You can also pick up a handy trail map which will highlight points of interest along the Lava Flow trail.
Although there used to be a trail leading up to the summit of the volcano, it is now closed due to the heavy erosion caused by the thousands of hikers passing through each year. Today, you can still take a scenic walk along the base of the trail, via the 1 mile Lava Flow trail.
Hiking options
The more fit and adventurous can climb to the top of another cinder cone by way of the Lenox Crater Trail. This is a steep 1 mile round trip journey in which you will be rewarded for your effort with great views of the San Francisco Peaks, Sunset Crater, and the Bonito Lava Flow. Only experienced hikers should attempt this trail, especially during the summer months when you are combining hot dry temperatures with high elevation.
The wonderful Lava Flow trail
For the casual hiker looking to explore without going all out, the Lava Flow trail is the recommended hike. This short, easy 1 mile round-trip hike gives you the opportunity to explore the volcanic landscape, including lava flows and cinder fields. The trail is relaxing and scenic with views of the San Francisco peaks and surrounding Ponderosa pine forests throughout. Be aware that there is little shade, so dress appropriately, wear sunblock, and bring a water bottle.
The first quarter of a mile is paved with interpretative signs to read and a scenic overlook. If you want to continue on the unpaved trail, you will get to explore more of the unique formations. The unpaved portion is easy to follow and well-maintained, and relatively flat except for one small hill. Wear shoes with good traction as you will be walking up loose gravel.
Check out some of the great views along the Lava Flow trail
The gorgeous Sunset Crater-Wupatki Loop drive
Sunset Crater is located along a 34 mile scenic drive that travels from Flagstaff to Wupatki National Monument, known as the Sunset Crater-Wupatki Loop Road. Be sure to stop at Bonito Meadow (about 2 miles from the Sunset Crater Visitors Center) for fantastic views of Sunset Crater and the San Francisco Peaks. If your visit falls during the late summer monsoon season, the fields will likely be covered in gorgeous wildflowers.
Take a few looks below at the stunning mountains surrounded by beautiful yellow wildflowers!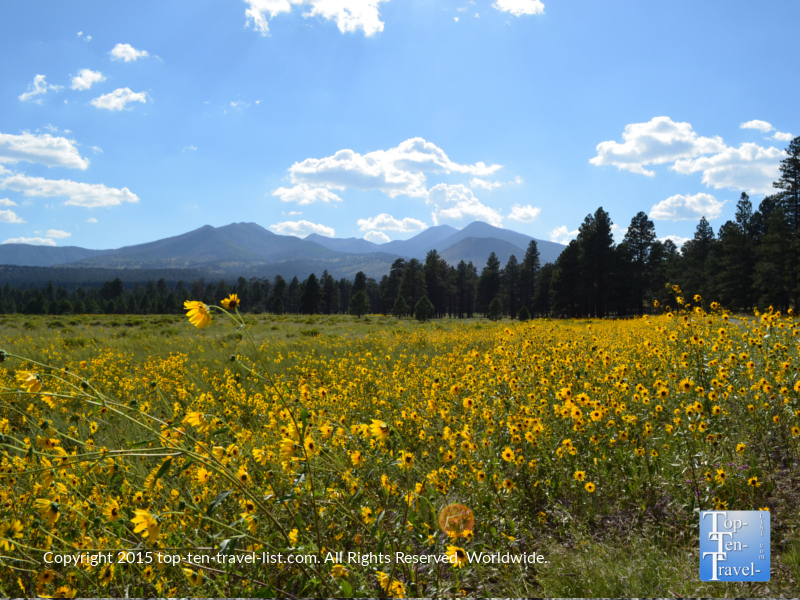 From Sunset, you can continue on a 16 mile or so scenic drive to Wupatki, where you can take in many beautiful views including an overlook of the Painted Desert.
Don't miss your opportunity to visit Wupatkii!
I recommend visiting both Sunset and Wupatki National Monument since they are in close proximity and your ticket includes admission to both. At Wupatki, you will get the opportunity to explore ancient Pueblos. Along the short 1/2 mile round trip trail, you will get to take in the beauty of several pueblos, including the largest, the Wupatki. This ancient pueblo was built in the 1100s with 110 rooms.
Tips for Visiting Sunset Crater
*Although the Lava Flow trail is short, you need to take your time. Remember that you are hiking at high elevation (7000 feet) where the air is thinner. If you are not accustomed to the change in altitude, you will likely have a harder time hiking than normal. You may be surprised at how much more difficult a simple walk becomes due to the lack of oxygen.
*Drinks lots of water. You should always drink more water in dry, high altitude areas where you are more prone to dehydration.
*Visit early in the day during the summer months. There is not much shade on any of the trails. Thus, it can easily feel much hotter than the actual temperature says outside. A morning visit will be much more comfortable. As always in desert climates, it's best to visit during the cooler months.
Admission & Fees
Sunset Crater is located at: 6082 Sunset Crater Road, Flagstaff, AZ 86004. Admission $25 per vehicle, good for 7 days at both Sunset and Wupatki National Monuments. For a better value, I recommend the $80 annual National Park Pass. This pass is good for a year and easily pays for itself if you travel frequently.