20 Most Spectacular Places in Arizona
Arizona is one of the most beautiful states in the entire country. While thoughts of dry barren landscapes and sagebrushes tumbling in the wind may come to mind, the desert offers so much more. The Sonoran Desert truly is enchanting with exotic plant life not found anywhere else in the world. And, it's not all just desert. While the mesmerizing Saguaro cactus dots the entire Southern Arizona region, breathtaking pine forests and red rock formation comprise much of the high altitude regions of Northern Arizona.
Where else can you go from hiking in the desert to skiing, within a 2 hour drive?
From hiking in the 70 degree Phoenix sunshine, to snowshoeing in a winter wonderland in Flagstaff…all in the same day!
Seemingly, in every single direction throughout this diverse state, lies a natural wonder more spectacular than the one before it. The Grand Canyon is just one on a long list of breathtaking sights to see during your time out here. Starting with the Grand Canyon, here is a list of 20 of the most stunning natural wonders to add to your must-see list.
1. Grand Canyon South Rim
Location: A few miles outside of Tusayan
Address: S Entrance Rd, Grand Canyon Village, AZ 86023 (Visitor's)
Highlight: One of the country's grandest natural wonders
Where to stay: El Tovar Lodge
Many do not know that there are 2 separate entrances to the Grand Canyon. Visitation is much heavier at the South Rim due to the convenient access from nearby tourist destinations like Flagstaff and Sedona. However, if you are up for a lengthy drive, the serene isolated nature of the North Rim makes it more than a worthwhile daytrip destination. At an altitude of 8297 feet, the North Rim stuns with shear natural beauty, far away from any civilization.
As one of the country's most iconic natural wonders, the Grand Canyon is usually first on everyone's Western bucket list. This is not simply a stop and go attraction. On the contrary, there is so much to do and see here including fabulous hikes, incredible overlooks, scenic drives, even whitewater rafting and mule rides. The South Kaibab hike is one of the best trails you will ever come across. If you are up for an incredible challenge, you will be rewarded with insane views of the Canyon. And better yet, you get to enjoy the scenery all to yourself as most do not complete the entire wearisome journey.
Views from the stunning South Kalibab hike
2. The Inner Basin
Location: Flagstaff
Address: Take US Hwy 89 to FR 552 and follow the sign to Lockett Meadow
Highlight: Incredible fall foliage
Flagstaff's 4 season climate leads to diverse year-round recreational fun. The Inner Basin is one of the top leaf peeping destinations in the state. In fact, it's probably one of the best fall color hikes anywhere out West. The striking yellow foliage covering the heart of the San Francisco Peak draws autumn lovers from around the country. Who would guess that Arizona sees some of the most incredible fall foliage in the country? While you may have seen lovely foliage before, you have never seen anything this incredible.
As you embark on the steep 1.7 mile climb up to the Inner Basin of this ancient volcano, the bright colors of the season surround you via colorful aspens lining the entirety of the forest. The weather is crisp and refreshing. The aspens are shimmering in the wind. The golden hues are straight out of a painting. It's a wonderful experience and the number 1 thing to do while visiting Arizona in the fall. Nothing says fall quite like a stroll through the uninterrupted Flagstaff wilderness.
A leaf peeping wonderland!
3. Wupatki National Monument
Location: Flagstaff
Address: 25137 N Wupatki Ln, Flagstaff, AZ 86004
Highlight: One of the largest pueblos on the Colorado Plateau
Wupatki is an ancient 100 room pueblo located about 20 minutes north of Flagstaff. Sinagua tribes lived here from the early 1100s until 1182 or so. It's crazy to think of what the people had to endure to survive in an area with so little water. The name Sinagua actually translates into "mountains without water." A half mile trail will take you around the now abandoned pueblo, which still stands strong today as one of the best preserved pueblos in the country. Although the area is now completely remote, the Hopi believe that their people live on as spiritual guides.
Modern Hopi tribes trace their ancestry to the Sinagua. Wupatki in the Hopi language translates into "Tall House."
Wupatki is a really interesting sight, not just for history buffs, but also for photographers and nature lovers. The area is totally isolated, so much so that it feels a bit eerie walking around. In fact, Wupatki is the only building for miles and miles. Wupatki is a mesmerizing sight to see today amidst all our modern conveniences.
A look at a few of the ancient pueblo ruins
4. Devil's Bridge
Location: Sedona
Address: Take Dry Creek Rd to FR 152. Unless you have a high clearance vehicle, you will need to walk about a 1/2 mile to the trailhead.
Highlight: The largest sandstone arch in Sedona
Sedona aka "Red Rock Wonderland" due to the incredible colorful red rock formations which surround the town, is a nature lover's dream destination. If you are seeking a prime hiking/nature vacation destination, look no further than Sedona. Although getting more crowded by the year, and thus, no longer a hidden gem, Sedona is still a nature oasis like no other.
Hundreds of miles of hiking trails are located in or within close proximity to town. The most stunning (and resultantly, most popular) is Devil's Bridge. On this trail, you will be able to take a walk across Sedona's largest natural sandstone arch. While it looks scary from the pic, walking the bridge is an exhilarating experience. And, in person it is not nearly as narrow as it looks.
Otherworldly red rock vistas motivate you to push forward on this fairly easy 2 mile out-and-back trek. While the hike is no struggle, finding parking is another story. Save this one for a weekday or visit outside of prime season (fall/winter). And be sure to check out more stunning hikes in the Sedona area.
A few views from this incredibly scenic trail
5. Mt Lemmon Scenic Byway
Location: Tucson
Address: From Tanque Verde Rd. take Catalina Highway up 30 miles to the town of Summerhaven.
Highlight: Incredible diversity of scenery in just 30 minutes
Out of all the scenic drives in Arizona, the 30 mile long Mt. Lemmon Byway is the most unexpected and mesmerizing. As you begin your drive near the exotic Saguaro cacti in Tucson, you cannot not imagine anything besides 100+ degree temps and desert surroundings. Fast forward about 30 minutes and all of the sudden you are surrounded by dense green pines. The temps all of the sudden drastically drop to a much more comfortable level – often times 30 degrees cooler! You may even need a sweatshirt!
At an altitude of 8000 feet, the "Sky Island" of Mt. Lemmon is a very popular summer destination for desert dwellers. Up this high, there are lots of pretty pine trails to enjoy far away from the desert heat. You will find a scenic chairlift ride and restaurants where you can dine outdoors without overheating. But that's not all. Come autumn, Mt Lemmon is a leaf peeper's dream. And, come winter, you can ski at one of the only resorts in the state. The 8000+ altitude lends to a rare 4 season climate, providing both relief and fun to desert dwellers throughout the year.
Check out the diversity of scenery, all within a 30 minute drive!
6. Saguaro Lake
Location: About 40 miles northeast of the Phoenix area
Address: 14011 N Bush Hwy, Mesa, AZ 85215
Highlight: The best lake near Phoenix
Many people are unaware that lakes even exist in Arizona. Yet, the Phoenix region alone is home to 6 gorgeous lakes, Saguaro being the most stunning of the bunch. A gorgeous cruise via Desert Belle is the best way to take in the majestic scenery. Thousands of enchanting Saguaro cacti dot the lakeshore, with stunning mountain vistas comprising the background. The lake is also a wildlife watching hotspot. Jaguars were thought to be extinct until several sightings including one at this lake a few years back.
It's amazing to think that one of the most gorgeous lakes is located in Phoenix of all places. The fact that water is so rare in the Southwest makes the scenery even more exhilarating. Outside of cruises, you can enjoy all sorts of waterfront activities like water skiing, paddleboarding, and wakeboarding. If you are going to cool off via some fun-in-the-sun, Saguaro Lake sure is the most picturesque spot to do! Just be aware that everyone else is flocking here too, especially during the hot summer season! Arrive early as the lake is often at capacity before 10am.
Just a few of the wonderful views via the Desert Belle cruise!
7. Chiricahua National Monument
Location: Wilcox (about 1.5 hours east of Tucson)
Address: E Bonita Canyon Rd, Willcox, AZ 85643
Highlight: Exotic hoodoos and rock formations
Chiricahua has been nicknamed "The Wonderland of Rocks." After visiting the park and seeing all these ancient unique rock formations, you will surely agree that this place is a hidden wonderland. Despite the immense beauty, Chiricahua does not see nearly as many tourists as the more popular natural wonders. You never really hear anything about it in a state where the Grand Canyon overshadows everything. However, this is one of Arizona's true treasures. This lack of crowding really make the scenery even more surreal and exotic.
Besides the wonderful scenic drive, you will find a range of hiking options. A great in between option is the Echo Canyon trail where you will get to see beautiful hoodoos and rock formations without going all out. Trails are barely ever crowded. The desolateness provides a much needed natural escape from all our modern congestion.
A few of the exotic rock formations you will come across on the trails!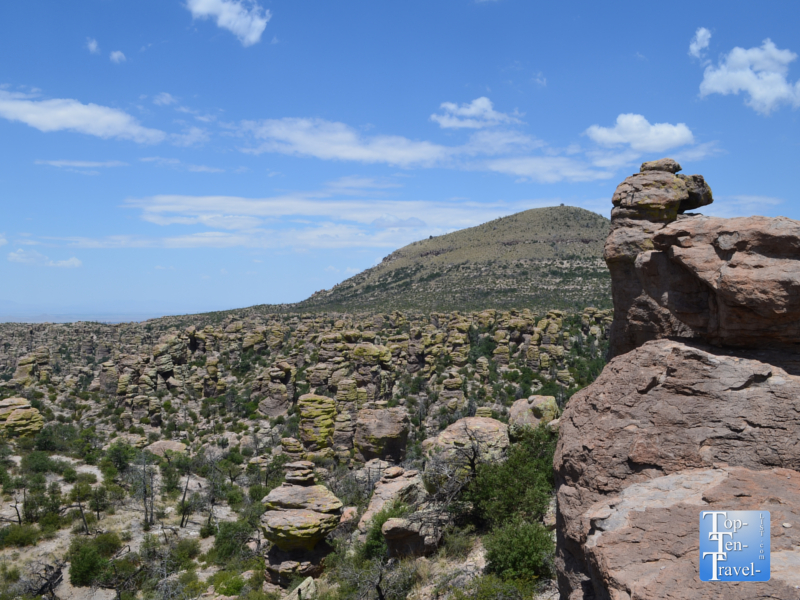 8. Picaho Peak
Location: Picacho (About halfway between Tucson & Phoenix)
Address: 15520 Picacho Peak Rd, Picacho, AZ 85141
Highlight: Desolate desert surroundings
Picacho Peak State Park is another underrated treasure which doesn't get much love due to its' undesirable location. Located halfway between Southern Arizona's biggest cities, the 3370 foot summit of Picacho rises up dramatically in comparison to the nearby barren desert lands. On this boring drive, Picacho really makes a bold statement. Unfortunately most keep right on driving on to bigger and better destinations in the big cities. As the majority are not going to go out of their way to stop here enroute to Phoenix or Tucson, it remains uncrowded the majority of the year.
Avid hikers enjoy challenging themselves to the hard climb up the Hunter trail. For everyone else, the Calloway trail offers a nice opportunity to enjoy isolated vistas of the desert. While you get to see plenty of cacti just about everywhere in Arizona, the remoteness of Picacho sets it apart from the rest.
A few gorgeous vistas from the Calloway trail
9. Catalina State Park
Location: Oro Valley
Address: 11570 N Oracle Rd, Tucson, AZ 85737
Highlight: Best views of the Santa Catalinas
Hiking at gorgeous Catalina State Park is the must-do while visiting Tucson. The Santa Catalinas are the most stunning mountain range in Southern Arizona, dominating the charming community of Oro Valley. This beautiful area is located about 20 minutes north of Tucson, and is well worth the drive for hikers, photographers, desert lovers, and bird watchers alike.
Catalina State Park offers a variety of hiking trails, from an easy interpretive nature trail to an arduous hike to a secret swimming pool. The unending mountain views, secluded nature, and diversity of desert plant life make this an easy contender for the best of Tucson. This park best incorporates both stunning mountain scenery and the opportunity to see exotic desert flora & fauna into relatively easy hiking trails.
A few pics from the Canyon Loop trail, a moderate 2 mile trail featuring gorgeous scenery throughout!
10. Sugarloaf Summit
Location: Sedona
Address: 190 Meander Way, Sedona, AZ 86336
Highlight: An incredible 360 degree panorama of the red rocks
The Teacup/Sugarloaf Summit trail is one of the hidden gems of Sedona. In an area loaded with over-the-top-scenery, the Sugarloaf Summit trail still easily stands out as one of the best-of-the-best. The hike is relatively easy, close to town, uncrowded, and most of all, loaded with the most jaw dropping red rock scenery.
The Teacup trail is relatively easy & short with very little elevation gain, and thus, suitable for most everyone. The 1/2 mile trek up to the 4912 foot Sugarloaf summit involves a minor 400 foot elevation gain – basically nothing in comparison to the 360 degree panoramic reward at the top. Many Sedona trails require much more effort to see much less. This trail is peaceful and beautiful and simply a wonderful way to escape it all and enjoy the most exotic scenery you will ever lie eyes upon.
Take a look at this beauty!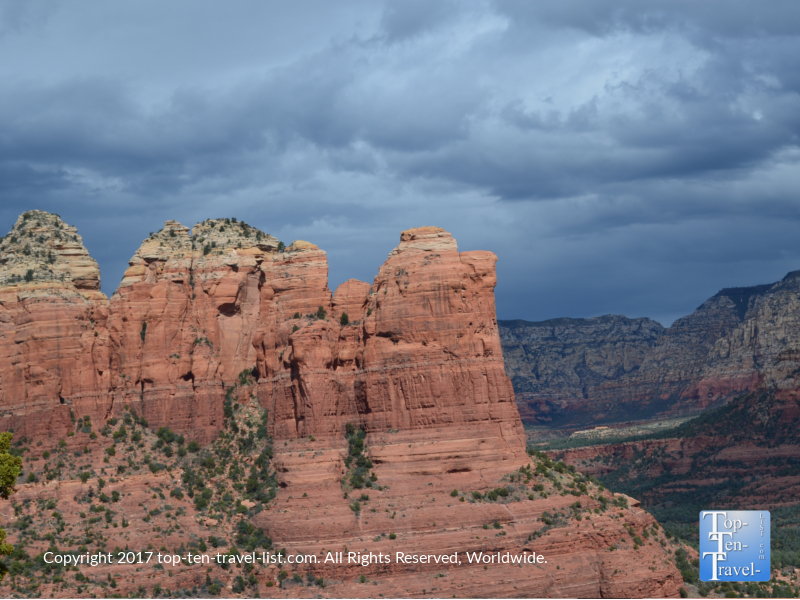 11. Arizona Snowbowl
Location: Flagstaff
Location: 9300 N Snow Bowl Rd, Flagstaff, AZ 86001
Highlight: Amazing fall foliage & incredible winter scenery
Arizona's largest ski resort is located on the state's largest mountain, the beautiful San Francisco peaks, which sit at an elevation of 12,633 feet. Many are unaware that it snows in the Northern portion of state. In fact, as one of the snowiest cities in the country, Flagstaff sees over 200 inches per year!
However, there is much more than simply winter recreation to be found at Snowbowl. First off, there are 3 incredible trails on the mountain. The Aspen Nature Loop and Kachina Trail both offer incredible views of the Northern Arizona mountains. Even better, both are alive with gorgeous golden aspens each fall.
Humphrey's is an extremely challenging uphill trek to the peak, and thus draws experienced hikers from all over the country. The other 2 are more suitable for casual hikers, not to mention you can turn around at any point if you tire. Non hikers can opt for a relaxing chairlift ride, available summer through fall. If visiting in winter, be sure to rent some snowshoes and enjoy a winter wonderland experience reminiscent of Narnia.
A look at Snowbowl through the seasons…
12. The Painted Desert
Location: Holbrook (about 2 hours east of Flagstaff)
Address: Latitude: 35.06543746738773, Longitude: -109.78153824806213
Highlight: Colorful ancient rock formations
The Painted Desert is a name given to a colorful region of rolling badlands which encompasses more than 60,000 acres in the northern portion of the state. Once you see the vibrant medley of colors, you will see why it was named as so. Although it covers a wide range, the colorful hills are most accessible via the Petrified National Forest, an incredible place loaded with one of the highest concentrations of 200+ million year old petrified wood.
There are a number of scenic overlooks of the Painted Desert throughout the Petrified Forest. A scenic drive around the park will take you past a few mesmerizing viewpoints. If you are up for something a bit more off-the-beaten path, consider embarking upon a backcountry hike. This enables you to explore the other worldly scenery in a more desolate uninterrupted setting unlike anything you've seen before. If you prefer sticking to a maintained trail, check out the Painted Desert Rim trail or the Blue Mesa trail.
The stunning Painted Desert – there is nothing else like it!
13. Tucson Mountain Park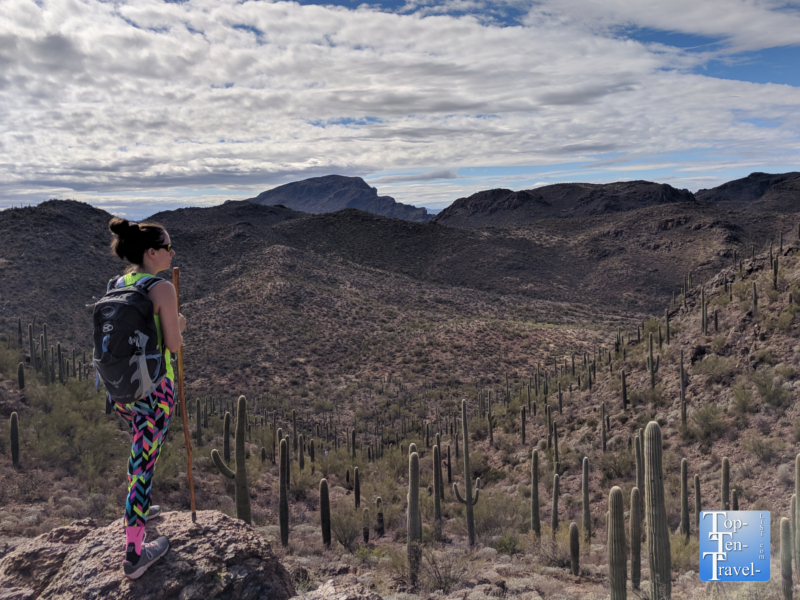 Location: Tucson
Address: 3800 W Starr Pass Blvd, Tucson, AZ 85745
Highlight: Secluded & scenic
Although not nearly as hyped as Saguaro National Park, Tucson Mountain Park offers an attractive desert ruggedness which makes you feel like you have truly stepped back in time to the days of the Wild West. The area is so remote and rustic that you really can get lost in the desert (and be sure to bring plenty of water, in case you do!). Trails in the area vary from easy to hard, all offering you the unique opportunity to observe diverse desert flora and fauna. If you are not up for a hike, simply hop in the car and enjoy the scenic rolling drive where you will see more cacti than you could possibly dream of.
The best trail by far in the area is the Hidden Canyon trail which starts near the JW Marriott at Starr Pass Resort. This trail is just 2 miles roundtrip, yet features the most stunning views of the Tucson Mountain range. It's so remote and scenic, and fortunately, short enough that you can do it just about anytime of year without overheating or totally wearing yourself out. Keep your eyes peeled as bobcats and javelina are frequently out and about during early mornings hours.
A cacti wonderland for desert lovers!
14. Scottsdale McDowell Preserve
Location: Scottsdale
Address: 18333 N Thompson Peak Pkwy, Scottsdale, AZ 85255
Highlight: Diversity of cacti studded trails
The best place to hike in the Phoenix area, amongst the multitude of options, is the Scottsdale McDowell Preserve. First off, there are seemingly unending trails to explore here. Second, it's a bit off-the-beaten path and thus stays much more quiet than hotspots like South Mountain and Piestewa Peak. And most importantly, the views here are shear desert wonderland.
If you are a hiker looking for a wonderful trail system in the Phoenix metro, head right over to the Scottsdale McDowell preserve. The diversity of options is sure to please everyone, from the beginner hiker, to the avid hiker seeking a more intense adventure.
A few spectacular vistas from the Gateway trail system
15. Oak Creek Canyon
Location: Starts 6 miles outside of Flagstaff
Address: Take Hwy 89A near Kachina Village
Highlight: Magnificent scenery for 14 straight miles
Oak Creek Canyon is a standout scenic drive, being that it features some of the most amazing scenery you will ever come across. Located in between Flagstaff and Sedona in Northern Arizona, the 14 mile drive features a diversity of scenery changes from ponderosa pines, to deciduous trees, to towering red rock formations. It's one of the most gorgeous drives out West no doubt. Whether enjoying leafy green trees cascading over the road in the summer, golden leaves in the fall, or the rare sight of red rocks dusted with snow, the drive is fabulous anytime of the year.
Oak Creek is a heavily visited year-round playground, second only to the Grand Canyon in tourism numbers. Not only is the scenery outstanding, but there's much more to do including hikes along the creek (West Fork trail), Native American markets, scenic overlooks, and the best breakfast restaurant in the state (Indian Gardens).
As the drive brings forth new and interesting scenery with each twist and turn, it's simply something you have to see for yourself. No pictures will do justify for this incredible area. If you only have time for one Arizona daytrip, let Oak Creek Canyon/Sedona be it.
The Oak Creek Canyon scenery changes throughout the year
16. Slate Mountain
Location: Flagstaff
Address: Head out on US 180 north of Flagstaff for 30 miles. Take FR 191 for 2 miles until you see the trailhead parking.
Highlight: Best view of The Peaks
Slate Mountain is one of the most incredible trails in Flagstaff, an area with no shortage of desirable hiking areas. The hike involves a challenging 2.5 mile climb up to the 10,000+ foot summit of Slate Mountain. Nothing overly intense for the regular hiker, however, a tough feat if you are not used to the high elevation. From here, you will enjoy the most incredible overlook of the gorgeous San Francisco Peaks, the highest mountain range in the state.
Asides from the wonderful views, you will enjoy a totally isolated setting far away from civilization. As this trail is quite a drive away from town (about 20 minutes), it remains desolate. As this area continues to expand and grow in tourism, hiking Slate Mountain becomes even more of a treasure as the years go on.
Views from the trail and ending overlook
17. Bear Jaw Loop
Location: Flagstaff
Address: GPS coordinates: 35°23'33.0″N 111°40'12.7″W
Highlight: Incredible fall foliage
Like the Inner Basin hike, the Bear Jaw loop stuns come fall with some of the most amazing fall foliage you will lay eyes upon. The 2 mile climb through forests of beautiful aspens is difficult, yet extremely rewarding at the same time. For an even bigger adventure, you can combine Bear Jaw with the Abineau trail for a 7 mile picturesque journey through this pristine mountain wilderness.
Nothing beats hiking in the peak of fall as groves of golden aspens line almost the entirety of this trail. From here, not only can you see Humphrey's Peak, but also the Grand Canyon which lies 70 miles away. To top it off, hiking this trail is your best bet for any type of wildlife watching, be it mule deer or the more evasive black bears. Always keep your distance and bring bear spray!
Check out the amazing leaf peeping!
18. Honeybee Canyon
Location: Oro Valley
Address: 13880 N Rancho Vistoso Blvd, Oro Valley, AZ 85755
Highlight: Secluded views of the open desert
Although far from the most popular trail in the Tucson region, HoneyBee Canyon sure is one of the most scenic. Considering the hike is just under 2 miles, you really get a lot of bang-for-your-buck on this one. Terrific mountain scenery, endless cacti, and peace and quiet. There is no better trail in the Oro Valley region than Honeybee Canyon.
19. Buffalo Park
Location: Flagstaff
Highlight: Best views of the Peaks & Mt Elden
Buffalo Park is the favorite green space of both Flagstaff locals and tourists. This year-round natural wonderland offers opportunities for scenic recreation with each passing season. Whether is be a summer hike, a spring picnic, a fall bike ride, or cross country skiing the winter, Buffalo Park is an amazing recreational spot anytime of year.
No matter the season you visit Flagstaff, be sure to place Buffalo Park high on your to-do list. The picture perfect mountain backdrop makes this the most motivating place in town to get in a wonderful workout.
Gorgeous scenery all year-round!
20. Red Rock Scenic Byway
Location: Sedona
Address: AZ-179
Highlight: Otherworldly red rock formations lining the entirety of the drive
Red Rock Scenic Byway is another picturesque drive in the Sedona region. This one is 14 miles long and features incredible views of the red rock scenery. You will find numerous overlooks along the way, Southwestern shops, the beautiful Village of Tlaquepaque, and numerous hiking trails.
A few scenic must-dos along the drive include hiking the Little Horse trail, exploring Red Rock State Park, and taking in the views at The Chapel of the Holy Cross (a Roman Catholic church built in between 2 rock formations.