Hiking Hotspot: Beautiful Catalina State Park in Tucson, Arizona
For an incredible desert hiking experience with endless views of cacti and stunning mountain vistas, plan for a hike at Catalina State Park, Tucson's most gorgeous hiking area at the base of the dramatic Santa Catalina mountains. If you love the amazing Saguaro cactus, then Catalina is definitely the place for you as over 5000 of these fascinating desert plants can be found throughout the park.
Located with the Coronado National Forest at an elevation of 3000 feet, the park offers a lush variety of plant life & lots of opportunities for birdwatching (more than 150 species of bird call Catalina home). The serene setting and beautiful scenery makes Catalina the prime place for a scenic hike in Tucson. Wildflower season (March) is a great time to visit as gorgeous flowers overtake the park, not to mention this is one of the best months weather-wise for a gorgeous morning hike.
Trails at Catalina
Hiking, biking, equestrian, and nature trails can all be found at Catalina, so basically there is some type of fitness activity for everyone. Trails range from super easy (under a mile) to extremely intense (8+ miles), so whether you are looking for an easy stroll in nature or an all day adventure in the desert, you will find it here. The Catalina Loop Trail is a nice beginning trail for just about anyone as it is just 2.3 miles total and pretty easy in terms of intensity with just a few small hills. Along the way, you will enjoy endless views of the beautiful Saguaro. Lots of opportunities to take your picture next to a giant cactus!
If you are seeking a day out in nature away from the Tucson suburbia commercialization, you really cannot get much better than Catalina. All trails found within the park are well maintained and well-marked. Unfortunately, many trails in the Tucson area are a bit under marked. Catalina's trails are peaceful and never overly crowded, the mountain views are amongst the best in the area, and the diverse desert plant life is truly spectacular. Do yourself a favor and get out there and explore the wonder of the desert. It is worth the effort to see the unusual Saguaro cactus, found exclusively in Southern Arizona's Sonoran Desert.
Enjoy some photos from the trails! Notice the diverse variety of plant life & beautiful mountain views!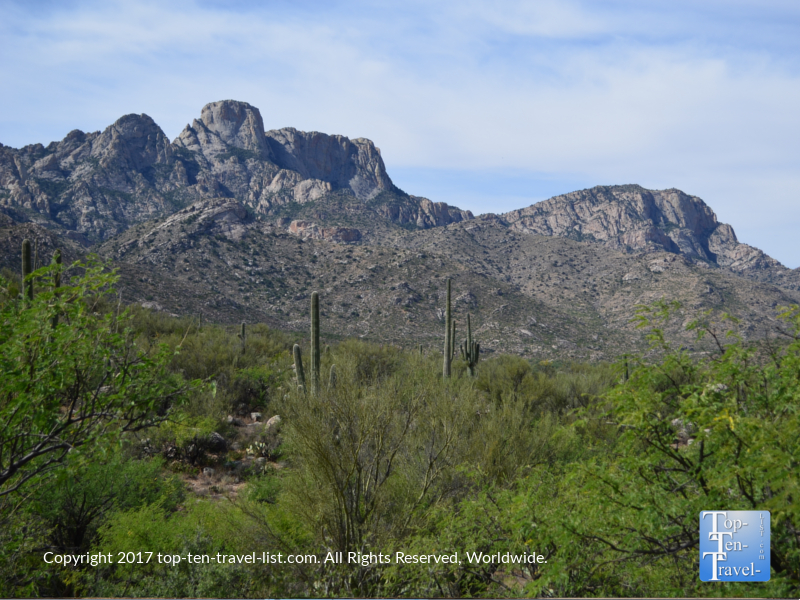 Tips for a safe hike
Avoid visiting Catalina at all costs during the brutal summer season! Temps frequently soar above 105 on a daily basis, and adding in the relentless sun, it is just too hot! Many die each year on the trails due to heat exhaustion and/or dehydration. Save hiking for the milder fall and winter seasons.
Bring more water than you think you need. A regular single bottle of water will not cut it in the desert. Dehydration is a major concern so prepare in advance. Wear a camelbak or stuff a backpack with multiple water bottles. I also bring a bottle of water for dumping over my head.
Wear sunglasses and a hat. Even if the temps are in the 70's, the sun is absolutely brutal the entire year. Sunblock also comes in handy.
Do not get too close to the cacti. From personal experience, I can tell you that it is not a pleasant experience to remove cactus needles. The pain last for several hours afterwards!
Keep the distance short. If you are not used to desert hiking condition, it is essential that you keep your hike short and simple. The dry air and intense sunshine make even the simplest hike seem that much harder.
Take advantage of the many picnicking areas. Save yourself some money and enjoy a nice little lunch in nature as opposed to a pricey restaurant.
Stop for your morning coffee at Savaya. Savaya, a great local roaster, has a location right down the street from the park. The coffee is delicious and the relaxed outdoor seating area features great views of the mountains.
Catalina State Park Location/Admission
Catalina State Park is located at 11570 N Oracle Rd, Tucson, AZ 85737. Entrance fees are $7 per car or $3 per individual/cyclist. Hours are 5am-10pm. Check the calendar for special events. Catalina is located in suburban Oro Valley, a beautiful area home to many great restaurants, hikes, and a beautiful bike path. Check out my list of the best things to do in Oro Valley!