15 Amazing Drives to add to your Bucket List
1. Mt Lemmon Scenic Byway
Location: Just outside of Tucson, Arizona
Length of drive: 27 miles
Highlights: Amazing views of the Saguaro cacti, beautiful mixed conifer forest, access to high altitude hiking trails, 30 degrees cooler than the surrounding desert, fabulous leaf peeping in the fall, winter snow destination
Attractions: Marshall Gulch trail, Mt. Lemmon Ski resort chairlift ride, Iron Door restaurant, Meadow trail, picnicking, The Cookie Cabin
The best thing to do on a scorching summer day in the Tucson desert is to head ~6000 feet up the Mt. Lemmon Scenic Byway for a relaxing day in the cool pines. Mt. Lemmon, a "Sky island," is home to the highest peak in the Santa Catalina Mountain range (9157 ft). Plant life on a Sky Island varies drastically from surrounding lowland desert areas. This mesmerizing drive begins in the Saguaro studded Sonoran desert at ~2300 feet. Continuing on 27 miles, you eventually reach the lovely pines at an altitude of ~8200 feet on the base of Mt. Lemmon.
Along this drive, you will come across numerous scenic overlooks, as well as hiking trails and picnicking areas. Not surprisingly, avid hikers and cyclists flock here each weekend. Temps at Summerhaven are generally 30 degrees cooler, making this area a popular summer escape from the desert. Notable base attractions include beautiful pine lined hiking trails, a scenic chairlift ride, several restaurants, and even a ski resort.
This gem truly offers it all – stunning scenery, diverse recreation, and most importantly, a much needed break from the desert heat!
2. Blue Ridge Parkway
Location: Shenandoah National Park in Virginia to The Smoky Mountains. Plan your route via this BRP map
Length of drive: 469 miles
Highlights: Uninterrupted nature, colorful fall foliage, fantastic mountain scenery, access to many hikes/waterfalls
Attractions: Grandfather Mountain, Linville Falls, Mt. Mitchell State Park, Chimney Rock State Park, Folk Art Center
"America's Favorite Drive" offers much more than simply breathtaking mountain views within its' 400+ mile course. Spanning a massive distance from Shenandoah National Park in Virginia to The Great Smoky Mountains, there's much to do and see along the way. Whether you feel like taking a long road trip, or simply exploring a small portion of this drive, do put this one on your bucket list. Uninterrupted views of the beautiful Blue Ridge mountains await you at every turn. There are plenty of hikes to work up a sweat. Or better yet, simply cruise along at a leisurely pace and take in the mesmerizing beauty of nature uninterrupted.
The Parkway is conveniently split into several sections for easy planning. The Pisgah section is incredibly scenic with endless overlooks, hikes, and waterfalls to enjoy. This portion of the drive is located entirely in North Carolina. Asheville (a lively mountain hub) is the perfect base for exploration.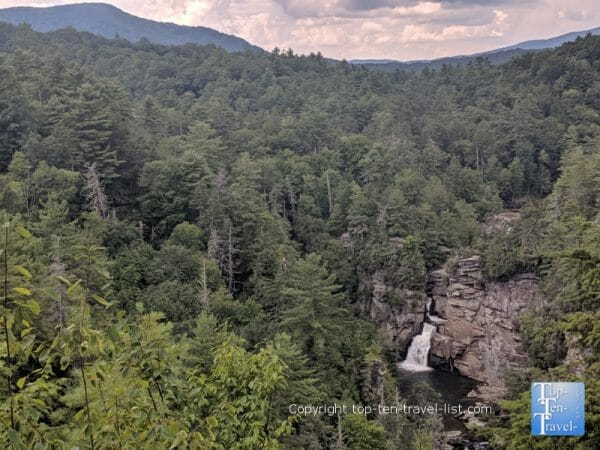 Pisgah Area Attractions
A number of attractions to check out between Mileposts 339.5 to 469.1 are featured below. All of these destinations are within an hour of Asheville, your likely base for exploration in the Pisgah region.
355.4 – Mt Mitchell State Park – The highest point east of the Mississippi (6684 ft)
361.2 – Glassmine Falls overlook – Scenic overlook of a 800 ft waterfall
364.2 – Craggy Pinnacle trail – Short, steep hike featuring dramatic Blue Ridge mountain views
382 – Folk Art Center/Mountains-to-Sea trail – Museum/store of Southern Appalachia arts and craft/mod hike
393 – North Carolina Arboretum – Beautiful bonsai garden and 10 miles of maintained hiking trails
420 – Black Balsam hike – Stunning hike to a grassy treeless mountain bald. Best views on the Parkway!
431.4 – Richard Balsam overlook -Highest point on the Parkway at 6410 ft/high altitude 1.5 mile loop trail in the pines
3. Mesa Falls Scenic Byway
Location: Southern Idaho, about 70 miles east of Idaho Falls
Length of drive: 29 miles
Highlights: 2 magnificent waterfalls, fantastic views of the Snake River, free roaming cows, open to cross country skiing in the winter, lush views of the Caribou-Targhee National Forest
This drive truly is a hidden gem, and easily one of the best things to do in the state of Idaho. However, it is often overlooked by tourists whom head to the bigger attractions. The entire drive is very lush as it winds a scenic course through the Caribou-Targhee National Forest. Spanning 3 million acres and featuring diverse scenery and wildlife, this forest offers year-round recreational opportunities. The most visited site is beautiful Mesa Falls, one of the last major uninterrupted waterfalls in the state.
Lower Mesa Falls stands 65 feet and is easily viewed via an overlook, just under a mile from the turn off for the Upper Falls. Even more stunning, the powerful Upper Falls stands 114 foot tall, 200 foot wide. The uninterrupted natural setting and powerful volume make this voluminous waterfall one of the West's most magnificent. A short paved boardwalk leads you to this natural wonder. Visit in the summer when both waterfalls will be at their most powerful.
4. Zion National Park Canyon Drive
Location: Springdale, Utah
Length of drive: 57 miles
Highlights: Mesmerizing red rock scenery, tranquil views of the Virgin river, access to spectacular hiking trails
Attractions: Watchman trail, Pa'Rus trail, Emerald Pools trail, scenic overlooks, Grafton Ghost town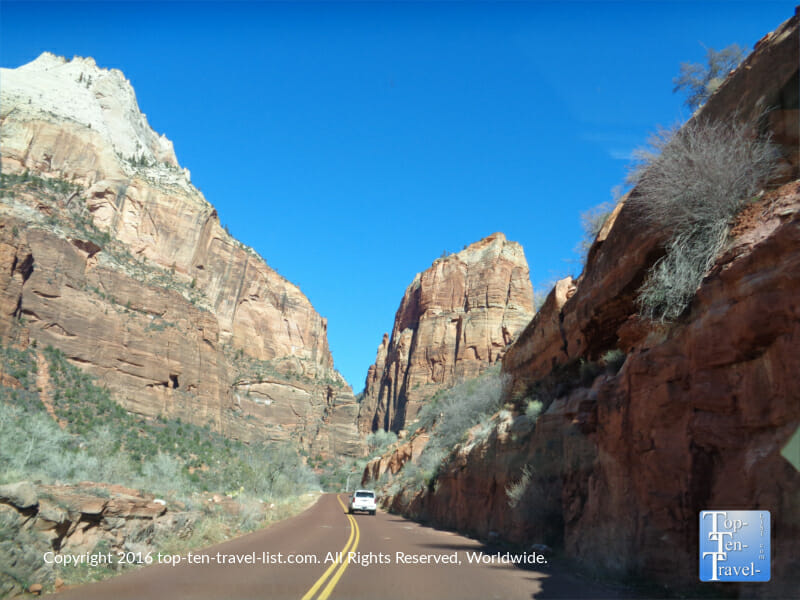 Zion National Park is hands down one of the country's most spectacular national parks. Anyone who appreciates nature needs to put this gem high on their bucket list. Spectacular hiking trails, waterfalls, and an otherworldly scenic drive offer endless opportunities for sightseeing. For anyone not up for a lengthy hiking adventure, the Zion scenic drive is a fantastic alternative. While Angel's Landing is an exhilarating hike, it's also lengthy, rigorous, and considered to be one of the most dangerous hikes in America. On the Zion Canyon drive, you will get to enjoy fabulous views of the million+ year old red rocks from the comfort of your car.
The drive runs a 57 mile long course through many mind blowing red rock formations. There are numerous places to get out, stretch your legs and take photos. Several popular easy/mod hiking trails can be accessed via this route. The Emerald Pools trail features several waterfalls in a unique setting, while the Watchman features the most incredible red rock vistas. The road is only open to the public from November- March, so plan accordingly. Winter is such a peaceful time to visit. The park takes on a tranquil enchanting atmosphere during this barren time.
If you wish to visit during peak season, be aware that the drive will be closed to vehicles. A shuttle will need to be taken to access hikes.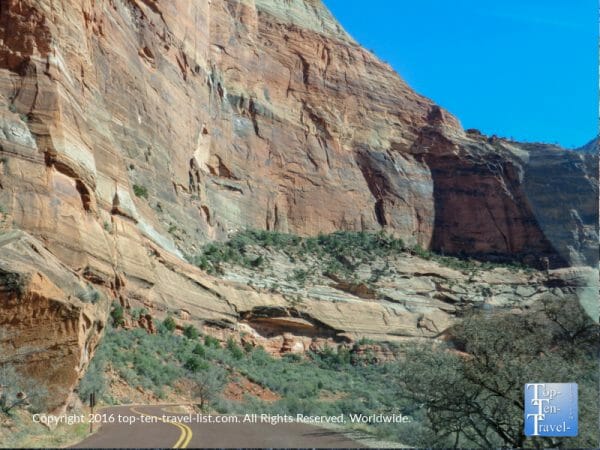 5. Gros Ventre Rd.
Location: Begins about 10 min outside of Jackson Hole, WY
Length of drive: 7 miles
Highlights: Beautiful natural scenery, secluded, lots of wildlife, access to recreational activities & camping
Attractions: Grizzly Lake Trail, scenic overlooks
The Grand Tetons NP is an overlooked vacation destination for outdoor lovers. In addition to 100's of miles of beautiful trails, there are a number of picturesque drives. Gros Ventre Rd. is a prime place for sightseeing and wildlife watching. The road begins about 7 miles outside of Jackson Hole and continues on for 7 miles of immense beauty. Following the course of the Gros Ventre river, the drive takes on a tranquil vibe, even more so during the winter. Wildlife sightings are common due to the lack of tourist traffic. Be on the lookout for moose, bison, and antelope. Also, the views of the Grand Tetons can't be beat.
Overall, this drive is a nice alternative to the busier drives located in or near the Grand Tetons National Park. You are almost guaranteed to see some wildlife if you visit at the right time. A number of hikes and recreational opportunities can be enjoyed in this area. Located in the Bridger Teton National forest, the Gros Ventre wilderness area offers a peaceful alterative for hikers looking to avoid summer tourist crowds. Look into the Grizzly lake trail, a popular local's hike which features fantastic views of the lake via moderate effort.
While you are in the vicinity, plan a visit to the National Elk Refuge. Established in 1912, this wonderful refuge provides habitat to one of the largest elk herds (the winter pop is 6000-8000).
6. Oak Creek Canyon
Location: Northern Arizona along 89a, 7 miles south of Flagstaff
Length of drive: 14 miles
Highlights: Beautiful ponderosa pine tree forests, amazing hiking trails, enchanting red rock formations, creek access, charming inns and B&Bs
Attractions: Indian Gardens (best breakfast in the state), West Fork trail (leaf peeping hotspot known as "the New England of Arizona,"), Cookstove trail (amazing views of the pines), Native American Artisan market
This underrated drive delivers in offering the most breathtaking views of any drive on this list. Beginning just outside of the high altitude ponderosa pine forests of Flagstaff, and continuing on until reaching the red rocks of Sedona, this drive varies intensely in terms of scenery. The elevation varies from almost 7000 feet to a low of 4500 feet in Sedona. Packed into the 14 mile drive are jaw dropping views of the rare Northern Arizona ponderosa forests, along with out of this world vistas of Sedona's incredible red rock formations. Every mile brings forth more and more jaw dropping vistas.
Along the way, you will have access to numerous overlooks, gorgeous hikes, the freshest natural spring water (MP 387), popular camping sites, creekside inns, and a year-round Native American artisan market. Really, there is so much to do and see along this drive. Sightseeing, hiking, photography, relaxing, fishing, dining, shopping, you name it…this drive offers it all. And, when you arrive in Sedona, get ready for a once-in-a-lifetime hiking adventure. Take a look at the top 12 scenic hikes in Sedona.
7. State Road 244
Starting Point: Ruidoso, New Mexico
Length of drive: 46 miles
Highlights: Off-the-beaten path, beautiful scenery, access to great hiking trails, a cool break from the desert heat
Attractions: Trestle Recreation area, picnicking, Old Apple Barn (great cider and fudge), Ski Cloudcroft, Burro Street Exchange (shopping & dining), Osha Trail (2 mile loop with views of the trestle)
There are many scenic high altitude destinations throughout New Mexico. A trip to the Lincoln National Forest is a great add on daytrip for anyone visiting White Sands National Monument or the Las Cruces region. Sitting high at 8676 feet, Cloudcroft is one of the highest located cities in the US. Not surprisingly, Cloudcroft is a popular summer escape for locals fleeing the intense summertime heat of the desert.
A drive up picturesque State Rd 244 is the perfect opportunity to enjoy nature in a cooler setting. From Ruidoso, the drive to Cloudcroft takes about an hour. The scenery is spectacular the entire way up with lots of lovely pines. At Cloudcroft, the main attraction is the Trestle Recreation Area. This site features a historic wooden trestle (built in 1899 for the Alamogordo and Sacramento Mountains Railroad). A number of boutique shops, cafes, and hiking trails can be enjoyed. Check out the full guide to Cloudcroft.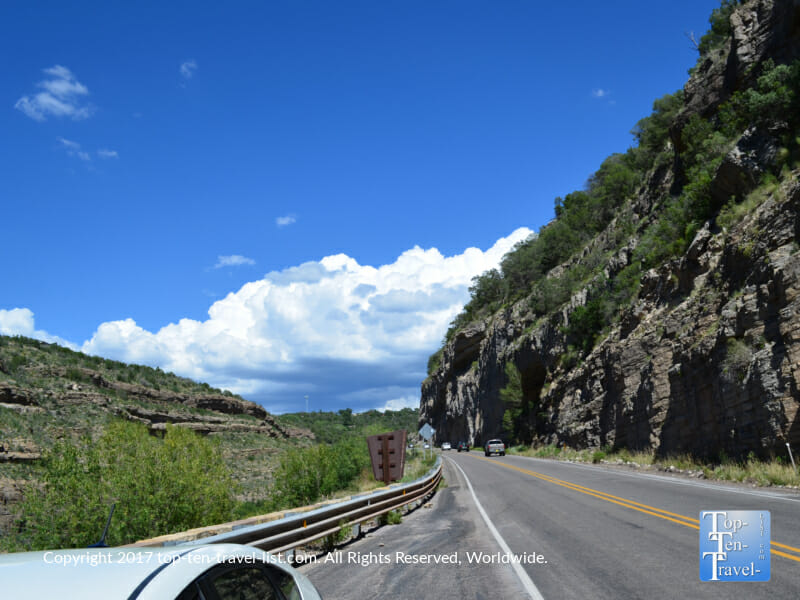 8. Apache Trail Scenic Drive
Starting Point: Apache Junction (State Rt 88), about 30 miles east of Phoenix
Length of drive: 42 miles
Highlights: Incredible views of the Superstition mountains, gorgeous cacti, rustic setting, access to beautiful lakes
Attractions: Lost Dutchman State Park, Canyon Lake cruise, Goldfield Ghost town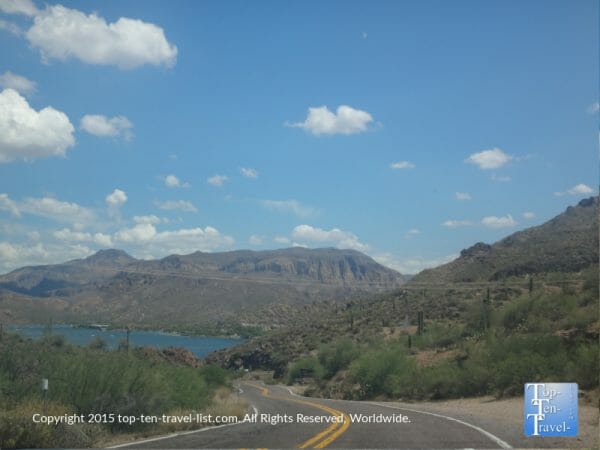 A cruise along the spectacular Apache Trail Scenic drive through Arizona's mysterious Superstition Mountains is a must for anyone new to Phoenix. There is so much beauty and history packed into this wonderful drive. It's definitely a worthy daytrip destination for nature lovers. While the road is mostly unpaved and super twisty and curvy, it's worth the hassle in exchange for the unending views of stunning mountains and exotic cacti. Compared to popular tourist destinations like South Mountain, this drive is a tranquil alternative with similar incredible desert scenery.
Along the way, there's lots to do and see. Consider taking a narrated cruise aboard the Dolly Steamboat along Canyon Lake. Explore the restored 1892 ghost town of Goldfield. Hike at Lost Dutchman State Park. Or, simply just cruise along and enjoy the enchantment of the desert. This trail was once used by the Apache Indians, hence the name. Because of its' steep nature, Apache is considered to be one of the scariest drives in America. However, the exhilarating desert scenery also places it in the most scenic US drives category! Be aware – this one is only for experienced, brave drivers Avoid at all costs if you are scared of heights!
9. Red Rock Scenic Byway (SR 179)
Starting Point: Sedona, Arizona
Length of drive: 7.5 miles
Highlights: Amazing red rock views, access to wonderful hikes, fascinating million+ yr old rock formations
Attractions: Little Horse Trail, Chapel of the Holy Cross, scenic overlooks, Village of Oak Creek (galleries, local restaurants, gift shops)
This short drive takes you past some of the most awe-inspiring sights you will ever come across. "Red Rock Country," an appropriate nickname for Sedona, is one of the world's most beautiful places in the world. On this drive, you will get to view some of the most prominent 300+ million year old red rock formations which have made Sedona a photographer's and hikers' dream destination.
This 7 mile road runs from Interstate 17 and continues on into the city of Sedona, and the views never disappoint the entire journey. Numerous overlooks as well as hiking trails (Little Horse is a tourist favorite), The Chapel of the Holy Cross (fabulous scenery/vortex point), and energy vortexes (Bell Rock) can be explored along the route. An energy vortex is basically an area of enhanced earth energy which is reported to help with healing, meditation, or spiritual purposes. Tourists come from all over the world to visit these vortex points.
With much to do and, you can easily turn this drive into a full day activity.
10. Hwy 160 (Wolf Creek's Pass)
Starting Point: Pagosa Springs, Colorado
Length of drive: 80 miles
Highlights: Incredible views, access to waterfalls and hiking trails, picturesque picnicking sites
Attractions: Lobo overlook, Wolf Creek Ski resort, Treasure Falls hike, Continental Divide trail
This gorgeous Southwestern Colorado drive travels through the San Juan National Forest. Nearby Pagosa Springs is an ideal vacation destination for outdoor enthusiasts and nature lovers. There's so much to do, from hiking, to horseback riding, to rafting, to mountain biking. A scenic drive along Hwy 160 is also a must-do. This drive is even more spectacular during the colorful fall season as yellow aspens dominate the landscape. The most stunning waterfall in the region is easily accessed via this picturesque route.
Notable sights of interest include the hike to Treasure Falls (also viewable roadside), The West Fork Valley overlook (featured in Vacation), and the Continental Divide trail. This road was once considered to be the most dangerous in the country, especially for truckers. Thankfully, more signage has been added over the years. Regardless, it's still a steep drive with many hairpin switchbacks and steep drops. In the 70's, country artist C.W. McCall wrote a song entitled "Wolf's Creek Pass," in which he described the pass as "37 miles of hell."
11. Red Rock Canyon
Location: Red Rock Canyon State Park in Las Vegas, about 30 min from The Strip
Length of drive: 13 miles
Highlights: Amazing sandstone formations, a nice break from the craziness of The Strip, a wide variety of hiking trails for every fitness level, fantastic biking destination
Attractions: 20 diverse hiking trails – Red Rock Canyon hiking map
Red Rock Canyon State Park is a fabulous addition to any Vegas vacation. If you can draw yourself away from The Strip excitement for a morning, there are some pretty cool natural gems to explore in Southern Nevada. The most popular, Red Rock Canyon State park, sits a mere 30 miles from all the man made splendor. Despite being so close to the action, the rustic setting in the isolated Mojave desert makes it feel a world's away.
The top draw here is a 13 mile, one way paved scenic drive which travels amongst otherworldly rock formations which dramatically rise in a palette of beautiful colors. The road is super popular with local cyclists thanks to its' immense beauty. In addition to scenic overlooks, there are numerous hiking trails to work up a sweat. While the drive is stunning enough in and of itself to warrant a visit, there are 26 miles of diverse hiking trails for the avid hiker. This can easily be turned into an all day activity.
12. Snowbowl Road
Location: 7 miles north of downtown Flagstaff, Arizona on US 180
Length of drive: 8 miles
Highlights: Terrific mountain vistas, amazing fall color, access to hiking trails, high altitude pine and aspen scenery
Attractions: Veit Springs trail, Kachina trail, Aspen Nature Loop, Aspen Corner (amazing fall foliage), Chairlift rides, Arizona Snowbowl (the premier ski resort in Arizona)
Flagstaff is a wonderful summer escape from the heat of the Sonoran desert. This quaint mountain town sits at an altitude of 7000 feet and rarely sees a day over 80 degrees. Plentiful outdoor recreation make this Northern Arizona vacation oasis the perfect destination for outdoor lovers and hikers. The gorgeous San Francisco mountains make quite a statement, with the summit (Humphrey's) rising 12,633 feet.
Beautiful Snowbowl road leads you up to the base of the mountain at an elevation of 9500 feet. The drive up is stunning anytime of the year as are surrounded by ponderosa pine and aspen forests. Fall is the most exhilarating time to visit as golden aspens line the road. Hands down, this is one of the most gorgeous places in the US during the peak of fall color. The Aspen Nature Loop, Kachina Trail, and Veit Springs trail will all take you through these colorful aspen groves. If relaxation is more your style, consider a chairlift ride to "the coolest place in Arizona."
13. The Grand Loop at Yellowstone
Location: Yellowstone National Park
Length of drive: 140 miles
Highlights: Gorgeous natural scenery, geysers, waterfalls, wildlife sightings
Attractions: Scenic overlooks, wildlife watching, hiking trails
One of the best adventures you can plan in Yellowstone is driving The Grand Loop. While it's quite long (140 miles) and requires a lengthy time commitment (4-7 hours), it's an amazing experience. The drive is diverse, both in terms of scenery and wildlife. You are bound to see bison and elk, and possibly bears and wolves. Visiting early in the morning will increase your odds of seeing wildlife. Most of the best attractions in the park including Old Faithful (the most predictable geyser) can be accessed via this drive. Lovely mountain and lake scenery throughout. Take your time and enjoy the beauty of America's first national park.
The drive follows a figure 8 pattern and runs from the northern to southern end of the park. There are lots of scenic overlooks and historic attractions where you can get out of your car and explore. These include Mammoth Hot Springs, Old Faithful, Fountain Paint Pots, and the Grand Canyon of the Yellowstone. Also, be sure to consider a guided hiking adventure if you have the time and stamina!
14. Roaring Fork Motor Nature Trail
Location: Gatlinburg, TN
Length of drive: 5.5 miles
Highlights: Serene forest views, lovely streams, waterfalls, access to great hiking trails
Attractions: Sightseeing, wildlife watching, leaf peeping, scenic overlooks, Grotto Falls trail
One of the most popular tourist attractions in the Smoky Mountains is a beautiful 5.5 mile long, one way drive known as the Roaring For Motor Nature trail. As this drive is on most Gatlinburg tourist's itineraries, you must be prepared for crowds. While the drive is gorgeous, the tourist traffic sadly takes away any rustic vibe. Regardless, this drive is a beautiful destination for hiking, sightseeing, photography, and simply enjoying a few hours in pretty natural surroundings. If you want to enjoy the beauty of the Smokies, this drive comes in near the top of the list.
The must do along this drive is the 2.5 mile long moderate trek to Grotto Falls. While the waterfall is only 25 feet, it is the only one you can stand behind in the Smokies. Because this hike is located in an old growth hemlock forest, there is plenty of shade – enough for a summer visit. A quieter tourist free option is the Baskins Creek trail, an underrated moderate trek of just 2.7 miles. This one is very rustic and usually completely deserted. You will come across an old cemetery which is pretty unique.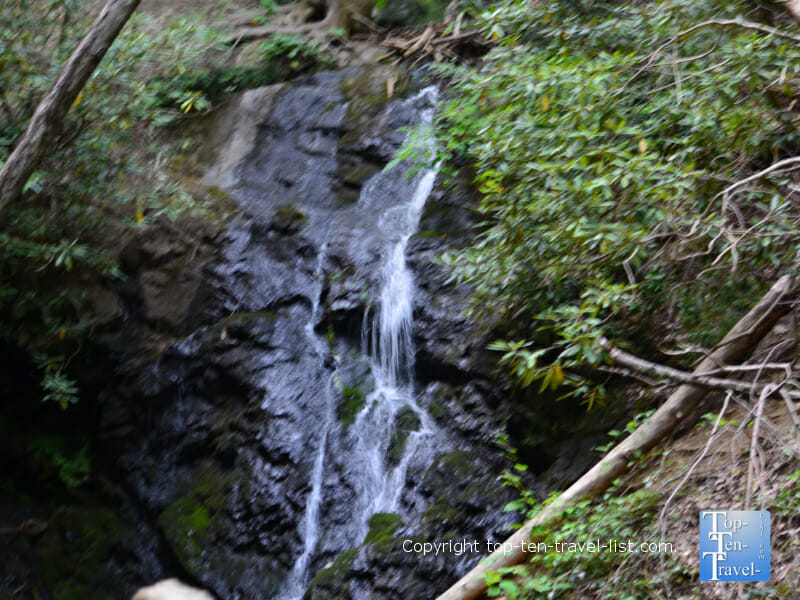 15. Pacific Coast Highway
Location: The California coastline
Length of drive: 500+miles
Highlights: Amazing views of the coast, access to top rated beaches, gorgeous redwood forests, historic attractions
Attractions: Santa Monica Beach rollercoaster, Golden Gate Bridge, Seaglass Beach, Drive thru Redwood tree, Redwood State Park, Hearst Castle tours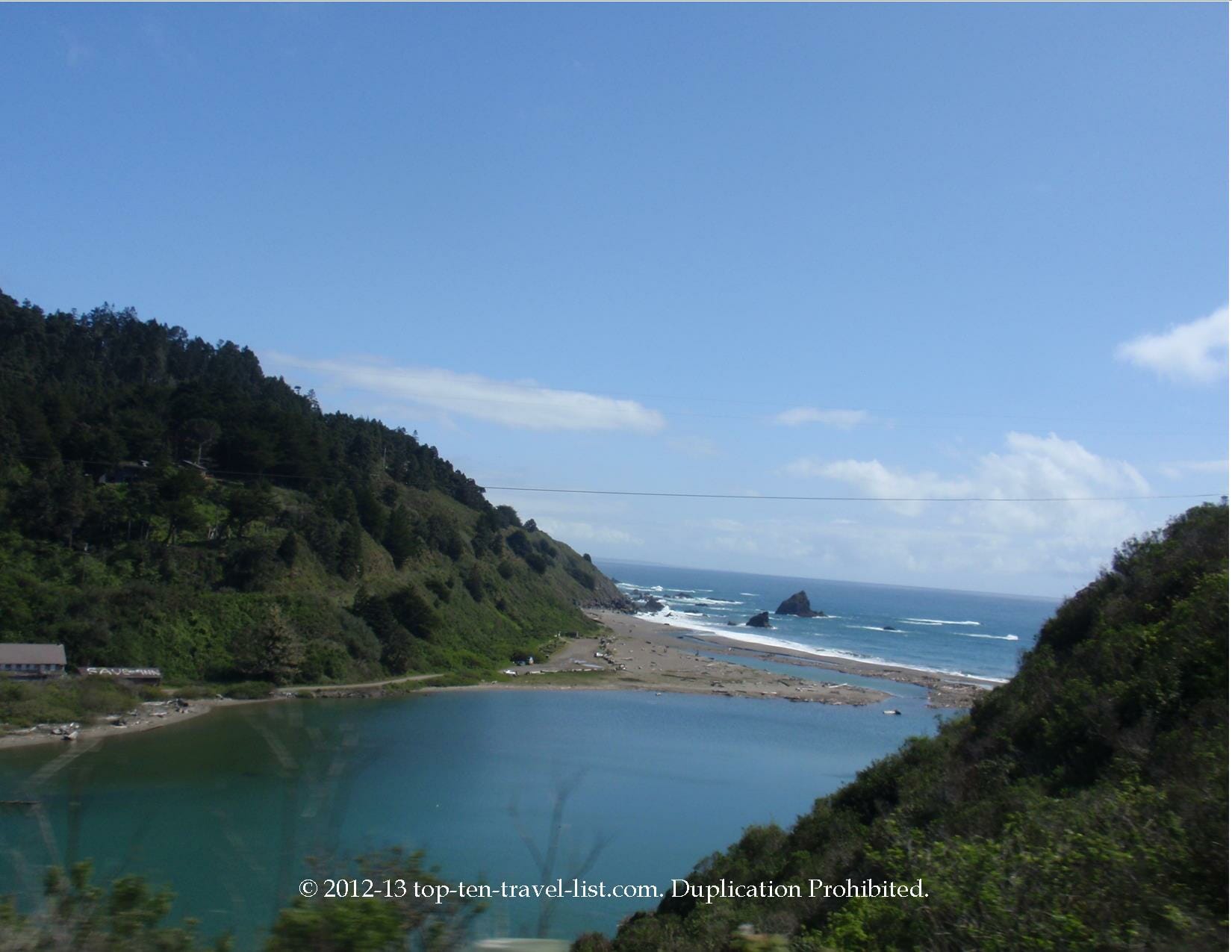 California State Route 1, more commonly referred to as the PCH, has been a tourist favorite since opening in the 1930's. The route begins in Southern California near San Juan Capistrano, and ends at US 101 in Mendocino County. From beaches, to redwoods, the scenery varies tremendously on this drive. The entire drive is beautiful, however, the small section between Big Sur and Monterey offers the most dramatic views. This short, yet scary portion is where you can expect jaw dropping views at every turn.
After just a few hours exploring, you will easily understand why the PCH is rated one of the most beautiful drives in the country. Plan ahead as you will likely need extra time to explore. You will want to plan at least a few days, perhaps a week to cover everything…
Just a few of the must do's along the route…
Mission Beach – Take a bike ride or walk along this classic San Diego boardwalk
La Jolla Cove – San Diego beauty with amazing cliff scenery and sea lion sightings
Huntington Beach – Classic SoCal beach with a surf vibe and a wonderful 7 mile paved bike path along the water
Monterey State Beach – Tranquil beach with lots of seaglass
Golden Gate Bridge – Walk across the bridge for a once-in-a-lifetime experience
Hearst Castle – Tour the museum once home to newspaper tycoon William Randolph Hearst
Redwood State Park – Stand next to the tallest trees in the world! One of the most incredible places!
Ft. Bragg Glass Beach – The site of a former dump is now home to the highest concentration of seaglass in the world. You have to see this beach to really believe it!