Arizona Snowbowl: The Coolest Place in Arizona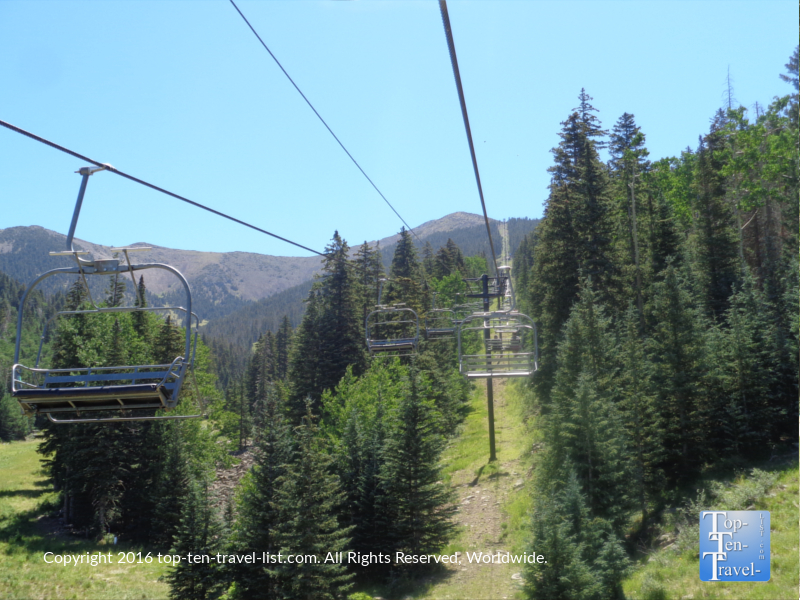 Skiing, snow, cool summer temperatures, and majestic pine covered mountains…these things do not typically spring to mind when thinking of Arizona. Rather, cactus, brutal 100+ degree summers, and dry, dusty desert scenery are often the only thing people think of when they hear Arizona. However, those who live in or have traveled outside of Phoenix know that there are numerous cool weather escapes. A Flagstaff summer is much more tolerable and there's plenty to do in the way of recreation.
Flagstaff – a 4 season recreational oasis
Flagstaff, a 4 season high altitude city (the city is situated at 7000 feet in the largest ponderosa pine forest in the country) in the Northern portion of the state (just 70 miles from the Grand Canyon), is home to one of the oldest ski resorts in the West. It's one of the most popular summer escapes for Phoenix locals due to attractive mild summer weather combined with an abundance of recreational activities, attractions, & restaurants.
Since 1938, both locals and visitors have been enjoying high altitude skiing on the San Francisco Peaks. Hundreds of visitors make the 2 hour drive from Phoenix every winter weekend to take advantage of 2 activities they will never find back home: skiing and snowshoeing. Snowbowl is the most popular ski resort of the 3 in Arizona and is home to a 2300 foot drop: the largest in Arizona.
Scenic chair lift rides
Update: Enclosed gondola rides now available.
During the summer months, Scenic Chairlift rides offer non hikers a means to enjoy some of the beautiful natural scenery of Northern Arizona. Rides are also offered the first few weekends of fall, however, due to a lack of aspens at this high of an altitude, I recommend hiking a trail instead, which will offer you more than enough leaf peeping opportunities.
A scenic ride to "the coolest spot in Arizona"
A 3 person lift takes you on a picturesque 25 minute ride from a base of 9000 feet, all the way up to 11,500 feet! The temps at the base typically range from 60's-80's in the summer, with even cooler conditions at the top of Agassiz Peak, thereby making it "the coolest spot in Arizona." Anyone coming from hotter cities in the Southwest will truly appreciate the pretty alpine scenery and much needed cool down from the brutal temps of the low desert.
The ride is long and relaxing. As you travel up over 2000 feet, a gorgeous ponderosa forest surrounds you. It's quite scary when you look down and see the big drop beneath you! The ski lift ride is so much nicer than the enclosed gondola rides you typically find at ski resorts, as you can enjoy both the scents and sights of nature, in addition to feeling the cool breeze.
Views at the top are nice, although not outstanding as you are already on the Peaks. You are supposedly able to see the Grand Canyon and Sedona's red rocks in the distance, however, they are quite far off in the distance.
Overall, the ride is more of a picturesque, relaxing nature activity, rather than one to enjoy big views. If you want dramatic views of the Peaks, hike the Slate Mountain trail or simply take a relaxing nature stroll around Buffalo Park.
A nice relaxing alternative to hiking
The way down offers a few nice views of the surrounding desert and pine covered mountains. You can kick back and relax on this long ride as you enjoy the super cool summer weather and lovely trek through nature. The Chairlift ride is perfect for non hikers and anyone else looking to take a break from all the intense high altitude recreation. Exercising in a high elevation town like Flagstaff really wears down your body, so a nice relaxing break is definitely in order after a few hikes. The chairlift ride is one of the few summertime activities/attractions worth doing that does not involve intense exercise.
What else is there to do at Snowbowl?
Other summer activities to enjoy during your visit include disc golf and hiking. There are 3 great hiking trails at Snowbowl: the Aspen Nature Loop, the Kachina Trail, and Humphrey's Peak. Aspen Nature Loop is an easy 1.5 mile round-trip stroll which offers great views of the mountains and a pretty mix of aspen groves and ponderosa pines. The Kachina Trail is a moderate-hard 10 mile round trip stroll with many ups and downs, although a 1.5 mile out-and-back trek should be perfect for regular hikers. And Humphrey's Peak, an intense climb up to the highest peak in Arizona, is only for the most fit & experienced hikers!

Location & Pricing Info
Arizona Snowbowl is located at: 9300 N Snow Bowl Rd, Flagstaff, AZ 86001. It's about 7 miles outside of Flagstaff, however, the scenic drive is just part of the fun! Chairlift tickets start at $19. If you book your tickets online, there is a special $10 discount. Also, I have seen discount coupons on Groupon.
Recommended Summer Itinerary for a Day out in Flagstaff
I recommend stopping for a hearty breakfast at Horsemen's Lodge early in the morning. Next, grab a great espresso drink at Late for the Train, conveniently located on Hwy 180 on the way to Snowbowl. Enjoy a peaceful easy stroll along the Aspen Nature Loop, then take a relaxing ride on the Chairlift. After all this, you will be ready for lunch. Delhi Palace is one of the best Indian restaurants I've ever been to, not to mention a great carb heavy choice, which will help to prevent altitude sickness. Or head downtown and check out one of the many casual restaurants lining the street. It's the perfect summer day out in Flagstaff!