Beautiful Devil's Bridge in Sedona, Arizona
A combination of fascinating red rock formations, beautiful forested lands, and luxury resorts have made Sedona a popular getaway destination for over 4 million tourists each year. USA Today recently ranked Sedona as the most beautiful place in the US. The entire area is a recreational paradise with hundreds of miles of hiking and mountain biking trails, all of which offer fantastic views of the million plus year old rocks (the beautiful Cococino National Forest which surrounds Sedona features beautiful ponderosa pine forests and gorgeous red rock formations).
If fitness isn't your thing, you can always sign up for a jeep or segway tour of the area. However, it just isn't the same as exploring the area with your own two feet. It's a much more exhilarating experience to reach the incredible scenery by yourself! The mountain views, exotic desert plants, and pretty greenery really is a feast for the eyes. Hikes in the area range from easy to strenuous. One of the most popular hikes in the area, Devil's Bridge, is one of the moderate options in town and well worth it for the extraordinary views. Devil's Bridge is the largest natural sandstone arch in Sedona.
The hike is about 2 miles round-trip, however, if you park in the overfill parking lot your walk can be as long as 4 miles (see trailhead parking info below). The first section of your hike along the Chuckwagon Trail is pretty easy with wide paved roads which were originally built for jeep travel. After a mile or so on Chuckwagon, you will start the mile or so hike to the bridge.
As you make your way further along on the Devil's Bridge trail, you will eventually get to the uphill portion of the trail. The walk up is moderately difficult, moreso because you have to be careful about where you step (especially on the return route). You may have to use your hands or slide on your butt if you are nervous climbing (don't worry you will see lots of other people doing so!). After going up a final staircase you will reach Devil's Bridge. The scenery is simply spectacular. Take a few looks below at the incredible views along both trails!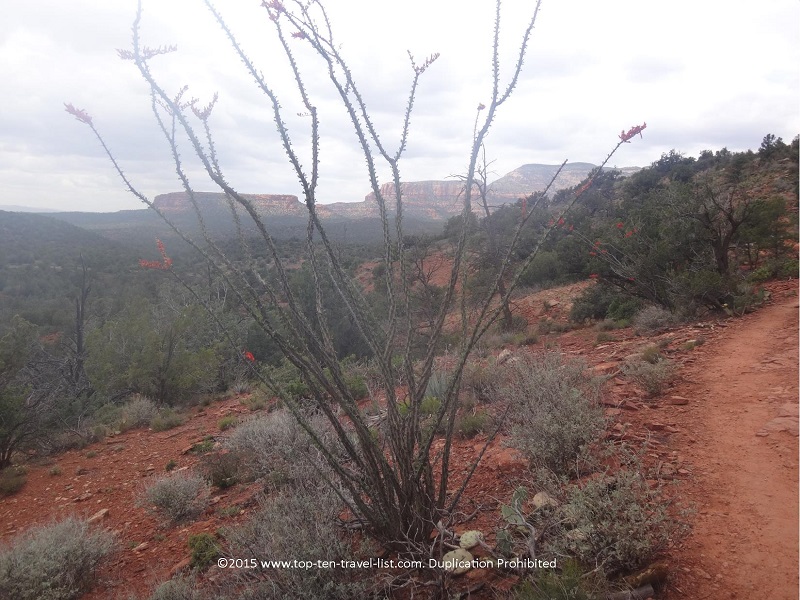 If you are brave enough, you can walk across the bridge and get some pretty cool photos. You will see daredevils takings all sorts of crazy photos on the bridge. Although it looks pretty narrow from far away, the bridge is much wider than it looks. Nevertheless be sure to use some common sense!
A wait well worth it for these one of a kind views!
Although the hike isn't that long, be sure to plan at least a few hours as you will likely be taking many photos along the way. In addition, there is typically a long line on busy days to get your individual picture on Devil's Bridge. Take your time exploring the beautiful natural desert scenery, one of the most amazing landscapes in the country. This hike is free, fun, & scenic. Skip the overpriced man made tourist attractions in favor of exploring beautiful natural wonders like Sedona!
Hiking Essentials in Red Rock Country
*Sunblock is a must! At Sedona's elevation (4500 feet), you are much more likely to burn even on cloudy days.
*Dress in Layers. The weather is unpredictable especially during the spring and fall season.
*Carry lots of water. The combination of dry weather and high altitude means you need to drink more water. A camel backpack works great in this situation.
*Pack a few light snacks. It helps to keep a few small essentials like fruit or a granola bar as you will be on your feet for several hours. You will find lots of great restaurants to enjoy after your hike; just bring a few light snacks to hold you over.
*Wear a  GPS watch. I like to take my Garmin Forerunner with me so I can keep track of the distance and time. This is especially helpful if you have additional activities on your itinerary for the day.
*Wear gym shoes/hiking shoes and workout clothes. I was surprised at how many people on the trail were dressed in jeans and regular shoes. This is definitely a hike requiring the proper clothing and shoes, especially due to the rocky uphill.downhill climbs!
*If possible, plan your hike early in the morning before all the tourists arrive. By mid-afternoon, the trail starts getting overly crowded. And my mid morning, the small parking lot is already nearly full.
Address: For trail-head parking information, visit the Coconino National Forest website.
Note: you need a 4 wheel drive/off road vehicle to park at the closest trail-head as the road is really rough, otherwise you will have a bit longer overall hike starting at the Chuckwagon trail (a little over 4 miles round trip).
Tip: If traveling from Flagstaff and other northern regions, be sure to take the scenic Oak Creek Canyon drive along Hwy 89a. This magnificent drive features absolutely incredible views anytime of the year.
Have you ever hiked Sedona's amazingly beautiful Devil's Bridge trail? What other picturesque trails would you recommend in the area?