101 Things to do in Northern Arizona
Northern Arizona is a surprisingly diverse area of the country, especially in comparison to its' southern counterpart. Instead of the towering Saguaro cacti of the Sonoran desert, you will find yourself immersed in the largest ponderosa pine forest in the world. Instead of 6 months of brutally hot 90-100+ degree temps, you will find an attractive 4 season climate which includes mild summer days rarely topping 80 degrees, intense winter snow storms, and even some terrific fall foliage.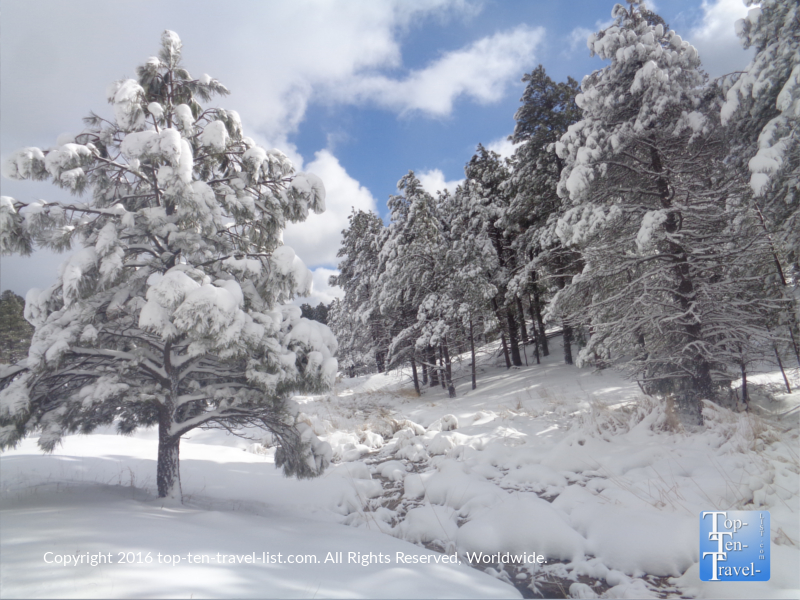 Instead of miles & miles of bland, never- ending suburbia, you will find interesting historical sights, endless beautiful hiking trails, 4 seasons worth of recreational opportunities, easy access to some of the top natural wonders in the country, towering red rock formations, the state's largest ski resort and only Nordic center, and so much more.
There is so much to see and do in this unique area of the country. Although most tourists will come and go simply seeking out the Grand Canyon, this is a missed opportunity. Take advantage of your time out here and explore some of the other less hyped about natural wonders. Here are 101 things to do in Northern Arizona -in no particular order although I have marked what I believe to be the top 20 must-do's with a star.
1. Hike the Inner Basin trail in the fall*
Hiking the Inner Basin trail during Flagstaff's spectacular fall season is one of the top things to do in Arizona, asides from exploring the Grand Canyon. During the fall, Flagstaff sees brisk sunny days and amazing fall foliage that is right up there with anything you would find in New England. The high altitude Inner Basin hike, which takes you into the heart of the beautiful San Francisco Peaks (home to Humphrey's Peak – Arizona's highest summit at over 12,000 ft), is simply extraordinary in autumn. No picture does this one justice, so you will have to see for yourself.
Mesmerizing aspens line the 1.7 mile out-and-back trek, casting a gorgeous golden glow in the fall sunlight. Leaf peepers absolutely must plan for a stop here – the foliage is unlike anything you've ever seen before. Few places out West offer such an incredible leaf peeping experience without much effort or cost involved. The hike, which starts at 8700 ft and ends near 10,000, is intense alright, although when surrounded by such beauty, it really does not feel like all that much effort.
More info on the Inner Basin trail
2. Walk across Devil's Bridge*
Devil's Bridge, the largest sandstone arch in Sedona, is the most fascinating natural wonder in Sedona. A walk across this mesmerizing natural bridge makes for one of the most photo worthy shots in all of Northern Arizona (and possibly the entire state). The hike to get to the bridge is nothing short of spectacular with red rock scenery in every single direction. Surprisingly, the trek to get to the arch is not all that difficult (400 ft elevation gain) considering the ROI of out-of-this-world scenery (although the same can be said for any Sedona hike). The ending climb involves a bit of a scramble, however, as soon as you begin walking across the bridge, marveling at the scenery all around you, there is no question as to whether or not your effort was worth it.
Be aware -this is one of Sedona's most popular trails, so you will need to get here early to ensure a parking spot. If you only have time for one trail in Sedona, Devil's Bridge is absolutely the must-do!
3. Take a cruise down Oak Creek Canyon*
Oak Creek Canyon Scenic drive is without a doubt one of the most picturesque drives in the country. It's hard to compete with the diverse scenery found along this magnificent 14 mile stretch of land. The dramatic change of scenery includes towering red rock formations, green ponderosa pine forests, leafy deciduous trees that change brilliant shades of gold and red in autumn, and magnificent mountain and canyon views. During the fall season, the leaves turn brilliant shades of gold and wintertime after a storm, the red rock looks incredible dusted with snow.
The drive begins just a few miles outside of Flagstaff and continues on until eventually reaching the magnificent red rock wonderland of Sedona. Views aside, there's lots of attractions along the way including a beautiful creekside hike, a wonderful breakfast restaurant, several scenic overlooks, picnic and camping areas, the best natural spring water anywhere, and several authentic Native American craft markets. You will definitely want to set out at least a half day for this one!
4. Test out an authentic Navajo Taco
The Northern Arizona region is rich in Native American history. Navajo Nation, the largest Native American reservation in the country, encompasse 5 states including a large portion of Northern Arizona. Authentic frybread is often served at local restaurants in the region. Many restaurants offer the Navajo taco, which basically is a traditional Southwestern style taco which uses frybread instead of a tortilla. My favorites include the Navajo Taco at Charly's at the historic Weatherford Hotel in downtown Flagstaff, as well as the Najavo taco at Salsa Brava, a classic Rt 66 Mexican restaurant which featured on Food Network's popular Diners, Drive-Ins, and Dives.
5. Stroll around a creepy old ghost town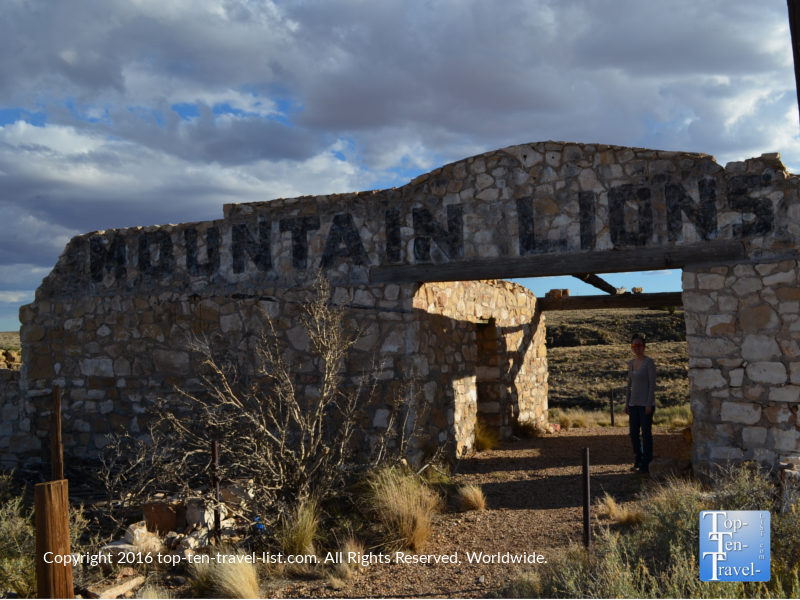 There are numerous ghost towns throughout Arizona, most of which were former mining boomtowns. Many of these ghost towns became abandoned when the new highway replaced Rt 66. The most interesting to visit is 2 Guns, located about 30 miles outside of Flagstaff along I-40 at exit 230. 2 Guns was once a popular tourist stop on Rt 66 due to a thriving zoo and many other amenities.
A crumpled down graffiti covered gas station, an old campground building, and mountain lion cages from the old zoo are the only remains of this creepy ghost town. It's quite a strange experience to stroll around the barren desert land imagining that a thriving zoo once existed in this now totally isolated stretch of land!
A full list of ghost towns of Arizona
6. Take in magnificent views of Arizona's highest mountain range at Buffalo Park
The San Francisco Peaks are home to the tallest natural point in Arizona. The highest peak, Humphrey's, stands tall at a whopping 12,637 feet. Various locales around Flagstaff provide decent views of these stunning mountains, however, the best uninterrupted views are accessible via a 2 mile nature stroll at Buffalo park. Amazing views of the peaks plus Mt Elden via a flat easy nature trail make this park a favorite with locals seeking year-round recreation. From summer hiking, to spring bike riding, to winter cross country skiing and snowshoeing, Buffalo Park is your best bet in town for any type of fitness activity.
7. Hike to one of the most photographed natural wonders in the Southwest*
Horseshoe Bend is the name given to one of the country's most extraordinary natural wonders. The name comes from the unique shape that the Colorado river takes as it curves around a beautiful red sandstone rock formation. This is a must-see out West, particularly if you happen to be already driving this way enroute to Zion National Park. A hike of less than a mile brings you to one of the most spectacular sites you will see anywhere out West – really, not a bad deal for such little effort! Take lots of pics but stay far away from the edge – a massive 1000 foot drop has led to the death of many a tourist attempting to take crazy photos!
8. Eat "What Guy Ate"
If you are a fan of Food Network's Diners, Drive-Ins, and Dives program, you will definitely want to check out Flagstaff's restaurant scene. Several local dineres have been featured on the show including Brandy's, a local breakfast favorite known for their huge portions, Fat Olives, a hotspot in town for pizza, and Salsa Brava, a fun Mexican restaurant known for its' large endless salsa bar and tasty Southwestern style fare.
All 3 of these are located on historic Rt 66. Here's what Guy ate at each: Belgio Dulce Pizza (Fat Olives), Navajo Taco (Salsa Brava), and Beef Stew and Flat Iron Steak (Brandy's). My personal favorite of the 3 is Salsa Brava for the delicious hearty Mexican fare, colorful ambiance, and great service. Be sure to try one of the signature stuffed sopapillas pictured above.
9. Stand on a corner in Winslow, Arizona
Everyone is probably familiar with the lyrics to the Eagle's catchy 70's classic Take It Easy.  "Well I'm standin' on a corner in Winslow, Arizona…" – well you can actually stand on the Rt 66 corner in small town Winslow, Arizona for a really cool nostalgic photo. This tiny Northern Arizona community (which frankly resembles a ghost town) sees most of its' traffic in the form of tourists taking pictures at this commemorative park. Not much else to do really, although there are a few cool souvenir Rt 66 shops nearby. Oh, and you must stop for lunch at the fantastic Turquoise Room, located in the historic La Posada hotel.
More info on Standin' On a Corner Park
10. Ski through snowy pines at the Arizona Nordic Center
Flagstaff is the winter playground of Arizona, and also one of the snowiest cities in America, seeing an average of over 200 inches of snow per year! The high altitude trails in the mountains tend to get even more snow, which also sticks around longer due to the hefty tree coverage which prevents the snow from melting as fast. Each winter season, thousands upon thousands of southern Arizona residents, whom are sick of the unending heat, make their way up north to ski, snowshoe, sled, and simply play in the snow.
The Nordic skiing center is a great choice for anyone looking to bypass the crowds at Snowbowl as it tends to stay pretty quiet in comparison to the uber popular ski resort. Nicely groomed trails, a diversity of terrain for all skill levels, and beautiful views of the pines make it well worth the long drive along congested Hwy 180. There are lots of fun little hills and the views are so peaceful and gorgeous. Not a skier? Try snowshoeing – it is easy, affordable, and a great workout!
11. Hike to the amphitheater of an ancient volcano
Here's an underappreciated hike everyone with some extra time should check out, and it's just a 30 minute drive outside of Flagstaff. The Red Mountain trail is a relaxing 1.5 mile leisurely out-and-back trek to the amphitheater (center) of a volcano which is estimated to have erupted about 470,000 years ago. It's not something you see everyday, and thus, definitely worth the extra drive if you are going to be in the area for a while.
If you are limited on time, consider stopping here on your way back from the Grand Canyon as it is conveniently located on the same route. The scenery along this trail is really diverse considering the short distance and includes towering cinder cones, hoodoos, and a diverse range of high desert plant life including ponderosa pines and juniper trees.
More info on the Red Mountain trail
12. Drive through Bearizona
Visiting Bearizona in small-town Williams is a great addition to any Grand Canyon vacation. After an exhausting day walking around Grand Canyon Village, it's nice to take a day off and explore some of the area's more relaxing attractions. Whether or not you are staying in Williams, I would recommend checking out Bearizona, frequently regarded as one of the country's best drive-thru wildlife parks.
Along the drive, you will see all sorts of wildlife in a setting which resembles their natural habitat – Bison, Alaskan Tundra Wolves, and Black Bear are just a handful of animals you will see roaming in the beautiful countryside. You can also take a tram tour, walk around the small zoo portion of the park, and see raptors flying above your head in the daily Birds of Prey show.
13. Take family photos surrounded by gorgeous seasonal wildflowers
Late summer after the monsoon storms is a great time in Northern Arizona as this is when the summer tourist crowds start dwindling down, hotel rates begin to drop, and the beautiful yellow wildflowers begin to spring up everywhere. The best places for photos are Bonito Meadow (located on the Sunset Crater-Wupatki Scenic drive) and Hwy 180 near the Peak View Gas Station. Both of these locations feature stunning views of the mountains as an added perk. The Hwy 180 location features a perfect photo opp by the iconic Flagstaff sign, while Bonito Meadow offers amazing views of Sunset Crater and the Peaks. You cannot go wrong with either pick!
14. Hike the South Kalibab trail into the heart of the Grand Canyon*
Of course, visiting the Grand Canyon should be on the top of everyone's Arizona to-do list. Early spring and late fall are the best times to visit as this means fewer crowds and milder weather. While viewing the stunning canyon from the various overlooks is enough for most, hiking into the Canyon is an experience to remember. For an incredible experience you will never forget, consider a hiking adventure along the South Kalibab Trail.
The 3 mile hike to Skeleton point is rough & hilly the entire trek, however, the views are out-of-this-world. Those not up for such a challenging feat can simply hike out to the first lookout, appropriately named Ooh Ah Ah point. If you decide to continue you on, you will notice a sharp decrease in crowds, and enjoy the amazing feeling of having the canyon all to yourself! Be aware that this area is high altitude and very dry so dehydration and altitude sickness is a major concern no matter the distance. Do not attempt to hike this one during the hot summer season!
More info on the South Kalibab Trail
15. Take in a bird's eye view of Sedona via the Sugarloaf/Teacup trail*
With towering red rock formations surrounding every square inch of the town, it's no surprise that every trail in Sedona is basically picture-perfect. If you really want to see some spectacular scenery (without much effort required), hike the combined Teacup & Sugarloaf Summit trail. Few outstanding views are accessible via such minimal effort.
Combined, the 2 trails are just a little over 2 miles. The trail is mostly flat asides from a short steep climb of under 1/2 mile up to the amazing Sugarloaf Summit overlook. Other perks of hiking this fabulous trail include quick access from the Uptown area and a surprising lack of crowds. This hike is a must-do for any hikers and photographers looking for the best-of-the-best Sedona has to offer.
More info on the Teacup-Sugarloaf Trail
16. Challenge yourself to 13 creek crossings along the West Fork Trail*
The West Fork trail is the most popular trail within the massive 1.856 million acre Coconino National Forest. Every year thousands of Southern Arizona residents fleeing the heat, leaf peepers, as well as Sedona tourists make the trek down beautiful Oak Creek Canyon to take in the wonder of this diverse trail. It's the one trail in the area where you can do it all- enjoy serene views of the creek, take in magnificent red rock vistas, enjoy a rare cool & shady Arizona setting, and even see a hint of fall foliage in autumn and snow in winter.
The West Fork trail is one of the few places in Arizona where you get to see some traditional fall foliage in the form of maples and oaks, as opposed to the golden aspens you typically find out West. However, my favorite time to hike is following a big winter storm when snow dusts the red rocks. What a sight to behold!
More info on the West Fork trail
17. Explore ancient pictographs at Lamar Haines Memorial Wildlife Area
The Lamar Haines Memorial Wildlife viewing area, previously known as the Veit Springs trail, is a great short hike on the southern slope of Flagstaff's San Francisco Peaks. The scenery here consists of a dense forest of ponderosa and aspen trees. During the fall months, the bright golden aspens stand out brilliantly amongst the green pines.
Veit Springs is one of the few trails where you have a decent chance of seeing wildlife. It's peaceful and almost never crowded due to the semi hidden location in between miles 4 and 5 on Snowbowl Rd (most tourists continue on the full 7 mile drive). I love this hike because it feels more like a trail you would find in New England rather than Arizona. A short side trail brings you to some cool ancient faint red pictographs of unknown origin. You get a bit of everything on this hike – uninterrupted nature, history, a nice little workout, and most importantly, peace and quiet.
More info on the Veit Springs trail
18. Feast on authentic Indian cuisine at Delhi Palace
Delhi Palace, tucked away in a little strip plaza in Flagstaff, is no question the best restaurant in Flagstaff, and possibly the entire state. Do not let the strip mall location fool you! The delicious assortment of fresh homemade perfectly seasoned Indian cuisine offered on their daily lunch buffet comes in as the perfect treat after a long & exhausting day out on the gorgeous trails surrounding Flagstaff. The Vegetable Korma and Saag Paneer here are the best I've ever come across. For the most delicious lunch buffet ever, head over to Delhi Palace any day of the week between the hours of 11am-2:45pm. Update: The buffet is no longer offered, however, the food is outstanding enough to order a la carte.
19. Explore historic downtown Prescott
Prescott is known for its' charming old-fashioned downtown, which is attractively lined with classic historic Victorian architecture from the 19th century.  Sipping on delicious coffee and a homemade pastry at local coffeehouse Wild Iris is a great way to start your morning. For dinner, try out one of the authentic Italian restaurants like Papa's or Rosa's Pizzeria.
In congested, suburban overrun Southern Arizona, we do not find many of these charming neighborhoods much today. Prescott is home to one of the few remaining classic downtowns from day's past. Asides from local restaurants, shops, antique stores, cowboy western shops, several western themed museums, and Whiskey Row (a block of old-fashioned saloons), you will find a whole lineup of traditional events throughout the year including a spectacular holiday lights festival, the annual Whiskey Row Shoot Out, and the Prescott Frontier Days Rodeo Parade (Prescott is home to the World's Oldest Rodeo).
More info on downtown Prescott
20. Enjoy endless red rock vistas on the Red Rock Scenic Byway*
The name says it all – the scenic 14 mile long SR 179 drive, better known as the Red Rock Scenic Byway, features incredible views of some of Sedona's most stunning rock formations. Each rock in Sedona is named after the shape it resembles and you will see all sorts of crazy formations on this drive including everyone's favorite, Snoopy rock, which resembles the classic Peanut's character.  There's lot of stops along the way where you can get out and take photos and you will want to do as the scenery is incredible for the entirety of the drive!
Or better yet, stop for a hike at Little Horse, a moderate hike which leads you to an incredible overlook which definitely rewards you for all your effort. SR 179 runs from Interstate 17 to SR 89 and backs up almost every weekend. For a relaxing, stress-free drive visit on a weekday during a non holiday period.

21. Stand in 4 states at the same time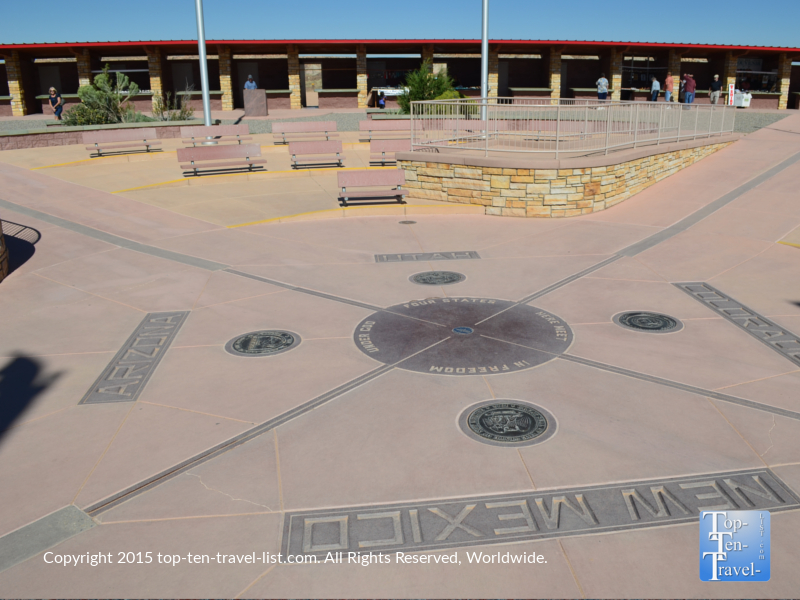 Four Corners is a pretty unique place as it is the only area in the country where you can stand in 4 states at the same time. Arizona, Colorado, New Mexico, and Utah all meet at 37° north latitude with 109° 03′ west longitude. You can literally put your hands and feet in all 4 states at the same time for all sorts of crazy photos, although the line is often very long to do so.
This one is not necessarily worth going out of your way for, however, it's a good place to stretch your legs on any roadtrip out this way – say on the way to Monument Valley or Southwestern Colorado. Lots of Native American vendors are on-site selling all sorts of authentic homemade crafts like jewelry, sculptures, dream catchers, and pottery pieces.
22. Enjoy a bird's eye view of Arizona's largest mountain range from atop Slate Mountain*
The underrated and underused Slate Mountain trail is the must-do hike if you are seeking the grandest mountain views in all of Arizona. Without question, this trail offers the most magnificent views of the San Francisco Peaks. This hike is a bit challenging although nowhere near as difficult as the super intense high altitude Humphrey's Peak hike.
This trail, in comparison, is still pretty intense at an ending elevation of 9000 ft (compared to Humphrey's 12,0000), although the gradual switchbacks (about an 800 ft elevation gain over 2.4 miles) make it feel a whole lot easier. This amazing trail is located just 30 minutes outside of Flagstaff, and well worth the drive for the amazing scenery and solitary journey into uninterrupted nature.
More info on the Slate Mountain trail
23. Spend the night at one of America's most haunted hotels
The Jerome Grand Hotel, formerly a hospital in the 1920's, is the most haunted place in the city of Jerome, a city already known for its' many spooky paranormal sightings. Jerome is known to be one of the most haunted towns in America and at one point even published a special paranormal newspaper called the Jerome Ghost Post. The town's nickname, "the largest ghost town in America," comes from the fact that the population of the former copper mining town almost dwindled down to nothing at one point.
Today, the town resembles anything but a ghost town with restaurants, art galleries, shops, museums, and ongoing events popping up throughout the year. The spooky ghost stories remain and guests continue to report the same eerie sightings from decades ago. The community center is so haunted that it is now known as "Spook Hall." At the Mile High Inn, the ghostly vision of a cat roams the halls and rubs against the feet of guests. Sign up for a guided ghost tour at the Jerome Grand Hotel (complete with real ghost hunting equipment like EVPs) or dare to spend the night in Room 35!
24. Stroll around the grounds of Little America at Christmas
The many pine trees at Flagstaff's favorite hotel shine brightly with over a million colorful lights each year, beginning about a week or so before Thanksgiving. Add chilly temperatures and a high likelihood of snow all throughout the holiday season and you have the perfect wintry wonderland setting. Grab a hot chocolate, bundle up, and enjoy one of the best light shows in Arizona. Best of all, it is completely free! While you can find light shows all around Southern Arizona, the chance of snow and traditional cold weather make this Flagstaff tradition all the more festive!
More info on the Little America holiday light show
25. Enjoy photo worthy views of Sedona's colorful rocks minus the crowds at Red Rock State Park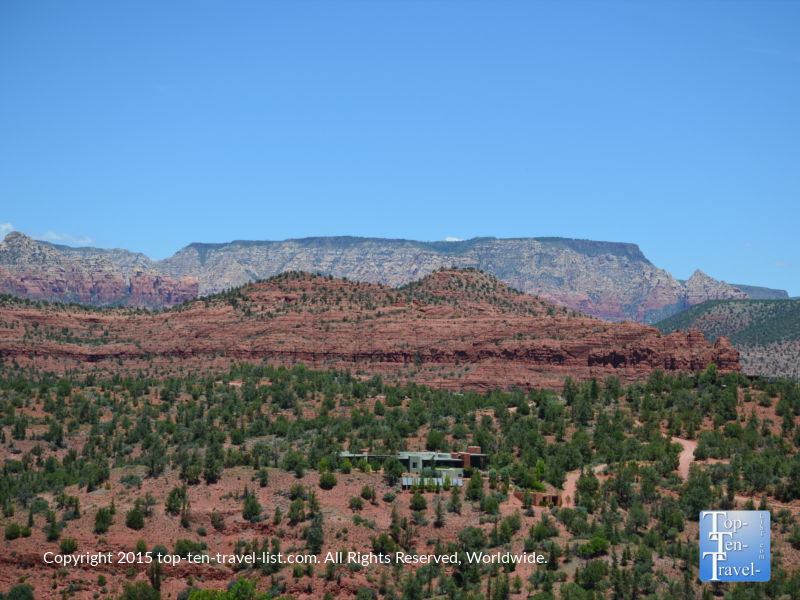 Red Rock State Park is a fabulous destination for hiking, nature strolls, bird watching, and photography. It's one of the least crowded places in Sedona and also one of the most beautiful. The rangers lead a number of fun guided programs throughout the year including guided bird walks and stargazing night walks. With low light pollution and clear nights most of the year, Sedona is an awesome place for stargazing. The hiking trails are all pretty easy and short here, while still affording magnificent views. This makes this state park a great choice for vacationers looking to take it easy without sacrificing the views.
More info on Red Rock State Park
26. Take a leisurely bike ride along one of the only remaining rail trails in Arizona
Rail trails are former railroads which have been transformed into multi purpose recreational paths. There are lot of these on the East coast, yet few in the Western states. The Peavine National Recreational trail in Prescott is one of the few remaining in Arizona, and fortunately, it's a pretty scenic place for any type of exercise. This easy 5 mile trek takes you past gorgeous Watson Lake and the Granite Dells rock formations. It's nice to see some water in Arizona especially while getting in a nice run, bike ride, or walk!
More info on the Peavine National Recreational trail
27. Stroll through groves of golden aspens on the Aspen Nature Loop*
Flagstaff's short and sweet Aspen Nature Loop at Snowbowl is bursting with fall color every year sometime around the 2nd or 3rd week of October. While most of the high altitude trails in town see some foliage, this one is particularly special as the leaves turn an amazing bright golden hue. Really, the leaf peeping along the high altitude Flagstaff trails rival the scenery found along the best trails in New England. Planning a trip here during the fall season is definitely recommended!
And, the gorgeous mountains in the background make this hike even more picture-perfect. At just 1.5 miles round-trip, the Aspen Loop is the perfect fall stroll for hikers of all levels. While the elevation is quite high at 8000+ feet, the trail itself is quite flat. Be sure to drink lots of water and get accustomed to the high elevation for a few days before embarking on any hike in the area.
Relax with a cup of coffee at Late for the Train, enjoy the scenic fall drive up Snowbowl Rd, take a leisurely stroll along the Aspen Nature Loop, and cap the afternoon off with a nice lunch in Flagstaff: it's the perfect fall day out in Arizona!
More info on the Aspen Nature Loop
28. Have lunch at the El Tovar Lodge
El Tovar is the premier lodging option at the Grand Canyon South Rim. The hotel was declared a National Historic landmark in 1987. The lodge is beautiful & convenient due to its' location directly on the rim, and thus, often booked out months in advance. Movie buffs will notice that the lobby was used in the filming of the 80's classic Vacation with Chevy Chase.
Even if you cannot get a room, you must plan for lunch in the El Tovar restaurant which features massive windows looking out unto the canyon. Feasting on delicious Southwestern cuisine while surrounded by world-class views of one of the world's greatest natural wonders is the perfect way to spend an afternoon in Northern Arizona.
A full guide to visiting the Grand Canyon
29. Explore the ruins of a Christmas themed ghost town
Santa Claus, Arizona, now one of the many ghost towns found along once booming Rt 66, was at one point home to a thriving Santa themed amusement park. Walking around the ruins today you would never guess that this place was once a cheerful Christmas themed amusement park. All that remains are a few crumpled down graffiti covered buildings and the now abandoned Christmas tree Inn.
While not really worth going out of your way for, stopping at this unique little ghost town is a nice break on the way to Vegas or Kingston, so history buffs or anyone else who loves seeking out weird places should plan for a stop. It's kind of crazy to see how much a place can change over time, imagining a happy little Christmas amusement park where now stands nothing but barren desert land!
More offbeat attractions to check out in Arizona
30. Shop for Southwestern themed souvenirs in Uptown Sedona
Uptown Sedona is a relatively new addition to Sedona's shopping and dining scene. This huge complex greets you as soon as you enter via the Oak Creek Canyon scenic drive, and offers a number of fun and interesting things to do when you are done hiking the trails. It's basically the touristy center of everything.
There's a number of Southwestern themed restaurants, lots of art galleries, and boutique shops selling every cacti themed souvenir you can imagine. And of course, the best part of all, is that you are still immersed in the gorgeous red rock scenery. For lunch with a great view, check out Wildflower Bread, a regional chain similar to Panera Bread. This local gem serves homemade soups and sandwiches, only with the added benefit of a patio overlooking the magnificent scenery!
31. Explore a 900 year old apartment building
Montezuma Castle is a 900 year old ancient apartment like dwelling which was estimated to have been built by the Sinagua tribes between 1100 and 1300 AD. The massive structure is 5 stories high and composed of 20 rooms. Seeing this unique site is worthy of the 20 minute drive outside of Sedona, considering it is one of the best preserved cliff dwellings in the country.
It's amazing the amount of effort these ancient tribes put into their daily lives. Today, with so many modern conveniences, we forget how much we take for granted. I wouldn't necessarily place it near the top of your must-do list, however, a trip to the Montezuma ruins is a great add-on activity when you tire of hiking.
32. Take a creekside stroll along the Templeton trail
The Templeton, one of Sedona's easier trails, is often overlooked in favor of the adjacent Cathedral Rock trail, a hike which is very popular with tourists as it happens to be one of 4 vortex sites. A vortex site is an area of enhanced energy which supposedly circles up from the Earth. Many locals & tourists have reportedly experienced special healing energies at these various vortex areas throughout Sedona. Whether or not this is true, these supposed vortex sites are truly beautiful.
The Cathedral Trail is one of the tougher hikes in town as it involves a scary and challenging rock climb to the top. You really cannot do this one alone as several tough sections require a boost and helping hand. While it is cool to explore a vortex site, there are many other hikes in town which do not require such a scramble.
Opt instead for a hike along the quieter & more scenic Templeton Trail which offers relaxing views of the creek, amazing red rock views, and a nice little workout without tremendous effort required. Despite Sedona being home to the gorgeous perennial Oak Creek, there are not a lot of trails which actually travel along the creek – Templeton is one of the few.
More info on the Templeton trail
33. Stroll amongst towering pines & aspens along the Kachina Trail
The Kachina Trail at Snowbowl is another fantastic leaf peeping hike in Flagstaff. Like the Aspen Nature Loop, this trail is also high altitude (8000-9000 ft) and loaded with beautiful aspens which shine gold in October. With a mix of pines and aspens, the setting truly is picture-perfect anytime of year, although nothing beats seeing the mesmerizing fall color. Because it's a dense forest and located so high up (8-9000ft), it remains about 10-15 degrees cooler up here at Snowbowl, so it's a nice escape when it's too hot in town.
Despite Flagstaff being much cooler than Phoenix, the sun is very intense at high altitude so it can feel a lot hotter than the official temp says, especially when you are in direct sunlight. The whole out-and-back trek along the Kachina Trail s over 5 miles, however, you can simply go out to your comfort level (in my opinion, about a mile in is the perfect distance to see some leafy fall scenery). Winter snowshoeing is also a blast here as the trail is relatively flat and the pines are just gorgeous when dusted with fresh snow.
More info on the Kachina Trail
34. Enjoy stress-free transportation to the Grand Canyon
Small town Williams, located just 30 minutes west of Flagstaff, has a year-round population of just 3000, however, on any given summer day it appears to be a thriving tourist town. Williams is just an hour away from one of the world's greatest natural wonders, and thus, has been appropriately nicknamed "the gateway to the Grand Canyon."
The Grand Canyon Railway draws in millions of tourists to this tiny town each year as a convenient car free means of transportation to the 8th world wonder. While letting someone else do the driving and parking is a stress-free way to travel to the Canyon, the trade off is the limited amount of time you actually get to explore. It's up to you as to whether or not you are willing to sacrifice time at the canyon in exchange for a convenient ride.
More info on the Grand Canyon Railway
35. Enjoy the local coffee scene
Despite being a small community of under 100,000 year-round residents, Flagstaff boasts a number of surprisingly good local coffeehouses. No need to resort to a Starbucks here! Independent coffee shops can be found scattered around the small town, and are especially concentrated in the historic downtown area.
The best local roaster is Late for the Train, which is located downtown. They specialize in dark roast coffee that is both smooth and delicious without the gross burnt aftertaste that is customary at the big chains. Their dark skies mocha is the most delicious tasting concoction around.
Here are 5 other great coffeehouses to try in Flagstaff.
36. Grab your snowshoes and head up to Snowbowl*
Snowshoeing the high altitude trails of Arizona Snowbowl is a must during Flagstaff's snowy winter season. First of all, Flagstaff is one of the snowiest cities in the US with over 200 inches each winter season! (The 2017-2018 season has been a bummer so far- hopefully 2019 sees more snow!). Quite the difference compared to the dry, warm winter climate found throughout the southern portion of the state! 2nd, there are plenty of high altitude trails which are pretty much covered with snow the majority of the winter season. And third, snowshoeing is a fantastic workout!
The trails remain pretty deserted as most everyone heads to Snowbowl for downhill skiing at one of the state's only skiing resorts. If you are looking for a quiet winter wonderland experience, bring or rent a pair of snowshoes and enjoy the peaceful pine scenery all to yourself! The 2 easiest trails to snowshoe (and most scenic) are Aspen Nature Loop and Veit Springs. If you do not have your own pair, you can easily rent some for under 20 bucks at any sports outfitter in the area (Ski Haus is a good choice as it's right next door to a great little coffee shop called Kickstand).
37. Spend the day kayaking on Lynx Lake
Kayaking is such a fun and healthy summer activity, especially when you are out on a picturesque lake like Lynx in Prescott. While Arizona is most often thought of as a dry barren state, there are actually a number of nice man made lakes including 3 in Prescott. Lynx is by far the most scenic as it is surrounded by pretty ponderosa pine trees.
Canoes, kayaks, rowboats, stand up paddleboards, and paddleboats are all available for rental, however, you must bring your own or get here early as this is one popular lake and rentals go fast! Phoenix residents tend to frequent the high country regularly to enjoy the milder summer weather, and thus, the small lake sees over 100,00 visitors each season. For those not into boating, there is a gorgeous nature trail which winds its' way around the lake and through the pretty pine forests.
38. Stroll, shop, & enjoy patio dining at the Village of Tlaquepaque
Sedona's gorgeous southwestern themed entertainment complex is the perfect place to unwind after a long day exploring the trails. This one is a bit quainter and more upscale than the Uptown area, although you will not find the big red rock views here. The beautiful outdoor market features cobblestone walkways, decorative fountains, beautiful sycamore trees, and old style Mexican architecture.
Here, you will find a number of great restaurants with outdoor patios to take advantage of Sedona's many months of near perfect mild weather. The Secret Garden Cafe offers delicious food in a really pretty outdoor setting. Try their hummus pizza – it's fantastic! You will also find a number of specialty shops, art galleries, and great events throughout the year (the village looks amazing at Christmas!).
39. See the only McDonald's with a turquoise arch
If you are interested in exploring offbeat places in Arizona, you will definitely want to check out the McDonald's on Hwy 89 in Sedona. While McDonald's is most recognized for its' iconic yellow arches, one notices peculiar bluish green arches in favor of the traditional golden hue at this unique location in Sedona. When the McDonald's was originally built in 1993, it was on the condition that the arches blend into the natural surroundings.
Unfortunately, the town has long since expanded to include many businesses and is quickly becoming a thriving tourist hotspot with much of the charm beginning to fade. While I am no fan of McDonald's (or any other fast food joint for the matter), it is pretty to cool to take your photo next to the only McDonald's missing the trademark golden arches.
More offbeat destinations to explore in Arizona
40. Take in the starry skies of the 1st International Dark Skies City
Flagstaff is known to be one of the best places in the world for stargazing. With clear skies the majority of the year, low light pollution, plenty of open land, and a dedication to science & astronomy related events, there is always a telescope viewing event around the corner. Or better yet, a quiet park to take in the starry night skies all to yourself.
Buffalo Park is one of the most scenic places for a quiet night of stargazing. The road to the Lowell Observatory is another great choice. Or, enjoy a leisurely cruise along the Sunset Crater-Wupatki Scenic Drive. Additionally, the city hosts a number of public viewing events during the annual 2 week long Festival of Science event each fall.
More info on the Festival of Science
41. Brunch with a view at the Enchantment Resort
The views at Sedona's exclusive Enchanted Resort are unparalleled, even in a town where almost every resort offers breathtaking views. The secluded location, as well as top notch amenities and restaurants, make the Enchantment the top lodging choice in town, and thus, it tends to book out months in advance. Even if you cannot score a room, brunch at the Che-Ah-Chi is so worth the drive.
Not only do you get to take in the gorgeous red rock scenery via the floor-to-ceiling windows, but the food and service are also pretty terrific. Be sure to try the Mocha French Toast or one of the delicious skillets! And, their coffee is wonderful too so no need to stop anywhere else!
42. Spend the day relaxing & exploring nature at Fort Tuthill
Fort Tuthill is a local's favorite in terms of quiet, easily accessible parks in Flagstaff. The abundance of towering ponderosa pine trees make it a perfect place to escape the brutal sun in the summer months, and also the perfect place to enjoy any winter sports amidst a winter wonderland pine tree setting. After a big winter storm, the trails here are just perfect for snowshoeing. The citywide Flagstaff Urban Trail System runs a 4 mile course through the park, so really it's the perfect distance for any type of recreational activity.
This woodsy path is perfect half the year for jogging, walking, and biking, while the other half of the year it's perfect for snowshoeing and cross country skiing (assuming it's a good snow season that is!). Other fun recreational amenities include tennis courts, sand volleyball courts, and lots of picnic sites. On top of all this, a variety of events take place throughout the year including the Coconino County Fair and the Flagstaff Pro Rodeo.
43. See where Pluto was discovered
Ever wonder where the largest dwarf planet was discovered? Well, if you visit Flagstaff's renowned Lowell Observatory, the place where Clyde Tombaugh discovered Pluto in 1930, you will learn all the details about Pluto's discovery as well as some unique little known facts about the planet. You will even get to view the telescope used for the discovery.
This discovery is not really surprising as Flagstaff is the world's first international dark city and puts much effort into remaining a low light pollution community despite ever growing growth & tourism. The observatory hosts public telescope viewing on clear nights and frequently hosts special events.
More info on the Lowell Observatory
44. Treat yourself to a prickly pear ice cream cone
Prickly Pear – it's the perfect base for any treat as the flavor is sweet, but not too overpowering. Plus, this sweet edible desert fruit reportedly has many health benefits, which include lowering blood sugar, boosting the immune system, and reducing inflammation. Really, you cannot leave the Southwest without trying at least some type of cactus related food!
This delicious dessert fruit is used as a sweet flavoring in various condiments, teas, and other sweet treats. You can pick up specialty cactus products in specialty shops all throughout Sedona. One of the best ways to try the unique prickly pear flavor is in ice cream as the subtle fruity flavor really makes for a perfect base for any creamy treat. The Black Cow, a wonderful local ice cream shop in Uptown Sedona serves decadent homemade ice cream. And their homemade waffle cones are delicious too! Yes, the wait is super long during the summer season, and yes, it's totally worth the wait!
45. Take in amazing vistas at Mather Point
Mather Point is one of several gorgeous overlooks at the South Rim of the Grand Canyon. This one is particularity picturesque, plus it tends to draw fewer crowds than more popular lookouts like Yavapai Point. Definitely add a stop at the Mather Point Point overlook to your Grand Canyon itinerary for some fun & free photo mementos to take home with you!
More info on the Mather Point overlook
46. Take a stroll around the Heritage Park Zoo
Prescott's tiny little 8 acre zoo is the only zoo in Northern Arizona. Despite the limited size, it's worth a visit if you find yourself in town seeking a few add-on activities for the day. Heritage is a non-profit sanctuary dedicated to providing rescued animals a safe and clean living environment. This alone makes this cute little zoo worth visiting!
The zoo is just one of many side activities to incorporate into any Prescott day trip and is conveniently located adjacent to Willow Lake, so you can combine both for a fun day out in the beautiful natural surroundings of North Central Arizona. If you are in town for the holidays, they do a nice little Christmas light show which is quite affordable.
More fun things to do in Prescott
47. Explore the regional art scene
The Northern Arizona region is thriving in the arts department, fast becoming a haven for photographers, painters, and other creative types. With galleries, art walks, and special art related events happening throughout the year, there is always something to do and see for the arts lover. Flagstaff, Sedona, Jerome, and Cottonwood all offer popular monthly art walks.
Local shops & galleries which specialize in southwestern style art can be found throughout the region. Flagstaff Art in the Park is a really wonderful event which takes place over 4th of July and Labor Day weekends. All sorts of talented artists including painters, sculptors, jewelers and many more have their masterpieces on display. Live music, a wine garden featuring local products, and an adjacent farmer's market are also on the lineup.
48. Take a scenic drive up Snowbowl Rd
Snowbowl Rd is the 7 mile drive which leads you up to the state's best ski resort: Arizona Snowbowl. However, it's so much more than simply a road to get somewhere. The drive is a worthy attraction in and of itself, especially when the aspens turn color in the fall. Wintertime is also pretty spectacular with fresh snow covering the pines and surrounding mountain ranges. At the top, you can picnic, hike 3 different trails, take a summer chairlift ride at the ski resort, or downhill ski in the winter.
The summit overlook is nothing short of amazing – you will definitely want to pack your camera for this one. Watching a sunset on a winter's day is one of the most memorable experiences you will have in Arizona. As a trade off for the beauty, the road tends to get backed up and chains are often required after a major storm.
49. Spend the day browsing galleries and sipping on wine in Old Town Cottonwood
Cottonwood is a tiny town in the Verde Valley about 20 minutes outside of Sedona. If you have extra time after exploring a handful of the gorgeous red rock trails in Sedona, a stroll around Old Town Cottonwood is a relaxing addition to your itinerary. The building pictured above is the Old Town Jail which is supposedly haunted. It now operates as a quaint little tea shop,however, you can still take a tour of the old jail cell and view the location where Al Capone carved his name into one of the back walls.
Old Town Cottonwood is home to a number of local restaurants, galleries, and lots of wine tasting rooms as it is located on the Verde Valley Wine Trail. There are a number of great wineries in the beautiful Verde Valley region. You can take a self-guided tour using the map linked below. I really recommend a tea and dessert break at the Paradise Point Cafe. Their German chocolate cake is amazing, the service is so friendly, and the outdoor setting is quaint.
More info on the Verde Valley Wine Trail
50. Watch for wildlife at Kendrick Park
Kendrick Watchable Wildlife Park is just that – a pretty park where you can watch for all sorts of wildlife. This park is a great side trip if you happen to be heading out this way anyways, say to the Grand Canyon or the Arizona Nordic Center as it is directly on the route. Wildlife sightings are pretty common if you set out either early in the morning or near dusk.
Mule deer, antelope, and elk are commonly sighted here. It's wonderful to see wildlife roaming about in their natural surroundings as opposed to paying for a zoo which is a completely different experience. I have seen more than 15 elk on an evening visit! Drive careful as herds frequently cross the road. There are 2 short trails here which should take no more than a hour to complete. Although summer is the prime time to visit, winter is still a great time as it is more peaceful with almost no tourist traffic. Gorgeous mountain scenery, along with few crowds and plenty of snow make this one of my favorite parks for winter snowshoeing.
51. Enjoy a spectacular show by the Flagstaff Symphony Orchestra
The Flagstaff Symphony Orchestra has been entertaining both locals and tourists with their tremendous musical talent since their 1st show in 1950, back when they were known as the Northern Arizona Orchestra. The orchestra puts on a number of great productions each year including a festive Nutcracker themed holiday show. They also put on a fabulous, free patriotic 4th of July show for the community each year at beautiful Ft. Tuthill Park. Believe it or not, this is the first time I heard the catchy "Get Your Kicks on Route 66" song and I still cannot get it out of my head to this day!
Flagstaff Symphony Orchestra schedule
52. Check out the local brewery scene
Downtown Flagstaff is loaded with a number of great pubs, including the 2 most popular tourist hotspots: Beaver Street Brewery and Lumberyard Brewing Company. Both pubs offer some tasty appetizers and main dishes with way more than your standard pub fare on the menu. Both brewpubs feature all local beers on tap.
For a full listing of all pubs in Flagstaff, including a self-guided beer tour guide, take a look at the Flagstaff-Grand Canyon Ale Trail, a helpful guide on where to find locally brewed craft beer in Flagstaff, Sedona, and Williams. If you are looking for something really unique, the Alpine Pedaler offers guided downtown pedaling tours including stops at 3 local breweries.
53. Cool off in a secret Oak Creek swimming hole
While Slide Rock State Park (a really unique state park where natural water slides have been created via the slippery sandstone rocks) is the popular and expensive means to cool down on a hot Sedona summer day, there are several secret swimming holes if you want to avoid both the crowds and hefty fees. My favorite is the quiet little creek near the end of the Huckaby Trail, which can be easily accessed by parking near Midgley Bridge (near the end of the Oak Creek Canyon Scenic drive) and taking a short stroll down the hill.
Another great hike is the Templeton, a beautiful 2 mile stroll which features great red rock and creek views. Red Rock Crossing and Grasshopper point are also nice, although they both require an entry fee and tend to get pretty crowded on hot summer afternoons.
More swimming holes near Sedona
54. Soar high above the pines on the Arizona Snowbowl chairlift ride
Hiking is always the best means of taking in the beautiful high country scenery. However, these hikes are pretty challenging due to the high altitude, and thus, if you are not up for a big workout or simply would rather keep it relaxing on your vacation, you can opt for a summer/fall chairlift ride at the ski resort. The ride starts at 9500 ft and travels up to 11,000 ft, earning it the nickname of "the coolest place in Arizona."
And cooler it is as the average temperature is at least 30 degrees cooler than the brutal 100+ degree temperatures you would find in Southern Arizona. The lift travels 2000 feet in about 25 minutes. The ride is relaxing and picturesque with views of the ponderosa pines and surrounding mountain ranges. Tip: Look on Groupon for special discounts. Update: The rides have been upgraded to enclosed gondolas.
More info on the Arizona Snowbowl chairlift ride
55. Take fall photos amongst the incredible foliage at Aspen Corner*
Aspen Corner, which is about 6-7 miles up Snowbowl Rd, sees the most amazingly bright foliage anywhere in Arizona. Really, I would say that the foliage here rivals the best places in New England. Visiting Aspen Corner at the peak of fall really is a must for any leaf peeper, photographer, or simply anyone else who loves fall. This is the best place in Northern Arizona for fall family portraits, bar none. From here, you can also hike a section of the beautiful Arizona Trail, which is also lined with the most strikingly beautiful golden aspens.
Where to see fall color in Arizona
56. See the world's largest travertine bridge
The largest travertine bridge in the world is found at beautiful Tonto Natural Bridge State Park in Payson, a small town in the Mogollon Rim region of the state. A number of hiking trails (varying in difficulty) take you to this gorgeous natural architectural wonder, so there is an option for everyone whether you prefer to keep it simple or challenge yourself to some boulder hopper over natural pools.
As an added bonus, there is also a small waterfall near the end. Fall is a great time to plan your visit as the foliage is quite pretty in this area. There is really not much else to do in Payson, however, the small towns of Pine and Strawberry nearby offer lots of boutique shopping and a number of cozy restaurants.
More info on Tonto Natural Bridge State Park
57. Enjoy gorgeous red rock vistas & creek access via the Huckaby Trail
The Huckaby Trail is a long scenic Sedona trail which is best suited for the cooler spring season. There is not much shade on this trail (asides from the sort creek section) and the intense sunshine can be really unbearable on 100 degree summer afternoons. The entirety of the trail is about 6 miles round-trip with at least a 2.5-3 hour time commitment involved, however, you can go out as far as you are comfortable and turn around at any point. Parking at the Midgley Bridge trailhead will enable you to enjoy the best creek and red rock views without trudging through the entire 6 mile long trail.
More info on the Huckaby trail
58. Dine at the historic La Posada Hotel
The Turquoise Room is a wonderful Southwestern restaurant, frequently rated amongst the best in the Four Corners region. It is located inside the La Posada Hotel, a beautiful historic hotel which was once considered to be the best hotel on Rt 66, and continues to be a popular rest stop for wearisome travelers completing a lengthy Rt 66 road trip. La Posada, known as "the last great railroad hotel," was designed by the Fred Harvey Company who owned the Harvey house chain of restaurants and hotels which were built along railroads in the West.
The hotel and restaurant both feature gorgeous architecture and authentic Southwestern style decor. Do not leave without trying the Piki Bread with Hopi Hummus and the Signature Black Bean & Corn Soup! After lunch take a stroll around the beautiful on-site gardens.
59. Shop for antique treasures in Pine & Strawberry
Pine and Strawberry are 2 tiny communities in the Mogollon Rim region, most well-known for their abundance of antique and boutique shops. These towns are also popular with Southern Arizona residents mostly due to the much cooler summer climate. Cabin rentals are an option for anyone looking to really soak in the pine scenery and small town charm.
If you plan on visiting Tonto Natural Bridge State Park in Payson, you might as well check out Pine and Strawberry while you are in the vicinity. Moose Mountain Gifts and Antiques in Pine is my favorite antique shop in the area – the space is ginormous with lots of rare treasures to be found. A stop at Pine Creek Fudge is also a must, not only for the delicious homemade fudge, but also the best espresso in in town!
60. Feel the vortex energy in Sedona
Sedona is increasingly becoming more & more well-known as a healing oasis, where luxury resorts, spas, fantastic hiking trails, alternative health centers, and healthy restaurants all combine for the perfect relaxing, rejuvenating vacation. The presence of numerous vortex sites also helps draw in tourists looking for mental and spiritual healing. There are 4 vortex sites in town – each of which has either masculine or feminine energy (and sometimes both) which reportedly help heal the body in various ways.
The Bell Rock vortex is said to be the strongest and also the weirdest as dozens of visitors have reported paranormal and UFO sightings. Supposedly, a twisted juniper tree is a sign that the vortex energy is particularly strong – you will see many of these trees on your hike. Sign up for a night tour if you are up for a really strange experience.
Other Sedona vortex hikes include Cathedral, Airport Mesa, and Boynton Canyon. The Boynton Canyon hike is absolutely beautiful and quite unusual as it travels through a really diverse variety of landscapes. For a non hiking option, check out the gorgeous Chapel of the Holy Cross, a gorgeous Roman Catholic church built in between the massive rocks.
61. Hike Thumb Butte
Thumb Butte, a beautiful trail within the Prescott National Forest, is a bit of a toughy due to the steep uphill climb (which goes on for a mile or so), however, you will be rewarded for your effort with outstanding views of the city and surrounding mountains. Plus, you will get in an excellent all over body workout. The hike is unique in that it travels through a diverse range of habitats and wildlife is pretty abundant. A portion of the trail travels through a really quiet, beautiful pine forest. Keep your eyes peeled as black bears are occasionally sighted! Best of all, summer temps in Prescott are considerably cooler than Phoenix & Tucson!
More info on the Thumb Butte hike
62. Take a peek into ancient native life at the Elden Pueblo ruins
The Elden Pueblo ruins in Flagstaff, inhabited by the ancient Sinagua from 1070 to 1275 AD, are quite interesting to visit as you get an up close look at how these ancient people lived. Due to the convenient access, the pueblo was thought to be a major trading site, with evidence of trade items all the way from Mexico. Quite a difference from our modern technology based world! Ironically, the Flagstaff mall is just across the street from this little piece of living history!
63. Walk amongst Lava Flow at Sunset Crater
Sunset Crater is the youngest, least eroded volcano in the San Francisco Volcanic Field, as well as one of the youngest volcanoes in the US. Visiting Sunset Crater National Monument is a pretty unique experience as you will get an upclose look at lava flow from a volcano which erupted over 900 years ago. The Sinagua tribes were living here 100's of years before the eruption.
There's some nice views of the mountains here too, plus you also get admission to Wupatki National Monument (your pass is valid for 7 days). The beautiful Wupatki-Sunset Crater scenic drive is beautiful enough on its' own to warrant a drive over.
64. Step into a church unlike any other
Sedona's Chapel of the Holy Cross is one of the most mesmerizing man-made wonders out West. The church was built in between 2 red rock formations and offers some of the most incredible panoramas of this beautiful city, both inside and outside. This incredible church truly is a work of art. The design was inspired by sculptor Marguerite Brunswig Staude, a student of Frank Lloyd Wright. As soon as you step into the doors, you will be in awe of the amazing architecture. Not surprisingly, the church is one of Sedona's strongest vortex sites and many visitors report feeling extra energy after their visit.
More info on The Chapel of the Holy Cross
65. Visit Sedona during Red Rock Fantasy
Red Rock Fantasy is a gorgeous lights festival held each holiday season in Sedona. This festive holiday celebration includes a number of decorated trees, window displays, and themed light displays. This year's display (as well as last years) is being held at the Village of Tlaquepaque, a gorgeous Southwestern themed complex featuring a number of fantastic local businesses and shops. All the local businesses really go all out in terms of decor, and there are a number of festive events including holiday movie screenings, Santa visits, and ice skating.
66. Watch the Tiger Splash show at Out of Africa wildlife Park
Out of Africa Wildlife park is a non-profit wildlife sanctuary in the Verde Valley. The park includes a small walk through zoo like section, narrated tram tours, and some really great educational wildlife shows. The Tiger shows are really entertaining & informative at the same time. Staff appears to be very dedicated to each animal's welfare and your money goes to good use helping to care for formerly abused and abandoned animals.
The walk thru section is pretty uncomfortable most of the year due to the intense 100+ degree heat and lack of shade, so try to plan your visit during the winter season The park is located in Camp Verde, just a short drive from Sedona, and therefore, can be easily incorporated into any Sedona trip itinerary. Pricing is a bit steep but goes to support the formerly neglected animals. For those looking for a budget friendly alternative, the park offers free admission the entire month of your birthday.
More info on Out of Africa Wildlife Park
67. Take in the beautiful high country scenery along the Weatherford trail
The Weatherford Trail is yet another hotspot for leaf peepers come fall. Flagstaff sees no shortage of foliage throughout town and scattered amongst the high altitude trails each September-October. The leaves along the Weatherford tend to change a bit earlier, typically by the end of September. The Weatherford trail in its' entirety is long and strenuous, although you can simply hike out 2 miles or so for a leisurely day out in the beautiful forested lands of Northern Arizona.
For a longer day hike, you are looking at a rough 6.8 mile out-and-back trek to Fremont Saddle which is the furthest you can go without overnight camping. If you are up for  a real adventure (the most advanced hikers only!) you can continue on to Humphreys Peak -with the option of making the long trek back or parking a car at the Humphrey's Peak trailhead and calling it a day.
68. Take a horse drawn sleigh ride through the country's largest ponderosa pine forest
Hitchin' Post Stables in Flagstaff offers a festive winter sleigh ride, typically beginning in November when the snow starts and ending sometime March. Flagstaff sees some of the highest snowfall of any city in the country, although it does melt quite fast at low altitude due to the intense sunshine. Unfortunately, 2017 was a pretty bleak season for snowfall, although you can still take a fun wagon ride and enjoy the rustic trek through some gorgeous pine trees within the beautiful Coconino National Forest.
A special package which includes a stop by a bonfire to toast marshmallows is popular with tourists seeking a real rustic experience. The dinner sleigh ride combo is also a bit hit. Making your way through the fresh pines, covered with a cozy blanket while listening to the bells jingle, is the perfect winter activity, particularly for those seeking to escape the monotony of Southern Arizona. Horseback riding in the spring and summer is a great alternative for those who cannot tolerate the cold.
69. Enjoy a mountain biking adventure in the Dry Lake Hills
You won't find many paved bike paths in Flagstaff, however, mountain biking is a favorite past time of many locals during the milder spring and summer months. Lots of trails in town are popular with mountain bikers, particularly the Dry Hills trails. Most of these trails are pretty challenging and involve rocky terrain. Fortunately, the views are pretty and consist of high altitude ponderosa pine forest mixed in with some aspens. Although these trails are great for mountain biking, they are also popular with hikers as well. The Sunset trail is particularly gorgeous in fall as groves of aspens intermingle in with the green pines.
70. Take a stroll around downtown Flagstaff
Flagstaff is becoming more and more populated and congested by the year due to the immense popularity of the town as both a 2nd home and vacation destination. Unfortunately, this means that common fast food restaurant chains are starting to overpopulate much of the area. A bit of local charm still exists in the downtown region, which is home to a number of local restaurants, great independent coffee houses, art galleries, and historic hotels like the Monte Vista, which is reported to be the most haunted on Rt 66.
Most of the best restaurants in Flagstaff (Delhi Palace, Salsa Brava, Oregano's) are found outside of the downtown region, however, there are still a few good choices. I recommend Mix, Beaver Street Brewery, and Cuvee 928.
A few notable annual events include a popular First Friday artwalk, summer movies in Heritage Square, and the New Year's Eve Pinecone drop Times Square fashion at the historic Weatherford Hotel.
10 things to do in downtown Flagstaff
71. Explore ancient cliff dwellings at Walnut Canyon*
Walnut Canyon, the site of over 30 preserved cliff dwellings, is a pretty interesting historical place to check out if you have the extra time. It's just 7 miles outside of Flagstaff and definitely worth a stop for the beautiful scenery and historical significance. There are 2 trails here, both of which take you past a number of ancient Sinagua dwellings. The views of the massive canyon (400 ft deep and 1/4 mile wide) are really gorgeous, and by far some of the best-of-the-best that the Northern Arizona region has to offer.
The Island Trail is the more difficult of the 2 as it involves a 200+ step stair climb, yet worth it for the terrific views and opportunity to get an upclose look at how these ancient cultures survived in an area so scarce in water (Sinagua translates into "mountains without water"). The visitor's center here is pretty great with lots of valuable info on the area, including detailed info on the many wildlife species which call the canyon home. And of course, you will be able to read through lots of interesting historical info on the Sinagua tribes who inhabited the area from 1100 to 1250 CE.
72. Explore ancient petrified wood at one of the country's most unique national parks
The Petrified Forest is home to one of the world's largest concentrations of petrified wood. If you are at all interested in history and/or offbeat places, you will definitely want to plan a visit to this most unique national park. Petrified wood is really fascinating as the 200+ million year old wood has crystallized and become stone like in appearance due to the hands of time.
As minerals like silica and quartz long ago replaced the natural wood, the wood now resembles a gem and is extremely heavy at 160-200 pounds per cubic foot. The array of colors comes from trace minerals like iron and manganese replacing the organic materials.
This park features a scenic loop drive, a number of interesting trails, several scenic overlooks, and even a few historical attractions to check out along the way. If you are a hiker there are a number of really great backcountry trails where you will get to enjoy some really spectacular views of the amazing Painted Desert.
More info about the Petrified Forest
73. Take a leisurely cruise along the Salt River Canyon scenic drive
The beautiful Salt River Canyon is located about 40 miles outside of Globe (a tiny community which is popular with Southern AZ locals due to the mild summer climate and seasonal ski resort) on US 60. This is one drive you will never want to end. There is a scenic overlook along the way which offers the most stunning vistas of the canyon.
The drive from central Phoenix to the bottom of the canyon is 270 miles, although there are plenty of interesting stops along the way and the spectacular views seem to go on forever. Wildlife sightings are common along the side of the road – seeing a black bear is not unheard of so keep your eyes peeled! The drive is quiet and relaxing and mostly consists of pure uninterrupted nature with little in the way of development.
More info on the Salt River Canyon Scenic Drive
74. Spend an afternoon relaxing at Lake Mary
Upper Lake Mary is a popular place for summer recreation in Flagstaff. In an area with so little water, it really is a treasure. This beautiful deep blue lake, surrounded by ponderosa pines, is located just 12 miles outside of Flagstaff. The road to get there is beautiful as well and mostly void of business and lined with pines, thus making it popular with cyclists and long distance runners wanting to take in the pure countryside scenery.
This lake is a beautiful place for any type of water based recreation be it boating, kayaking, sailing, fishing or water skiing. While the lake is open year-round, water level can vary based on rainfall and snowmelt.
75. Pick up some tasty homemade truffles at Chocolatree
Chocolatree is a popular vegetarian restaurant in Sedona. While not everyone enjoys meat-less cuisine, it's still worth a visit for their excellent homemade chocolates, made on-site with high quality all natural ingredients. The enticing counter display of delicate chocolate treats greets you as soon as you enter the door.
The treats here are amongst the best in the area, albeit a bit pricey, but worth it for the exquisite taste and use of only the best cocoa. Mix and match a few of your favorites or take a seat on the wonderful outdoor patio and sip a delicious hot cocoa, made with premium cocoa and maple almond milk. It really is a decadent treat like no other!
76. Take in unique history & views along the South Rim Trail of the Grand Canyon
The Rim Trail at the South Rim of the Grand Canyon stretches on for 13 picturesque miles, from the Grand Canyon all the way to the South Kalibab trailhead. Scenic vistas abound for the entirety of the path. This trail is great for everyone as it is flat with no elevation gain and you can go on for as little or as long as you like.
There are many scenic overlooks along the way as well as access to gift shops, museums, art galleries, and more. This trail is just perfect for photographers as there are so many great viewpoints along the way. In between the Grand Canyon Village and Yavapai Overlook section of the trail, you will find the "Trail of Time," a nice little interpretative trail which provides you with some interesting historical facts about the canyon.
There are lots of great photo opps all over the place, however, some are quite dangerous. Many tourists die each year at the canyon attempting to take all sorts of crazy photos. I highly recommend the book – Over the Edge: Death at Grand Canyon for those interesting in a fascinating read.
A full guide to exploring the South Rim of the Grand Canyon 
77. Treat yourself to a wonderful dinner at the best Italian restaurant in the state
Renowned Chef Lisa Dahl owns a number of Sedona's best restaurants including 2 fine dining Italian establishments, a Latin American grill, and a wonderful cozy little wood fired pizza shop. The best of these dining establishments is Cucina Rustica, a charming Italian restaurant where you will be served delicious authentic Italian cuisine in an elegant, yet casual setting. The decor inside is so extravagant and gorgeous with an old-fashioned Italian villa charm, and the outdoor patio is so romantic and just the perfect setting for a date.
Pasta is made fresh in-house daily. The restaurant works with local companies and uses local produce and ingredients. I highly recommend the Tortelloni Con Funghi Tartufo-cheese filled tortellini sauteed with portobello mushrooms and topped with a truffle cream sauce – it's the most delicious pasta dish around! The dessert sampler is the most decadent treat around and includes 3 of the restaurant's most popular treats including the most decadent chocolate torte. A dinner out at Cucina is a bit pricey, yet worth the splurge for the exquisite food, service, and setting.
78. Challenge yourself to the difficult trek up the Cookstove Trail*
The Cookstove is a hidden little gem of a trail in gorgeous Oak Creek Canyon. Most people keep right on going without seeing the tiny little trail sign, understandably as it is really hard to concentrate on anything besides the towering pine covered mountains and red rock formations surrounding you in every direction!
This hike is just short of a mile, however, the climb is very, very steep and this is one of the more difficult hikes in all of Sedona. If you can huff and puff your way up the steep hill, you will be rewarded with the most amazing 360 degree vistas of Oak Creek Canyon. And right across the road (where you will park) is a spring water tap with the most delicious tasting water anywhere. Bring a bottle and fill up – you will need it for the hard trek ahead of you.
More info on the Cookstove Trail
79. View one of the only (easily accessible) waterfalls in the region
While most glossy travel brochures intrigue future travelers with a picture of the amazing Havasupai waterfall at the Grand Canyon, in reality viewing this waterfall is no easy task. A very long and gruesome hike, not suitable for the average tourist, or a very pricey tour, is required to take in this wonder. As not all of us have the time or money to engage in such a lengthy endeavor, exploring one of the state's more easily accessible waterfalls is the next best option.
Keyhole Sink near Williams in the Kalibab National forest is home to a small waterfall which is easily accessible after a short stroll through the ponderosa pines. The water flow depends on time of year and rain/snowmelt, however, it's still a nice sight to behold in an arid desert. Wildlife is plentiful in the forest and the trek is relaxing and easy. There are also some interesting petroglyphs of unknown origin to explore.
More hiking options in the Kalibab National Forest
80. Enjoy a relaxing breakfast & espresso on the patio of Indian Gardens*
Indian Gardens is one of the best breakfast places I've ever come across. Not only is it located on the super scenic Oak Creek Canyon Drive, it also is home to the most amazing quaint patio which is loaded with leafy trees, a waterfall, and even a hint of a red rock view. During the fall, you are surrounded by gorgeous foliage. The food here is super delicious and also healthy, with most of the ingredients local and all food made in-house, not frozen.
They have the best little market and meals to-go too so you can pick up a few necessities for your hike. And if you like coffee, you are in for a real treat as they serve the best coffee and espresso drinks in the Northern Arizona region. Their daily pastries are always fantastic. If you see the seasonal Pumpkin Muffin, do not hesitate to indulge in this amazing seasonal homemade treat! Their coffeecake is also amazing. The Grains and Greens bowl (quinoa, kale, butternut squash, topped with 2 eggs, avocado & served with hot sauce), along with an Americano was always my go-to breakfast pre-hike during my years living in the area.
81. Make the diverse trek through Boynton Canyon
As mentioned above, Boynton Canyon is one of 4 vortex hikes in Sedona. This one is particularly interesting as the scenery is so diverse, with everything from towering red formations to shady pine forests along the way. One year during the winter season, I began my hike in a tank top and eventually crossed into the snowy pine forest where I proceeded to put on gloves and a hat! It's crazy how much the weather can vary in the desert in the shade vs. the sun!
The hike is pretty long at 3 miles each way although pretty easy with no major inclines so suitable for anyone up for a longer hike. The views near the end are truly spectacular. This peaceful hike should definitely be near the top of your Sedona bucket list.
82. See the seven sacred pools & 3 natural arches along the Soldier's Pass Trail*
Soldier's Pass is another one of my favorites in Sedona. This trail is not only beautiful, but also home to a number of fascinating natural sights. Along the 2.2 mile out-and-back journey, you will come across seven sacred pools (a series of natural cascading pools carved out of the sandstone, Sedona's most active sinkhole, and 3 magnificent natural arches carved into the towering red rocks.
The hike is usually pretty peaceful with absolutely no one around. And, the scenery is intriguing, with one section offering big wide open vistas of the red rocks, and the other section offering a peaceful look into the quaint Red Rock Secret Wilderness, which is home to a lush variety of desert plant life and lots of leafy deciduous trees.
More info on the Soldier's Pass trail
83. Dare to spend the night at Rt 66's most haunted hotel
The historic Monte Vista hotel in downtown Flagstaff is the most prominent building you will notice while strolling around downtown. With a thriving cocktail & coffee bar and a prime location, it's a popular spot for tourists to kick back and relax after a long day of exploring the great natural sights like the Grand Canyon in the northern portion of the state. Not only is the Monte Vista Rt 66's most haunted hotel, it is also thought to be one of the most haunted places in the country.
Numerous paranormal groups have explored the hotel and guests over the years have reported the same strange ghostly sightings. Even John Wayne & other celebrity guests have reported ghostly visions! Dare to spend the night in super haunted Room 305 where the ghostly vision of an old woman in a rocking chair continues to haunt guests decades after the first sighting.
More ghost stories from the Monte Vista
84. Stroll the grounds of the Yavapai Courthouse at Christmas
Prescott claims the distinction as Arizona's official Christmas city. The city hosts a number of festive events throughout the holiday season including "the world's largest gingerbread display" at the Prescott Resort, horse drawn carriage rides through the downtown neighborhood, a lively electric lights parade, a fantastic drive-thru light show, and the lighting of over a million lights at the historic Yavapai County courthouse.
Walking around the tree-lined grounds of this historic downtown centerpiece, one almost forgets they are in Arizona. The weather is typically crisp and cold like most of us are accustomed to expecting around this time of year. A lot of hard work has been put into the organization of the lights, as opposed to quickly throwing together a sloppy display, making this one of the better holiday events in the state. Afterwards, you have dozens of local restaurants to choose amongst – all within walking distance. The Bistro inside the historic Hotel St. Michael right across the street offers a prime view of the lighting display, as well as a great menu of offerings.
More info on the Christmas lineup in Prescott
85. Enjoy patio dining in Sedona
The great thing about Sedona is that you do not necessarily need to hike to enjoy the fabulous scenery of the area. While hiking is definitely the best option if you are up for it, there are scenic drives, overlooks, and restaurants all offering the same great views. A great number of Sedona's restaurants offer outdoor dining facing the red rocks.
Some of my favorites include The Hudson (great American comfort food and amazing views), Wildflower Bread (a regional Panera style chain with a patio facing some of the most dramatic rock formations in town), Hideaway House (delicious Italian comfort food and a shady patio), and Indian Gardens (the delicious breakfast & espresso cafe in Oak Creek mentioned above).
86. Shop for authentic Native American souvenirs
The Northern Arizona area is so rich in Native American history. Flagstaff borders Navajo Nation, the largest Native American reservation in the country. The Museum of Northern Arizona is a great place to learn more about the history of the Navajo in the area. Additionally, many festive events are held throughout the year in Flagstaff including the annual Navajo Festival of Arts and Culture at the Museum.
And of course, many shops in the area specialize in authentic Native American goods. The best place to shop for handmade products is at Oak Creek Vista Overlook along scenic Hwy 89. You will find everything here including the most beautiful handmade dreamcatchers and pottery pieces.
87. Watch for wildlife along the Griffith Spring trail
Griffith Spring is one of the shortest and most enjoyable trails within the Coconino County National Forest. The loop is just one mile long and very peaceful and shady, making it one of the better options for a quick summertime stroll. Most of the scenery consists of pretty ponderosa pine forest, although seasonally you may also run across a few small streams. Bird life is plentiful and includes hummingbirds, western bluebirds, and robbins. It's so quiet and peaceful here – really a great place to get away from the touristy congestion everywhere else!
88. Take in the dramatic views at Midgley Bridge
Midgley Bridge is a very popular viewpoint along the Oak Creek Canyon Scenic Drive. This place is so popular that it is often hard to find a parking spot after 10am or so. The views here are pretty spectacular so be sure to bring your camera. From here, you can also embark upon a number of trails including the beautiful and easy Wilson Canyon Trail. The Huckaby Trail also begins just down the hill and just about a mile in is a section of the creek which is just perfect for cooling down on a hot summer afternoon.
89. Get lost in nature on the Bear Jaw/Abineau loop trail*
Bear Jaw is another high altitude trail which is known for the beautiful golden foliage that springs up in the forest late September/early October each year. To access this beauty, a lengthy drive along a very rough road filled with big boulders (4 WD strongly recommended although we somehow made it in a Prius!) is required. The trade off for the inconvenience is a trail that is really rustic and beautiful.
If you are looking to really get out into nature, Bear Jaw is your best bet in Flagstaff. This one is really isolated from the rest and even the scenic drive to get over here is picturesque and worthy in and of itself of your time. Be aware the parking lot is quite small, so try to get out there on a weekday or at least very early in the morning on a weekend.
More info on the Bear Jaw trail
90. Stroll around Winter Wonderland at Bearizona
Bearizona is a great drive-thru wildlife park that also offers a festive holiday lights event each December. In addition to thousands of lights, attractively displayed across the pine tree covered grounds, they also have a really cool show which is synchronized to all your favorite holiday carols. Great photo opps abound throughout the park. You will get to see a few animals out and about, particularly the nocturnal species like the cats. Special holiday events are on the lineup throughout the season.
91. Step back in time on Rt 66*
Route 66, commonly referred to as "The Mother Road," is the iconic road which ran for over 2000 miles from Chicago all the way to Los Angeles. The Santa Monica Pier marks the official end of the road and there is a really unique photo opp there on the boardwalk. Rt 66 was extremely popular with road trippers and tourists for over 2 decades, up until the new I-40 highway replaced much of the road.
Arizona, known as "the place that saved Rt 66," is home to the longest continuous stretch of the famous road, a 158 mile piece of living history between the towns of Ahsfork and the Topock. There are many interesting stretches of this nostalgic road all throughout the northern portion of the state, the most notable found in Williams, Seligman, Flagstaff, and Kingman. Williams was the last Rt 66 town to be bypassed by the new interstate and is filled with all sorts of nostalgic restaurants, memorabilia shops, neon signs, and quirky decor. It is like stepping back into the 50's.
Seligman is known as the birthplace of Rt 66 as the preservation movement began here. Flagstaff is home to a number of Rt 66 attractions and an hour or so east of the city is the Petrified National Forest, which is the only national park to be crossed by Rt 66. Flagstaff hosts a Route 66 Days Festival each year with lots of festive events on the lineup including a classic car show.
About 85% of the 2400 mile long iconic road is still driveable. And one thing's for sure – Arizona is one of the best remaining options for "Getting Your Kicks on Route 66."
Read more about the history of Rt 66 in Arizona 
92. Hike the Fat man's loop
Fat Man's Loop in Flagstaff is a nice hiking choice for those limited on time as it is located right in town. It's super easy to get to, short, and yet still very scenic. This trail happens to be one of the local's favorites due to the gorgeous scenery and lack of big crowds. Diverse plant life that can be seen along the way includes everything from ponderosa pine and white fir to yucca plants typically found only at lower elevations. Wildlife sightings are pretty limited, however, you will probably see lots of Albert's squirrels and possibly a grey fox.
There are lots of interesting rock formations as well as great views of the city and surrounding high desert countryside. Interestingly, you will find out why this trail is called fat man's loop when you attempt to squeeze your way through 2 big rock boulders (pictured above)! If you are up for a real challenge, you can connect to Elden Lookout Trail which affords really big views, at the cost of an extra 2 miles and a 2000 foot elevation gain!
93. Watch a gorgeous sunset over the mountains*
Watching a beautiful desert sunset is one of the most relaxing things to do in Flagstaff. A picturesque drive up Snowbowl Road leads you to a little overlook area with prime views of the area's mountain ranges. After a winter snowstorm is the most fascinating time to visit as the mountains looks so peaceful and gorgeous when covered with fresh snow. Buffalo Park is another nice place to watch a sunset over the Peaks and Mt. Elden. Another prime sunset viewing area is the Airport Mesa overlook in Sedona.
94. Enjoy the area's only 4 diamond casino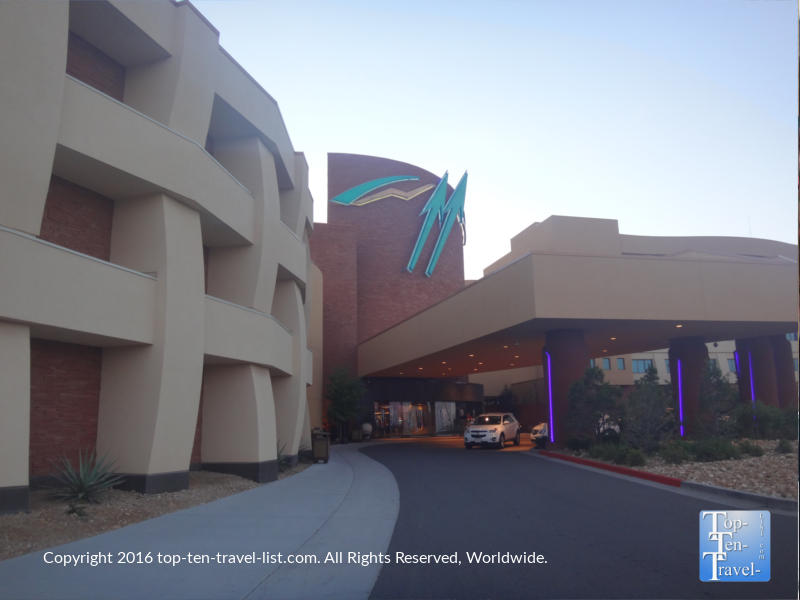 The Twin Arrows casino, just 30 minutes outside of Flagstaff, is the regions only AAA 4 diamond casino resort. Unfortunately, the casino just got rid of their poker room, however, you will still find all the usual table games plus a large bingo hall. Dining options include a nice little affordable buffet which offers both American and Native American style food offerings. There is also a wonderful fine dining establishment called the Zenith Steakhouse, which is definitely one of the better choices in the area for a fine dining experience.
As the only downside, the entire casino is very smoky and installing a few air purifiers would be a wise investment!
More info on the Twin Arrows casino
95. Browse through ancient pictographs
Picture Canyon Natural and Cultural Preserve is a hidden gem of land, recently acquired in 2012, which allows visitors to take a look at hundreds of petroglyphs from the Northern Sinagua who inhabited the region from 1000 to 1200 AD. There are a number of short trails here, all through the pretty ponderosa forest, where you can get in a refreshing easy workout (hiking or biking) while taking in a little history at the same time. If you are at all interested in Native American culture, definitely plan on exploring Picture Canyon, a National Historic Site since 2008.
96. Enjoy a bird's eye view of Sedona via the Airport Mesa Loop
One of Sedona's most popular sunset viewing areas is also one of the best hikes, not to mention an energy vortex site. Luckily, this trail does not get nearly as crowded as the sunset viewing area. This trail is easy yet long (plan on about 3 hours) and also quite scary at times due to the super steep drop offs. Strangely, it's still popular with mountain bikers who must have absolutely no fear of heights! The most amazing red rock views surround you in every direction along with lots of healthy green prickly pear cacti and many other unique forms of desert plant life.
More info on the Airport Mesa Loop trail
97. Step inside the smallest church on Rt 66
In Winslow, you will find "The Church of the Mother Road," which is not only the smallest church on Rt 66, but also one of the smallest in the US. If you are into oddball attractions, this one can be combined with Standin' On the Corner Park, also in Winslow. And while you are here, you might as well continue on another hour or so to the fascinatingly strange Petrified National Forest.
98. Take a scenic drive along the Mogollon Rim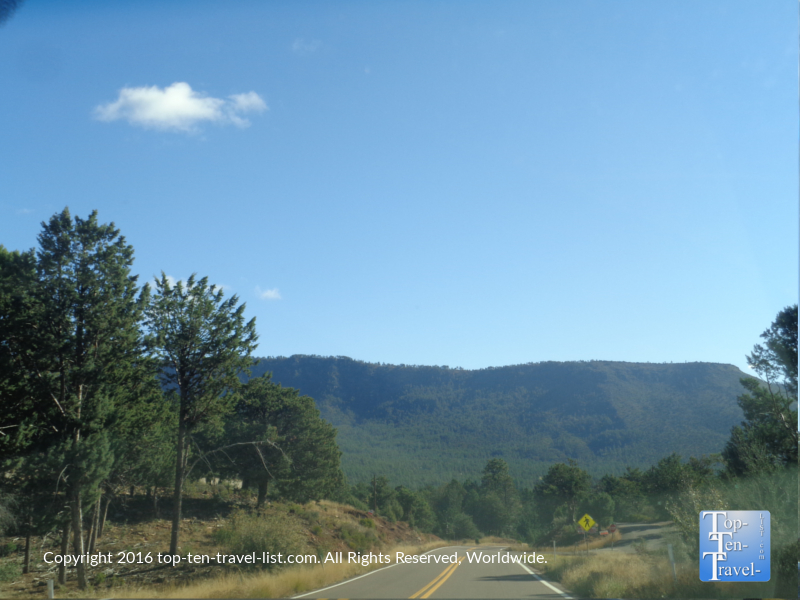 The Mogollon Rim is a unique geologic feature which expands about 200 miles from Yavapai County Arizona to the New Mexico border. It forms the southern end of the Colorado Plateau in Arizona. The escarpment was formed as a result of erosion and faulting. The 54 mile Rim Road Scenic drive is very scenic with gorgeous views of the ponderosa pine forests and dramatic limestone and sandstone cliffs. Besides sightseeing and scenic overlooks along the way, there are numerous places for hiking, fishing, and boating. The drive is also very popular in fall with leaf peepers as this area sees beautiful golden and red hues this time of year.
More info on the Mongollon Rim Scenic Drive
99. See the world's largest petrified wood
"The world's largest petrified tree" is found at the Geronimo Trading Post near Holbrook Arizona. You will go right past this rest area on your way to the Petrified National Forest. It's quite hard to miss as there are dozens of billboards along the way. The tree reportedly weighs 80 tons! This attraction is free to view and there is also a gift shop on-site where you will find all sorts of unique souvenirs. If anything, it's a nice little rest stop to get up and stretch for a bit.
100. Sign up for the Sedona Marathon
The Sedona Marathon is one of the most scenic and challenging courses in the country. The course is very difficult with a 2000 foot elevation gain, however, is also the most picturesque course with towering red rock views in every direction. If you are not up for such a challenge (understandably), you can opt for the half marathon, 10k, or 5k. However, be aware that thee courses are also extremely challenging with major elevation gains.
While the Sedona Marathon is not the place to set a PR, it is a great choice for anyone looking to run a scenic race in one of the most beautiful places in the country. There are lots of great resorts, restaurants, and hiking trails in the area, so make a weekend out of it.
101. Take in a bird eye's view of Sedona via the Doe Mountain Trail*
The short, moderately challenging trek up Doe Mountain is well worth the effort for the outstanding 360 degree views atop the mesa. There is a 400 foot elevation gain, although there are gradual switchbacks to the top, so it feels a bit easier than it looks from a distance. For some reason, this hike is not nearly as popular as it should be.
The views here remind me of those found at Zion National Park, which in my opinion is one of the most gorgeous places out West. Few hikes offer such out-of-this-world scenery in return for less than half a mile climb (the hike to the summit is just 0.7 miles, although you can explore the top of the mesa via a mile self guided tour).