Inside downtown Flagstaff's historic Weatherford Hotel, you will find a quaint, attractive dining option called Charly's Pub and Grill. Despite the less than stellar reviews, I finally decided to check out this charming hotel restaurant.

I have to say that I enjoyed the food, service, and decor much more than most of the noisy, crowded, bland tourist traps lining the streets of downtown.
Food
Charly's offers a small menu of casual comfort classics and specialty Southwestern dishes. Whether you are in the mood for a burger, sandwich, mac and cheese, burrito, or tacos, there is a little something for everyone on the menu. Try the Navajo Taco, a great Southwestern fry bread entree which was rated highly by Zagat in "50 states, 50 sandwiches."

The only disappointing aspect of the menu was the lack of enticing appetizers. There really wasn't anything that looked good to me.

The Turkey Burger and 4 cheese Macaroni and Cheese (which you can top with bacon or vegetables) were both great choices, and also reasonably priced. Both portion sizes were pretty decent -the burger was served with fries and the mac and cheese was served alongside a side salad and fresh garlic bread.


Service
Service was pretty great in comparison to other restaurants we have tried: professional, fast, and friendly. On another plus side, we could actually hear our waitress and have a conversation with the absence of loud pop music in the background.
Atmosphere
The highlight of dining at Charly's is definitely the quieter atmosphere when compared to other choices in the area. While most restaurants downtown tend to favor a bar-like atmosphere, Charly's maintains a charming old-fashioned vibe, complete with an an attractive brick wall, fireplace, and nice decor.

The tables are not as cramped together as other downtown restaurants and there is more overall decor and thought put into the design. They also decorate nicely for the Halloween season, and if you time your visit at the right time, you may see a bit of pretty fall foliage from the large windows! Or sit outside on the patio and enjoy the nice mild summer weather.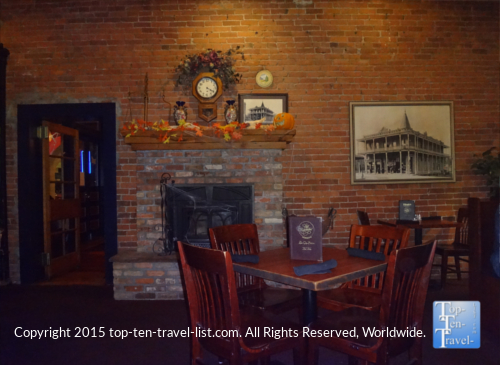 Final Remarks
Overall, Charly's has been one of my favorite restaurants in downtown Flagstaff. Offering unique dishes at affordable prices, great service, and most of all, a charming old time atmosphere, Charly's is one of the best options downtown for anyone seeking a nice quiet dinner destination.