Hiking Hotspot: Peaceful Creeks & Red Rock Views along Sedona's Huckaby Trail
Sedona is home to dozens and dozens of trails, some extremely difficult uphill climbs only for advanced hikers like the A.B. Young Trail, and others short, flat treks like Fay & Wilson Canyon, which are perfect for beginners. Then there are trails of moderate intensity which are perfect for regular exercises looking for a challenge, yet not something exhausting enough to put a dent on their vacation. One of these fantastic medium intensity trails is the Huckaby, a lovely 2.8 mile out-and-back trail journey through amazing red rock landscapes with the added bonus of beautiful, relaxing creek scenery.
The Huckaby hike starts pretty easy with an enjoyable walk through open desert, complete with many panoramas of various red rock formations. Every direction features fantastic scenery and there really are not many trees to block anything. As you venture along, you will see many interesting desert plants, including a variety of cacti, and even some summer wildflowers if you are lucky.
The one downside of the Huckaby trail is that there is not enough signage. Although, you will see a number of cairns in the beginning, they seem to slowly fade away as you move forward. At several points along the trail, it can be hard to know where to go as the trail splits in all different directions. I recommend marking the route so it is easier to find your way back.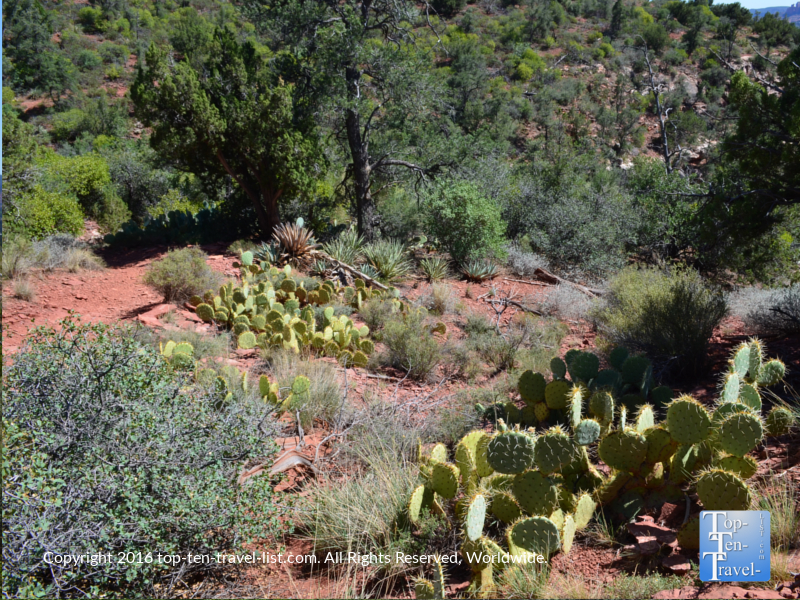 Secret Swimming Hole
The trail continues on a slightly downhill slope with a few inclines until you reach a beautiful section of Oak Creek where you will be challenged to 2 fun creek crossings. You will need to use the logs and rocks to make it across, or you can have some fun & cool off during the hot summer months by just walking across (the water will be just up to your knees or so). Be careful it is quite slippery and do not attempt to cross when the water runs too high!
Because of the 90-100 degree summer temperatures, you will find some tourists simply wading in the water attempting to cool off. Huckaby is one of Oak Creek's secret swimming holes – with the prime advantage of being much less crowded and cheaper compared to spending the day at crowded Slide Rock. There is no official ending point of the trail. You will basically want to turn back after the second creek crossing where you will be treated to a nice view of Midgley Bridge.
At this point, relax for a bit, fill up on some water and eat some salty snacks to replace lost electrolytes. You will need to recover a bit and refuel before embarking on the uphill trek back to your car! Although not overly taxing, there are many inclines on the way back that will definitely give your body quite a workout. Keep in mind that it will feel much, much harder if you are completing the hike in the heat of the summer. Stay hydrated and take it easy on the way back. Enjoy the gorgeous scenery surrounding you at every angle.
Best time to hike Huckaby
Hiking in the harsh Sedona summer conditions is not the best idea. The Huckaby Trail is a much better spring and fall (and even winter) hike due to the long distance, frequent ups and downs, and lack of shade for the majority of the trail. Set out very early in the morning to beat the heat if summer is your only option.
Where to park
The trail is quiet with barely any crowds as most hikers start out at the Midgley Bridge trailhead, due to the quick access to Oak Creek. Because most tourists are here more for the creek, they do not complete the entire trail, therefore, the entire first 2 miles or so is pretty empty and relaxing. Another advantage of parking at Schnebly Hill Road (aside from ease of finding parking) is that the entire trail will be just a bit shorter and you can bypass one big hill (the trailhead starting from Midgley includes a decent sized hill at the start which you will have to walk back up).
Hiking Details
Location: Schnebly Hill Road.
Parking: A daily red rock pass ($5) or National Park pass is required
Difficulty: Moderate (more difficult in the summer heat)
Distance: 5.6 miles round trip
Approximate Time: 2.5-3.5 hours
Overall, the Huckaby is a very peaceful hike with great views of the red rocks, along with some nice views of the creek. It's one of the better hikes in the area if you are up for a long journey.