Walking in a Winter Wonderland: 10 places to see snow in Arizona
Images of Saguaro cacti, sagebrush, and beautiful mountains often come to mind first when thinking of Arizona. And, of course, who doesn't associate the desert with insane summer heat?! We have all seen the skeleton "But it's a dry heat" joke. However, temps are actually quite enjoyable throughout the winter season (averaging 60-70 degrees with low humidity). While this is perfect weather for outdoor adventures, for those longing for a traditional white Christmas, it can be a bit of a bummer.
'Tis the season for hiking, not for sleigh rides, skiing, and building a snowman. That is, if you limit your travels to the Sonoran desert of Southern Arizona. Unbeknown to many, Northern Arizona is actually one of the snowiest destinations in the country. Here you can enjoy all your favorite nostalgic wintry activities like walking around holiday light shows in the freezing cold, skiing and snowshoeing, and bundling up with a hot cocoa by a cozy fireplace.
From Flagstaff (a high altitude 4 season mountain community located 2 hours north of Phoenix), to Mt. Lemmon (a high altitude 4 season mountain destination just an hour outside of Tucson), there's plenty of winter fun to go around. And, the rare sight of seeing Sedona's marvelous red rocks dusted with snow, is perhaps the most mesmerizing sight of all. And finally, for those who prefer to stay toasty, there are a number of "snow events" throughout metro Phoenix and Tucson.
Featured below are the 10 best destinations for snow in Arizona!
1. Buffalo Park
Flagstaff is a charming mountain community which sees over 100 inches of snow per year. It's an absolute must-visit for any Arizona snow lovers. Flagstaff's most treasured park, Buffalo, is a year-round fitness buff's dream. The dazzling San Francisco Peaks, Arizona's highest mountain range, provide the most stunning background that will surely get you motivated to exercise even on the coldest days.
Cross country skiing or snowshoeing at Buffalo after a winter storm is an absolute dream come true with the breathtaking 12,633 foot Peaks in the distance. The main loop is about 2 miles/mostly flat, so perfect for an energizing, yet casual workout. Following a big winter storm, the park is quiet, peaceful, gorgeous, and really a scene right out of a snowglobe.
2. Aspen Nature Loop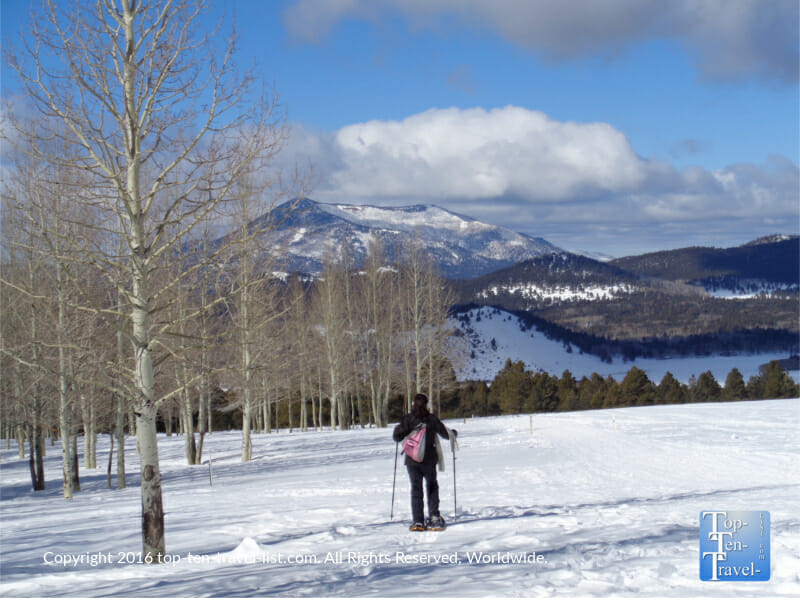 Arizona Snowbowl is the prime skiing destination in the state. If a fear of tumbling face first down a mountain makes you nervous, there are several fabulous hiking trails to take advantage of instead. Head about 20 minutes outside of Flagstaff up beautiful Snowbowl Rd. After enjoying gorgeous scenery of pines and aspens along this stunning 7 mile drive, you will arrive at the base. Plan for a winter adventure along the gorgeous Aspen Nature Loop, a short yet incredibly scenic trail featuring mesmerizing views of the region's mountains. Grab your snowshoes (or rent some at any outdoor outfitter) and enjoy the pristine snowy landscapes.
This hike is all the more enchanting following a winter storm. The quiet aspens and pines surrounded by fresh snow truly create a picture-perfect Currier and Ives style winter wonderland scene. There is never much foot traffic, so you can enjoy the scenery all to yourself. In all of Flagstaff, this is the best place to get lost in nature in a true Narnia-like fashion.
Read more about the Aspen Nature Loop
3. Arizona Nordic Village
Cross country skiing is one of the most fun winter activities, plus it's one of the best all over body workouts. The Nordic Village in Flagstaff is one of the best cross country skiing centers I've ever come across. Not only will you find diverse terrain and nicely groomed trails, but the scenery is extraordinary. Both beginners and advanced skiers will enjoy the variety of trails. If you are totally new to the sport, they do offer intro lessons.
Most importantly, you will get to take in lovely views of the country's largest ponderosa forest while you ski. Not a skier? Opt for a snowshoeing adventure (rentals available). Trail conditions are updated on the Nordic Village website.
4. Fort Tuthill Park
This off the radar Flagstaff park is enjoyably quiet most of the year due to a lack of tourist traffic. Because it is located on the edge of town, it's often overlooked by tourists. It's the perfect place to engage in fitness pursuits the entire year. Really, this park is a dream come true during the winter season with the isolated snowy scenery. The main path here, part of the Flagstaff Urban trail system, is reasonably flat and thus great for cross country skiing. If snow levels are too low, simply bundle up, put on some boots, and enjoy a tranquil nature walk.
If snow levels permit (at least 6 inches of snow is recommended), consider a fun afternoon of snowshoeing. Also, this park has plenty of great hills for sledding. All in all, Fort Tuthill is one of the best places to enjoy nature minus the tourist congestion. On the one downside, the lower altitude city parks (Tuthill is located at ~7000 ft compared to Snowbowl's 8500+ ft) do not get nearly as much snow as the ski resort. Regardless, if you get out here right after a winter storm (before the strong sun melts everything), it sure is a gorgeous place for winter recreation.
Read more about Fort Tuthill Park
5. Oak Creek Canyon
The must-do activity in Arizona, rivaling the Grand Canyon, is a drive down a 14 mile gorge known as Oak Creek Canyon. Your drive begins on Hwy 89a near Kachina Village (a small rural community 7 miles south of Flagstaff) in the ponderosa pines. Along the way, as the altitude drops from 7000 to 4000 feet, you will encounter various scenery changes, reflecting the drastic change in elevation. As one of the most stunning drives in America, there is no reason to miss out on this one.
Although snowfall is a bit more rare in Sedona vs. Flagstaff due to the lower altitude, it's quite an incredible sight to witness. After a storm, the snow contrasts with the red rock so brilliantly, for a landscape like none other. Come dressed in your winter gear and plan for a hike on the West Fork Trail. This beauty comes in as the most popular trail in Sedona for good reason. Featuring dramatic red rock views, serene creek crossings, and lush greenery, it's simply stunning. In the winter, traffic dies down and the views are even more enchanting.
Read more about Sedona in Winter
6. Kendrick Watchable Wildlife Park
This small park, known for its' ample wildlife population, is an easy 30 min drive outside of Flagstaff. During the quiet winter months, you can enjoy the serene mountain beauty all to yourself. Grab your skis, snowshoes, or winter boots and take some time to walk around the trails, watch for wildlife (it's not uncommon to see a herd of elk crossing the road near the entrance), and take in the solitude.
This is one of my favorite snowshoeing destinations in Northern Arizona due to the quiet untouched beauty which you get to explore. Also, this park offers the most jaw dropping, uninterrupted vistas of the Peaks and Kendrick Mountain. The mountains capped with snow really will make you feel as if you are stuck in a snowy winter movie. The park aside, the drive to get here is also quite beautiful, making a trip here even more justifiable.
Read more about wildlife you may encounter at Kendrick
7. Veit Springs trail
This is another awesome short hike located along Snowbowl Road. Due to its' hidden location (about halfway up Snowbowl Rd), it remains delightfully underused, especially during the cold winter months. The lush dense forested surroundings make this one feel a bit like the quiet trails found throughout New England.
The 1.5 mile distance is perfect for a short winter walk/snowshoeing adventure. Just a note – it is a bit hard to cross country ski here due to the hilly terrain. Walking around this winter wonderland (which is so reminiscent of something you would find in the North), it's quite hard to believe that you are just a quick 2 hour drive from the cacti studded desert.
Read more about the Veit Springs trail
8. Enchanted Snowfall at La Encantada Mall
Who says Tucson has zero chance of seeing a White Christmas? Surprisingly, Tucson has actually seen a White Christmas on several occasions, the last being 2.6 inches in 1987. Regardless of what the temps may be this year, you can still experience an "Arizona-style snowstorm." Head over to La Encantada, an upscale shopping mall for their annual "An Enchanted Christmas" celebration.
This show features lively holiday tunes plus a realistic snowfall. It's really a great time, especially for anyone missing traditional Christmas weather up North. Afterwards, there are lots of shops to browse around, plus several great restaurants (Blanco is a great local Mexican choice), the best gelato anywhere (Frost), and an amazing local coffee roaster (Savaya).
Other "snow events" in metro Phoenix/Tucson
Tempe Marketplace – Outdoor shopping center in Tempe
Desert Ridge Marketplace – Outdoor shopping center in Phoenix
Winterhaven – Festive over-the-top neighborhood light display
9. Pumphouse Wash
This gorgeous secluded hiking area is located in the quiet woodsy Kachina Village neighborhood located about 7 miles south of Flagstaff. Although the trails are primarily used for hiking, it is also a beautiful destination for snowshoeing after a big storm. The snowy ponderosa scenery is absolutely enchanting – a winter wonderland for sure.
Pumphouse is truly a beautiful and peaceful place with unending views of lovely pines and gently flowing creeks and streams. Do check this one out this winter if you love winter solitude.
Read more about Pumphouse Wash
10. Wupatki-Sunset Crater Scenic Drive
Another picturesque drive to add to your Arizona bucket list is the Wupatki-Sunset Crater Scenic Drive. With stunning scenery and several historic monuments to check out along the way, this is at least a half day activity. The 36 mile paved drive features several jaw dropping overlooks including majestic vistas of the San Francisco Peaks, Sunset Crater, and the Painted Desert.
During the winter months, the snow capped mountains lend to an even more breathtaking backdrop. There are so many places to stop and take great pictures. If snow levels are not too high, do plan for a stop at Wupatki (a 900 year old, 100 room pueblo) and Sunset Crater (a cinder cone which last erupted in 1085).
Read more about Wupatki and Sunset Crater