6 Fun Things to do in Albuquerque, New Mexico
Albuquerque is known for many things, primarily unique local New Mexican cuisine, red and green chiles, the International Balloon Festival, Breaking Bad, open desert landscapes with beautiful mountain views in the background, Native American culture, and much more. Albuquerque really offers a little something for everyone, whether you are a fitness or history buff, or simply looking to explore the gorgeous natural scenery of New Mexico's largest city. With the Rio Grande river running through the city and the Sandia Mountains surrounding the eastern side of the city, Albuquerque is easily one of the best outdoor destinations for active travelers. Below are a few fun & diverse activities to incorporate into your trip. Enjoy the list and be sure to share a few suggestions of your own!
1. Enjoy magnificent views on one of the world's longest aerial tram rides
The Sandia Peak Tramway runs a 2.7 mile long course, making it one of the longest tram rides in the world. Since opening in 1966, Albuquerque's most iconic attraction has taken more than 11 million passengers up over 3000 ft to enjoy the stunning views.
Although quite pricey ($25 a person), the ride offers you the opportunity to enjoy some pretty spectacular views of the surrounding desert and mountains. A summer visit is even more attractive as the drastically cooler temps at the top (vs. the brutal heat of the surrounding desert) make it a welcome summer escape! As you climb 7.2 miles from an elevation of 6000 feet to the peak at 10,378, you will go through several different ecosystems comprised of diverse plant life. From desert scrub, to tall ponderosa pines, to beautiful aspens which glitter gold in the fall, you will basically see a bit of everything along the way.
The views at sunset are breathtaking, particularly due to the red cast over the Sandia mountains, hence, the naming of the mountains Sandia after the Spanish term for watermelon.
Both summer and winter recreational activities at the top are plenty, with miles of hiking and mountain biking trails to enjoy in the summer, and downhill skiing and snowshoeing in the winter. And during the fall, you can enjoy the mesmerizing changing color of the aspens.
Overall, a ride on the Sandia Peak tramway is one of the best ways to take in the majestic sights of the area – the preferred way to sight see during the more often than not "too for outdoor recreation" summer season.
More info on the Sandia Peak tramway
2. Stroll around historic Old Town
There is always something going on in Albuquerque's most popular tourist destination for dining, shopping, and entertainment, whether it be live music, Latin dance night, or the annual holiday stroll. Whether you feel like trying out an authentic New Mexican restaurant (Church Street Cafe offers a delicious menu and the best outdoor patio), enjoying a narrated RV tour of Breaking Bad filming locations, or simply browsing around for unique Native American souvenirs, you can enjoy it all at Old Town.
This historic neighborhood, founded in 1706, includes 10 blocks of adobe style architecture including the beautiful San Felipe de Neri Church which is the oldest building in the city. Did you know that Albuquerque is one of the nation's oldest inland cities? With the gorgeous historical architecture, tasty restaurants with relaxing garden patios, art galleries, coffee shops, museums, trolley tours, and more, you can easily spend the whole day enjoying this quaint area in the heart of the city.
3. Take a hike
Albuquerque is home to hundreds of miles of trails, ranging from easy nature strolls at Rio Grande Nature Center State Park, to intense high altitude adventures in the Sandia Mountains. The La Luz trail is an intense all day adventure hike up the Sandia mountains with an altitude range of 7000-10,378 ft. Your reward for all this effort: panoramic views of the entire area! And the Cibola National Forest has enough hikes to keep even the most avid hiker busy all year-round.
For a nice easy nature stroll with the added bonus of seeing more than 20,000 ancient petroglyphs, head over to Petroglyph National Monument. This really is an interesting addition to any Albuquerque trip as you will leave with much more than an ordinary hiking experience. As you stroll the easy trails, you will get a glimpse into the lives of the ancient Native American and Spanish residents from 400-700 years ago!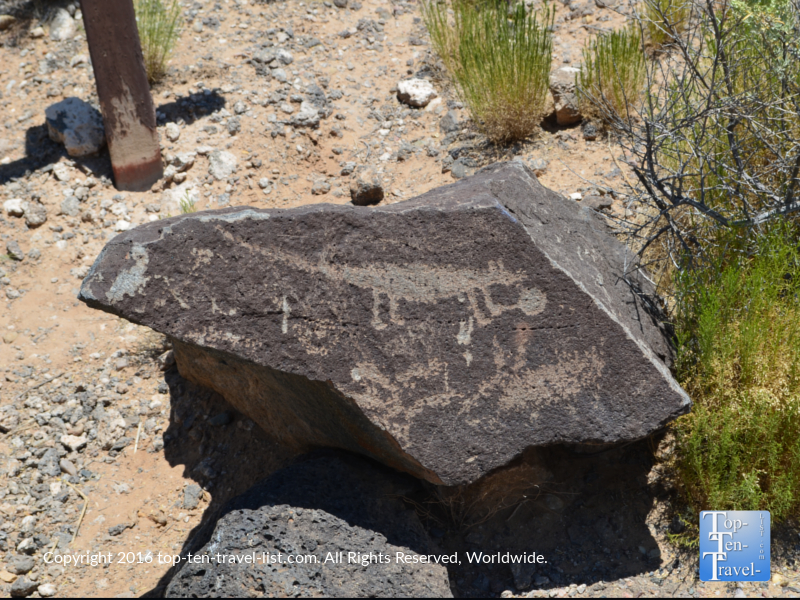 History, nature, and fitness are all rolled into one at one of Albuquerque's most unique treasures.
4. Spend the morning exploring the ABQ Biopark
From 9am-Noon, you can take advantage of a fantastic 3-for-1 deal for just 20 bucks at one of Albuquerque's most popular tourist destinations: the ABQ Biopark. This great city attraction includes 3 activities: a 64 acre zoo, a botanical garden, and an aquarium.
The zoo is small, yet still packed with all sorts of exciting exhibits including underwater polar bear and sea lion viewing, an amazing reptile house, and even a walk through Australian outback with Koala bears! The entire zoo consists of just a little over 2 miles in walking paths, making for a nice little 1-2 hour morning stroll. During the hot summer months, the early admission discount is all the more attractive as at this time, temperatures will be much more comfortable. Desert morning temps are often 30 degrees cooler, so get out there right at opening and enjoy this limited time frame of pleasant weather conditions!
The aquarium is on the smaller side (it's no Shedd), however, still includes a number of interesting exhibits including colorful coral reef tanks, a colorful Gulf Coast gallery, and a large shark tank with over 20+sharks intermingling with a diverse variety of sea life.
The Botanical Garden includes 1.5 miles of easy strolling through diverse gardens. The Travel Channel has ranked it amongst the top 12 in the country!
The combined admission deal at the ABQ Biopark is a fantastic opportunity to explore all 3 parks and save a bit of money in the process. Overall, this is a perfect opportunity for new Albuquerque visitors who want to check out the best the city has to offer.
5. Try out an authentic New Mexican restaurant
New Mexico is known for being home to an abundance of New Mexican style restaurants. This tasty regional cuisine is popular with both locals and tourists. In Albuquerque, you will find more New Mexican restaurants than any other type of cuisine. Not to be confused with regular Mexican food, New Mexican cuisine actually combines elements from Mexican, Spanish, and Native American culture. The state question of New Mexico is red or green? This refers to red or green chile, both of which are widely used in New Mexican cuisine. Or be creative and order it "Christmas" as true New Mexico locals do.
Although you will have a long list of options to choose amongst, El Pinto offers the most beautiful dining experience, in addition to fantastic food. As you relax amongst the plants, fountains, and beautiful decor in the outdoor courtyard (by far the best in the area), you will be feasting on filling, delicious, New Mexican favorites.
Whether you decide to go with a fluffy stack of Blue Corn Pancakes for brunch or a filling burrito smothered with lots of cheese and red or green chili, you will surely want to come back for more before leaving! And just wait until you try a sopaipilla for dessert! Popular in the Southwest, this tasty fried bread is often served with honey as a sweet dessert after all that spicy food. It's basically the perfect ending to a perfect meal.
6. Watch a gorgeous sunset over the Sandia mountains
Once you treat yourself to a breathtaking Albuquerque sunset, you will see why the mountains were named after the Spanish term for watermelon. One of the best places to catch a glimpse of the brilliant red glow over the mountains at sunset is Sandia Peak. This point can be accessed via hike or tram ride. At an elevation of over 10,000 feet, you can see pretty much everything from up here. Plan on catching the tram at least an hour prior to sunset, bring with your camera, and then relax as you take in the tremendous views from one of several observation decks. And do not forget your jacket – even during the summer months- as the temps are often 20-30 degrees cooler than in town at this high of an elevation.
More fun attractions!
Need more ideas for fun during your Albuquerque trip? Here's a few more activities and attractions to consider adding to your itinerary!
Breaking Bad tours – Every Breaking Bad fan knows that most of the iconic show was filmed in Albuquerque, along with a few other random locations in the New Mexico desert. Several tours in the area will take you on a narrated guide to many of the area's most notable filming locations including Jesse's house, Walt's house, and the Super Lab. On one tour, you will ride around in an RV just like the one featured in the show as you relive 20 sites from the series. This 3 hour tour departs daily from the Old Town area. Along the way there will be quizzes and prizes, along with scenes from the show! On an interesting side note, tour guides are actual actors from the show. For pricing info and more details on filming locations, visit the Breaking Bad RV tour website.
Coffee shops – Albuquerque frequently ranks amongst the top coffee cities in the country. For the best espresso drinks, head over to Espresso Fino in the downtown area. Gold Street Caffe is another great choice. For the nicest atmosphere including a beautiful outdoor patio head over to Michael Thomas Coffee.
Museums – Albuquerque offers no shortage of interesting museums to explore during your visit. A few to look into include the Turquoise Museum, the New Mexico Museum of Natural History and Science, and the Indian Pueblo Cultural Center.
More Fitness & Health activities!
Paseo del Bosque trail – This beautiful multi purpose riverfront path connects to several of the area's best attractions including Rio Grande State Park, the ABQ Biopark, and the Rio Grande Nature Center. Whether you feel like embarking on a long, leisurely bike ride or taking a quick, refreshing jog, there are 16 miles of uninterrupted trails available to explore, making the Paseo del Bosque trail a great choice for athletes of all levels.
Hot springs – New Mexico is known for its' many hot springs, which include both resort and natural wilderness options. These mineral enriched waters reportedly cure a variety of ailments, and also help to soothe the joints and muscles. Soaking in a hot springs is especially beneficial after long hikes and intense outdoor recreational activities. Albuquerque is located just a quick drive from many beautiful hot springs including Giggling Hot Springs in the quaint mountain town of Jemez Springs. And if you are up for a longer day trip, Truth or Consequences is just 2 hours away and offers 10 different options for soaking in these healing waters.
Have you explored any of the wonderful Albuquerque attractions mentioned above? What are some of your favorite activities & attractions in the area?