The Beautiful Peavine National Recreational Trail in Prescott, Arizona
In Prescott, a beautiful small city in Northern Arizona, you will find one of the few remaining rail trails in the state. The Peavine National Recreational Trail follows the old Santa Fe, Prescott, & Phoenix Railway. This picturesque 5.5 mile trail (11 miles round-trip) features amazing views of Watson Lake and Granite Dells. The Granite Dells are odd looking, but enchanting granite boulders which are more than a billion years old.
An easy & scenic ride
The path is pretty easy as there are no hills, making it a great option for biking, walking, or even horseback riding. You will find miles and miles of beautifully maintained trail, without any litter along the way. It is also very wide, so if anyone needs to pass you it shouldn't be a problem. If you need to take a break, there are several places along the way to hop off your bike and simply take in the gorgeous scenery.
A peaceful natural oasis
This trail is so peaceful and scenic. You will hear no traffic noise along the way. About half of the trail is completely desolate. You will see a handful of people on the portion closest to the city, however, in the other direction the traffic tends to thin out. If you come early in the morning, you may even see some wildlife.
The journey is really beautiful. At many points, you will want to get out your camera to photograph the beautiful rock formations and lake views.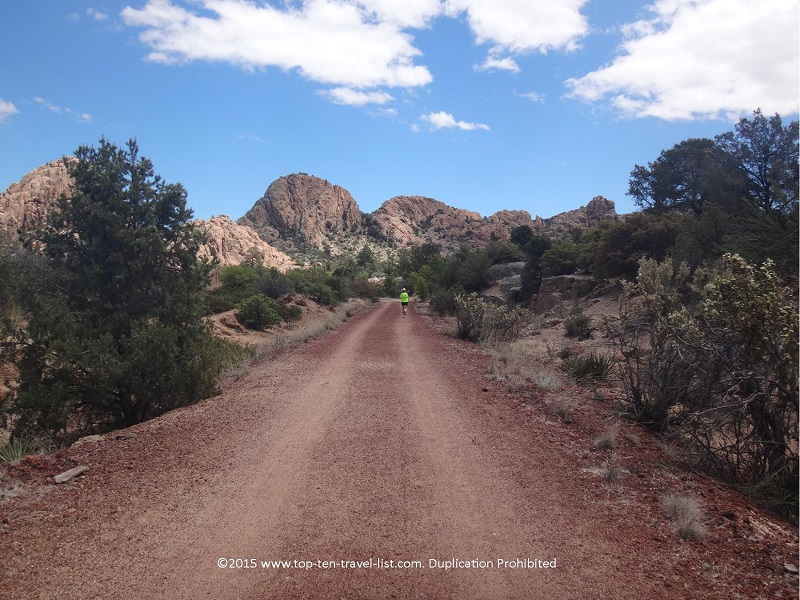 Best for cycling (hiking also available)
There are also side trails along the way if you feel like getting a hike in. Overall, the trail is best suited for biking as it will not be much of a challenge for hikers. As for casual walkers, it is a decent choice, however, you can cover so much more ground (and faster) on a bike. Long distance runners will also appreciate the flat terrain, wonderful views, and perfect distance.
More gorgeous views from the trail
The best outdoor activity in Prescott
The Peavine National Recreation Trail is the best attraction in Prescott. It's a great way to get out there and explore the area without spending too much money (one parking area is free, while the other charges $2). Enjoy Prescott's mild 4 season climate anytime of the year on this wonderful natural trail. You will get in a great workout without totally burning yourself out. Immerse yourself in nature, absorb the fresh sunshine, enjoy the scenic views, and get in a moderate workout. What a perfect way to explore a beautiful Southwestern city!
Things to know:
Wild Iris is a great local coffeehouse to enjoy a drink and pastry before your ride.
Be aware that there is not much shade on this trail, so if you visit during the summer season it would be best to plan your ride as early in the morning as possible.
Desert conditions are dry and rough. Be sure to carry lots of water (a camelbak is preferred) and use plenty of sunscreen.
Restrooms are available at the parking lot, however, nowhere else on the trail so plan your ride accordingly.
Address:
Free parking is available at Hwy 89A at Side Road or pay the $2 parking fee at the Peavine Trailhead off of the Prescott Lakes Parkway (this is where the restrooms and picnic tables are located).