15 Bike Paths with Relaxing Water Views
Biking has become my favorite weekend pastime. It's a great way to get out of the house, enjoy a leisurely workout, and take in some fresh air, all while having a great time. Unlike more vigorous workouts like running & tennis, biking can be considered a more laid-back alternative, especially if you pick a flatter trail. Add in great scenery, and it's easy to look forward to biking as a fun weekend activity rather than a grueling, boring workout.
Although you may not feel like you are working hard, biking is still one of the best cardio activities around. Plus, it's always better to do something active rather than sit in the house watching TV all weekend! Soak in that vitamin D, enjoy the beautiful scenery, and get in a healthy workout at one of these scenic waterfront bike paths featured in this article.
1. The Strand Bike Path
This beachfront path is so L.A. – the iconic place locals and tourists have been using since the late 80's to soak up some California sunshine, whether by way of biking, walking, jogging, or rollerskating. You have probably seen this path featured in dozens of movies and TV shows. The route is a lengthy 22 miles each way, however, it feels like a breeze as you pass by the South Bay's most renowned beach towns.
From volleyball games, to iconic Muscle Beach where Arnold Schwarzenegger once trained, to the famous roller coaster at the Santa Monica pier, you will take in a number of L.A.'s most recognizable sights along the way. In a city with so much traffic, this bike path serves as a less congested means of transportation in between beach cities! Start your ride in Torrance, taking in the quiet beauty of this underappreciated beach, and enjoy the scenic 22 mile ride which culminates at Will Rogers, the beach which made Baywatch famous. Also check out my ultimate guide to summer fun in Socal.
2. Indian Bend Greenbelt
Water in Arizona? Much to many non resident's surprise, there are several large lakes in Southern Arizona, plus numerous man made ponds. The Scottsdale Greenbelt is the premier place to workout in the Phoenix region. Not only do you get to take in wonderful views of several lakes, but you also get to enjoy so much beautiful greenery, a rarity in the desert.
The trail passes by many golf courses, parks, and lakes. It's so beautiful – for a while you will forget that you are in a dry desert with all the greenery surrounding you. The entire Phoenix area does such a magnificent job with the landscaping, and really this trail highlights the gorgeous plant life in the area. This trail is 11 miles in total and pretty easy in intensity due to the mostly flat nature. As a bonus, there is a great little coffee shop called Press Coffee with a patio facing the Scottsdale waterfront. Treat yourself to a nice locally brewed cup of joe before hitting the trail. Check out more great hiking areas in Phoenix.
More info on the Scottsdale Greenbelt
3. East Bay bike path
One of the most scenic New England trails is the 14.5 mile long East Bay bike path in the Providence metro region. Although there is not much hype surrounding this trail, it's a must-do for anyone who loves fitness and pretty nature scenery. The majority of the 14 mile path follows the course of the water, beginning in India Point Park in Providence and finishing in Independence Park in Bristol. It truly is one of the most relaxing and beautiful bike paths you will ever come across, and fortunately, rarely overcrowded.
Beautiful water scenery is not the only picturesque sight you will see along this incredible pathway. The pretty Providence skyline and even a historic lighthouse make appearances along the way. Lush greenery lines the entirety of the route. Quick detours to a number of parks offer even more fitness opportunities for those who want to take up their workout a notch. Nothing says summer in New England quite like a great bike ride. The weather and scenery are just perfect this time of year for doing so. Also check out my guide to exploring Providence.
More info on the East Bay bike path
4. Cape Cod Canal trail
The Cape Cod Canal trail is another waterfront beauty in the New England region. This one is a bit tougher due to the oftentimes windy conditions. Fortunately, the trail is just 7 miles out-and-back, and you can turn around at any point if the wind becomes too much. It's always a great idea to check the forecast before heading out.
The invigorating Cape Cod canal scenery invigorates you to complete the entire trail as there never is a dull view in sight. The fresh smell of salt in the air, grand ships traveling by, and ample bird watching – this is New England at its' best. Bonus – at the end of the path you will find a great beach which is popular for sea glass collecting and beach combing. Check out my full guide to outdoor fun in Cape Cod.
More info on the Cape Cod Canal path
5. Schuylkill River trail
Philadelphia's riverside bike path was recently rated as the best urban bike trail in the country by USA Today. The picturesque trail runs over 60 miles in total and features tranquil views of the Schuylkill river. It's the best place to escape the city congestion without traveling very far. While there are a number of great parks and preserves in Philly, biking is the best way to cover a lot of ground in a short period of time.
The most scenic portion of this trail is the 9 mile long Kelly loop which follows the river for the entirety of its' course. Featuring skyline views and plenty of greenery, it's the premier starting point. Time your ride near cherry blossom season (Late March/early April) for even more incredible scenery. This part of the trail can get quite crowded on weekends, so it's best to arrive early in the morning to ensure parking.
More fantastic green spaces in Philadelphia
6. Mission Bay bike path
A quieter alternative to the rowdy, touristy Mission Bay Beach boardwalk, San Diego's Mission Bay pedestrian path is a much more relaxed place to get in a workout. Biking here is a real treat due to the absence of tourist traffic, smooth flat nature of the trail, and picturesque views of the water. Biking this path is anything but a basic workout. Iconic California palm scenery, along with ongoing water views and quick access to many green parks, makes it so much more than your ordinary trail.
The trail is about 12 miles in total, with options to connect to other trails for a lengthier ride. If you have the endurance, continue on to the beautiful Fiesta Island trail or head over to the lively Mission Beach boardwalk. With the beautiful year-round mild, sunny San Diego weather, extending your workout a bit further doesn't seem like such a bad idea! Check out other great attractions in San Diego.
More info on the Mission Bay bike path
7. Long Beach Pedestrian Path
It's so much more motivating to workout when the scenery is fabulous. California has no shortage of scenic recreational hotspots. The Strand isn't the only place to bike along the beach in L.A. Another lesser known beachfront path which is just as scenic is the 3 mile Long Beach pedestrian path. Even more, this path is never as crowded and congested as The Strand. Featuring gorgeous views of the Pacific, this flat fast ride is just another to add to your California beach bucket list.
For anyone looking to avoid the monster crowds found near the South Bay beaches, this quiet path is an awesome alternative. Another great aspect of this path is that it ends near Shoreline Village, a lively entertainment/dining/shopping destination along the waterfront. Do stay and explore this wonderful touristy section of the city. Waterfront dining, cruises, and visiting an old lighthouse are just a few of the unique things you can do here.
More free things to do in Long Beach
8. Virginia Beach
One of the best beach boardwalks in the country is surprisingly found in Virginia Beach. Adjacent to the boardwalk is one of the country's most scenic bike paths. One of the great aspects of this path is that it is conveniently split into a separate pedestrian and biking path. This leads to a really smooth leisurely riding experience as you do not have to share the space with walkers and runners. Both bike and surrey rentals are available.
Enjoy 3 miles of pure beachfront bliss while you also get in a nice lower body workout. The path is flat and fast, and easy enough for beginning cyclists looking for a relaxing, low stress cruise. Simply enjoy the fresh ocean air and the amazing views of the coast as you leisurely pedal along this well-maintained path. And don't forget to take your picture by the 12 ton bronze King Neptune statue, located about midway down the path. Post-ride, there's lots of great restaurants with outdoor patios to choose amongst. Also be on the lookout for special events, especially when summer arrives.
More info on the Virginia Beach boardwalk bike path
9. Ocean City boardwalk
Similar to the Virginia Beach bike path, the Ocean City boardwalk runs a picturesque 2.25 mile course along the waterfront. While it's a bit less commercialized and the atmosphere may not be as lively & touristy, the views are still terrific. Really, who isn't more motivated to bike or jog when accompanied by fabulous coastal scenery? On the downside, biking hours are limited during the prime summer season.
From mid-May to late September, bikes are only allowed from 2am-11am. Regardless, this should give you plenty of time to get up early, enjoy the 5 mile course, enjoy a treat at a local restaurant (Thrasher's French fries are a must try!), and browse a few touristy shops.
More info on the Ocean City boardwalk path
10. Chicago Lakefront path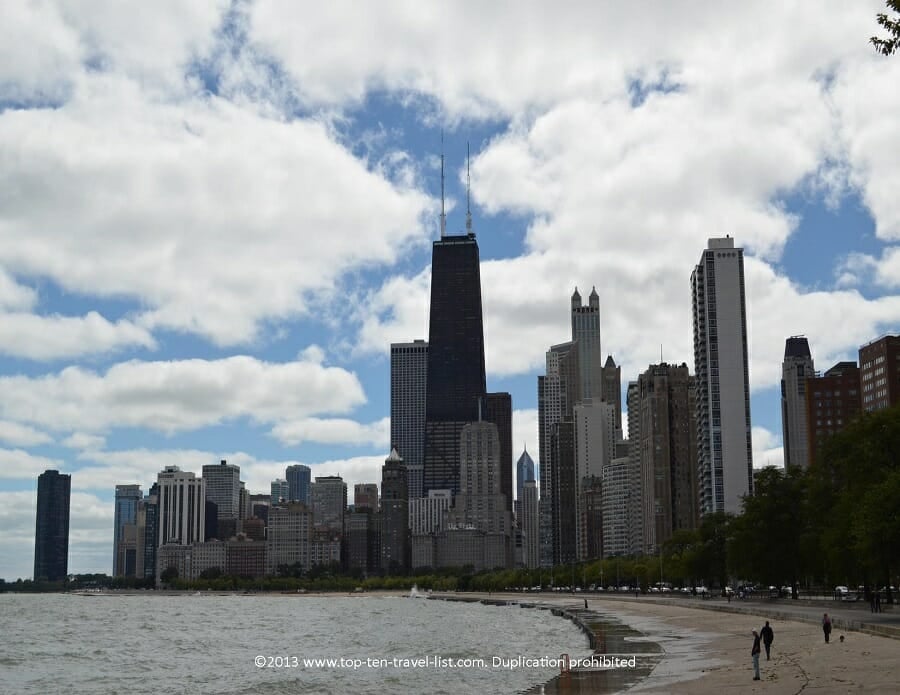 Many tourists are not aware that there is an incredible 18 mile long paved recreational path that runs right along downtown Chicago's beautiful lakefront. This path offers some of the most spectacular views of the Chicago skyline, no question one of the country's most stunning skylines.
And it's all free! Even better, you can enjoy a free means of transportation between Chicago's various tourist attractions. The wonderful Field Museum, The Shedd Aquarium, the Lincoln Park Zoo, Millennium Park and many other renowned attractions are easily accessed via this convenient bike path. Also be sure to check out my full guide to Chicago's best summer attractions.
More info on the Chicago Lakefront Path
11. Peavine National Recreational Trail
Prescott is a beautiful little high altitude mountain community in central Arizona. This small community embodies old time cowboy charm with historic saloons and plenty of beautiful open space. The Peavine National Recreational Trail is an underused, yet incredible place for a bike ride. It's located out in the middle of nowhere, and thus, perfect for anyone seeking a rustic place to enjoy the unusual barren beauty of Arizona.
Featuring views of the Granite Dells and lovely Watson Lake, you will be motivated to complete the entire 6 mile out-and-back route. On an interesting side note, the Peavine is one of the few rail trails in the state. Back in 1893, the route was used by the Santa Fe Railway. Today, we all get to enjoy a scenic uninterrupted place to workout in the company of the picturesque Arizona desert. Check out more to do in Prescott.
More info on the Peavine National Recreational trail
12. Fort deSoto recreational path
This beautiful Pinellas County Park is located on 5 offshore islands: Mullet Key, Christopher Key, Bonne Fortune Key, Madelaine Key, and St. Jean Key. The white sand beaches here are often rated as the best in the Tampa Bay area. If you are not one to lie around for hours on end frying in the sun, there's a great pedestrian path as an alternative. This gorgeous 7 mile multi purpose path gives you the opportunity to enjoy some fun-in-the-sun while also keeping your cool. The fresh breeze and ample greenery along the way enable you to enjoy the tropical ambiance without baking.
Grab your bike (or rent one) and enjoy the beautiful Florida Gulf Coast scenery. This path is a great way to travel in between various de Soto beaches. From here you can also take a ferry over to Egmont Key Island, a hotspot for snorkeling and beachcombing.
More info on the Fort deSoto bike path
13. Bayshore Blvd
While debatably the world's longest continuous sidewalk (others claim the same title), the 4.5 mile long Bayshore Blvd biking path sure is a beautiful place to enjoy a workout. Palm trees, water views, beautiful historic homes, skyline views…it's the most scenic place in Tampa to get your workout on. What's more there are fun fitness stations along the way. This ride is really smooth and flat, and thus, perfect for beginners & casual weekend exercisers.
Plan you ride during the early morning hours and you may just see a dolphin or manatee! If you are looking for something different to do outside of the beach scene, a bike ride along Bayshore Blvd is a worthy alternative. You still get to enjoy the beautiful Florida sunshine and tropical scenery, only minus the crowds, and with a nice workout to boot! Also check out my guide to the best of Tampa Bay.
14. Ladybird Trail Bike & Hike trail
Austin's beautiful lakefront path receives much press, and thus, is always bustling with runners, walkers, and bikers. In fact, the trail is used by over 4 million people per year. This really is no surprise as the entire route is incredibly scenic. As you make your way around this 10 mile loop, you get to enjoy views of the most picturesque lake in Texas. The trail is reasonably shady, so a great option even during the hottest summer months. Lots of great views of Austin's pretty skyline as well.
The best part of all is that you get to enjoy Austin's amazing food scene after working up a sweat. You will find lots of great restaurants are conveniently located in the vicinity, some even featuring great lake scenery. Consider stopping by Mozarts for a cup of coffee – they serve great drinks and have the best patio overlooking the water.
More info on the Ladybird trail
Boise River Greenbelt
The Boise Greenbelt is a beautiful 25 mile long tree-lined path following the course of the Boise River. Not only is the path very beautiful, it's also incredibly relaxing and rarely too crowded. Even on a hot summer day in the desert, it's easy to keep cool with the ample shade coverage. One of the highlights of this trail is the convenient access to many of the city's best attractions including the Boise Zoo and Julia Davis park. Simply lock up your bike and enjoy any of the multitude of parks and historical attractions along the way.
Plan your ride in the morning for the most laid-back riding experience. As an added bonus, this trail is a hotspot for bird and wildlife watching. It's not uncommon to have to stop for deer crossings in the early morning hours!