East Bay Bike Path: A Scenic Rhode Island Gem!
The East Bay Bike Path is a scenic 14.5 mile path, spanning across 4 different cities in Rhode Island including: Bristol, Warren, Barrington, and East Providence. This path, which was completed in 1992, follows the old abandoned Providence and Bristol Railroad.
The entire path is loaded with scenic views of the Narragansett Bay, the Providence River, forests, marshes, and parks. This path connects 8 different Rhode Island Parks, running right through Haines Memorial State Park. I found this path to be much more scenic than the Cape Cod Rail Trail, which although very nice, cannot quite compare in terms of scenic beauty.
The weather was absolutely beautiful the day of our ride. As a bonus, the path was almost completely deserted. As a result, we were able to stop along the way and snap plenty of photographs.
Highlights along the path…
Pomham Rocks Lighthouse
Providence Skyline
Haines Memorial State Park
The path is almost entirely flat, except for 2 large hills near East Providence. We rode the entire 28 miles round trip in about 2 hours and 45 minutes, stopping along the way for snacks, water, pictures. I imagine you could finish it much faster without stopping. This path is relatively easy, even for beginners, because of the flat course running along a former railway. Rail trails really are perfect for exercise as most are flat, long, and feature few (if any) traffic interruptions.
Check out some of these gorgeous path views…
Gorgeous Harbor Views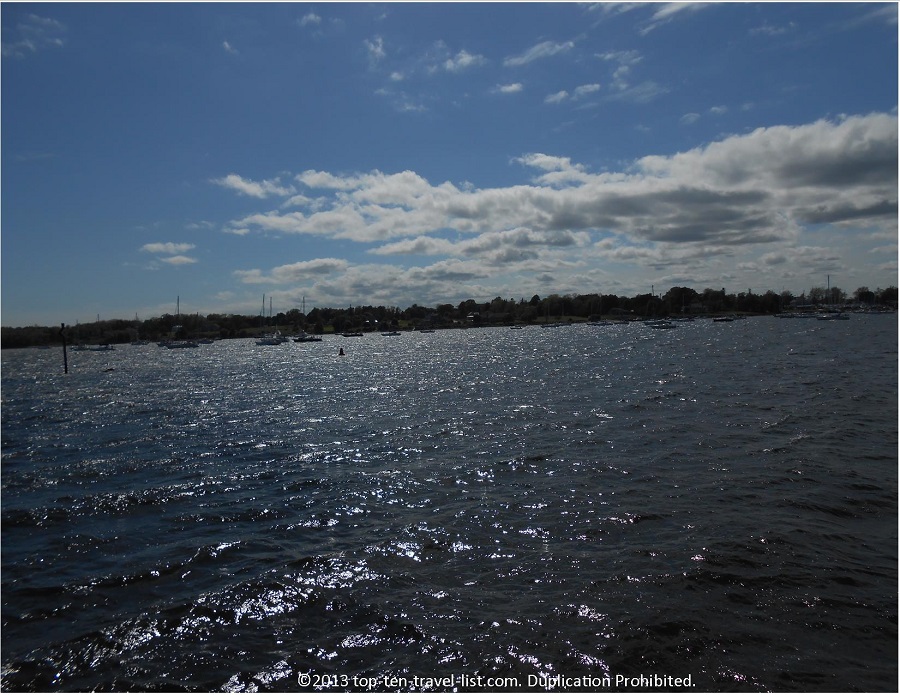 The views of the harbor at sunset are stunning…
Tips for a great ride
*Plan for at least 3 hours if you intend on completing the entire trail, round trip, longer if you are a beginner.
*Bring with snacks and water. There are stops along the way, but they are far and few between.
*Bring with your camera – this path has spectacular views around every turn!
*Watch out for the traffic intersections, especially when biking downhill. Give yourself plenty of time to slow down.
Where to Park
Independence Park in Bristol – Thames St Bristol, RI 02809
Veterans Memorial Parkway in East Providence – North Parking Lot, East Providence, RI, 02914