5 Things to do this fall in Providence, Rhode Island
New England is the best place to be in the country during the beautiful fall season. The air is fresh and cool, restaurants begin rolling out fresh specialty pumpkin dishes, fall foliage is popping up everywhere, and seasonal autumn and Halloween events can be found in every city, throughout the month of October. Fall in Providence, RI is the most beautiful time of year.
Put on your coziest sweater, pick up a Pumpkin spice latte, and enjoy a stroll through a beautiful tree-lined park. Or, opt to check out the long list of annual fall events which include options such as farmers markets, pumpkin patches, ghost tours, and Halloween festivals. Finally, do not forget that many restaurants will be releasing delicious seasonal specials where you can get your pumpkin fix. Almost anything can be made with a pumpkin twist today, from pastas to chili, as well as pastries, smoothies, desserts, and more. Below are 5 fun activities to enjoy this fall in Providence.
Enjoy a leaf peeping stroll
There are more than enough leafy parks where you can immerse yourself in the wonderful colors of the season. Although you can see colorful trees just about anywhere throughout the metro, the best way to take in this spectacular seasonal foliage is via a beautiful stroll. Blackstone Blvd is one of my favorite leaf peeping destinations. There are always dazzling colors here at peak and the 1.5 mile path is the perfect 5k distance for a nice walk or jog.
Other great options include Neutaconkanut Hill (a city park referred to as "the last wild place in Providence"), Sachuest Point Wildlife Refuge (amazing views of the coast), Roger Williams Park (a great park next to the zoo), Providence River, and Slater Memorial Park (a gorgeous huge park in neighboring Pawtucket featuring a carousel, paved bike path, pond, dog park, & more!).
Treat yourself to a Pumpkin Spice Latte
While Starbucks comes out with their trademark drink every fall (and it is delicious), many local coffee shops also get in on the action. In Providence, Pastiche, a quaint European cafe, is a must try. Not only does this local treasure offer the most tantalizing selections of homemade desserts, but they also serve great coffee. During the fall season, they release a wonderful Pumpkin Spice Latte. Other seasonal goodies include a Pumpkin Praline Tart, Pumpkin Praline muffins, Pumpkin cheesecake, and Pumpkin cookies.
Add in a nice presentation and a super cozy setting inside a charming house in Providence's historic Federal Hill neighborhood, and the overall experience is so much better than that which you would find at a standard boring chain.
Try out a new pumpkin dish
Many restaurants roll out seasonal fall specials this time of the year. Coffee shops, Italian restaurants, bakeries, and breweries are a few places to look for special seasonal treats. In Providence, several of the Italian restaurants offer amazing pumpkin entrees. Nothing tastes better on a cold crisp autumn day than a big plate of pasta. And a savory pumpkin flavored dish sounds even better.
Andino's, an old-fashioned Italian favorite in the Federal Hill neighborhood, serves amazing food in a beautiful setting. Classic decor, authentic homecooked food, and old style music (Bing Crosby, Frank Sinatra) softly playing in the background add to the ambiance. This is the place to go if you are seeking traditional Italian fare. In the fall, they offer an amazing pumpkin ravioli – so delicious!
Pizzico is another local winner which serves the most amazing pumpkin ravioli (Ravioli di Zucca) – one of the best Italian dishes I've ever tasted. This modern Italian establishment is unique in that it offers a NYC style vibe. Lovely artwork and brick walls make it a great date destination.
See over 5000 amazing carved pumpkin at the Jack O'Lantern Spectacular
Providence's premier Halloween event is the wonderful Jack O'Lantern spectacular held annually at the Roger Williams Park Zoo. The popular event features a walkway of intricately carved pumpkins. Each year's theme is different so you can look forward to something new and exciting each year.
Talented artists spend weeks creating these impressive Jack O'Lanterns. Really, they are so much more artistic than your average Halloween creation. While the trail is only a quarter of a mile long, it is jam packed with excitement. The zoo spends over $75,000 on more than 20,000 pumpkins. A lot of work goes into this event, and it really shows as one of New England's premier Halloween attractions. In 2019, the event raised 1.8 million for the zoo's welfare and conservation initiatives.
Take a ride along the East Bay bike path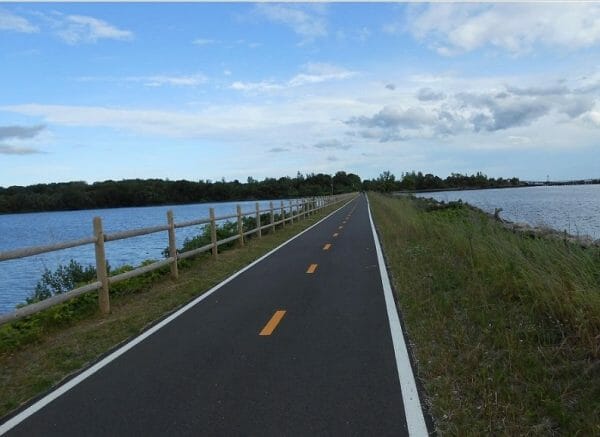 This former rail trail is one of, if not the most gorgeous, bike trails in all of Rhode Island. Featuring 14.5 miles of uninterrupted paved route, it's the perfect distance for a long weekend bike ride. The weather is still pleasant enough on a sunny fall afternoon for an enjoyable bike ride. Views along the route include Pomhack Lighthouse, the Providence skyline, and Narragansett Bay.
Along with all the regular sights, you may also see some terrific foliage if you time your ride at the peak of fall. Foliage or not, the temps are perfect and views are lovely the entire journey with lots of shade and leafy trees to enjoy. Another perk – there are many parks to explore along the way.