100 Things to do in New England
New England is a picturesque & historical area of the country loaded with endless opportunities for recreation, entertainment, and education. Whether you are into history, sports, photography, great dining, or the outdoors, you are bound to find more than a few things to do. Massachusetts, Rhode Island, Connecticut, New Hampshire, Maine, and Vermont all have one thing in common: beautiful natural forested lands.
As you will see, many of my favorite activities in New England include those which provide both scenic views and a great workout, most of the time at no cost! Check out my list of 100 fun things to do while visiting New England. Note that this list is not all inclusive as I have not traveled as extensively through Maine, Vermont, and New Hampshire. Part 2 will be coming soon!
1. Walk the historic Freedom Trail
Boston's famous 2.5 mile journey takes you through 16 sights of historical significance, from America's oldest park, Boston Common, to the USS Constitution in Charleston. A brick pathway guides you along the way. You will want to bring the camera along as you will pass some of the country's oldest cemeteries, most beautiful architecture and parks, and most important landmarks. A trip to Boston is not complete until you embark upon the Freedom Trail.
Additional information on the Freedom Trail
Location: 139 Tremont St, Boston, MA 02108 (Starts at the Boston Common Visitors Center)
2. Take in gorgeous ocean and mansion views along Cliff walk
Newport's most extraordinary views can be enjoyed along the 3.5 mile oceanfront path known as Cliff Walk, conveniently located just behind the famous Newport, Rhode Island mansions, nonetheless, often overlooked by tourists who fail to notice this wonderful, free attraction. This breathtaking walk features spectacular views of both the ocean and the mansions. You will see many opulent mansions along the way, the most prominent being the extravagant 70 room Breakers at a whopping 125,000+ square feet! If you only have time for one Newport attraction, this is bar none the one to pick.
Additional information on Cliff Walk
Location: Cliff Walk, Newport, RI 02840
3. Hike the Mt. Battie trail at Camden Hills State Park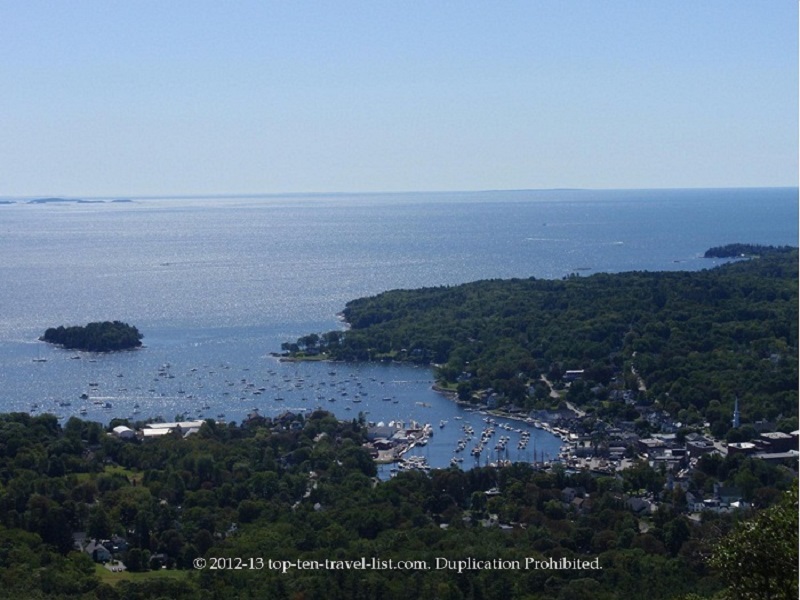 This beautiful coastal Maine state park is home to over 30 scenic hiking trails, including the iconic Mt Battie trail, which impresses with elaborate views of Penobscot Bay and the surrounding mountains. A steep 1/2 mile climb will lead you to one of the most impressive overlooks in the state. Camping, picnicking, hiking, and winter sports such as snowshoeing and cross country skiing trails are also available within this 5500 acre park. Tip: A hiking stick comes in handy for this hike as well as any others in the area.
Additional information on Camden Hills State Park
Location: 280 Belfast Rd, Camden, ME 04843
4. Get tickets to a Red Sox game
A visit to Boston would not be complete without catching a Red Sox game at historic Fenway Park, the oldest ballpark in America. 2012 marked the 100 year anniversary! Every fan should experience sitting in the Green Monster (the nickname given to the 37 foot tall left field wall) section at least once! If you love the Red Sox and really Boston in general, I recommend watching Fever Pitch! And, yes, the whole crowd really sings Sweet Caroline during the 8th inning home games! Read the story behind the tradition.
Location: 4 Yawkey Way, Boston, MA 02215
5. Take a picturesque ocean view hike at Sachuest Point Wildlife Refuge
Middletown's waterfront refuge provides a one-of-a-kind viewpoint of the coastline. This is a beautiful birdwatching destination. The scenic 2.5 mile Ocean Loop trail features peaceful ocean and marsh views. Sachuest is an extraordinary place for photography, bird watching, and wildlife viewing. After Cliff Walk, it ranks as the 2nd best place to take a nature walk in Rhode Island. Be sure to pack a camera! Deer sightings are very common, unfortunately so are ticks, so be sure to check yourself after your hike!
Additional information on Sachuest Point Wildlife Refuge
Location: 769 Sachuest Point Rd Middletown, RI 02842
6. Ride the tree-lined Minuteman Bikeway (in the fall)
One of Massachusetts' top bike paths, the Minuteman Bikeway, runs north of the city from Bedford to Cambridge along the route of a former railroad. The 10 mile paved path is flat, well-marked, and tree-lined for the entire route. Fall is an incredible time to visit; in fact, some of the best fall foliage in the area can be spotted along this gorgeous trail.
Additional information on the Minuteman Bikeway
Location: 110 South Rd Bedford, MA 01730 (starts at the historic Bedford Depot)