Faneuil Hall Marketplace – Boston's Famous Dining & Shopping Destination
Faneuil Hall is a historic shopping, dining and entertainment marketplace located near the waterfront in Boston, Massachusetts. There are a number of restaurants and pubs, including the popular "Cheers" Restaurant/Pub from the TV show, Hard Rock Cafe Boston, Ned Devine's Irish Pub, and many other themed and/or seafood restaurants.  The Quincy Market Colonnade features over 36 international food vendors, making it the largest food hall in New England. Check out the full list of available restaurants.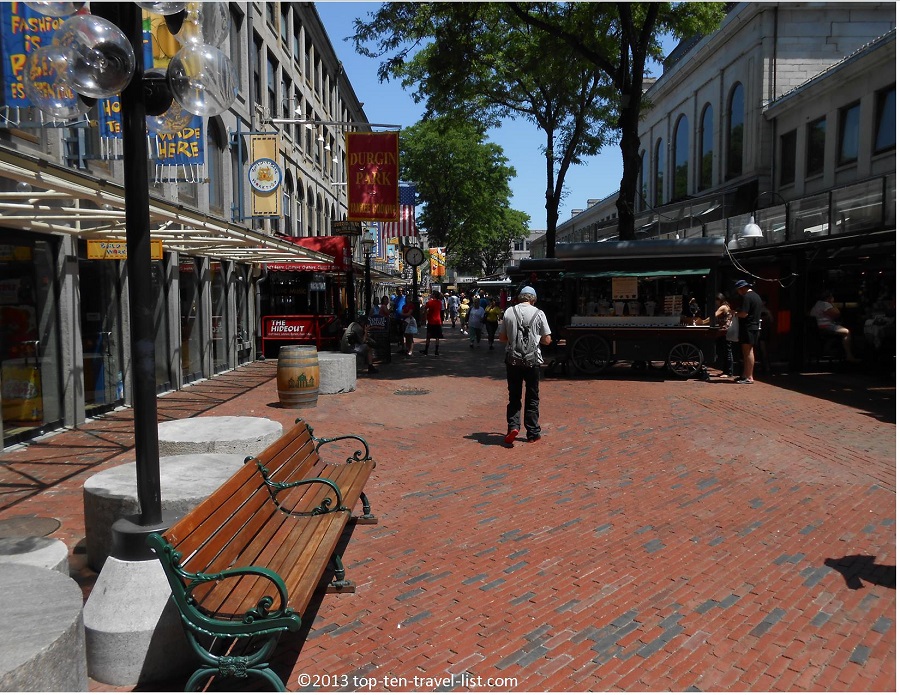 We ate lunch at the Hard Rock Cafe, which is my favorite tourist restaurant. I love the music, atmosphere, and food. This particular Hard Rock isn't my favorite, but it is in a good location if you are visiting Boston and plan on shopping at Faneuil Hall Marketplace. I recommend ordering the "Jumbo Combo."
Update: Sadly, both Cheers and Hard Rock have closed down. However, there is another Cheers location on Beacon Street near the Boston Public Garden. This location was actually used for filming exterior shots of the long running TV series.
Plenty of different opportunities for shopping exist including traditional mall shops and souvenir shops selling all kinds of Boston apparel. Check out the full shopping directory.
Street Performances
One of the highlights of the area is the street performances which take place at various times during the week. During our trip we were able to see a few unique circus themed acts. Check the events calendar for upcoming acts.
Area attractions
Other nearby attractions in the area include the New England Aquarium, which is located about 2 blocks away on Central Wharf. There are also trolley tours and whale watching tours available in the area.
The Freedom Trail
Faneuil Hall is located on the Freedom Trail, making it a great place to stop for a snack, shop, or just take a break during your walk. It's a great place for history buffs and those who enjoy taking photographs of old architecture. The cobblestone streets add to the historic atmosphere. I recommend visiting on a weekday when it is less crowded – weekends are very busy! Tip: go early in the morning to find street parking. We were able to avoid the expensive parking garages and luckily found a free spot (just watch the signs!).
Faneuil Hall Marketplace
Address: 1 Faneuil Hall Square, Boston, MA 02109
Hours: 10:00am-9:00pm (Monday-Saturday), Sunday hours: 11:00am-6:00pm
Boston Waterfront
From Faneuil Hall, it is a 5-10 minute walk to the oceanfront. We were able to take a few pictures by Long Wharf. There were plenty of people out whale watching and participating in other sightseeing tours. You will be able to purchase tickets for your desired cruise. As it was a really hot day (upper 90s), we were not able to hang around very long. I hope to visit again on a less crowded and cooler weekday morning!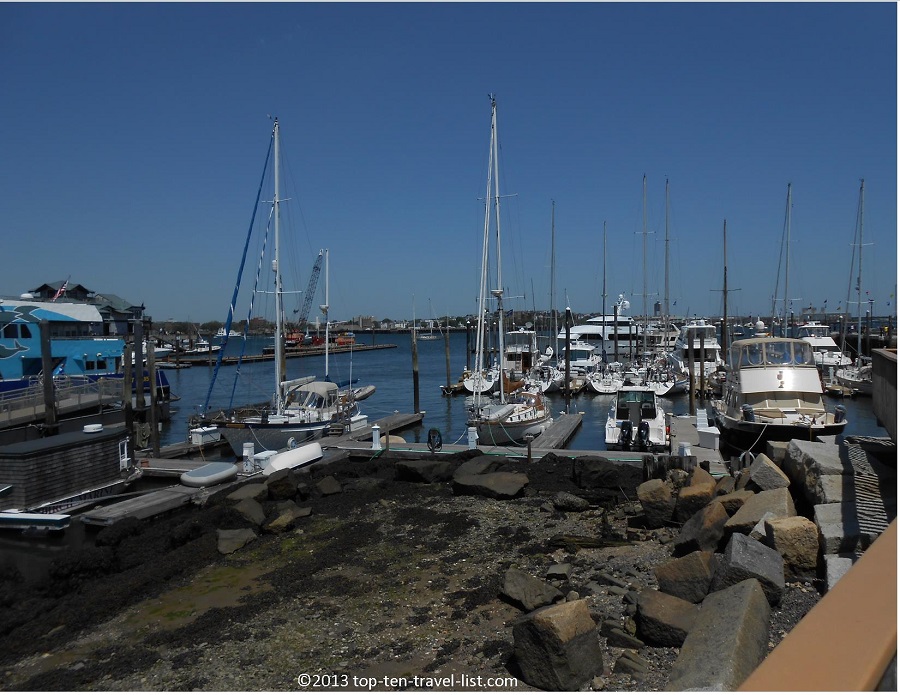 Also be sure to check out my list of the top 20 fun and free things to do in Boston.