Fall is in the Air at Connecticut's Devil's Hopyard State Park
Devil's Hopyard State Park in Southeastern Connecticut is known for beautiful Chapman Falls, scenic hiking trails, a historic covered bridge, and stunning fall foliage. This park is incredible anytime of the year, although even more so during the gorgeous fall season. The odd name comes from an old legend that Satan was seen at the park. The legend goes that the Devil accidentally got his tail wet and got so mad that he burned holes in the stones with his hooves. These pothole stone formations near the falls are said to be the best example in the East.
Chapman Falls is absolutely gorgeous and pictures do no justice.  Fall is the perfect time for capturing the perfect photographs.
There are several miles of hiking trails available within the park. We chose to hike the scenic Red Trail, a 4 mile heavily forested loop within the park. Hiking this trail is the ideal fall day out in New England – really nothing compares. The combination of scattered leaves amongst the path, beautiful foliage, and serenity, provides an ideal setting for nature lovers, leaf peepers, photographers, and hikers alike. The hike is relatively easy with a few small, yet manageable hills. We felt as if we got in a great workout, without over pushing ourselves. The hike is well-marked, with clear red markings on the trees to guide you along.
A few great views along the trail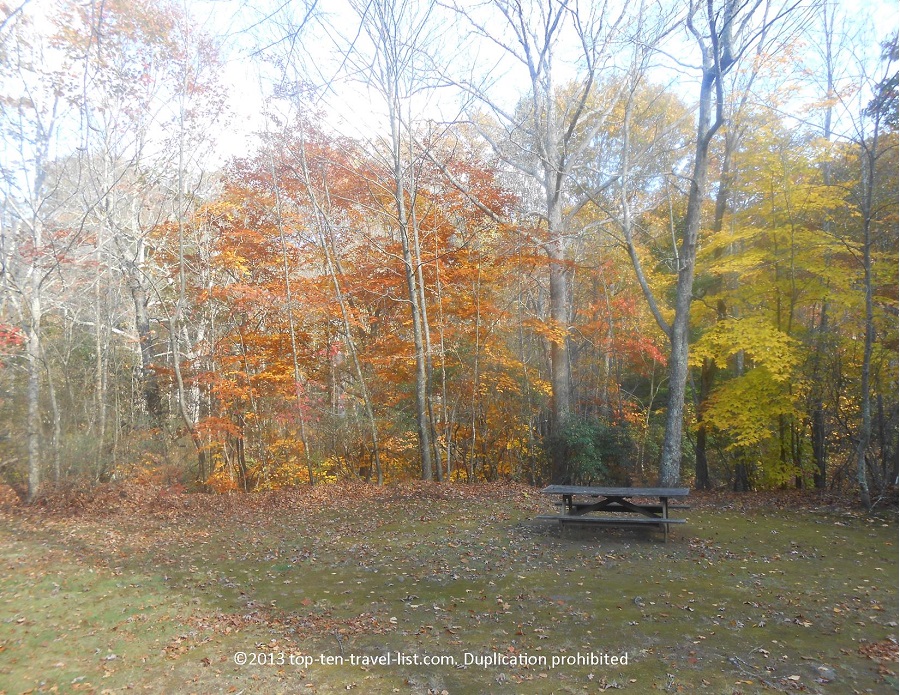 The real highlight comes at the end of the red trail. If you walk down the road about 1/2 a block, you will come across a beautiful covered bridge. This idyllic setting with fall foliage and a stream in the background is breathtaking: an ideal photography opportunity. We took plenty of pictures at the bridge and then continued on another quarter of a mile or so on the green trail back to the beginning of the hike (near the waterfall). Nothing says fall quite like a New England covered bridge surrounded by beautiful foliage! Absolutely breathtaking!
Devil's Hopyard is one of the most beautiful parks in New England. Whether you are looking for charming New England scenery, a great fall foliage hike, or just a relaxing day out in nature, Devil's Hopyard should be tops on your list!
Location: Devil's Hopyard is located at: 366 Hopyard Rd, East Haddam, CT 06423.