CliffWalk Newport – Spectacular Ocean and Mansion Views!
CliffWalk in Newport, Rhode Island is a scenic 3.5 mile National Recreation Trail, which runs along the Newport Shoreline. Along the way you will pass the spectacular Newport Mansions, also known as "summer cottages." The most famous, The Breakers, is a marvelous site with over 137,000 square feet. Note: The walk is currently closed at Ruggles Ave. due to damage from Hurricane Sandy. However, there is still plenty of beauty to be seen up until that point (about 2 miles). Normally the full walk round trip would be about 7 miles.
The trail starts at Easton Beach(First Beach), located at 175 Memorial Blvd. in Newport. The path takes you from Memorial Ave., past The Breakers to Ruggles Ave.
The walk is paved and pretty flat most of the way. Right now, the portion of the path that is open is completely paved. There are numerous spots along the trail where you can take excellent photographs of the ocean, beaches, cliffs, and mansions. There are also several benches, if you want to relax and take in the gorgeous views.
A few of the gorgeous ocean views along the path…
A few of the highlights along the way…
The 40 Steps at Narragansett is a stone staircase that goes down the cliff to a beautiful balcony overlooking the water.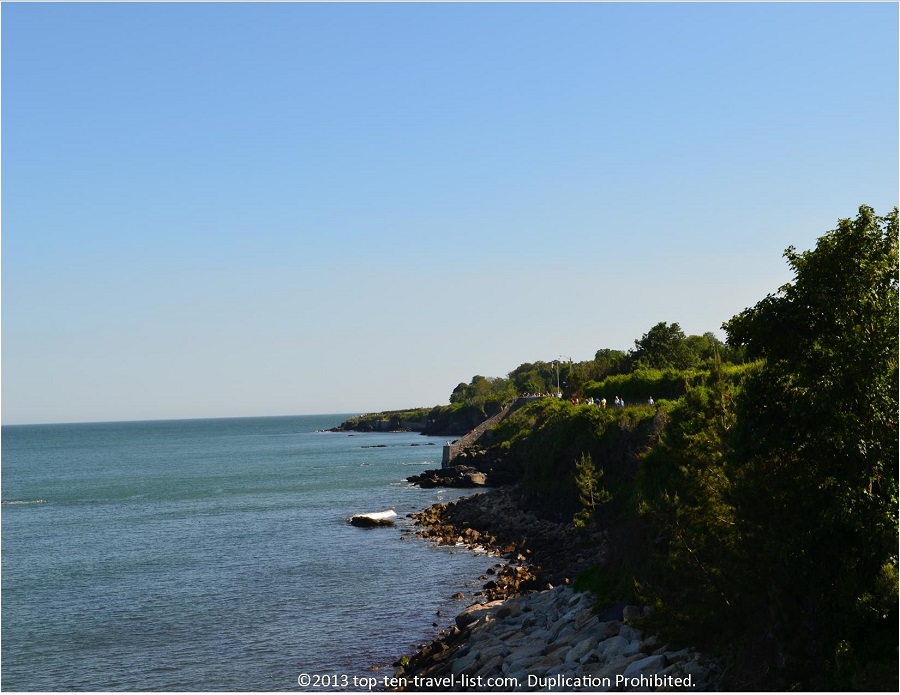 The Breakers, a Vanderbilt Mansion, is the most famous and visited of the Newport Mansions. This mansion, which was built between 1893-1895 for 12 million, has 70 rooms and over 65,000 square feet. Cornelius Vanderbilt, who made his fortune in the railroad and shipping industry, was one of the richest men of the 19th Century.
The Vineland Mansion is now part of Salve Regina University.
The Ochre Court Mansion is now part of Salve Regina University. It was built in 1892 for 4.5 million dollars. This is the 2nd largest mansion.
Tips
*Bring with water – I didn't see any drinking fountains along the way.
*Wear comfortable shoes.
*Bring with a camera – there are plenty of spots to take great photographs.
*Make sure to stay on the path! Some of the cliffs are pretty steep and high.
Admission: Free
Parking: Easton Beach ( 175 Memorial Blvd.), parking meters, or free parking on a side street (watch the sign)
Starting Point: 117 Memorial Blvd. Newport, RI
Hours: Sunrise to Sunset, everyday
Pet policy: Leashed dogs are ok
Bike policy: No bikes allowed
North Map
South Map