A Week of Fantastic Dining in Plymouth County, Massachusetts
Mike and I spent the past week in a small town in Plymouth County, Massachusetts called Middleboro. I had the opportunity to check out several local restaurants in Middleboro and the surrounding towns. All the restaurants turned out to be pretty good. Check out my reviews!
Central Cafe – 254 Central Street Middleboro, MA 02346
Central Cafe is a great choice for a local restaurant with friendly service, delicious menu items, and a nice, casual atmosphere. The cafe menu includes plenty of options including: pizza, wraps, sandwiches, salads, and typical pub style food.We stopped by for lunch.
Central Cafe looks like it would be a great place for watching football games due to the beautiful Mahogany bar, flat screen TVs, and large selection of draft beer.
I ordered the Sauteed Veggie Wrap, a delicious mix of vegetables (broccoli, lettuce, black olives, tomatoes), served with a side of fries. I opted for the sweet potato chips, which were amazing!
Mike ordered the Buffalo Chicken Sandwich, which he said was excellent. The sandwich included deep fried buffalo chicken, a special buffalo sauce, lettuce, tomato, and cheese. Serving sizes here are enormous and prices are very reasonable ($8 each for our meals).
Central Cafe Menu
Central Cafe Hours: Mon-Sun 11:30am-12:30am

 Fireside Grill – 30 Bedford Street Middleboro, MA 02346
Fireside Grill & Spirits is a New England style family restaurant with a large varied menu, a lively bar, and weekend entertainment. We decided to sit in the bar area; the live entertainment was pleasant. The bar area was packed and the atmosphere upbeat; Fireside seemed to be the place to go for evening entertainment in town.
Although the menu was large, the vegetarian options were a bit limited. I opted for the Twisted Macaroni and Cheese, which ended up being a wise choice.
Mike opted for the Tuscan Chicken Salad, a Firehouse Grill specialty, which consisted of Grilled Chicken, Mixed Green lettuce, roasted red peppers, red onions, and mozarella cheese tossed with a balsamic vinaigrette dressing.
Fireside Grill Lunch Menu
Fireside Grill Dinner Menu
Fireside Grill Dessert Menu
Fireside Grill Hours: Mon-Thurs: 11:30am-10:00pm, Friday&Saturday: 11:30am- 10:30pm,             Sunday Dinner: 12:00pm-9:00pm.

Flat Iron Cafe – 444 Center Street Middleboro, MA 02346
I was pleasantly surprised with the food at Flat Iron Cafe, a small, local restaurant housed in a historic building. Some interesting history: Established back in 1898 by David Farrar, this building used to be a tobacco and candy store. Later on, the business operated as a sandwich/ice cream waiting shop for customers of the Eastern Massachusetts Railway.
Although the inside isn't fancy, the service is friendly, the atmosphere is comfortable, the food affordable, and the menu large.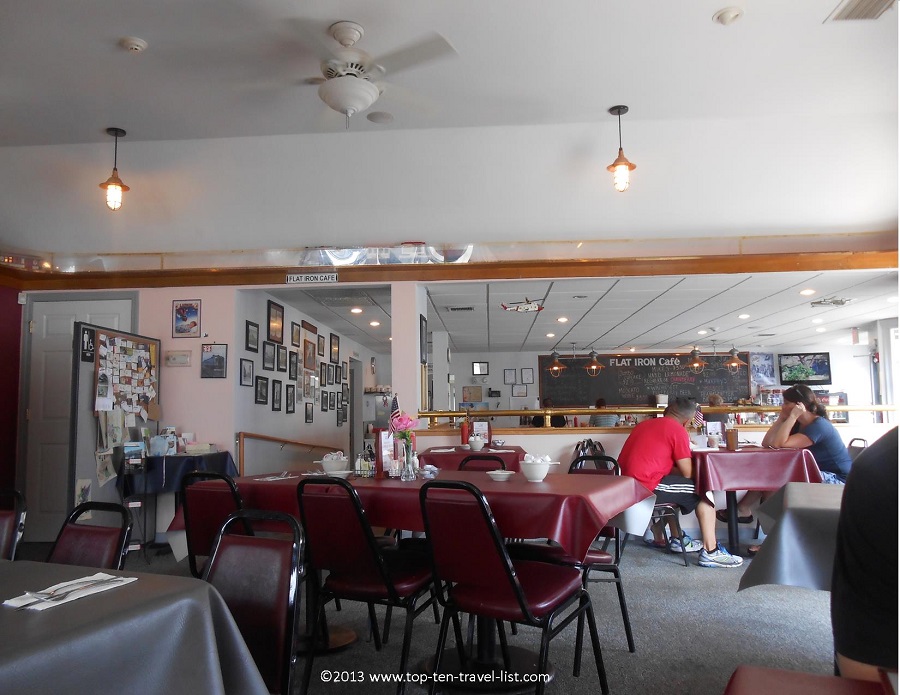 We both ordered from the breakfast menu. The food was absolutely delicious, affordable, and served by a friendly waitress. I had a create your own omelet (onion and broccoli). On the side, home fries and toast were served.
Mike ordered the Breakfast Burrito (scrambled eggs, salsa, and cheese in a tortilla). He really enjoyed his meal, and we were both surprised at the extremely cheap price of $4! (0.75 cents extra for hash browns).
Flat Iron Cafe Breakfast Menu
Flat Iron Cafe Lunch & Dinner Menu
Flat Iron Cafe Hours: Sunday(breakfast only): 6:00am-1:00pm
Monday(breakfast only): 6:00am-Noon
Tues-Thurs: 6:00am-8:00pm
Friday-Saturday: 6:00am-9:00pm

The Charlie Horse – 674 W. Center Street #1 West Bridgewater, MA 02379
The Charlie Horse is a fun local restaurant/sports bar/entertainment combo, similiar to Dave and Busters. Like D&B, Charlie Horse has a full service restaurant, bar area, game room, and bowling lanes. They also have a nightclub, featuring various DJs, events, and special entertainment throughout the year.
We came during Happy Hour and ordered a few of the specials, which included half priced appetizers and reduced price drinks. The fried pickles and grilled cheese appetizers were both delicious. I also recommend the vanilla shake!
Charlie Horse offers an "Eat and Play" summer special, which is similar to "D&B Eat and Play Combo." For $15.99 you get to choose between 6 different entrees and you will also receive a free $10 game card. Mike ended up going with the turkey burger, which he thought was pretty good.
After dinner, we headed over to the game room. Although small, we still found some of our favorites from Dave and Busters, including Deal or No Deal, basketball, Skee-Ball, and the crane machines. We had a great time!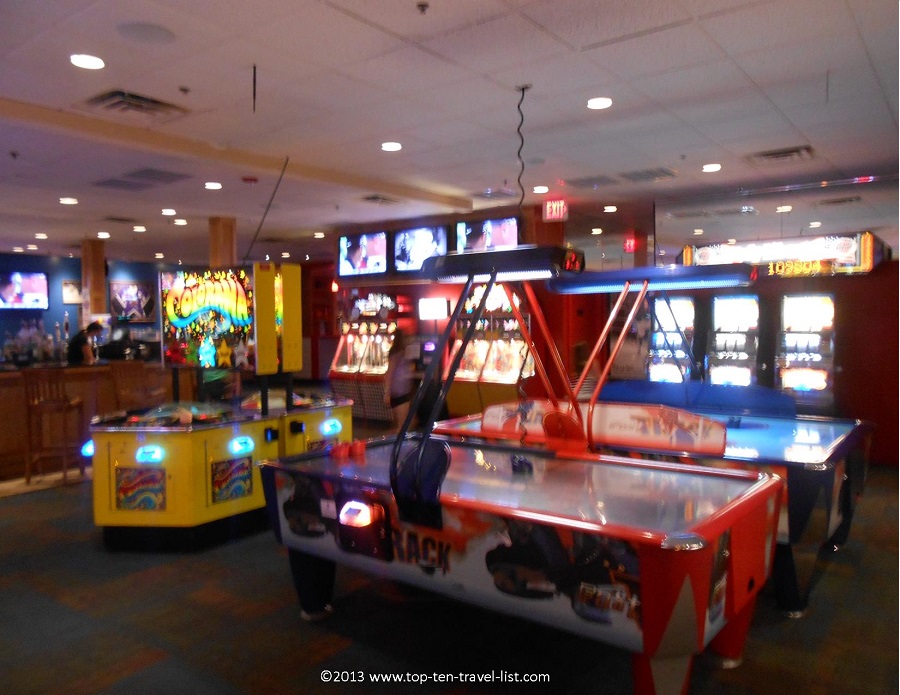 Charlie Horse Menu
Charlie Horse Hours: Monday-Thursday: 11:30am-1:00am
Friday-Saturday: 11:30am-2:00am
Sunday: Noon-1:00am

 Somethin's Brewin' Book Cafe – 241 Main Street Lakeville, MA 02347
Somethin's Brewin' Book Cafe was an unusual find as it is housed in an old library building (built by Andrew Carnegie)! Outside the building, you can still see the old library sign. You can still see the Lakeville Public Library sign from 1914!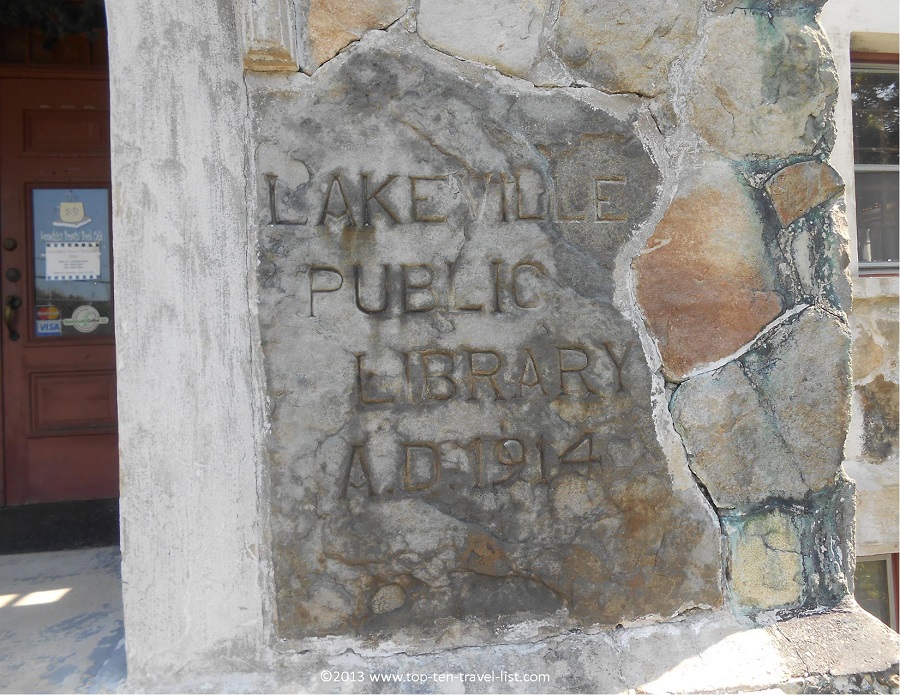 Take a look at this beautiful historic building…
Turning an old library into a coffee shop actually turns out to be a magnificient idea. Although small, the coffee shop has a cozy, relaxing feel – the same you would find at a library. There are several couches to relax on, books to read, and Wi-Fi if you need to get some work done.
Love the cutout of "Edward Cullen" from the Twilight movies!
Now for the coffee…
I love the coffee here! Somethin's Brewin' uses Speedwell Coffee, a local organic roaster in Plymouth. The prices are affordable ($2.60 for a large coffee). They also carry a large menu of specialty lattes, such as peanut butter mocha, caramel mocha, peppermint mocha and much more! I prefer to drink dark roast coffee with nothing added, while my boyfriend usually orders the Cafe Mocha.
Somethin's Brewin' also offers a small selection of breakfast & lunch items such as muffins, breakfast sandwiches, lunch sandwiches, and Qiche. The Quiche of the Day on my visit was broccoli, tomato, and cheddar: so delicious! I will definitely come back for it again. Check out the full menu here.
I highly recommend stopping in Somethin's Brewin for a relaxing morning or afternoon coffee break – you will not be dissapointed. Excellent organic coffee, fantastic Quiche, a comfortable atmosphere, and plenty of reading materials would definitely bring me back!
Somethin's Brewin' Book Cafe Hours: Monday-Friday: 6:30am-4:00pm
Saturday: 8:00am-3:00pm
Sunday: 8:00am-2:00pm
Check out my other Plymouth County restaurant reviews!
Wood's Seafood – Plymouth, MA
Carmen's Cafe Nicole – Plymouth, MA
Mamma Mia's Carver – Carver, MA
Persy's Place Middleboro – Middleboro, MA
The Cabin – Middleboro, MA
In addition, check out my full reviews of each restaurant featured in this review!
Central Cafe
Fireside Grille
Flat Iron Cafe
The Charlie Horse
Somethin's Brewin' Book Cafe