Haunted Massachusetts: Ghostly Sites to Visit this Halloween!
Massachusetts is well known as being of the most historical and haunted states in the US. Historical 18th century homes, abandoned buildings, creepy dark forests, and old cemeteries lead way to numerous opportunities for ghost sightings. It is also home to the mysterious Bridgewater Triangle (explained in detail below), widely reported to be one of the most haunted areas in the world.
Massachusetts has a long history of reported paranormal activity. The area has been studied extensively by paranormal investigators. The scary thing about Massachusetts is that the hauntings are so widespread – numerous areas, whether it be cities, rural areas, parks, houses, cemeteries, etc., all have histories of paranormal sightings which date back decades. It doesn't matter where you go, the chance of sighting or feeling paranormal presence in the air is not out of the ordinary.
Below are a few of my favorite Massachusetts haunts
The Lizzie Borden House
Fall River, Massachusetts is home to the Lizzie Borden house, site of the infamous axe murder case of the late 1800's. In 1892, Lizzie was acquitted of murdering her step mother and father. It was speculated that she took a hatchet and murdered her mother upstairs in the bedroom and her father on the couch.
Most notably, an anonymous writer made up a catchy rhyme during the case. It goes like this:
"Lizzie Borden took an axe
And gave her mother forty whacks.
When she saw what she had done,
She gave her father forty-one."
In one of the most prominent cases of the century, Lizzie was found not guilty of both murders. Over 100 years later, many still wonder if Lizzie really did murder her parents. The wounds (Mrs. Borden had a huge 5 inch hole inside her head) were so gruesome which leads us to wonder what led to such outrage? For more in depth info on the case, I recommend reading The Borden Murders.
The house in Fall River is now open for daily tours. You can take a walk around each room in the house, including those where the murders took place. A tour guide provides plenty of background information and hands out pieces of graphic court evidence. This old house definitely has a creepy vibe. Ghost sightings do not surprise me in the slightest.
You also have the option of staying overnight in the inn (breakfast included). As we were told during our tour, many guests are unable to stay the night as they claim to hear or witness strange sights. The house is easily one of the most haunted places in Massachusetts. Even paranormal investigators from shows like "Ghost Adventures" barely managed to stay overnight due to intense paranormal activity present. If you watch the Lizzie Borden episode, it appears that they get some feedback from Lizzie along with some strange sensations.
Allegedly, Lizzie still haunts the house today. Some claim to have taken a picture of the 2nd floor bedroom and seen a ghost. During your tour, your tour guide will pass around a picture that someone took during a previous visit. The choice is up to you to decide if what they saw really was a ghost!
Another interesting haunting story…
You will see a Ouija board in the sitting room. According to staff, the board went missing for some time and was returned with a note from Lizzie stating "I'm back."
Whether or not a ghost actually haunts the Lizzie Borden House, one thing is for sure: you will definitely feel a creepy, somber vibe as you walk through the house. Something feels eerie or generally off. Perhaps it is due to the combination of vintage furniture and wallpaper, graphic photos, the quietness, and the gruesome history of the case.
If you are brave enough to spend the night, make sure to book your stay well in advance. Rooms sell out quickly due to the popularity of the case and the presumed haunted nature of the house.
More information on the Lizzie Borden tour
Myles Standish State Forest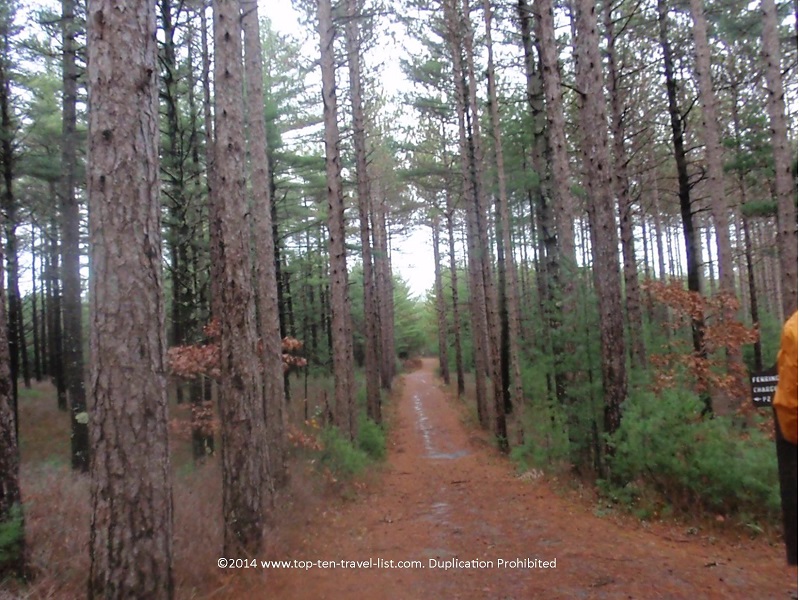 Myles Standish State Forest is one of the most beautiful places in Massachusetts. This gorgeous recreational area is ideal for year-round recreation. The forest encompasses more than 14,000 acres and includes the towns of Plymouth and Carver. Although it is beautiful any time of the year, the fall season is particularly desirable with the cool temperatures, bright foliage, and an overall eerie feeling that is just perfect for the Halloween season.
The desolateness of the area combined with typically overcast skies and tall pine trees, along with the haunted history of the forest make it a great place to take an October walk or bike ride.
Myles Standish is supposedly the sight of several strange events. First off, there are stories about an old abandoned mental institution lurking somewhere deep within the forest. I've hiked the forest many times and seen no evidence to date. In addition, several murders took place here during the 1970's. In 1977, Ruth Masters was brutally murdered in the forest. Strangely, the case remained unsolved until years later (2003).
This forest just has an incredibly spooky feel. Every time I visit I have an eerie feeling that someone is behind me. While riding my bike, I tend to constantly check over my shoulder. Hiking the trails feels like meandering through an endless maze of eerie pine trees. It feels as if you are somewhere else far away from civilization. A truly beautiful space, but creepy and desolate at the same time.
With all the reported ghost sightings, strange background history, and overall eerie atmosphere, there has to be something lurking in this forest. Not sure what it is, but Myles Standish is one place where I wouldn't want to get stuck at night!
More information on the haunted history of Myles Standish.
The Spooner House
The Spooner House in Plymouth is reportedly one of the most haunted places in New England. Over the years, many Plymouth residents and tourists have reported seeing the ghost of 8 year old Abigail Townsend in front of the house.
Built in 1749, The Spooner House is one of the oldest houses in Plymouth. Residents report seeing Abigail jumping rope in front of the house. People have claimed to have seen a ghost from the 3rd floor window, which was Abigail's bedroom. Legend goes, Abigail died at age 8 from a tooth infection. Ironically, there is a dentist's office right across the street!
Ghost tours such as Plymouth Night Tour stop by the side of the house and later come back to see if Abigail has messed with the shutters or anything else. The shutters can only be opened and closed from the inside, so any evidence that they have been changed is quite frightening. There is a very strange, eerie feeling near the house, much like many other haunted places in Massachusetts.
You will hear many interesting stories on Plymouth's various ghost tours. One of the strangest is as follows: In 2005, construction workers were hired to do some repairs on the property. They were let into the house by a little girl dressed like she was from another time period. The owner came later and was shocked to hear that they were able to get into the house. When they went to find the little girl, she was no longer there. Pretty creepy story if you ask me!
Although we did not personally see any ghosts during our tour, nor any evidence of ghost activity, we did get an eerie feeling near the house, especially when we walked down the creepy alley. And our EMF meters showed some minor frequency changes. Unfortunately, it was too dark to take any decent photos!
Burial Hill in Plymouth
It is no surprise that Burial Hill is one of the most haunted places in Plymouth, being that it is one of the oldest cemeteries in the country. It was built back in 1638, making it one of the oldest in New England. After taking a walk around this historic cemetery, you will definitely experience a feeling of unexplained eeriness. Many headstones are worn and no longer legible, adding to the creepiness.
During the ghost tour, we learned that there have been many ghost sightings in the cemetery, even a few on various ghost tours. We also got the chance to test out some EMF equipment, a device which measures electromagnetic frequencies. Higher frequencies can signify paranormal activity. Not surprisingly, many people had their EMF meters going crazy once we walked through the cemetery. Search Groupon for discounts. I highly recommend signing up to receive Boston area deals as you can receive other great promotions too like discounts off whale watching tours, restaurants, and more.
A walk through Burial Hill at night is a unique experience. Although I would never recommend taking a stroll alone, going along with a tour group makes it feel much "safer."
More information on Burial Hill
Old Town Hall in Salem
The Old Town Hall is the earliest surviving municipal structure in Salem. Built way back in the early 1800's, it is no surprise that various people have reported hauntings over the years.
During the day, you can visit the museum, which covers the first floor of the building. Seasonal performances like "Cry Innocent" take place here throughout the year. In addition, various Salem tour groups visit this historic site. Architect Charles Bulfinch designed the beautiful building. The prominent architect also designed Faneuil Hall and the Massachusetts State House, both in downtown Boston.
You may also remember this house from the 1993 Halloween favorite "Hocus Pocus" as the scene of the adult's Halloween dance party! Any "Hocus Pocus" fans out there (and what 80's-90's child isn't?!) must check out Max & Dani's house, Allison's House, and The Sanderson Sisters cottage (Pioneer Village). Although not reported haunted, they houses sure are fun to check out around Halloween! Note: Max and Dani's house is a private residence. Please view or take photos from your car only!
The Witch House
Also known as the John Corwin house, The Witch House in Salem frequently makes the list of haunted Massachusetts attractions. With Salem location to the infamous Witch Trials of 1692, not surprisingly, spirits of those executed haunt The Witch House. Interestingly, the house was featured on a recent episode of the paranormal favorite "Ghost Adventures."
This creepy looking black house was once the home of Judge Jonathan Corwin. It is the only remaining structure in Salem with ties to the Witchcraft Trials. Perhaps the reasoning behind its' hauntings?
Both self guided and guided tours take place during the spring, summer, and fall months.
More information on Halloween in Salem
The Bridgewater Triangle
The Bridgewater Triangle is long rumored to be one of the most haunted places in the world. The Triangle refers to a 200 square mile radius area in Southeastern Massachusetts known for numerous paranormal and strange sightings over the years. It is reportedly one of the most concentrated areas of strange occurrences in the world, right up there with the Bermuda Triangle.
The following towns make up the Bridgewater Triangle: Bridgewater, East Bridgewater, Whitman, Brockton, Rehoboth, Middleboro, Taunton, Berkley, Dighton, Freetown, Raynham, Seekonk, Lakeville, Norton, and Easton.
Ghost sightings, Bigfoot sightings, Thunderbird sightings, UFO sightings, mutilated animals and humans, you name it…everything has been reported in this area. A special documentary highlighting the strange area released in 2014 and it is really interesting – I highly recommend checking it out, especially if you live in the area! The film explores all the strange occurrences in detail.
Dighton Rock, a 40 ton boulder originally found near the Taunton River, is most known today for its' strange petroglyphs. The origin of these strange carvings is still a mystery today. You can view the rock at the Dighton Rock Museum. Here you will be able to read many different theories as to who made the carvings and for what purpose.
Hockomock Swamp, located in the center of the triangle, has been the location of various Bigfoot sightings.
Freetown State Forest, located in Freetown-Fall River is another area which has had its' share of strange occurrences, including gruesome murders and cult activity. The rumor is that both these areas have an Indian curse over them, hence the variety of strange happenings. Something creeps me out about this forest. Despite being an avid hiker and living in the region for years, I never once thought to hike within this eerie forest. Just driving past the forest on the highway makes my skin crawl.
Additional strange reportings from The Bridgewater Triangle Region
*Many have reported seeing a red headed hitchhiker ghost on Route 44 on Rehoboth. This is reportedly one of the most haunted roads in the area with numerous sightings going back many years.
*UFO's sighted along Route 44.
*Thunderbirds of the Jurassic period with a wingspan of 8-12 feet reported in the Hockomock Swamp area.
Two places in the triangle that I get a strange feeling around are: Gertrude M. Boyden Wildlife Refuge (pictured below) in Taunton and Caratunk Wildlife Refuge in Seekonk (pictured above). Both of these parks are dark, creepy, and desolate. I always felt like someone was behind me when hiking in these preserves. The tall dead trees of the winter combined with the dark icy river views & not a soul in sight gives these parks an eerie atmosphere.
Is it just a coincidence that the Bridgewater Triangle has had more than its' share of abnormal occurrences compared to anywhere else in the world, or can this all be explained?
Old Burying Point in Salem
Another haunted cemetery is Salem's Old Burying Point, located right next to the Witch Memorials. This is the cemetery where Judge John Hawthorne is buried. As you walk around, you will come across many ancient headstones which are no longer legible. Even during the day time with dozens of people around, it still has an eerie feeling.
During night visits, many have claimed to have captured ghost orbs in their photographs.
Because of the supernatural nature of the cemetery, ghost tours now run nightly. The Salem Night Tour walks right through this historic cemetery. While it definitely has a creepy enough feeling during the day, visiting at night is a whole different story! The Salem Night Tour is so informative, entertaining, and spooky all at the same time. Really, during the Halloween season, there is no better activity!
Even if you never actually see a ghost, you are bound to get the creeps walking through the 2nd oldest cemetery in the US. How can you not get spooked walking around one of the oldest cemeteries in a town long associated with the supernatural?
Salem Witch Memorials
Right next to Old Burying Point Cemetery, you will find the Salem Witch Memorial. The spirits of those convicted of witchcraft in the 1692 case still remain here.
As you stroll pass, you will see the names of the 20 executed witches. The somber nature of the case combined with the creepy cemetery views next door make you believe that anything can be possible.
Other Top Haunts
Danvers Mental State Hospital – Danvers. Update: This is now an apartment complex! How creepy would it be to reside in a former haunted mental hospital? No thanks!
House of the Seven Gables – Salem (During October, you can enjoy several live performances, including Legacy of the Hanging Judge and Spirits of the Gables).
Houghton Mansion – North Adams (seasonal ghost tours offered). Update: it appears ghost tours are no longer offered.
USS Salem – Quincy (seasonal ghost tours offered).
Have you visited any of the haunted locations listed above? What other areas have you explored yourself or heard reported paranormal sightings at?
Addressees & Additional Information
The Lizzie Borden House is located at: 230 2nd St, Fall River, MA 02721. Tours start at $25 per adult. Extended tours include a tour of the extra haunted basement. Room rates vary based on time of the year and number of rooms booked. Visit the Lizzie Borden website to view availability. A complimentary tour and a full breakfast is provided with your stay.
Myles Standish State Forest is located at: 194 Cranberry Rd, Carver, MA 02366. Parking is free. Visit The Friends of Myles Standish Meet Up page to view a lineup of guided hikes offered throughout the year.
Burial Hill is located on Leyden Street in Plymouth, MA. A free parking lot is available. To reserve your ghost hunting adventure, visit the Plymouth Night Tour website.
Old Town Hall is located at: 32 Derby Square, Salem, MA 01970. Book your tickets to the annual production of Cry Innocent by visiting the Cry Innocent Salem website.
The Witch House is located at: 310 Essex St, Salem, MA 01970. Self guided tours are $9 per adult. Visit the Witch House website to book your experience.
Dighton Rock State Park is located at: Bay View Avenue, Berkley, MA 02779. The museum is open by appointment. Make reservations by calling the following number: 508 644-5522.
Gertrude M. Boyden Wildlife Refuge is located at: 1298 Cohannet Street, Taunton, MA. Parking is free.
Caratunk Widlife Refuge is located at: 301 Brown Ave, Seekonk, MA 02771. Parking is free.
Old Burying Point and the Salem Witch Memorials are located on Charter Street in Salem, MA. Free parking available on nearby side streets. Paid garage parking is also available.
The House of the Seven Gables is located at: 115 Derby Street, Salem, MA 01970. Visit The House of Seven Gables website to book tickets to a live performance.
The Houghton Mansion is located at: 172 Church Street North Adams, MA 01247. Ghost hunts are available for $50 per person. Read more about the haunted history.
The USS Salem is located at: 739 Washington St Quincy, MA02169. Visit The Haunted Ship website to book your tickets.