8 Great Daytrips from Boston
After a few exhausting days of exploring all the unique historical sites (The Freedom Trail is iconic!) and admiring the gorgeous architecture around the city of Boston, you may be ready to escape the city for a day or 2. Fortunately, there are plenty of interesting day trips which all offer a refreshing break from the city traffic, congestion, and crowds. Featured below are a few of my favorite daytrips from Boston, all located within an easy 1-1.5 hour max drive. Each of these featured destinations offer a great mix of historical attractions and scenic beauty, along with great local dining options and ample recreational opportunities.
1. Plymouth, MA
Distance: 40 miles
Highlight: Site of the 1st Pilgrims settlement in 1620
Best for: History buffs
Top Attractions:
Burial Hill (est. 1638)
Plymouth Rock
Mayflower replica
Whale watching cruises
Plymouth Night Tour – Ghost tours with a historical touch
Myles Standish State Forest – 13 miles of hiking & 15 miles of biking trails
PIlgrim Hall Museum
Plymouth is a gorgeous coastal town located about 40 minutes south of Boston. The town holds much historical significance, making it a great day trip for history buffs. Along with being the site of the first Pilgrim settlement, it is home to one of the oldest cemeteries (Burial Hill) and the oldest continuously inhabited street (Leyden St.) in the US. Pilgrim Memorial State Park along the waterfront is home to numerous historical sites including Plymouth Rock and a Mayflower replica. More historical monuments can be enjoyed via a self-guided tour with the 81 foot tall National Monument to Our Forefathers (the world's largest solid granite monument) being the standout.
Other activities to enjoy in this beautiful coastal city include dining al fresco along the waterfront (I recommend Mamma Mias and Carmen Cafe Nicole), whale watching (Captain Johns offers guaranteed sightings), enjoying seafood (Wood's is great!), strolling around the Plymouth Museum of Art, hiking at Myles Standish State Park (the largest recreation area in Southeast MA), and taking a ghost tour (the Plymouth Night Tour is awesome and includes the use of real ghost hunting equipment).
Plymouth offers much to do for history buffs and nature lovers, thus making it one of the top day trip destinations from Boston.
2. Providence, RI
Distance: 51 miles
Highlight: Capital of Rhode Island
Best for: Foodies & architecture buffs
Top Attractions:
Federal Hill neighborhood (Little Italy)
Roger Williams Park Zoo
East Bay Bike Path
Rhode Island State House (free tours offered)
Rhode Island School of Design Museum of Art
Benefit Street – One of the largest collections of Colonial homes
Providence Place Mall – Largest mall in the State
The Providence Rink (seasonal skating)
Blackstone Blvd. – Gorgeous walking path near Brown Univ.
Providence, the capital city of Rhode Island, is an easy day trip from Boston and offers much to do. From a tour of the capitol building, to a self-guided stroll down historic Benefit St. (a mile of beautiful 18th and 19th century Colonial homes), there's much to do here for history buffs. For the foodies, Federal Hill (aka Little Italy) rivals Boston's North End. Andino's is a great local old-school Italian joint serving wonderful pasta dishes.
For those more interested in working up a sweat, there are plenty of outdoor activities to enjoy. Most impressive is the East Bay Bike Path, a 14.5 mile rail trail which runs along the waterfront and features easy access to state parks, great views of the skyline and even a glimpse of a historic lighthouse (Pomham Rocks). If you are willing to take a drive, Narragansett Beach (~half hour away) is so gorgeous. For anyone who loves zoos, The Roger Williams Park Zoo is the best in the region and hosts an amazing Jack O'Lantern festival each Halloween.
Providence offers a great mix of history, shopping, dining, and outdoor recreation areas, thereby making it a wonderful day trip destination for just about anyone.
3. Fall River, MA
Distance: 51 miles
Highlight: Home to the largest collection of US naval ships
Best for: History buffs
Top Attractions:
Lizzie Borden house – Tours & overnight stays available
Battleship Cove
Copicut Woods
Fall River Heritage State Park – Waterfront park with an antique carousel
Freetown-Fall River State Forest – 25+ miles of hiking trails
Fall River is worth a visit if you have any interest in the infamous Lizzie Borden case. Lizzie was tried and acquitted of the grisly murders of both her father and stepmother in 1892. The Borden house is located in Fall River and is now operating as a Bed & Breakfast. Many paranormal researchers have found evidence of ghost activity throughout the years. Zak and the crew of Ghost Adventures even recorded a bit of paranormal activity during their stay here. Whether or not you are brave enough to spend the night, daytime tours are offered. A tour is a great way to learn more about the case and also listen to some spooky ghost stories.
The other main attraction in Fall River is Battleship Cove, the largest collection of World War II naval vessels. Most notably, it is home to the USS Massachusetts. A self-guided tour is a perfect activity for World War II and history buffs. For those not interested in history, a walk along Fall River Heritage State Park (featuring a ~mile long boardwalk) is a great alternative. The scenery is gorgeous and birdwatching is fantastic. You can also take a ride on one of the country's oldest carousels and enjoy an ice cream treat. Also, while you are in Fall River, do pick up some authentic pierogies at Patti's!
4. Cape Cod, MA
Distance: 70 miles
Highlight: World-renowned beaches
Best for: Beach lovers & anyone seeking relaxation
Top Attractions:
Cape Cod Rail Trail – A Rail-to-Trails Hall of Fame recipient
Coast Guard Beach
Cape Cod Canal Trail
Marconi Beach – Whale watching hotspot
Pilgrim Monument – Commemorates the first landing of the Pilgrims
Race Point Beach – Best sunset destination
Commercial Street in Provincetown
Cape Cod, the famous hook shaped peninsula of Massachusetts, has long been a popular summer destination. The Cape is most famous for its' many beautiful beaches, historic lighthouses, and quaint inns. The most popular tourist destination is Provincetown, aka "P-Town," which sits at the very tip of Cape Cod. The Pilgrims first landed in Provincetown before settling in Plymouth. Today, you can learn more about their journey and take in great views at the Pilgrim Monument. More attractions on P-Town's bustling Commercial St. include local cafes, shops, and galleries. Also, the area is known for its' beautiful beaches. Race Point Beach has been rated the best sunset destination!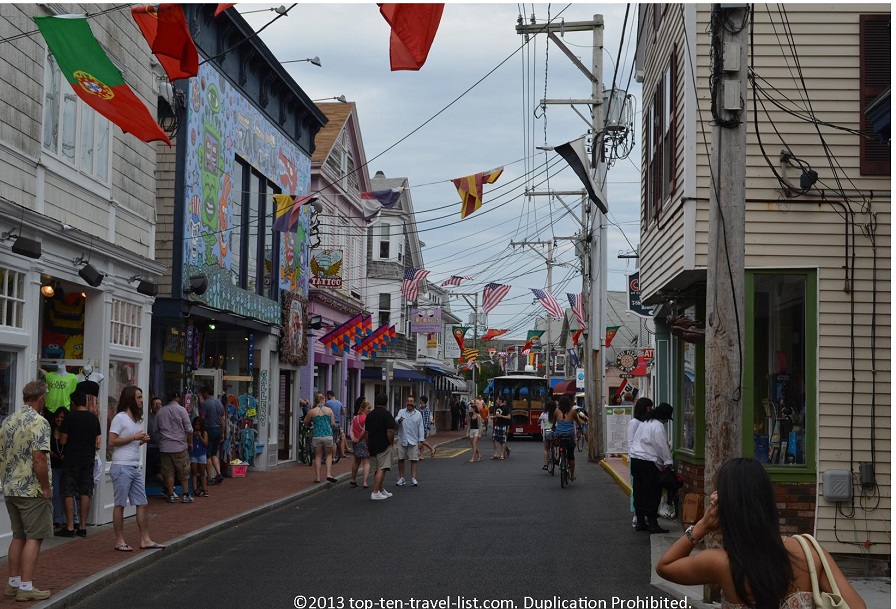 Cape Cod is also known for its' many biking and hiking trails. One of my favorite places is the Cape Cod Rail Trail, a 22 mile long biking adventure through dense forests. Cobie's, one of the top rated clam shacks in New England, can be access from the path which is pretty cool. Great Island Trail is my favorite hike as it leads to an amazing secluded beach. As for the best beaches, Marconi is a fabulous seal & whale watching destination and Coast Guard Beach was referred to as "The Great Beach" by poet and philosopher Henry David thoreau.
Overall, Cape Cod is the most quintessential Massachusetts summer getaway destination. Plan a visit if you seek wonderful beaches and hiking trails in a quiet setting.
5. Blue Hills Reservation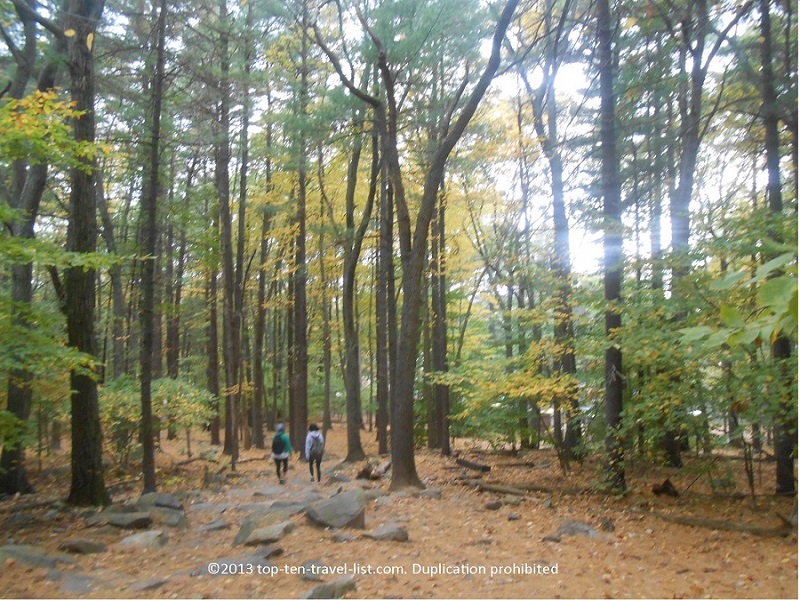 Distance: 10 miles
Highlight: The largest park near Boston
Best for: Hikers and leaf peepers
Top Attractions:
Skyline Trail
Blue Hills Observatory – One of the oldest active weather stations (est. 1885)
Fall foliage chairlift rides
Great winter snowshoeing destination
Closest downhill skiing to the city (Blue Hills Ski Area)
This natural oasis is located just 15 minutes out of the hustle and bustle of Boston but feels a world's away. This is the place to go to get lost in nature and enjoy a workout or simply some quiet time minus technology, traffic, and crowds. Here you can enjoy getting back to nature on over 125 miles of rustic hiking trails. From spring kayaking, to summer hiking and mountain biking, to fall leap peeping, to winter snowshoeing, Blue Hills is a fantastic year-round recreation destination.
The best trail here is also one of the more challenging routes. The Skyline Trail is a moderately intense 3 mile loop adventure where you will enjoy gorgeous views throughout. There are a number of summits to take in the beauty of the Blue Hills including the challenging, but rewarding climb up to Blue Hill (the tallest peak) where you will enjoy a prime vista of Boston's incredible skyline.
6. Salem, MA
Distance: 21 miles
Highlight: Halloween capital of America
Best for: Autumn and Halloween lovers
Top Attractions:
Salem witch memorial
House of Seven Gables – Tour the 1668 Colonial mansion
Witch House – Tour the home of Judge Corwin
Mahi Mahi cruises
Essex Street (shopping & dining)
Old Burying Point cemetery – Resting place of judges of the Witch trials
Hocus Pocus filming sites
Salem is often referred to as the Halloween Capital of the World. There's much to do here for anyone interested in everything spooky & supernatural including a 4D haunted house, ghost tours, historic cemetery tours, ghost tours, and even a horror wax museum featuring all your favorite villains. Come Halloween, there is a party every weekend. Haunted Happenings is a month long celebration dedicated to the otherworldly with special shows, pub crawls, carnivals, and more on the calendar. And for all the Hocus Pocus fans out there, several filming sites from the movie can be explored via self-guided tour.
Salem offers much more than just spooky fun. While fall is the best season to visit thanks to the gorgeous foliage and plentiful Halloween activities, anytime of the year really is a great time to visit this enchanting coastal community. First off, there are scenic boat tours to enjoy (Mahi Mahi cruises) and also Essex St. offers endless opportunities for dining and shopping. This historic cobblestone street is lined with local cafes, coffeehouses, museums, and attractions. Events are ongoing. One of my favorite local places to eat is Life Alive, an organic cafe serving healthy wraps and salads.
7. Newport, RI
Distance: 72 miles
Highlight: Home to the famous Newport Mansions
Best for: Luxury travelers
Top Attractions:
Cliffwalk – Gorgeous coastal walk alongside the Mansions
Newport Mansions – The 19th century summer homes of wealthy NY'ers.
Thames St. (shopping & dining)
Harbor cruises
Jane Pickens historic theater
Sachuest Point Wildlife Refuge – Birdwatching oasis
Second Beach
Newport is the perfect day trip destination for anyone who loves charming coastal cities. There's much culture and history here and the views are breathtaking. Most famously, Newport is known for the opulent Newport Mansions, the summer "cottages" of the wealthy during the Gilded Age. Today, you can tour many of these homes including the extravagant 125,000 square feet Breakers Mansion – once the summer cottage of the Vanderbilts. For those who don't want to pay a hefty price tag to see how "the other half" lives you can opt to view the mansions from afar on the lovely Cliffwalk. This 3.5 mile long trail runs alongside the mansions and also offers extraordinary views of the coast.
A Newport harbor cruise is another must-do, especially if you are new to the area. You will learn more about the seaside community's rich history and take in some outstanding views. Also, be sure to check out all the local restaurants and shops on historic Thames Street – one of the oldest streets in the state. Plenty of great waterfront restaurants and fresh seafood to enjoy (The Lobster Bar is a popular tourist choice for seafood lovers and Mamma Luisa is a wonderful Italian gem). For those looking to escape the crowds, Sachuest Point Wildlife Refuge (a birdwatching oasis) and Gooseberry Beach are perfect options.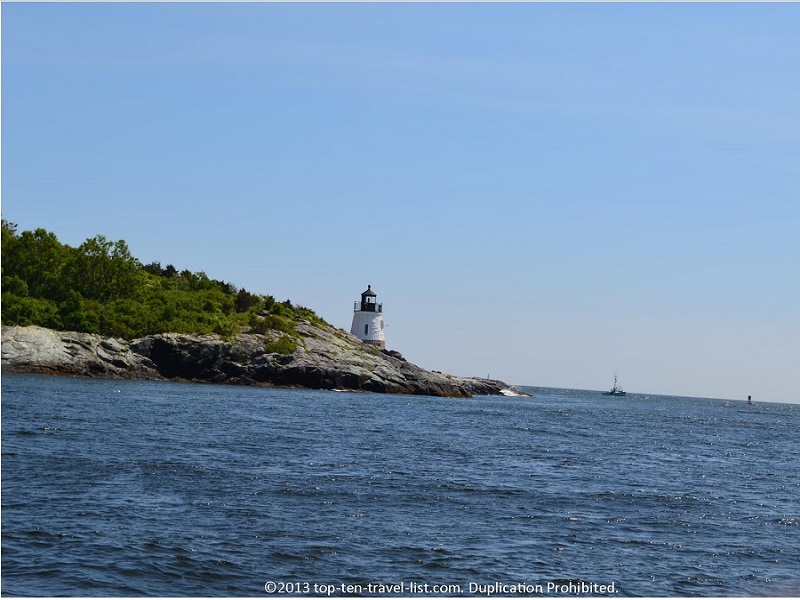 8. Mohegan Sun
Distance: 105 miles
Highlight: One of the largest casinos in the world
Best for: Entertainment
Top Attractions:
Tuscany – Great Italian food & a lovely waterfall setting
The Original Soup Man – The NYC location inspired "the Soup Nazi" on Seinfeld
The Poker Room – Best poker room!
Mandara Spa
The Old Farmer's Almanac General Store
The Lansdowne Irish Pub & Music House – Live music & authentic Irish fare
At 366,000+ square feet, the Mohegan Sun comes in as the second largest casino in the United States. It is also home to one of the largest and nicest poker rooms. Gaming aside, there is much more to do here including dining at over 30 restaurants, shopping, relaxing at the top rated Mandara Spa, and seeing an event at the Mohegan Sun Arena. It is rated one of the top venues in the world and has hosted icons like Billy Joel, Jennifer Lopez, Taylor Swift, and The Eagles.
If you do decide to stay overnight, the rooms are beautiful and modern and many feature views of the gorgeous Thames river. The pools are gorgeous and there are plenty of great on-site restaurants to enjoy. Entertainment includes free music in The Wolf Den, Avalon Nightclub featuring world-class DJs, and Comix Roadhouse. For those not staying overnight, there are plenty of great dining options (Tuscany is a great Italian choice and Lansdowne is an amazing authentic Irish Pub), a great spa, and plenty of shopping to keep you occupied.