A Cruise around Newport Harbor & Narragansett Bay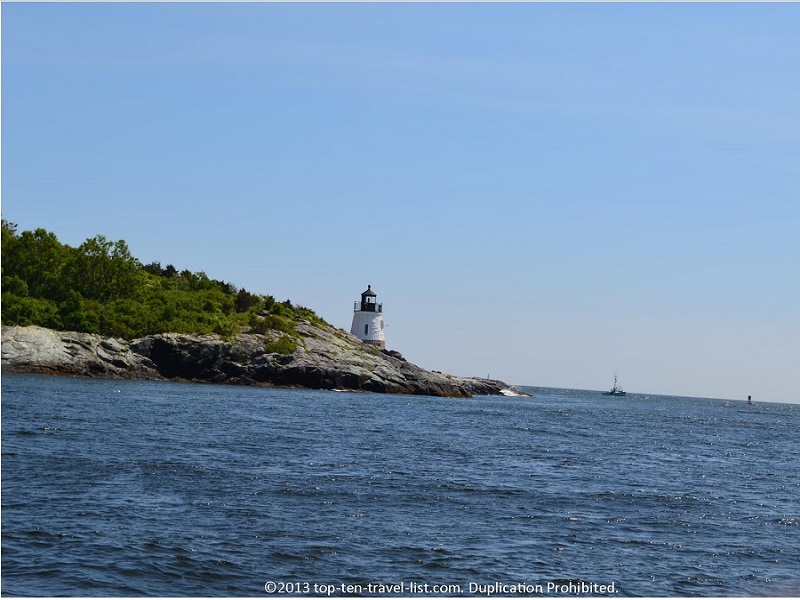 Newport, a city on Aquidneck Island in Newport County, Rhode Island is best known for its' mansions, sailing, and spectacular scenery. A boat cruise is one of the best ways to take in these sights along with the picturesque views of Newport Harbor and Narragansett Bay.
A scenic & educational ride aboard Gansett Cruises
My trip with Gansett Cruises in Newport, Rhode Island was a fantastic experience! Not only did I enjoy the relaxing ride amidst scenic views, I also enjoyed learning about the history of the area from the tour guide.
The 90 minute harbor tour departs on a restored 90 foot lobster boat. There is both upper and lower level seating that accommodates up to 49 passengers. The lower level has a canopy to shield away the sun. We chose to sit in the front of the boat for the best views and because we would be getting up frequently to take photos. This was a great seat as there were no obstructions.
Cruises depart from Bowen's Wharf in Newport, Rhode Island in the morning, afternoon, and evening. The summer schedule includes departure times of: 10:30am, 12:30pm, 2:30pm, 4:30pm, and 6:30pm. Dogs on leashes are allowed, so if you want to bring your pet you are in luck!
On-board, you will get your choice between 3 different Rhode Island specialties (varies based on time of day). For our afternoon cruise, we had the choice between Warwick Ice Cream, Del's Lemonade, or a Coffee "Cabinet" Shake. A cash bar with soda, alcohol, and juice is also available.
The ride was mostly smooth and the boat cruises around at the perfect speed, so that it was never too windy. It was a gorgeous day out and we were lucky to be able to get extraordinary photos. Newport is most known for its' beautiful mansions, otherwise known as "summer cottages." You will pass by many of these lavish houses during your cruise.
Newport: A city steeped in history
The tour guide was excellent, pointing out different sights and historical information about the area. Check out some of the unique sights we captured along the way.
New York Yacht Club (Private social & Yacht club founded in 1844)
Castle Hill Lighthouse
Ft. Adams (founded on July 4, 1799 as a First System coastal fortification)
The ship that was used in Pirates of the Caribbean II
The bridge to Jamestown, Rhode Island
Jamestown was home to several military forts during WWII. Today, it is a popular destination for dining, shopping, and recreation. Fort Wetherill and Fort Getty have both been transformed into state parks.
The sailing capital of the world
One of the things Newport is most famous for is its' world class sailing schools. In fact, it is known as "Sailing Capital of the World." The 1962 America's Cup winner, US 17 Weatherly, was the only vessel to win when it was not new (built in 1958).
J World Sailing School…America's Top Ranked Sailing School
Endless sailboats…
Dining & shopping in Bowen's Wharf
After your cruise, you will find plenty of options for dining and shopping in the Bowen's Wharf Area. If you are a fan of lobster, the boat departs right at Aquidneck Lobster Company (now The Lobster Bar), which features a raw bar, fresh local seafood, and outstanding water views.
I would definitely take another cruise with Gansett. The cruise was a relaxing, fun way to explore the harbor in the quickest way possible. Next time, I would like to take a sunset cruise. I imagine the scenery would be even more spectacular.
Interesting Fact: Did you know that the full name of Rhode Island is officially Rhode Island and Providence Plantations?
Additional Info
Gansett Cruises
Address: 31 Bowen's Wharf, Newport, Rhode Island
Prices: $35 adults, $30 children, $32 seniors
Reservations: call (401) 787-4438
Also, be sure to check out my full Newport RI vacation guide!