Sachuest Point National Wildlife Refuge – Nature, Scenic views, & Serenity
Sachuest Point National Wildlife Refuge is a beautiful 242 acre refugee, which occupies a peninsula between the Sakonnet River and Rhode Island Sound. We found Sachuest Point National Wildlife Refuge by accident while looking for a beach in the area. It is located right down the road. I am glad that we decided to drive down the road because the trails here were peaceful and provided gorgeous views!
The refuge includes a visitor's center, 2 nature trails, and scenic overlooks. The Visitor's Center provided useful information about the wildlife found within the refuge, which includes over 200 different bird species, reptiles, and 9 different mammals such as white tailed deer, raccoon, and red foxes. If you are lucky you might spot a harbor seal along the shore.
Hiking at Sachuest
We decided to take the 1.5 mile hike around the Ocean View Loop.  The well maintained trail is very tranquil and relaxing. Along the way you will pass beautiful salt marshes and grassland. Beautiful ocean views surround you as you meander through the peaceful landscapes. There are several lookout spots along the way for great photography.
A few views of the Ocean View Loop path…
 Scenic views from the overlooks along the trail…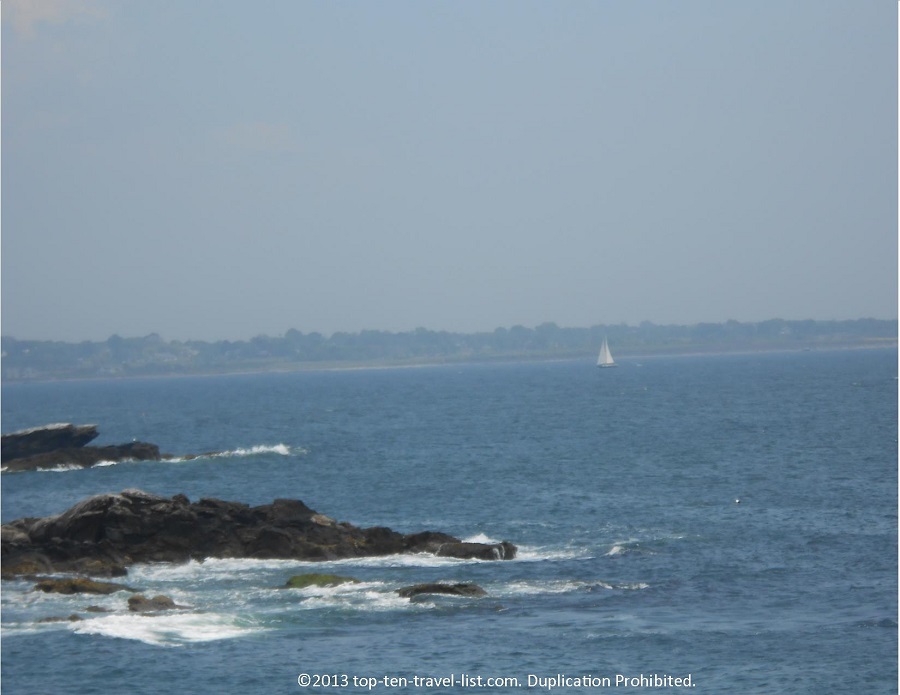 The best place to enjoy nature near Newport!
Sachueast Point National Wildlife Refuge is a great place to get away from the crowds, especially for those looking for a relaxing, peaceful, nature experience. If you are looking to escape the summer crows in Newport, a walk at Sachuest is an ideal escape. Hiking the Ocean View Loop is a great way to get some exercise in while also taking great photographs and enjoying wildlife and bird watching. Highly recommended!
Additional Info
Trail Map
Address: 769 Sachuest Point Road Middletown, Rhode Island 02842
Trail Hours: Sunrise to Sunset
Visitor's Center Hours: 10:00am-4:00pm
Parking is free!
Tips for a great visit
*Check for ticks! Mike found one crawling on his neck a few hours after our hike – luckily we found it in time. There are several grassy areas along the trail, and thus, it's best to check consistently.
*Watch out for poison ivy along the trails. Avoid any 3 leaved plants just to be safe.
*Bring with insect repellent, sunscreen, and a water bottle. There are no water stations along the trails.
*Pack a picnic lunch and enjoy the views from the refuge! You can see all the way over to Second Beach.
*Consider challenging yourself to a jog. The trail is flat enough for a leisurely run. Running is a lot easier when you have fantastic views!
*Visit early in the morning before it gets too hot. We visited during mid-day and wish we would have arrived earlier to avoid the afternoon heat.
*Second Beach (one of the best in New England) is located just down the street, so bring your beach gear with if you want to head over before or after your refuge center visit. Read more about Second Beach.