Middlesex Fells Reservation: A Picturesque Hiking Oasis Near Boston
Middlesex Fells is a beautiful natural oasis ideally located just a short drive from Boston (the reservation is located in the towns of Winchester, Stoneham, Medford, Melrose, and Malden). Walking amongst the beautiful tree-covered trails, you will feel as if you took a 3 hour drive up to New Hampshire or Vermont, although you never left Massachusetts. The picturesque scenery offers the perfect escape for those who live in the hectic, congested city and suburbs.
Year-round seasonal fun
With 100 miles of multi-use trails, there is something here for everyone! Trails are open year-round for hiking, biking, running, and cross country skiing (when there is enough snow). They range from easy to advanced, so everyone can find something to suit their current fitness level. Trails are separated according to area: West of Route 93 and East of Route 93.
The Skyline Trail
We were on the western side in Medford, so we chose to embark on the Skyline Trail, a 7 mile moderately difficult trail with plenty of uphill and downhill climbs. This entire trek will take approximately 5 hours, more or less, depending on how many breaks and pictures you decide to take.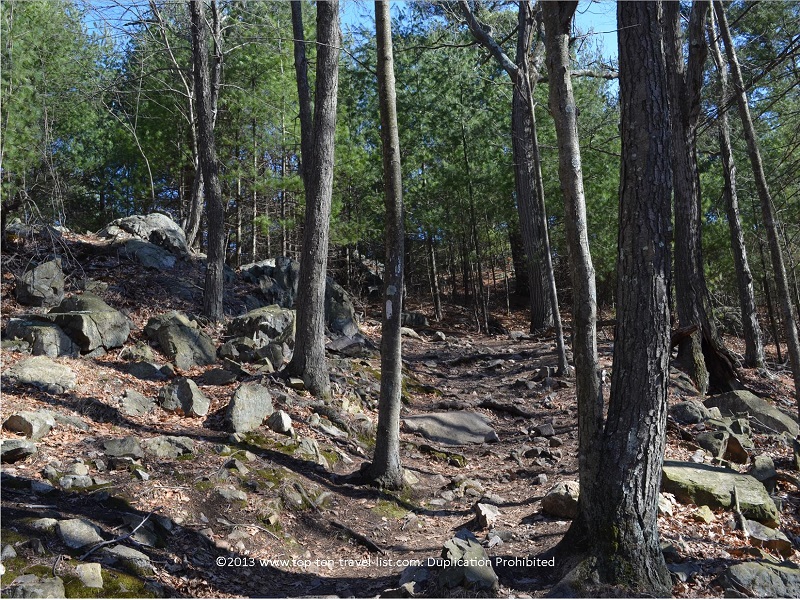 Fabulous views of The Boston skyline
The highlight here is the incredible viewpoint of the Boston skyline. It's one of the best places to obtain a full, unobstructed view. The view here is much better than at Blue Hills Reservation, another popular hiking area with a similar Skyline Trail. Note: the Skyline Trail is only open to hikers, however, the adjoining Reservoir and Mountain Bike Trail are multi-use paths.
Best time to hike
Yesterday was a beautiful 60 degree day, the perfect hiking weather. Plenty of hikers, dog walkers, and bikers were out enjoying the spring conditions. If only the trees had their leaves again! I imagine this hike would be spectacular during fall foliage season.
Whether you are a local or a tourist, it's great to get out into nature after being cooped up indoors all winter. Hiking at Middlesex Fells is an invigorating workout, but at the same time, a rejuvenating and rewarding experience.
Parking: We parked in Medford on South Border Road. There are plenty of free spaces along the road. Note: I didn't see any bathrooms or water fountains. Make sure to bring plenty of water with you if completing the Skyline trail – it's an intense workout! Note that leased dogs are allowed (4 per person).