One of the Top 10 beaches in New England: Sachuest Beach in Middletown, RI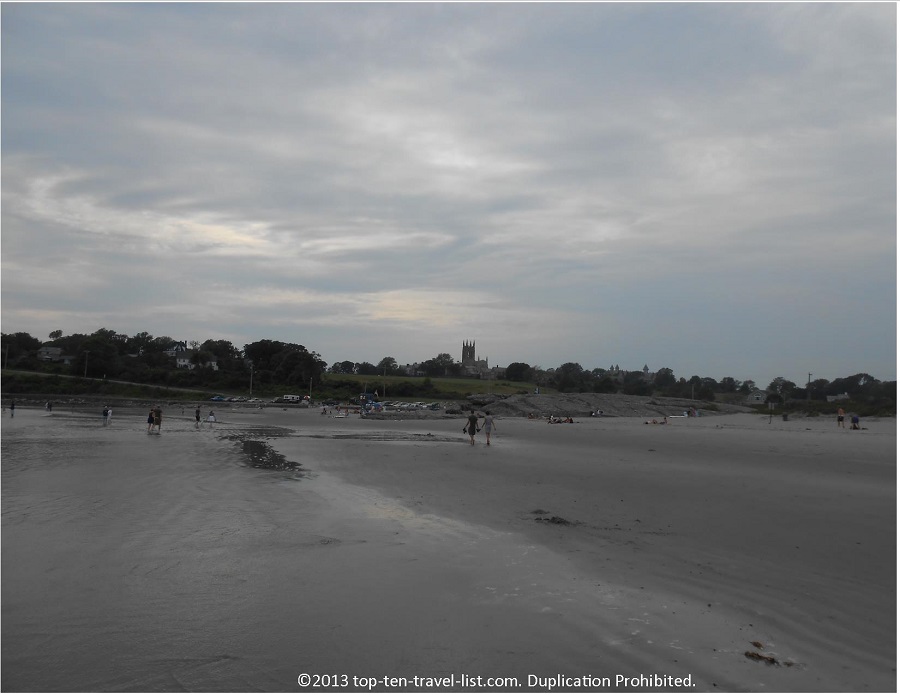 Sachuest Beach, also known as Second Beach, is consistently ranked among the Top 10 beaches in New England. We decided to check it out during the heat wave this week, as it might be much to cool for another beach day anytime soon. This beach definitely held up its' reputation. Sachuest was a pleasing scenic, clean beach which was relatively uncrowded. The views of the houses along the coast were gorgeous!
I was surprised at how warm the water was at this beach. I expected the New England waters to be too cold to swim in this early in the summer season, but this wasn't the case! Plenty of people (myself included) were swimming and/or surfing in the warmer waters.
Pros:
*Beautiful views
*Clean white sand. Also great for collecting shells!
*Rinsing stations so you don't drag sand into your car
*Snack stand and Del's Lemonade on site
*Quiet and peaceful – no noisy or obnoxious beach goers

*Nice waves – lots of surfers out
*Located a short drive away from Sachuest Point Wildlife Refuge (Highly recommended!) There are 2 great nature hikes here with fabulous views!
*Close to Newport, Rhode Island (about a 10 minute drive) Drive over to Newport before or after for plenty of lunch and dinner options, many on the waterfront
*Close to the Newport Mansions and CliffWalk attractions
Cons
*Parking is $30 on weekends (Visit on the weekday for a $10 discount) from Memorial-Labor Day. Tip: Visit during the off-season for free parking.
*I didn't notice any changing stations – not good if you want to change out of your beach wear and go somewhere else.
*Only Porta Potties located on site
*Red Tide seen in the water. Red Tide is a harmful algal bloom, which means there is a high concentration of a microscopic alga (plantlike organism) in the waters.
More info
Address: 474 Sachuest Point Rd Middletown, RI 02842
Amenities: Restrooms, snack stand, outdoor showers, bike racks, leashed pets allowed from 5:00pm – 7:45am