10 Spectacular Ice Rinks to Check Out this Winter
Ice skating has become a popular winter pastime throughout the country. In the past, ice rinks were more common in big cities, primarily cold weather destinations. Today, you can find rinks everywhere, with warm weather havens like Vegas, Phoenix, and Santa Monica even getting in on the action. As more people relocate from cold weather cities for various reasons, these rinks will likely continue to follow the transplants wherever they go.
Whether you are an avid skater or a newbie, skating is a great way to burn calories, get into the fresh air, and have some fun! It's often hard to stick to a regular exercise routine during the long, bleak, barren winter season. Skating is a great way to motivate yourself to get off the couch. Not only is it an absolute blast, it's also relatively affordable compared to most big city activities (esp if you have your own skates). Most importantly, skating is a fantastic way to beat the blues during on a cold dreary winter day.
Below are 10 fantastic rink to add to your winter bucket list.
1. Wollman Rink
Location: Central Park in Manhattan
Opening Date: 1950
Pricing: $15-30 per adult (depending on date), $10 for seniors and kids, $10 skate rental. Cash only.
Highlight: Iconic NYC tourist destination due to its' presence in various media, most notably Home Alone 2 and Serendipity.
Skating at the famous Wollman Rink in Manhattan is not cheap. In fact, it is one of the most expensive skating experiences on this list. Despite the cost, skating within one of America's most picturesque urban parks is an unparalleled experience. The natural setting, which feels miles away from the concrete jungle, makes up for the hefty fees. One cannot help but think of memorable movie scenes from Serendipity and Home Alone 2 while skating about.
At a massive 30,000 acres, this rink is so much grander than the miniscule Rockefeller rink, which is also much pricier and oftentimes hard to get into (on busy days, the wait can be several hours!). Skating in Central Park has long been a favorite winter pastime of both locals and tourists, well before the media coverage. In fact, local NY skaters used the pond for decades before the official opening in 1950.
The views are incredible with beautiful trees and high rise buildings creating a picture-perfect serene urban setting. For the most memorable romantic skating experience, look no further than New York's beautiful Central Park rink.
2. Riverrink
Location: Old City Philadelphia
Opening Date: 1994
Pricing: $5 admission, $12 skate rental
Highlight: Located along the scenic Delaware River Waterfront
Although it does not receive nearly as much press as the nearby New York rinks, Philly's picturesque seasonal rink is definitely one to write home about. The best part of this rink is the prime location along the waterfront. While you skate, gaze out upon the water, and take in quaint views of the Benjamin Franklin Bridge. Although the loud music can be annoying, the rink is relatively quiet in the morning hours, giving you an opportunity to sharpen your skating skills. The ice is zambonied after each session for the smoothest conditions.
Skating here is pretty cheap at just $12 for rentals and $5 for admission. In addition to skating, Winterfest brings forth even more fun. Hot cocoa, cozy fire pits, cabins equipped with cozy blankets, and much more are part of this popular annual festival. Even better, after your session you can walk a few blocks down the street and take in the historical sights of Old City, "the birthplace of America." Be on the lookout for special events particularly the annual New Year's skate featuring a prime view of the riverfront fireworks.
3. National Gallery of Art Sculpture Garden Rink
Location: Capitol Hill, Washington D.C.
Opening date: 1999
Pricing: $12, $6 skate rental
Highlight: Unique historical vibe in the nation's capital
Perhaps the most unique place to ice skate is at a little known rink in D.C. Despite it's super cool location, this rink sees barely any traffic, thus making it a great place to skate in peace without noisy crowds. What really sets this rink apart from others is its' unique historical setting. The stately National Archives building in the backdrop gives this rink a unique historical touch. Where else can you say that you skated amongst the building which houses the nation's founding documents? By night the rink transforms into a romantic wonderland with twinkling lights, making it one of D.C.'s best winter date night destinations.
If you are looking for something eclectic to do outside of the tourist scene, consider ice skating on this most unique rink. The lovely park setting, plus views of grand museums and art sculptures, really give this rink an interesting aesthetic. What a nice refreshing break after walking around endless museums. Give your brain a much needed break in exchange for some youthful, old-fashioned fun! As this rink is located adjacent to The National Gallery of Art, you might as well check out one of D.C.'s best museums while you are in the vicinity.
4. Frog Pond
Location: Boston
Opening Date: 1997
Pricing: $8 admission (over 58 inches), $15 skate rentals
Highlight: Located in America's oldest public park
By summer, The Boston Common Frog Pond is a spray pool. By winter, the pond transforms into a beautiful ice rink. While it's hard to take a break from all the wonderful historical attractions this incredible city has to offer, the rink is a fun side activity for anyone looking for something new to do. The winter season in Boston can feel a bit slow, and thus, skating can offer a refreshing change of pace. Relatively cheap in comparison to pricier city attractions, skating at Frog Pond is the perfect budget friendly winter date idea.
The twinkly lights and views of the park and skyline create a winning romantic ambiance. By day, enjoy the gorgeous park scenery. By night, enjoy amazing views of the skyline. Recently USA Today ranked the rink as the second best in North America. Being located amidst America's oldest park and just a stone's throw away from so much history, this ranking is well justified. After your skating session, warm up with a hot coffee at nearby Thinking Cup, one of the city's best roasters.
5. Millennium Park
Location: Chicago
Opening Date: 2001
Pricing: Free admission, $16 skate rentals ($20 on weekends and holidays)
Highlight: The most magnificent skyline views
Chicago's Millennium Park is home to one of the most picturesque urban ice rinks in the country. As Chicago is home to (debatably) the top skyline in the country, this really comes at no surprise. While attempting to stay on your feet, you will take in views of the iconic cityscape that Chicago is so famous for. In fact, it's a bit hard to concentrate with the stunning cityscape taking all your attention. As Millennium Park is the centerpiece of downtown, the views here are beyond fabulous. As Chicago's cold & snowy winter season can feel a bit limited, skating helps to break up the monotony a bit.
What's even more fabulous is that admission to the McCormick Tribune Rink is free, so if you have your own skates, skating will not cost you a dime. Of course, while you are here you will have to check out the famous Cloud Gate aka as "The bean" sculpture. This award-winning artistic reflective piece by British artist Anish Kapoor is one of the city's most popular attractions.
6. Ice on Main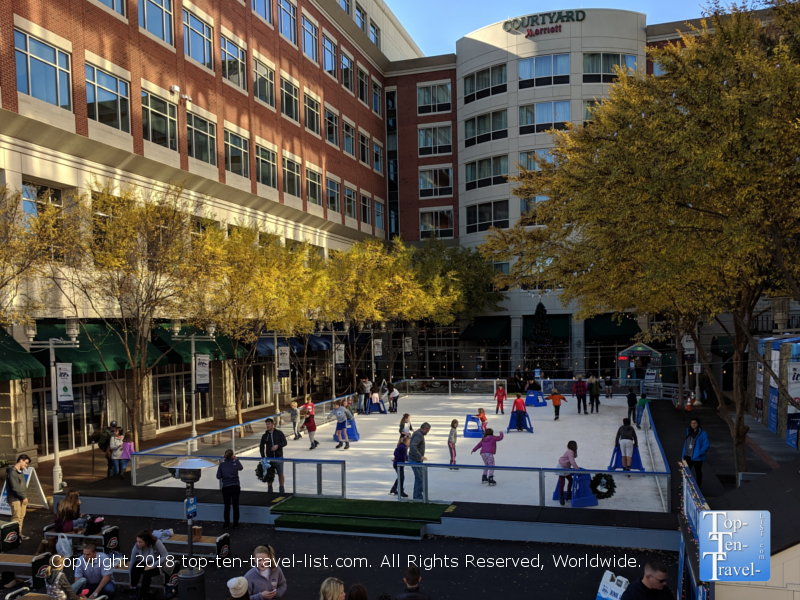 Location: Greenville, South Carolina
Opening Date: 2011
Pricing: $10
Highlight: Located in the center of one of the South's trendiest Main Streets
Located in the middle of the hustle and bustle of one of the South's most up and coming cities, Ice on Main in Greenville is bustling with activity each winter. This rink has been drawing big crowds since opening in 2011. There's twinkly lights, Christmas music, and plenty of holiday cheer. Greenville's charming Main Street has won numerous awards over the years for its abundance of local restaurants, boutique shops, and beautiful public parks and gardens. This rink is in the middle of it all, and thus, it's super easy to walk to a great restaurant or coffeeshop after skating.
Ice on Main is one of the only real ice rinks in South Carolina. It's also the best rinks due to its' prime location. Unlike many other cities, it's usually quite pleasant skating here as temps are typically mild and snow is super rare. Greenville News reported that NYC's Rockefeller rink was the inspiration behind this rink. While the rink may have some of the same charm of the iconic NYC favorite, thankfully, admission is much cheaper and you do not have to wait hours to get on this one!
7. The Providence Rink
Location: Providence, Rhode Island
Opening Date: 1998
Pricing: $7 admission, $6 skate rentals
Highlight: Pretty cityscape
Downtown Providence's seasonal ice rink is definitely one of the hidden gems of the Northeast. This underappreciated rink is a great alternative to Boston's busier Frog Pond. It's easier and cheaper to find parking in the area, plus the rink is usually not nearly as crowded. They offer plenty of promotions including free resident skating on the first Saturday of each month. New this year is ice bumper cars if you are up for something totally different!
The skyline views are quaint and beautiful, making this a great winter date destination. The rink is centrally located in the middle of the city within walking distance to numerous attractions including the popular Providence Place Mall. Grab dinner at one of the city's amazing Italian restaurants (lots of great choices in the Federal Hill neighborhood) and cap the night off with a night skating under the stars.
8. Nestlenook Farms
Location: Jackson, New Hamsphire
Pricing: $10 admission, $12 (1hr)-$15 (whole day) skate rental
Highlight: Old-fashioned Currier & Ives vibe
Nestlenook Farms is the most enchanting place to skate on this list. If you dream of recreating a Hallmark style winter moment, this is definitely the place to do so. Skating on this 3 acre Victorian style ice rink is a snow globe-like fantasy complete with snow capped mountains surrounding you in every direction. As you glide by, bells chime as a horse drawn carriage travels through the snow. The romantic made-for-TV Christmas movie style ambiance is unmatched anywhere else in New England.
Nestlenook Farms is located in the quaint town of Jackson, NH, with the serene White Mountains comprising the backdrop. After your skating session, warm up with a hot cocoa or bundle up and take a Austrian sleigh ride around the gorgeous property. If you feel like getting a bit more active, there are miles of snowshoeing trails to explore. Overall, Nestlenook Farms is a dream destination for any winter lovers out there.
9. Appalachian Ski Mountain
Location: Boone, North Carolina
Opening Date: 2012
Pricing: $20 weekdays, $24 weekends/holidays (skates included)
Highlight: Pretty mountain scenery
Appalachian Ski Mountain is a popular ski resort in Western North Carolina. The ice rink claims the distinction of being the only zamboni maintained outdoor ice skating rink in the state. Asides from the well-maintained ice, this rink is quite stunning as it offers views of the ski slopes, as well as the beautiful surrounding mountains. It is never overly crowded and quite peaceful during the evening hours where the vibe takes on a more romantic nature.
Appalachian Ski Mountain is located in beautiful Boone, a charming mountain community which sits at an altitude of 3000+ feet (the highest elevated town east of the Mississippi with a population over 10,000). With 12 slopes of varying terrain, late night skiing, and easy access to many big cities in the South, it's frequently rated as one of the best ski resorts in the Southeast. While the slopes are quite popular, the beautiful ice rink does not see nearly as much traffic. This is too bad as it is one of the South's prettiest rinks.
10. Rothman Rink at Dilworth Park
Location: Center City Philadelphia
Opening Date: 2014
Pricing: $8 admission, $10 skate rentals
Highlight: Centrally located to Center City attractions
Philadelphia is home to two great ice rinks. Mentioned earlier is Riverrink located in the Old City neighborhood along the waterfront. The second rink is located at Dilworth Park at City Hall. This rink is a big smaller, although located within walking distance of many great restaurants and interesting tourist attractions. This rink feels more urban, especially at night when the buildings are all lit up.
The bustling vibe and view of prominent buildings such as City Hall in the background make it a popular winter hangout amongst both locals and tourists. Skating here is a real bargain coming in at under 20 bucks total for admission and skates. Adjacent to the rink is the Rothman Cabin where you can warm up with a hot cocoa and special winter treats.