A Guide to Exploring Old City Philadelphia: America's Birthplace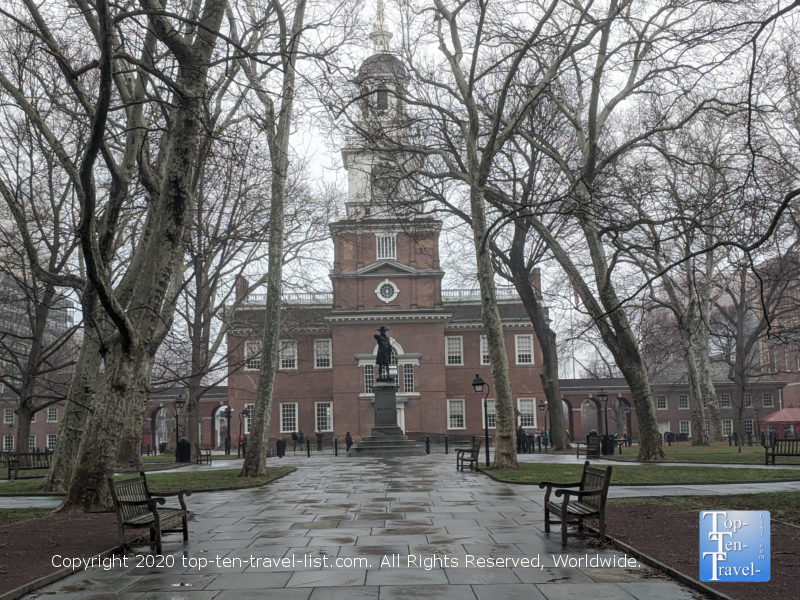 History buffs will definitely want to place Philadelphia high up on their vacation bucket list. Once the temporary capital of the US, from 1790-1800 while D.C. was being constructed, the city is rich in historical significance. Most notably, Philadelphia is home to Independence Mall: America's most historic square mile. Old City, as the name implies, is the most significant historic neighborhood of Philly, and is appropriately nicknamed "the birthplace of America."
In addition to seeing the rooms where 2 of America's founding documents were signed, an abundance of historical attractions are located throughout the region. Just walking around Old City is an activity in and of itself as you admire the beautiful architecture, 18th century row houses, cobblestone streets, and statues of prominent figures from days past.
Asides from well-known tourist sites like Independence Hall and Liberty Bell, you will find museums, galleries, an emerging foodie scene, local coffeeshops, and eclectic boutique shops. Start your visit with a trip to the Independence Visitor Center, where you can watch an informative tourist video, pick up brochures, and browse an amazing gift shop. This is also where you will pick up your timed tickets for Independence Hall (not required in Jan & Feb).
Below is a helpful guide to exploring all the best that Old City has to offer!
Where to Stay
Kimpton Monaco – If you are looking for luxury hotel at a bargain price, look no further than Kimpton Monaco. Kimpton properties never disappoint with their moderate pricing, eclectic decor, and fantastic amenities. Built in 1907, this gorgeous property was once an office building. Today, it is one of the best hotels to stay in while visiting Old City.
The property sits within walking distance of Liberty Bell and Independence Hall. Amenities include complimentary morning coffee and a fantastic evening wine hour.
Where to grab Breakfast
La Colombe – Serves delicious coffee & espresso drinks in gorgeous custom mugs and offers an enticing selection of pastries. The patio is the nicest in Old City. Treat yourself to the Americano and chocolate croissant.
Continental Diner – Retro inspired diner serving both classic and modern fare. Big portions and affordable pricing. Try the Crunchy Brioche French Toast or the Kale Gouda omelet.
Cafe Square One – Small cafe serving coffee and light breakfast fare. Try the Bagelicious for a filling breakfast treat. Great choice if you are looking to get in and out quickly.
Cafe Ole – Popular Mediterranean cafe which serves delicious coffee and international breakfast fare. Try the vegetable shakshuka, a traditional Middle Eastern dish consisting of poached eggs, chickpeas, potatoes, spinach, and mushrooms in a stewed tomato based sauce.
Where to grab a great local cup of coffee
ICI – Offers a full espresso menu, homemade macarons in every flavor (try the lemon/lavender or matcha green tea), and a selection of homebaked pastries (try the PB&J croissant). Presentation is wonderful and the ambiance very peaceful.
Menagerie – Minimalist shop with beautiful brick walls and large windows. Nice urban ambiance. Serves coffee from top rated ReAnimated roastery in Minnesota.
Old City Coffee – Established in 1985, it's one of the city's oldest coffeeshops. Bonus – it's located on a quaint historic cobblestone street nearby Christ Church. Note: Service can be unfriendly, it's a hit or miss (unfortunately).
Bodhi – Located on a charming street surrounded by historic buildings in the upscale Society hill neighborhood. Serves NYC's renowned Stumptown coffee. This hidden gem is a great place to escape the tourist clutter for a bit. Bonus: there is a great farmer's market just across the street.
The Must do's
Liberty Bell – The most important symbol of American freedom. This bell rang on many occasions to signify important events. A variety of exhibits detail the bell's creation, it's significance, and why it is cracked! (Free).
Independence Hall – See the rooms where the Declaration of Independence and US Constitution were signed. Tours are 30-45 min. Timed tickets are available at the visitor's center. From Memorial through Labor Day, reenactors read various passages from the Declaration in Independence Square. (Free).
Museum of the American Revolution – See the tent where George Washington slept while stationed at Valley Forge during the Revolutionary war. A very detailed museum – perfect for history/military buffs. ($13-21)
Summer/Winterfest – Enjoy ice skating in the winter and roller skating in the summer at Penn's Landing. Great views of the Benjamin Franklin bridge and Delaware River waterfront. Enjoy local hot cocoa & ice cream from The Franklin Fountain in between skating sessions. ($4 admission, $10 skates).
Benjamin Franklin's Grave – Toss a penny on Benjamin Franklin's grave. Tourists have been following this tradition forever in honor of Franklin's popular phrase "a penny saved, is a penny earned." ($2 or look over the fence for free).
The best freebies
Elfreth's Alley – Take a walk down the oldest continuously inhabited street in the US. Thirty two incredible Georgia and Federal houses, built between 1728-1836, line this charming cobblestone passageway.
Declaration House – See a replica of the house where Thomas Jefferson stayed while drafting the Declaration of Independence. Unfortunately, the original house was demolished and a replica built in 1975.
Carpenter's Hall – Take a self guided tour of the house built in the 1770's as a meeting place for the First Continental Congress. It was also home to The First and Second Banks of the US, The American Philosophical Society, and Franklin's Library Company.
National Museum of American Jewish History – The first floor Made in America gallery is always free. See Stephen Spielberg's first camera and Albert Einstein's pipe. Additionally, the entire museum is free during the winter months.
US Mint – Take a self-guided tour and watch money being made (open to the public M-Fr, 9am-4:30pm). Take this most unique opportunity as the Denver Mint is the only other to offer public tours.
Public art – Take a walk around Old City admiring all the gorgeous statues and monuments.
Not-to-be-Missed Hidden Gems
The Second Bank Portrait Gallery – Browse over 100 portraits of influential figures including The Founding Fathers, military leaders, and other notable 18th and 19th century political leaders. Housed in a gorgeous Greek revival building from the early 18th century, the building is just as grand as the collection itself. (Free).
Dream Mosaic – This gorgeous Tiffany mural is located in the lobby of The Curtis Building. It's free to see and will not take more than 5 minutes of your time. On an interesting side note, this mural was almost sold to a Vegas casino for 9 million bucks!
The Book Trader – Great multi level used bookshop. Also offering a sizeable collection of used records and DVDs.
Science History Institute – A small museum dedicated to innovations and discoveries which have shaped our society. (Free).
Where to grab lunch
Han Dynasty – Excellent Szechuan style Chinese restaurant located in a gorgeous remodeled historic bank building. Service is great, the food is delicious, and the ambiance is elegant.
Gianfrancos – Delicious local pizza shop offering pizza by the slice, as well as whole pies. The best garlic knots in town! Also try the amazing toasted ravioli! Update: this business is closed.
Cuba Libre – Colorful Cuban restaurant which opened in Philly back in 2000. Now located in DC, Atlantic City, and Orlando as well. Features beautiful tropical decor, great food, and fun drink specials. Try the Black Bean soup and Pastelitos!
And, if you do not mind walking a bit, Isot Mediterranean and South Street Souvlaki, both located in Queen Village, are excellent choices. A mile walk will get you to the best Turkish and Greek restaurants in Philadelphia. Try the Veggie Kabob lunch special at Isot and Spanakopita at South Street Souvlaki.
Get back to nature
Race Street Pier – Take a break from the museums and enjoy a quaint stroll along the beautiful Delaware River WaterFront. Enjoy the best views of the Benjamin Franklin bridge. Great summer spot for dog walkers, joggers, and picnickers.
Franklin Square – Features a fountain, a carousel, and a cute Philly themed miniature golf course. A new choreographed fountain shows runs every half hour from noon-2pm and from 6 to close.
Washington Square – Leafy park with fountains plus memorials, and most interestingly, The Tomb of the Unknown Soldier of the Revolutionary War.
Society Hill – Escape the crowds and indoor attractions in exchange for a quiet walk through the most beautiful section of the city. This quiet neighborhood features historic cobblestone streets and beautiful 18th and 19th century brick rowhouses.
Things to Know
Both garages and meter parking are available. Meters typically run $1.50-$3 per hour. The cheapest rates are near the waterfront. Many garages especially near the waterfront offer special early bird rates – it pays to get up early!
The Independence Visitor center is a great place to take a break. Here you will find water fountains, bathrooms, an informative tourist video, a Hershey's Chocolate Cafe, attraction brochures, and a large gift shop.
You may need reservations for more popular restaurants. It never hurts to make a reservation on Opentable just to be sure!
Comfortable clothing and gym shoes/flats are a must! Prepare for lots of walking. A water bottle also comes in handy, especially if you prefer to skip overpriced water bottles.
Free tours are available ($3 admin fee) by Free tours on Foot company. Reserve your spot prior to your visit!