9 Must-Dos in Savannah's Charming Historic District
Savannah, Georgia, "the Hostess city of the South," is an interesting vacation destination for history buffs, nature lovers, foodies, photographers, and even those interested in the paranormal. Offering an interesting mix of attractions to suit basically any type of traveler, it's no wonder Savannah is quickly becoming one of the South's most popular tourist destinations. Add in a little southern hospitality, charm, and beautiful natural and man made surroundings, and it's an easy contender for the best of the Southeast.
The southern city is immersed in history, culture, and most notably, the supernatural. From top rated restaurants and local coffee hangouts, to historical trolley tours, to lovely tree-lined public squares, Savannah is a worthy bucket list contender. Although the city's historical significance is a huge draw, the abundance of resident ghosts also draw big crowds, in particular during the fall and Halloween season.
No matter where your personal interests lie, Savannah is a great addition to your Southeastern bucket list. Here's a look at 9 of the best things to do and see in one of the country's most charming historic districts.
1. Take a guided tour of the historic district
You could easily take a self-guided tour through Savannah's highly walkable, easy-to-navigate historic district. A grid layout was used to plan the city. And thus, it's super easy to get around. As one of the country's oldest historical areas, the nickname of "America's first planned city" is quite appropriate. In 1733, the historic district centered around 4 public squares. Eventually, squares covered all 24 neighborhoods or "wards."
As for tours, I recommend Noble Jones walking tours. The guides are so passionate with much knowledgeable to share about the history of the city. It's a great introductory tour for new visitors. As a laid-back alternative, Old Town Trolley tours is a better option for anyone looking to avoid heavy walking. Relax and enjoy the beautiful 18th and 19th century architecture. While snapping photos, you will learn more about the city and even have a few laughs (the guides are very entertaining).
A great tour will definitely start your trip on a high note with an introduction to the city's most prominent historical sites. Later on you can go back to sites you are most interested in and explore further.
More info on Noble Jones walking and Old Town Trolley tours
2. Stroll through the leafy public squares
Savannah is one of the most beautiful urban destinations for nature lovers. Shady live oak and Spanish moss trees, along with relaxing fountains and historical monuments, create a postcard worthy setting at each of the city's parks. Today, 22 of the 24 original public squares remain. Tourists and locals alike enjoy the natural beauty and mysterious romantic ambiance. Whether you are interested in the history of the city, or simply enjoy being surrounded by beautiful nature, These quaint squares have much to offer.
The most picturesque squares
Wright square – Savannah's most haunted square is reported to be the 1st white burial ground. Tomochichi, chief of the Yamacraw Indian tribe, is buried here. His claim to fame is helping to establish the city (along with Oglethorpe). Wright square was dedicated in 1733 to Sir James Wright, Georgia's last colonial governor.
Chippewa Square – This square is most famous for the Forrest Gump bench scenes. Visit the site where Tom Hanks uttered one of the popular movie lines of all times ("Life is like a box of chocolates. You never know what you're gonna get.") Unfortunately, the bench now resides at the history museum. However, it's still cool for movie fans to see the original location. On a historical note, the square was designed in 1815 to commemorate the battle of Chippewa in the War of 1812.
Lafayette Square – Lovely square home to the extravagant Cathedral of St John the Baptist. A beautiful fountain creates a picture-perfect setting. This square was dedicated in 1873 to Marquis de Lafayette, a Revolutionary war general who helped the Americans.
Oglethorpe square – This beautiful square was designed in 1742 in honor of the city's founder, James Oglethorpe.
Forsyth Park – Gorgeous park with a stunning central fountain. Due to its immense beauty, this square is most commonly featured in promotional materials.
Full guide to the 22 public squares of Savannah
3. Relax at a local coffeehouse
For a small city, Savannah is home to a pretty amazing local coffee scene. Ditch the Starbucks and enjoy a cup of joe and pastry at a great independent coffee shop. It's always great to support local businesses. Here are a few of the best contenders:
Cafe M – Quaint French bistro along the riverfront with a beautiful outdoor patio. Serves delicious homemade pastries, plus quiche and light breakfast fare. Try the Raspberry cream croissant and a delicious Americano.
Savannah Coffee roasters – Beautiful brick walls and a large cozy seating area create a warm and welcoming ambiance. Coffee and espresso are top notch – the best in town. Plenty of tasty pastries and dessert choices to go along with your cup of joe.
Gallery Espresso – Savannah's first coffeeshop opened back in 1993. The super cozy, laid-back ambiance takes you back to the good old Friends days. Besides the attractive ambiance, the food is pretty tasty. Try one of their homemade spinach and feta stuffed croissants, along with a house coffee.
4. Take a walk along the riverfront
Yes, the views stunning, especially around sunset, but there's lots to see and do along Savannah's bustling entertainment district. Cobblestone streets and historic buildings add a beautiful backdrop for a romantic walk. With numerous historical monuments, bars, restaurants, live entertainment, gift shops, it's no wonder the riverfront is the city's top night time tourist destination.
Can't miss sites:
WW2 monument: This unique cracked globe monument honors Chatham County veterans who died during WW2.
Girl waving flag: Statue dedicated to Florence Martus, whom for 44 years, waved a cloth for every ship entering the Savannah port.
Olympic memorial: Torch sculpture commemorates the 1996 Olympic yachting events in Savannah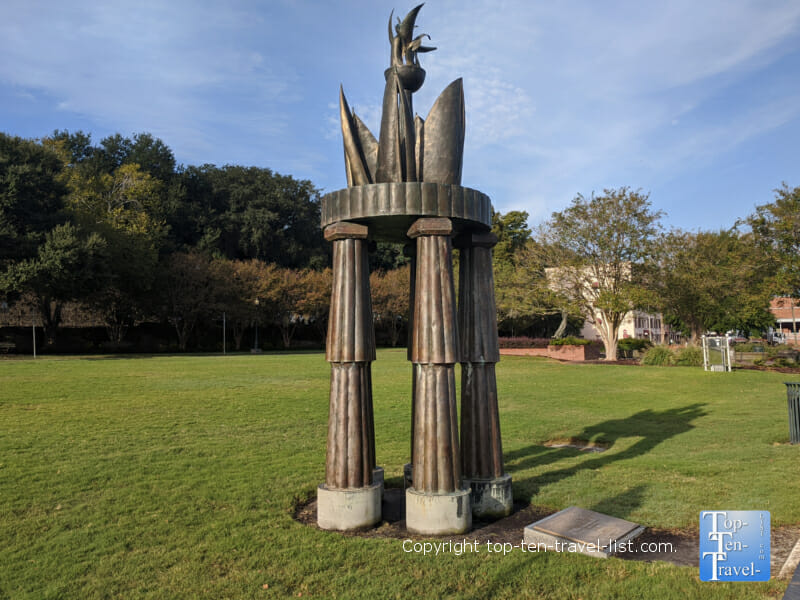 Water taxi: Short, scenic, and free sightseeing ride across the river
Vics on the River – Popular local fine dining establishment featuring Southern style cuisine is housed in a 19th century warehouse overlooking the river.
5. Explore the foodie scene
In recent years, Savannah has made headlines as one of the South's newest foodie destinations. In 2020,Southern Living named it one of the top 5 foodie cities in the South. The culinary offerings include a bit of everything. You will find Southern soul food, British pub fare, fresh seafood, old school Italian, vegan, and so much more.
A few hot restaurants to add to your list
The Little Crown Pie Co. – Excellent pot pies including a savory healthy veggie version. Warm and comforting on a cold day!
Naan on Broughton – Amazing Indian food which is big on the flavor and not overly spiced. The Naan is awesome. Do start with the Samosa Chaat appetizer and order the Veggie Tikka Masala as your entree.
Six Pence Pub – Popular British pub serving hearty comfort fare. Lots of comforting appetizers on the menu. Try the nachos! The warm and cozy ambiance is perfect for the cooler darker winter months.
Little Duck Diner – Modern diner with a fun retro touch. Open late and serving popular American comfort fare. Great music + classic comfort eats=perfect relaxed ending to an exhausting day of exploration.
Read more about Savannah's trendy food scene
6. Tour the Cathedral of St. John the Baptist
The Cathedral Basilica of St. John the Baptist still stands strong as the oldest Roman Catholic church in the state of Georgia. The beautiful Gothic style cathedral was built in 1876. Today, it rates as one of the top 10 historic sites to visit in the US.
Regardless of your spiritual beliefs, this truly is a gorgeous building, both inside and out. It is worth taking a quick look inside to admire the gorgeous stained glass, murals, and grand architecture. Self guided tours are open to the public. from 9am-11:30am Monday-Saturday and 12:45pm – 5:00pm. Donations are optional.
Additional into on the Cathedral of St. John the Baptist
7. Explore movie filming sites
Savannah, and Georgia in general, has become a movie filming hotspot, especially in recent years. The character and charm of the historic district make it especially attractive to filmmakers. Of course, the tax breaks don't hurt either.
Notable movies which filmed in the region include:
Forrest Gump, Midnight in the Garden of Good and Evil, Something to Talk About, Forces of Nature, Lady and the Tramp (2019), Cape Fear, and Now and Then.
It's pretty easy to look up popular filming locations and venture out on your own self guided tour. Of course, Chippewa Square is the must-see here, especially if you are a Tom Hanks fan. Also, Midnight in the Garden of Good and Evil fans will definitely want to plan for a tour of Bonaventure Cemetery.
Guide to the most popular Savannah filming sites
If you prefer to let someone else do the research, book tickets for a guided movie walking or segway tour.
8. Take in the ambiance of the City Market
The open air City Market has served as a central gathering spot since the 1700's. Today, the area lives on as a popular destination for shopping and socializing. Jam packed with activity, this 4 block area is home to many restaurants, bars, shops, galleries, and even a few small museums.
The American Prohibition museum is a great starting point for new tourists. Most tourists visit the area at night to enjoy the dining scene. Not surprisingly, al fresco dining at the market is super popular during the cool breezy fall months.
Market highlights:
A.T. Hun Gallery – As the city's most eclectic gallery, you will find so many colorful, creative pieces.
Vinnie Van Go-Go's – Delicious pizza served by the slice.
Woof Gang Bakery – Adorable dog bakery with plenty of treats and toys for your furry family members.
Byrd Cookie Co. – Best place for a sweet treat.
9. Spend the night at a haunted inn
As the city lies above old burial ground, Savannah is referred to as a city "built upon its dead." Legends of hauntings have long been a part of the city's history. Tourists come from all over to take haunted trolley tours. Some prefer to go the authentic route and spend the night at a haunted inn. Paranormal sightings are common throughout the city. Even Zak Bagans and the Ghost Adventures crew have filmed in the area and found much evidence that spirits linger on.
The East Bay Inn, a former cotton warehouse located across from the riverfront, is one great lodging choice. First off, the architecture is incredible. Second, the location is perfect. Most interestingly, it is also haunted. Charlie the ghost is known to make appearances, especially on the 3rd floor where he is said to have fallen to his death. Ghosts or no ghosts, the beautiful exposed brick walls and charming historical ambiance make the East Bay Inn worthy of a stay.