20 Spectacular Free Tourist Attractions in the Southeast
From the enchanting Appalachian mountains, to the white sand Florida Gulf Coast beaches, to rich historical cities, there is something interesting to see and do in the Southeast no matter your travel destination. Below I have featured 20 spectacular tourist attractions in the Southeast, all free to visit! Of course, there is much more to see and do in this beautiful region of the country, but hopefully this list will give you a great starting point for your first roadtrip!
1. Florida Gulf Coast beaches
The gorgeous clear water beaches of Florida are amongst the most beautiful in the country. If a beautiful cool-to-the-touch white sand beach (that you can dig your toes right into) is what you are after, then Florida Gulf Coast beaches will not disappoint. The calm, shallow waters are perfect for swimming, paddleboarding, and water sports. Whether you are seeking a quiet place to read and sunbathe, a shelling hotspot where you can leave with a bucket full of treasures, a gorgeous walk along the water, or a lively party destination, you can find it all. Tampa, Sarasota, Ft. Myers, and Naples are all gorgeous base destinations for exploring these beaches, plus many other cultural and recreational attractions. A few of the best freebies!
Siesta Key – Sarasota stunner known for its' sugar-like 99% pure quartz white sand. This beach stretches on for 8 miles giving you plenty of room to relax.
Indian Rocks – Quiet gem with an attractive absence of big business and resorts. The surrounding community is colorful and home to many great local coffeeshops and cafes.
North Redington/Redington Shores – Gorgeous destination for a long quiet walk. Overlooked by tourists.
Naples Beach – 7 mile long gem featuring smooth white sand and a 1000 foot fishing pier.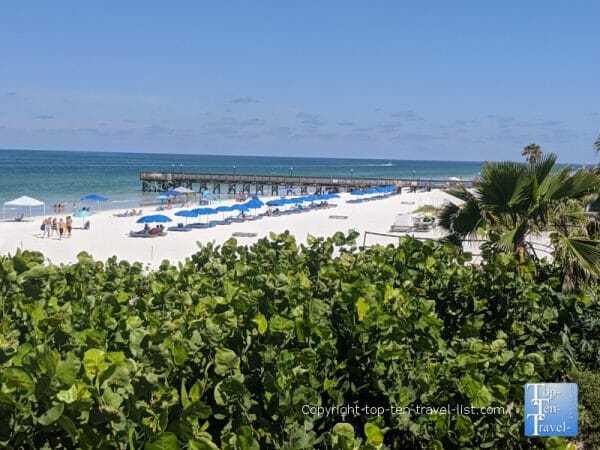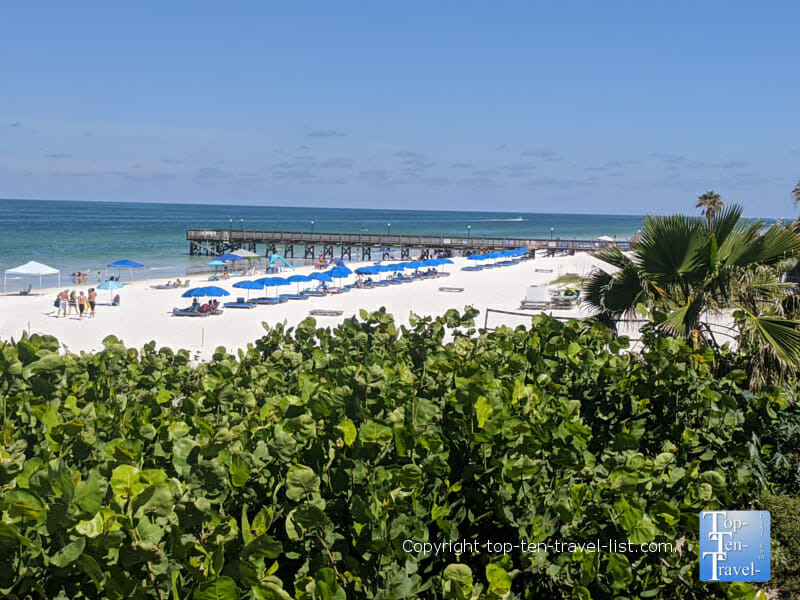 2. Blue Ridge Parkway
"America's Favorite Drive," as it is commonly referred to, is a stunning 469 mile long stretch of road between the Great Smokies of Tennessee and Shenandoah National Park in Virginia. Besides enjoying gorgeous views of the Blue Ridge mountains throughout, there are many memorable hikes, waterfalls, and attractions to enjoy along the route. The drive is split into several regions – one of the most scenic being the Pisgah (miles 339.5-469.1). Asheville is a wonderful base for exploration, offering a convenient place to stay, plus many amenities of its' own.
Pisgah region highlights:
Crabtree Falls (339.5) – The most scenic waterfall on the Parkway. Gorgeous fall foliage.
Mt. Mitchell (349.9) – At 6684 feet, it's the highest peak east of the Mississippi.
Craggy Gardens (364.6) – One of the most stunning overlooks. Gorgeous rhododendrons in June.
Folk Art Center (382) – Dedicated to Appalachian arts and crafts. Daily craft demos.
Graveyard Fields (418) – Easy quarter of a mile hike to one of the Parkway's most scenic falls.
Devil's Courthouse (422.4) – Steep half mile climb to a stunning overlook – see 4 states!
Richard Balsam (431) – Hike 6410 ft to the highest summit on the Parkway through a gorgeous spruce fir forest.
3. Transylvania County waterfalls
Western North Carolina is home to hundreds of magnificent waterfalls. Considering the easy accessibility and beauty of the falls, it's definitely one of the top regions in the country for waterfall lovers. Transylvania County and nearby Brevard has been nicknamed "The Land of Waterfalls." You will find over 200 beauties in this region. The Pisgah, Dupont, and Gorges State Forest are all home to incredible secluded hiking trails where you can get lost in nature for an hour or several days. Here are a few of the best waterfalls to seek out!
Triple Falls – 3 gorgeous waterfalls & a covered bridge in the lovely Dupont State Forest. Accessible via a 2.5 mile moderate hike.
Looking Glass Falls – Gorgeous 60 foot waterfall in the Pisgah. Located right off US 276.
Moore Cove Falls – 1 mile easy nature trek through the Pisgah to one of the only waterfalls you can stand beneath.
Courthouse Falls – Secluded gem in the Pisgah. 45 foot cove waterfall drops into a large pool.
Upper Whitewater – The tallest waterfall in the state at 411 ft.
Rainbow Falls – Hard, yet rewarding 1.5 mile hike leads to beautiful 150 footer in Gorges National Park.
4. Congaree National Park
This wonderful free national park (one of only a handful to not charge admission) is often overlooked by anyone not living in South Carolina and surrounding states. This is a shame as it is quite beautiful and super easy to get to (easy daytrip from Columbia or Greenville). Most notably, the park is home to the largest intact old growth bottomland hardwood forest in the US. A 2.4 mile boardwalk trail will take you past some incredible trees including 500+ year old cypress trees, and even a few Champion Trees (the largest in their species). Congaree is home to the tallest loblolly pine – which comes in at a whopping height of 169 feet!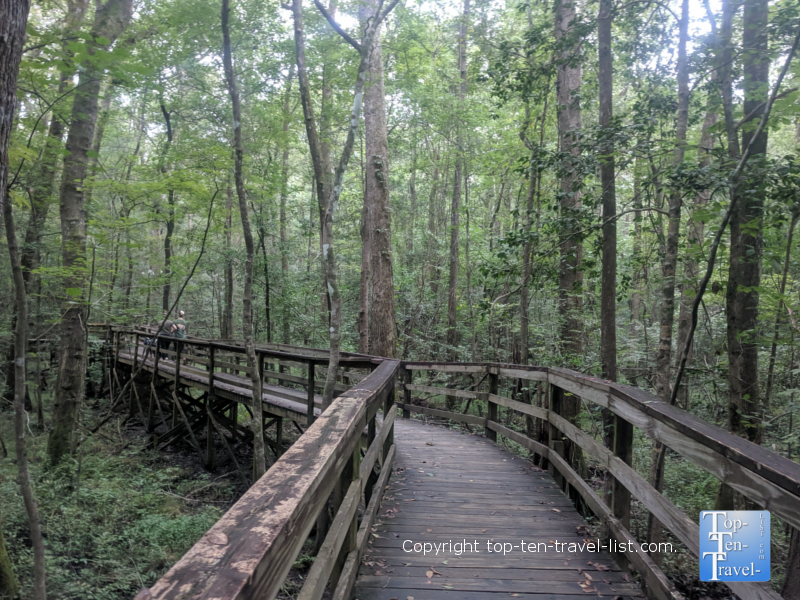 5. The Great Smoky Mountains
Like Congaree, The Great Smokies are another wonderful free national park to explore. The massive 522,427 acre park in the beautiful Appalachian mountains is divided almost equally between the states of Tennessee and North Carolina. With easy accessibility from many major cities in the South, it's no wonder why it is America's most visited national park. Gatlinburg is a touristy city located just outside the park and offers a number of amenities of its' own. There's lots to do in the Smokies region for free including beautiful hiking trails, wildlife watching (the park is home to the highest concentration of black bears!) scenic overlooks, waterfalls, and incredible drives. A look at a few of the best free attractions.
Clingman's Dome – Short but steep paved trail leads to the highest point in the Smokies (6643 ft).
Roaring Fork Motor Nature drive – Scenic 5.5 mile drive through old growth forest. Lots of streams and options to hike and enjoy waterfalls along the route. Check out Grotto Falls (3 miles RT).
Laurel Falls – Moderately steep 1.7 mile paved trail leads you to the park's most scenic waterfall, 80 foot Laurel Falls.
Deep Creek Triple Waterfall trail– See 3 incredible waterfalls via a short 2.5 mile hike near Bryson City. The most scenic best bang-for-your-buck hike on the NC side of the Smokies.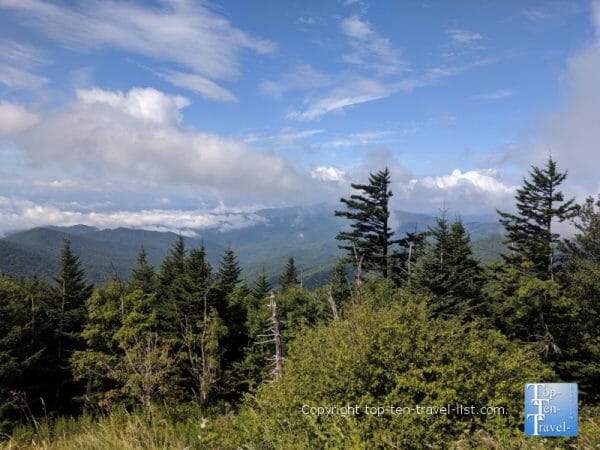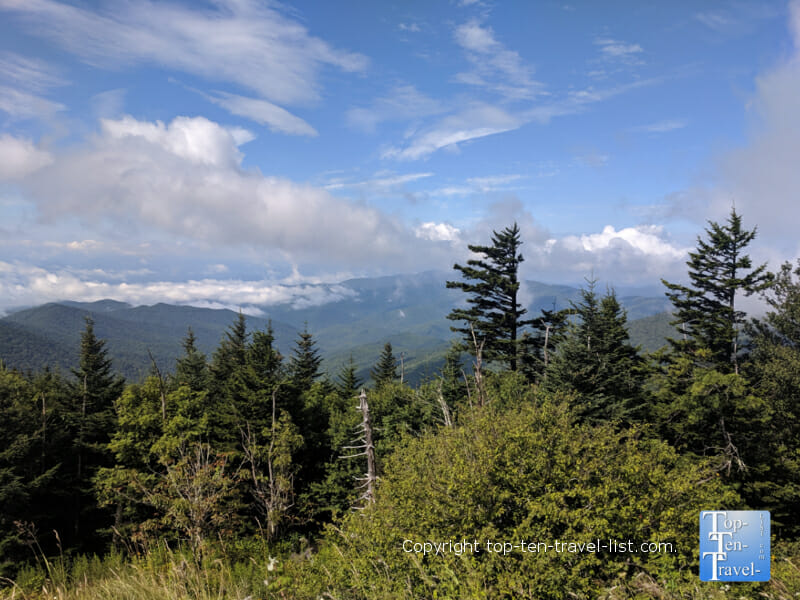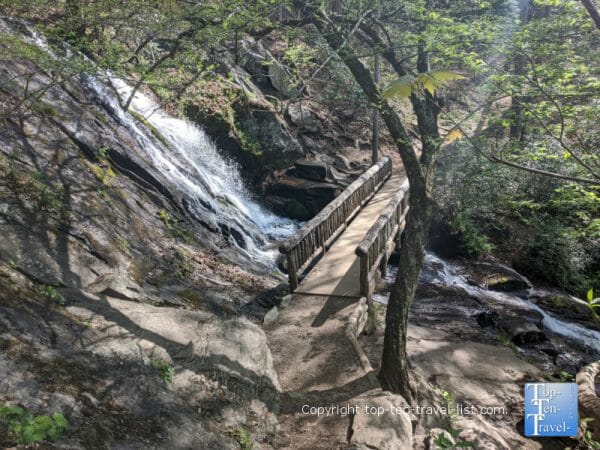 6. Falls Park on the Reedy
Greenville's trendy tree-lined Main Street is frequently regarded as one of the best in the South. With over a hundred independent boutiques, coffeehouses, and restaurants, plus a gorgeous central waterfall, it's no wonder tourists and transplants are arriving in droves from all over the country. Falls Park on the Reedy is a true gem, a beautiful green oasis to take a nature walk, photograph the waterfall, enjoy a picnic, or take in the the beauty of the changing seasons. Beautiful Liberty Bridge takes you high above the falls for a picturesque viewpoint. The pretty park hosts many events throughout the year.
Highlights:
Swamp Rabbit trail – Beautiful paved multi use recreational path runs right through Falls Park.
Art in Public Places – Take a self guided tour of more than 95 unique art pieces.
Local coffeeshops/restaurants – So many great independent businesses. Take a look at my top coffeehouses and restaurants.
Cleveland Park – The city's largest park. Also home to the Greenville Zoo.
7. Waterfalls of the Upstate
Upstate South Carolina is a hotbed of gorgeous waterfalls. Although the region is often overlooked due to the proximity of the Blue Ridge Parkway/Pisgah National Forest in neighboring North Carolina, the Upstate offers enough of its' own beauty to warrant a visit. In the beautiful foothills of the Blue Ridge mountains, you will find dozens of gorgeous waterfalls, many easily accessible via a short hike, some located in lush state forests, and a few even conveniently located right on the road. A quick look at a few of the best!
Wildcat Falls – 30 foot beauty located right along Hwy 11 (Cherokee Foothills Scenic Drive).
Jones Gap – 50 foot beauty in the quiet and lush Jones Gap State forest.
Raven Cliff Falls – The highest waterfall (420 ft) in the state located in beautiful Caesars Head State Park. Amazing leaf peeping destination.
King Creek Falls – Gorgeous 1.5 mile hike to 70 foot waterfall in the Sumter National Forest.
Twin Falls – Easy quiet trail to a stunning double waterfall on Reedy Cove Creek in PIckens County.
More gorgeous South Carolina waterfall wonders
8. Grand Strand beaches
This 60 mile long stretch of coastline in South Carolina is widely considered to be amongst the most beautiful places on the East coast. The area is home to many award-winning golf courses, resorts, parks, and shopping centers. Of course, the best thing to do in the area comes at no cost! Whether you love to sunbathe, take long walks along the beach, collect shells, or go swimming, there is a beach for you.
Amongst the most popular tourist destinations is Myrtle Beach, featuring an iconic pier and one of the country's tallest Ferris Wheels. Additionally, the boardwalk has been rated one of the country's best by both National Geographic and Travel and Leisure. Be on the lookout for many free festivals, concerts and events throughout the year.
9. Mount Mitchell State Park
The highest peak east of the Mississippi River (6684 ft Mt. Mitchell) can be accessed via the gorgeous Blue Ridge Parkway. Mt. Mitchell State Park, one of the must visits on the North Carolina side of the Parkway, is located just 30 miles northeast of Asheville. A short paved trail will take you to the observing platform where the breathtaking mountain vistas seem to stretch on forever on a clear day. For those more adventurous, a number of hiking trails transverse through gorgeous Fraser Fir forest. As the altitude is much higher up here, this is a refreshing destination during the hot and humid Carolina summer season.
10. Brasstown Bald
Another gem in the Blue Ridge mountains is beautiful Brasstown Bald, the highest point in Georgia at 4784 feet. The half mile trail to the summit is very steep, yet short and very rewarding. For those who cannot make it to the top, there is a shuttle available. However, it is a great workout and so much more rewarding to make the trek yourself if you are able to do so. From the summit, you will enjoy amazing mountainous vistas of 4 states – Georgia, Tennessee, South Carolina, and North Carolina. On a clear day, you may be able to see the Atlanta skyline in the distance. Note that there is an $8 fee to take the shuttle, although admission is only $5 after hours.
11. Savannah historic district
There's much to do and see in Savannah's gorgeous historic district. With 22 historic squares, lovely historic homes and inns, beautiful parks and fountains, old cathedrals, and beautiful Spanish moss trees, there is plenty to photograph, explore, and enjoy for free! Most notable is Chippewa Square – location of the famous Forrest Gump bench Scene. Oglethorpe Square (est. 1742) is dedicated to the city's founder, James Oglethorpe. Lush Forsyth Park with its iconic centerpiece fountain is one of the top tourist attractions in the city. Also be sure to take a self guided tour of The Cathedral Basilica of St. John the Baptist – one of the most gorgeous places in the city!
And, if you prefer to explore the city with a guide, there are plenty of free tours available. While the guided trolley tours are lots of fun, there are budget alternatives. Savannah is an easy city to navigate due to the grid layout. City Market, the riverfront, and the historic squares are all located within easy walking distance.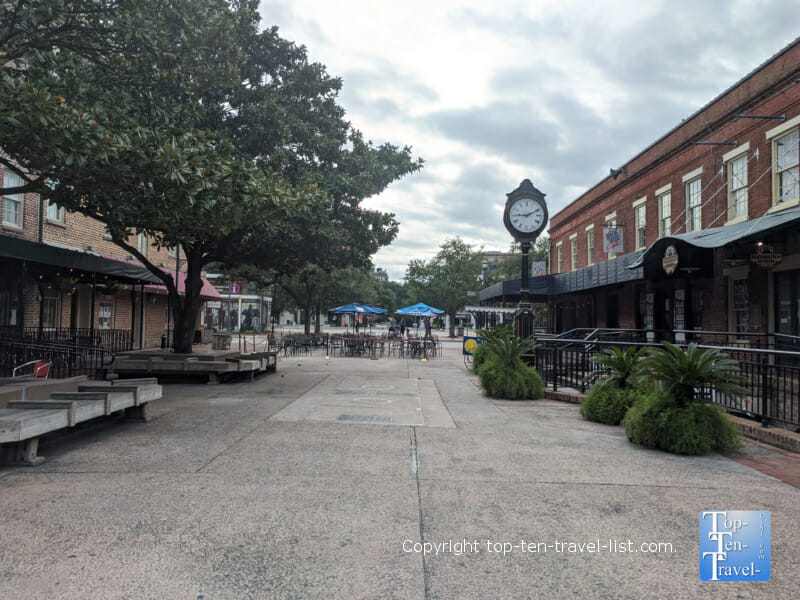 12. Centennial Olympic Park
If you find yourself visiting downtown Atlanta, than you will want to take some time to explore Centennial Olympic Park. Atlanta hosted the 1996 Summer Olympics and thus expanded downtown amenities at the time. Today, you can take your picture next to a cool Olympics rings memorial. As only 8 US cities have hosted the Olympics, this is a pretty cool photo opp. There is also a synchronized fountain show and several sculptures and plaques to browse through. Additionally, downtown is home to many notable attractions including The Center for Civil and Human Rights and the Georgia Aquarium.
13. St. Augustine historic district
This small city on the Northeastern coast of Florida, nicknamed "Old City," is another great destination for history buffs. It is the oldest continuously operated European and African American settlement (founded in 1565). Just taking a walk around the downtown is really a feast for the eyes with endless architectural wonders to photograph. The beautiful downtown district, particularly pedestrian friendly St. George St, is home to some of the oldest buildings, many dating back to the 1700's. There are lots of great restaurants and shops to enjoy including Columbia, a wonderful Cuban gem.
Outside of the downtown, St. Augustine Beach is a must-see. Tours of St. Augustine Cathedral Basilica and Fort Matanzas National Monument are more freebies to consider. And, if you feel like shelling out a few bucks, The Fountain of Youth Park is well worth a visit.
A full guide to visiting St. Augustine
14. Nature preserves of Tampa Bay
The Tampa metro is loaded with gorgeous preserves, the majority free or requiring a minor parking fee at most. Pinellas County, in particular, is home to dozens of beautiful natural preserves. Here you can observe gators up close, wildlife watch, get in a healthy workout, hike, birdwatch, play sports, and more – far away from all the noisy tourist beach crowds. A few of the best freebies:
John Chesnut – Gem in suburban Palm Harbor is home to a long boardwalk trail over cypress swamps. Beautiful views of Lake Tarpon and a hotspot for gator sightings.
Weedon Island – Quiet preserve in the St. Pete area. Fabulous views of the Bay from a 45 foot observation tower. Home to lots of birds and small wildlife including gopher tortoises and armadillo.
Boyd Hill – Rustic nature center in St. Petersburg. Offers a variety of diverse trails and also a narrated tram ride for an extra fee. Home to lots of wildlife including gators, tortoises, and various bird species.
15. Appalachian trail
The legendary trail runs 2190 miles from Georgia to Maine. Each year, thousands of adventure seekers from around the world attempt a thru-hike (only 1 in 4 make it!). While you may not have the stamina or time to complete the entire trek in one journey (it takes 5-7 months on average!), hiking just a short section of the trail is all it takes to enjoy the beauty. The official starting point is in Springer Mountain, GA. Blue Ridge, Georgia is a great place to base your vacation as the charming community sits just 30 miles from the trail's official start. Longcreek Falls, a beautiful 50 foot double tiered waterfall is accessed via a 1 mile trail – ths is a great place to begin your AT adventure.
16. Pinellas trail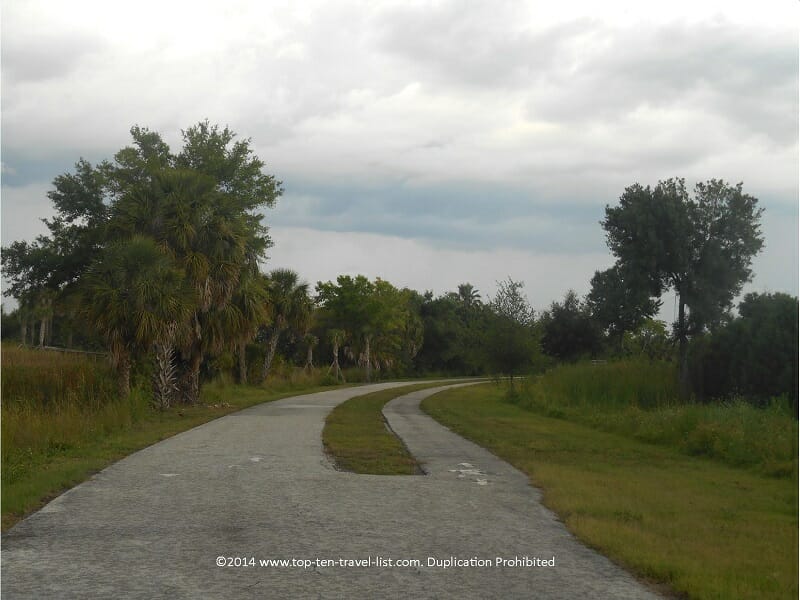 This wonderful 75 mile long bike path has been inducted into the Rail Trail Hall of Fame. It is easily one of the best bike trails in the country. Rail trails are basically multi-use recreational trails created on former railroad corridors. Running from Tarpon Springs to St. Petersburg, there is lots to see and do along the course. If you are not up for a long ride, simply pick a section (the 7 mile route from Dunedin to Tarpon Springs is fantastic). Not only is exercising on the trail a great way to burn some calories sand soak in some sunshine, but it's also a great way to explore the area without dealing with the congestion and traffic. Highlights along the route:
Downtown Dunedin – Charming Main St. home to many local independent restaurants and shops. Check out The Beatles museum.
Downtown Tarpon Springs – The Greek capital of the world is home to the largest percentage of Greek Americans. Treat yourself to a spanakopita and Baklava cheesecake at Hellas. Also 90% of sponges are harvested here, making it "the sponge capital of the world."
Wall Springs Park – Historic Palm Harbor park was once home to a healing mineral spa. Now home to a 35 observation tower & nature trails.
17. Charleston historic district
The second largest city in South Carolina is home to a historic downtown which has been declared a National Historic Landmark. Beautiful 18th and 19th century buildings dot the historic district. Prevalent architectural types include: Greek Revival, Georgian, Classical Revival, and Gothic revival. The French Quarter is a gorgeous section of the city home to many old churches. Charleston was nicknamed "the Holy City," for the abundance of places of worship, in addition to its' past history of religious tolerance. Although you could book a pricey carriage tour, free walking tours are a budget friendly alternative.
Historic district highlights
Rainbow Row – Block of 13 colorful pastel colored houses – one of the top photographed spots in the city.
Charleston Battery – Defensive seawall home to multi million dollar mansions.
City Market – 200+ year old market where you can shop for handmade artisan goods.
Old City Jail – In operation between 1802 and 1939, it housed many notorious criminals. Not surprisingly, today it is considered haunted. Tours available.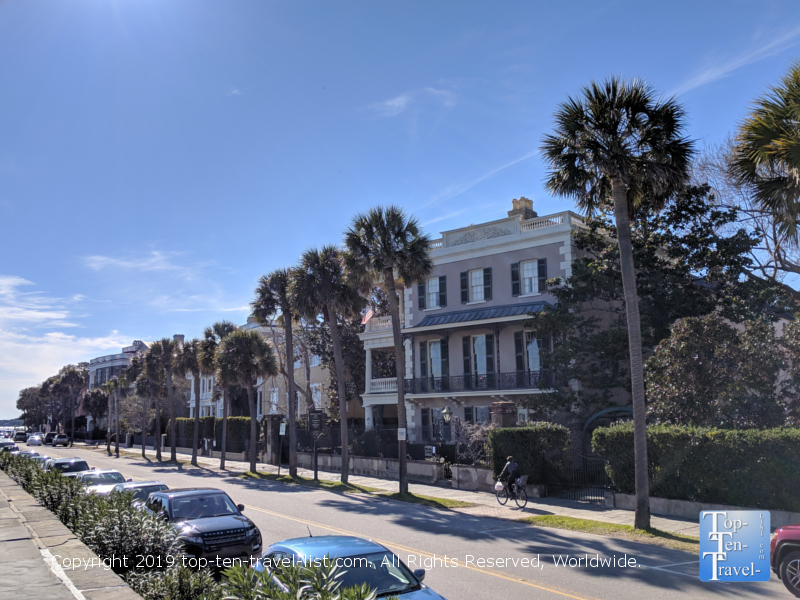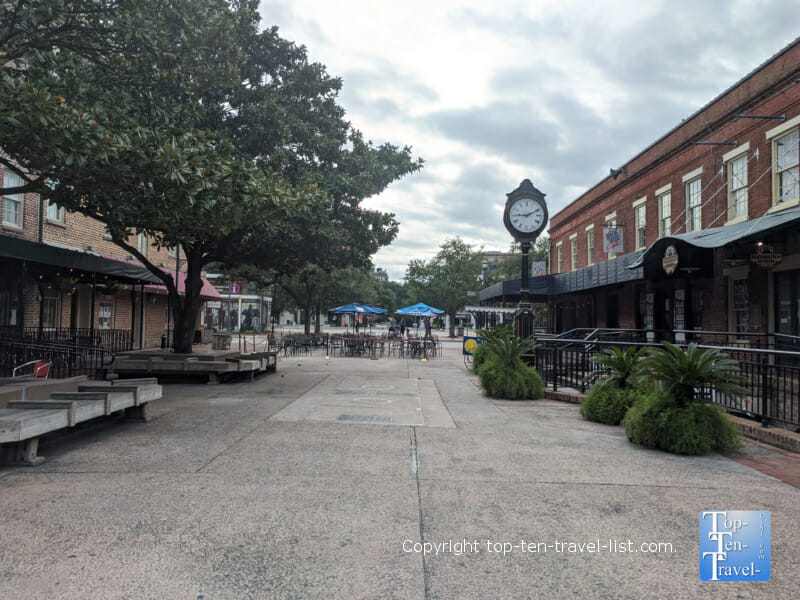 18. Hilton Head Island beaches & bike trails
One of the best vacation destinations in the Southeast is beautiful Hilton Head Island. Although hotel rates can be pricey, many beautiful resorts are heavily discounted during the off season. Hilton Head, located in the low-key lowcountry region of South Carolina, is a nice quiet alternative to oftentimes rowdy spring break hotspot Myrtle Beach. Hilton Head is known for its' award-winning golf courses, beaches, biking paths, and spas. With 12 miles of coastline, you have plenty of beautiful beaches to enjoy. Coligny is a wonderful free choice.
Also be sure to enjoy the extensive biking network featuring over 108 miles of paved recreational paths. The community was recognized as one of only 21 U.S. cities awarded the Gold Level Bicycle Friendly Community Award from the League of American Bicyclists. Also, Audubon Newhall Preserve is a fantastic place to birdwatch.
19. Asheville art district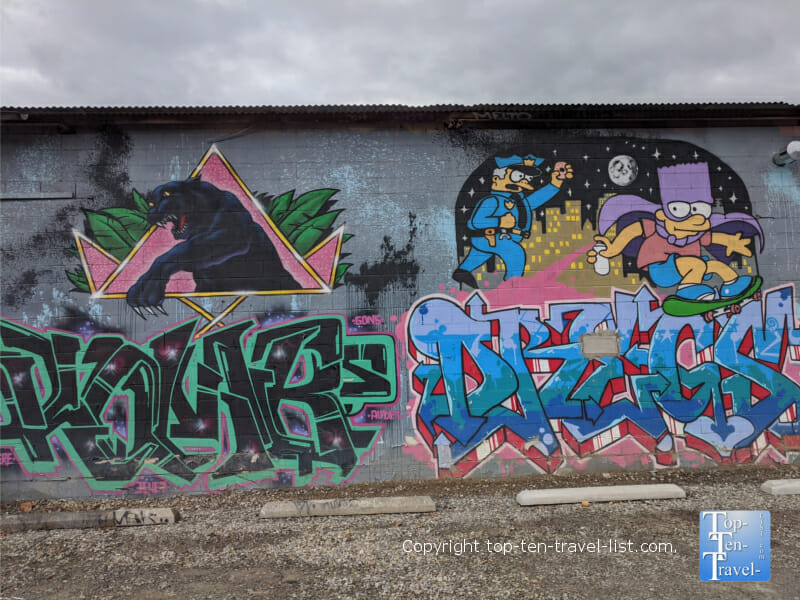 This small city in the Blue Ridge mountains is often acknowledged for its' proximity to natural wonders. It's definitely a great base for exploring the beautiful Blue Ridge Parkway, as well as many waterfalls and hiking trails in the Pisgah National Forest. However, "the Paris of the South" also enjoys a thriving art scene including endless art related events and festival throughout the year. Most notably, the River Arts District is a tourist hotspot. This former industrial area, once home to many factories, has been transformed into a colorful art oasis. Today, you can visit working art studios, attend art walks, and enjoy colorful & creative graffiti art on the exteriors of many old buildings.
More Asheville art gems
Woolworth Walk – Historic department store now home to 175 local artists. Gorgeous place to browse through even if you don't intend to buy anything. Located downtown.
Grovewood Village – Adjacent to the beautiful Omni Grove Park Inn. At one point, it was home to the woodworking & weaving operations of Biltmore Industries. Today, you can tour an antique car museum, visit Biltmore Homespun Museum, view live craft demos, and marvel at an outdoor sculpture garden.
Lexington Glassworks – Enjoy live glass blowing demonstrations. Located downtown.
Kress Emporium – Highlights the works of more than 80 talented local artists. Located downtown.
20. Greenville Museum of Art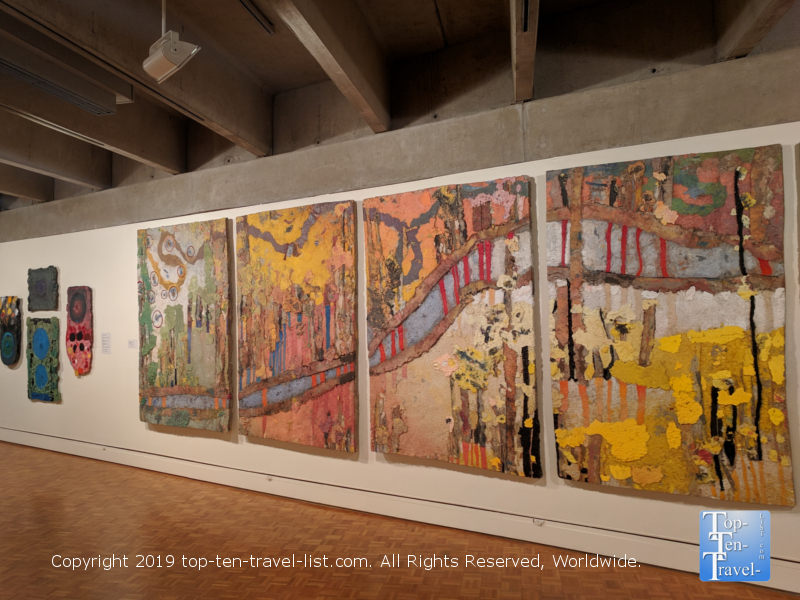 Small, yet wonderful free museum considered to be the best American art museum in the South. The museum's claim to fame is being home to the largest collection of watercolors by renowned artist Andrew Wyeth. Also quite impressive are the many paintings/drawings by artist Jasper Johns. The museum frequently hosts special exhibits, so there is something new and interesting to see no matter when your visit falls. Stay updated on special exhibits and events.