Christmas at the Omni Grove Park Inn in Asheville
The holiday season is the premier time to book a stay at the gorgeous Omni Grove Park Inn in Asheville, North Carolina. Being that the mesmerizing Blue Ridge mountains comprise the backdrop, it is hands down one of the most beautiful Omni properties. The wonderful 360 degree mountain vistas, the gorgeous "Arts and Crafts" style architecture, fantastic on-site amenities, and a prime location nearby many natural wonders in Western North Carolina easily put it tops on the list of best places to stay in the region. Keep in mind that the resort is pricey (and often sold out) this time of the year. Book early to ensure availability. Even if you are not staying at the resort, it's worth planning a daytrip here to enjoy the beautiful decor, shop & dine, and marvel at the mountain scenery.
The resort is home to a luxurious spa (advance booking required), a beautiful indoor pool and outdoor hot tub, as well as several bars and restaurants. The Blue Ridge Artisanal dining room features a daily breakfast and dinner buffet in a gorgeous room featuring floor-to-ceiling windows overlooking the tranquil mountains. For more dining options, simply take a 15 minute drive over to downtown Asheville to explore the thriving local food and craft beer scene. Additionally, Biltmore Village, located just outside the famous Biltmore Estate, is a beautiful old-world shopping and dining village.
Winter at the Omni
Come December, holiday decor decks the entire resort, both inside and outside. Multiple Christmas trees, a beautifully decorated lobby, a world-class gingerbread display, and festive hot cocoa drinks make the Omni a favorite holiday destination of both locals and returning tourists. Below is a tour of the gorgeous Christmas decorations throughout the property.
During your visit, be sure to take some time to relax by the grand fireplace in the lobby. There are 2 huge stone fireplaces with cozy rocking chairs. Keep in mind that the seats will likely be filled by mid-morning. Grab a coffee at The Marketplace, treat yourself to a homemade salted caramel hot cocoa via the gingerbread stand, catch up on some reading, or simply relax and take in the beauty all around you.
Also be sure to take a browse around the local boutique shops. Options include a gallery, a Christmas shop, an outfitters shop, and several gift shops. As a bonus, the shops are all spiritedly decorated this time of the year. You are sure to find plenty of great souvenirs and Christmas gifts. A quick tour of some of the holiday knick knack and adorable themed Omni resort souvenirs available…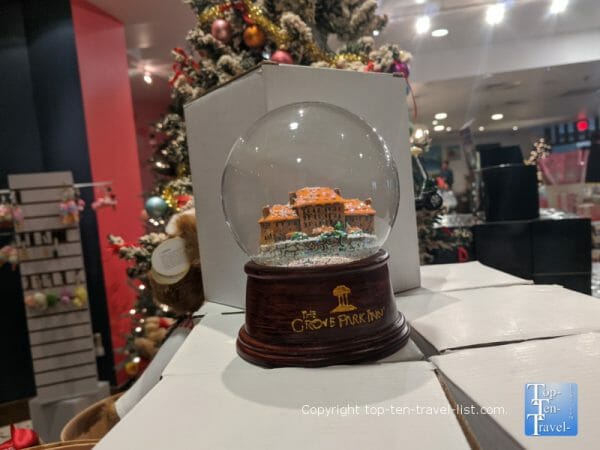 The National Gingerbread Competition
2021 marked the 29th anniversary of The National Gingerbread Competition, hosted annually at the Omni. Creative gingerbread artists from around the world enter the prestigious competition. In 2021, the furthest distance traveled award went to a women from Guatemela. The entries are judged by nationally renowned experts in food, arts, and media. The competition began in 1992 as a small scale event. As it nears its' 30th anniversary in 2022, the entries become more and more dazzling.
So much dedication and creativity goes into every gingerbread masterpiece. Each piece has to be 100% edible and constructed of at least 75% gingerbread. Really, most of these houses are artistic masterpieces. Art lovers will appreciate the attention to detail and patience that goes into creating something so original and seemingly effortless. The display, which includes talented masterpieces across 4 categories, including youth, child, teen, and adult, is open to the public for viewing on select dates. For more details please review the rules on the Omni website.
Below are a few of the magnificent creations from the 2021 competition.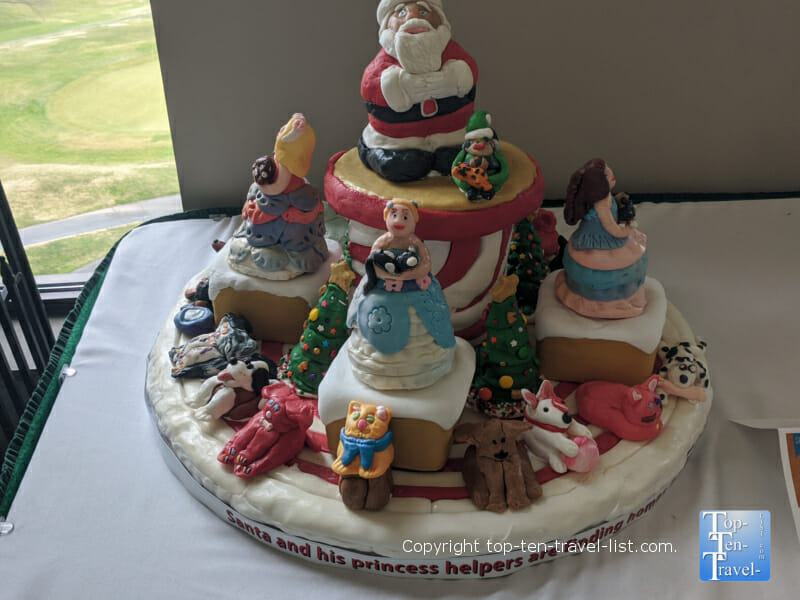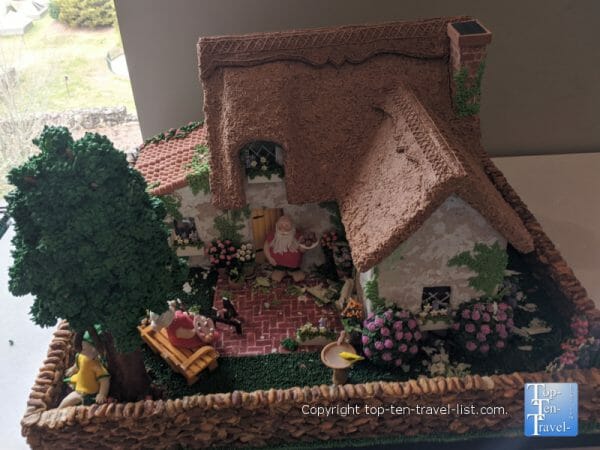 My personal favorite and one sure to impress Harry Potter fans is this beautiful recreation of Hagrid's Hut. Look at the fantastic detail on this one!
More winter/holiday fun in the area
Work up a sweat hiking in the mountains. There are endless hiking adventures to be had, all within a reasonable daytrip from the resort. Here's a list to get you started. Assuming there is no snow, this is a great time to enjoy the wilderness minus heavy tourist traffic.
Enjoy a stress free drive on the Blue Ridge Parkway. One of America's most scenic drives is easily accessible from Asheville. Winter is a great time to plan a sightseeing adventure as traffic will be virtually non existent. Tip: Spend the morning exploring the NC Arboretum and then hop on the adjacent Parkway.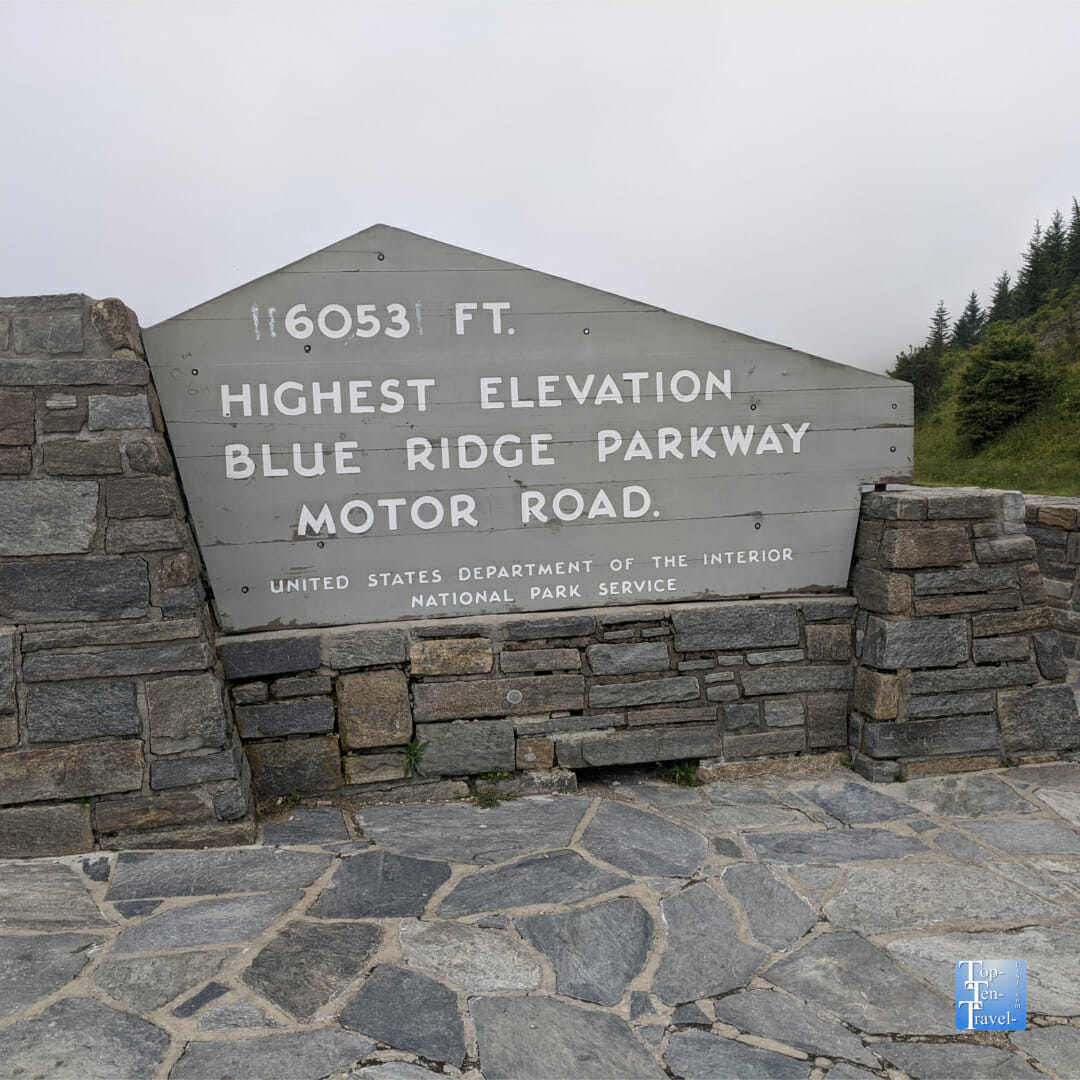 Savor a hot cocoa at French Broad. French Broad Chocolate Lounge entices with a full menu of chocolate goodies including truffles, drinking chocolate, and hot cocoa in many varieties.
Hike to a waterfall. Whether you feel like getting in a great cardio workout or keeping it easy, here are a handful of roadside and easy waterfall hikes to check out. Winter offers a welcome break from both crowds and heat and humidity. A great time of the year to check out Triple Falls, featuring 3 waterfalls via a moderate 2 mile hike.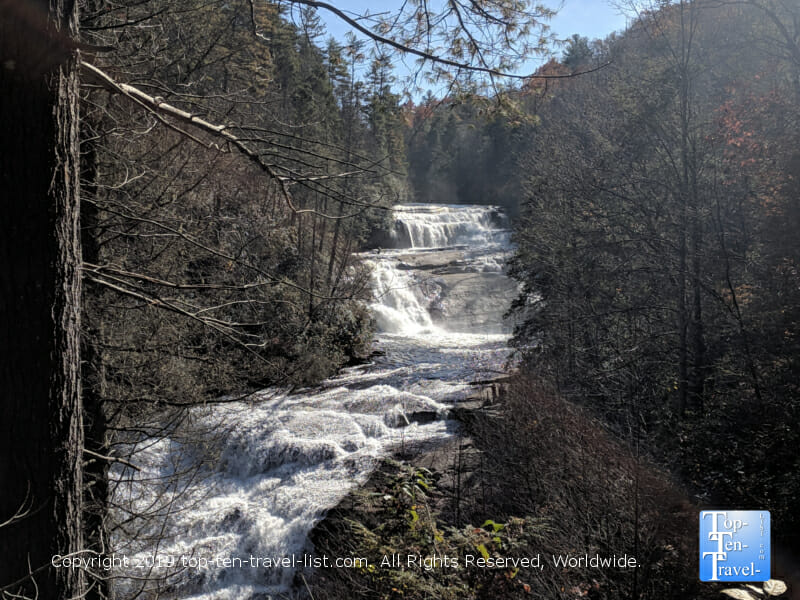 Check out the local coffee scene. Plenty of independent shops to support! High Five (which serves the tastiest bagels and veggie cream cheese in town) is my personal favorite.
Take a drive-through the Lake Julian Park Festival of Lights. Affordable and whimsical display located just outside of the city limits.
Downtown Asheville – Browse through unique local shops, dine at a cozy restaurant, shop for unique art at Woolworth Walk, and enjoy a cup of joe at a local coffeehouse. Also check out the beautiful decor at The Grove Arcade.