Attraction of the Week: Forest City, North Carolina Christmas Lights
Forest City is home to one of the top rated Christmas light displays in North Carolina. It is the best place to enjoy a festive over-the-top light display in the Western North Carolina region. If you find yourself traveling to Asheville, Hendersonville, or any nearby small town this time of year, you will definitely want to make room to see this extravagant display.
Over 1 million lights adorn the historic Main Street, from Thanksgiving weekend to New Year's. The lights are colorful and whimsical. Unique features include a green colored fountain, whimsical holiday window storefronts, character LED displays, festive lamppost decorations, and a walk through ornament. The lighting tradition dates back to the 1930's. Today, the display is much larger and draws visitors from around the region. Special events throughout the season include carriage and hay rides, a Christmas parade, and an ice skating rink.
The History of Forest City
This small town of just over 7000 is located in Rutherford County, about an hour and a half west of Charlotte. Forest City was established in 1877, making it one of the older towns in Western North Carolina. It's nickname of "Burnt Chimney" came from a fire which destroyed the home of James McArthur (all except for the chimney). Today, a replica of the chimney stands in the public square.
Main Street
Forest City is one of many small towns that dot the rustic Western North Carolina region. Many of these charming towns are known for their old-fashioned Main Streets. Forest City's historic district is lined with independent shops, restaurants, and bars. Historic buildings and an old time fountain add to the small town charm. The Twisted Pear Taproom and Coffee Lounge offers a big spacious layout where you can enjoy a drink while gazing at the lights outside from the large windows. More things to do include:
Carolina Arcade Museum – Play unlimited pinball games/arcade machines for one low price.
Antique car museum – Houses 70 classic vehicles.
Christmas lights Extravaganza
Below are a few pictures of the beautiful display from 2021. Although some tourists choose to drive through the lights, the experience is much better if you park (anywhere along Main Street) and walk. Walking will allow you to take better pictures, check out the festive holiday windows, and stop for a snack, drink, or meal along the way.
A few of the gorgeous holiday window displays…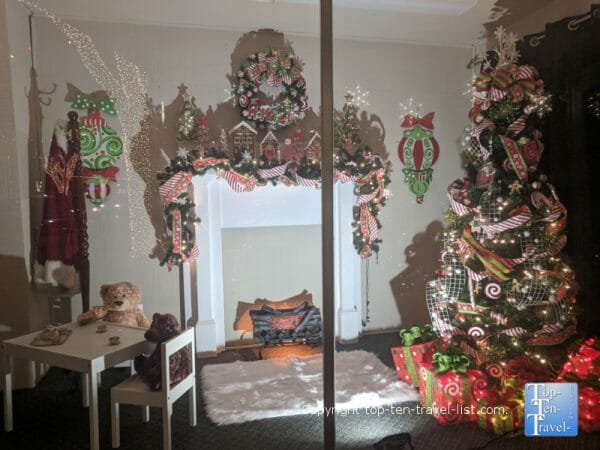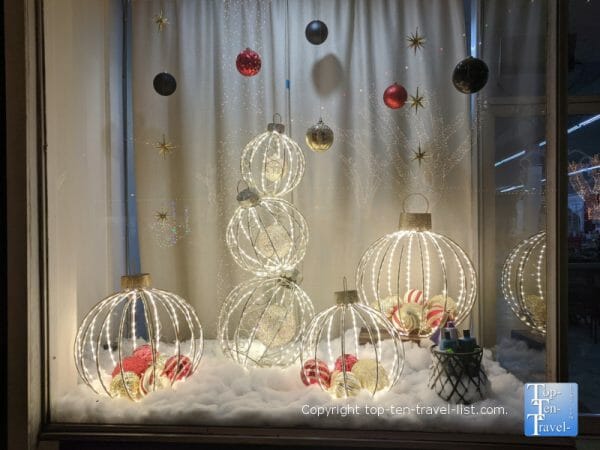 Where to eat
Mario's is a decent local Italian establishment to check out if you prefer to avoid the downtown crowds. They decorate beautifully for the holidays, so it's a great choice if you are looking for somewhere festive to eat. The food quality is just average (it is a small city after all), although good enough for anyone seeking some tasty comfort food. Try the Eggplant or Chicken Parmesan.