5 Fun things to do in Hendersonville, North Carolina
Hendersonville, the 2nd largest city in Western North Carolina, is a great base location for exploring the natural wonders of the mesmerizing Blue Ridge mountain region. The quaint city is centrally located to many notable attractions including the Blue Ridge Parkway, beautiful national forests, and over 200 waterfalls. Add in a growing foodie scene and a long lineup of festivals, and there is always something interesting to do in Hendersonville. Most notably, the charming downtown district is a great place to shop and dine local before or after hitting the trails.
Because of its' diverse climate (the city has been nicknamed "The City of Four Seasons"), there are plenty of unique things to do no matter what month your visit falls. From beautiful summer drives along the Blue Ridge Parkway and woodsy hikes in the Pisgah National Forest, to apple picking in the fall (Hendersonville is "The Apple Capital"), to winter snowshoeing and skiing in the mountains, there's plenty of fun to be had no matter where your personal interests lie. And, as the city is just a 30 minute drive from Asheville, you can also explore all the fantastic restaurants, galleries, and attractions in "The San Francisco of the East."
1. Explore historic Main Street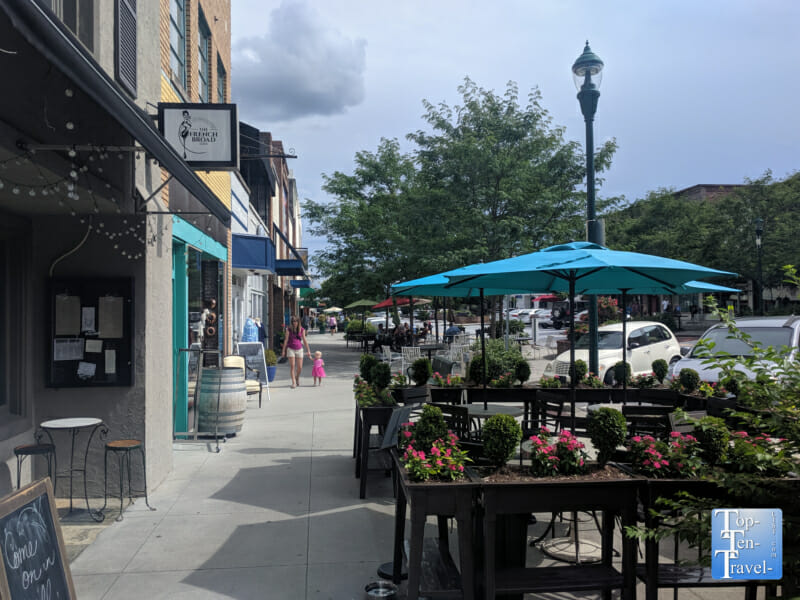 Hendersonville is home to one of the nicer Main Streets in the Western North Carolina region. The historic downtown was incorporated in 1847. One of the architectural highlights is the restored County Courthouse which takes center stage. Historical significance aside, the downtown offers a number of interesting local shops and restaurants. As a bonus, it does not see nearly as much traffic as hotspots like Asheville and Boone, so the vibe is much more relaxed. Annual events include a seasonal farmers market (May-Oct), the Labor Day Weekend Apple Festival, and the Bearfootin' Art walk (May-Oct) which features more than 2 dozen artistic bears lining Main Street.
A few places to check out:
Black Bear Coffee – Spacious local coffeehouse serving premier Counter Culture coffee, delicious NY bagels, and pastries in an attractive bear themed dining space.
Mountain Deli – Great local cafe serving fresh deli sandwiches, soups, and sides. Relaxing and casual setting.
Village Green Antiques – One of many great places to shop for antiques. Huge selection, reasonably priced.
Joy of Books – Great selection of used and specialty books
Mast General Store– Old-fashioned shop featuring nostalgic gifts, local food items, an old time candy bar, and outdoor apparel.
2. Enjoy the mesmerizing mountain views at Jump Off Rock
A quick drive to this incredible scenic overlook is a must-do while in the vicinity. Unlike the busy Blue Ridge Parkway, this one is located a bit off the beaten path, and thus, does not see much tourist traffic. The curvy drive up the mountain is beautiful in and of itself. Views from the 3000 foot summit are dazzling, especially at sunrise and sunset. Also, there are a few nice trails to enjoy if you would like to get in an easy workout. Consider visiting during the fall season to enjoy the lovely foliage – North Carolina ranks as one of the best states for leaf peeping! As for the name, legend goes that 300 years ago an Indian women jumped to her death after hearing of her lover's death. Today, on moonlit nights, some visitors claim to see her ghost jumping off the cliff.
3. Hike to a waterfall
The beautiful Pisgah and Dupont State Forest are both within an easy daytrip of the city. Both of these spacious forests provide endless opportunities for outdoor exploration. Whether you feel like biking, hiking, or birdwatching, there are hundreds of miles of trails to seek out. Seeing a beautiful waterfall or 2 should definitely top your list. Western North Carolina, Transylvania County in particular, is home to over 200 incredible waterfalls. Many of these only require little effort to see, while some are conveniently located right off the road.
Below are a few easy to moderate waterfall trails to add to your bucket list
Triple Falls – 3 gorgeous waterfalls accessed via a moderate 2 mile out-and-back hike in the Dupont State Forest. Bonus – Scenes from The Hunger Games filmed here!
Wintergreen Falls – Another beauty in the Dupont State Forest accessed via an easy 1 mile out-and-back hike. This one's rustic setting/beautiful surrounding greenery really make it stand out.
Pearson's Falls – Easy maintained 1/4 mile trail to a popular 90 foot tall waterfall. $5 fee.
Looking Glass Falls – 60 foot tall roadside beauty which requires no hiking. Busy most of the year!
4. Take a blast to the past at the Appalachian Pinball Museum
For just 10 bucks, you can enjoy unlimited pinball and arcade machines at The Appalachian Pinball Museum, the sister company of the Asheville Pinball Museum. As a bonus, Hendersonville's location is less crowded and admission is $5 cheaper. This place really is hours of fun for anyone who loves pinball/old school gaming. The decor/ambiance is very retro – you may feel as if you have temporarily been transported back in time. Leave the phone at home for a few hours in exchange for some old-fashioned gaming fun. Snacks as well as domestic and local brews available while you play. Overall, the best way to spend a rainy/snowy day!
5. Spend the day at an orchard
Over 40 varieties of apples are grown in North Carolina. Henderson County is known to be "The Apple Capital" as more than 60-70% of NC apples are grown here. Apple season starts in mid-August and usually ends in late October. There are many great U-pick farms near Hendersonville. Most of these also offer seasonal fall food and activities this time of the year. Great time to enjoy the mild temps, enjoy seasonal treats, get in a little fresh air, take a hayride, and pick out Halloween pumpkins. Grandad's Apples and Sky Top are 2 great choices. Both offer delicious homemade cider and donuts, as well as a country market specializing in local goods.