Attraction of the Week: Sky Top Orchard
Apple picking is a beloved fall tradition for many in the Western North Carolina region. Many orchards populate the area, particularly near Hendersonville. This small community is home to the annual North Carolina Apple Festival. During this 4 day festival held annually over Labor Day weekend, you will be able to pick up fresh local apples, try all sorts of apple treats, and enjoy a variety of seasonal events and live music. Hendersonville has been rated one of the top apple picking destinations in the US. A number of orchards are located off Hwy 64, which has given the region the appropriate nickname of "Apple Alley." In addition to enjoying the apple festivities, leaf peeping is never a disappointment. Sky Top Orchard is my recommended choice for new visitors.
Apple season
August through October is typically considered to be the prime apple harvest season. During this period, the region's top orchards fill up fast with apple lovers nearly every weekend. According to the North Carolina Dept. of Agriculture, North Carolina ranks number 7 in apple production. There are over 300 apple operations, with over 40 different varieties of apples grown. The most common varieties are Golden Delicious, Red Delicious, Rome Beauty, and Stayman. In North Carolina, September is considered apple month. Many apple festivals are held this month including Hendersonville's premier event.
The temps are usually ideal this time of the year (60's-70's and considerably drier) for a day out apple picking and enjoying seasonal fall activities. In addition to U-Pick, most orchards offer standard fall activities like hay rides, pumpkin picking, apple canons, corn mazes, and more. If your visit falls near the second or third week of October, you will also get to awe at the beautiful colorful leaves. The long and breathtaking leaf peeping season draws many tourists to the Blue Ridge mountains each fall.
Sky Top Orchards
One of the best orchards in the area is Sky Top. This family-run business opened in the 1960's and has expanded to include 80 acres in the beautiful Blue Ridge region. One of the major draws is the convenient proximity to Hendersonville, Asheville, and Greenville. Second, the mountain views here are really beautiful being that the property sits atop McAlpine mountain. Enjoying a delicious apple cider in a gorgeous setting makes the experience all the more memorable. Scenic picnicking areas provide a perfect setting to enjoy delicious foods with a spectacular view.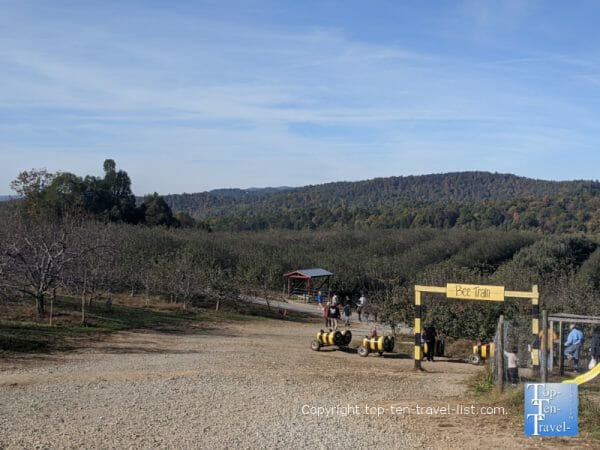 Sky Top's season runs from August until the end of November (closed Thanksgiving). U-pick typically runs until the end of October. Depending on demand and weather, the season can be shorter or longer.
Over 22 apples are grown, although not all are available the entire season. You will want to check the ripening schedule to see when your favorites will be available. On an interesting side note, Sky Top notes that apples ripen ten times faster at room temperature and will stay good for up to 90 days when refrigerated. Late season apples are better for storing long term. Keep these tips in mind when choosing when to pick your apples. For U-pick, a number of basket size options are available. In addition to U-pick, you can purchased pre-picked fruit.
Activities at Sky Top
Tractor rides – For 2 bucks, you can take a scenic ride around the orchard. Note there is no hay to accommodate those with allergies.
Petting zoo – Visit the barnyard to see goats, chickens, peacocks, ducks, and geese.
Shop the local market – A wide variety of homemade jams, apple butter, and honey are available for purchase.
Bamboo forest – Take a short stroll through this unique corn maze alternative.
Playground – A spacious playground area for the kids.
And, of course, there are plenty of photo opps located throughout the orchard.
Seasonal Apple treats
Hot apple cider, apple cider slushies, apple pie, caramel apples, kettle corn, and hard cider all greet you as you enter the farm store. The overpowering scent of fresh apple makes it hard to resist a treat or 2. Sky Top is most well-known for their apple cider doughnuts, priced at just $1 a piece. Although I am not a big fan of sweets, their donuts are pretty tasty with just the right amount of cinnamon and spice. The homemade apple cider, freshly pressed on-site with 10 varieties of apples, is really delicious. Take a seat in the scenic picnicking area and enjoy beautiful views of the Blue Ridge mountains as you enjoy homemade fall treats.
Also, there's a nice spacious picnicking area if you would like to bring your own lunch.
Things to know
Dogs are allowed everywhere but the fruit stand. They must be on a leash at all times.
Visit during the week if you prefer to avoid heavy crowds.
Note that the terrain is a bit rough. Parking can be a bit rough for smaller cars.
Gym shoes are recommended due to the uneven and oftentimes muddy nature of the grounds.
Bring with cash. Only a handful of vendors accept credit cards.
Pick only apples you wish to buy. Don't play around with any apples.
U-pick is priced per basket size. See an attendant for further instructions.
Follow these guidelines on how to pick the best apples.
Location & Pricing
Sky Top is located in Flat Rock, North Carolina at 1193 Pinnacle Mountain Rd. Parking and entrance are both free. Most activities require a separate fee (tractor rides, Bumblebee kids ride, food to feed the ducks, apple canon, and food).
Hours are 9am-6pm, 7 days a week. Open early August-late October (closed Thanksgiving).
What to do nearby
Explore downtown Hendersonville
This small town Main Street is home to numerous local restaurants and shops. Stop by for lunch at Mountain Deli and challenge yourself to some old fashioned gaming fun at the Appalachian Pinball museum.
Stop for a coffee and pastry at Flat Rock Village Bakery
Great local bakery which specializes in homemade pastries and serves great coffee from a local NC roaster called Counter Culture. Their croissants and Danishes are particularly delicious. Each autumn, they usually offer a number of pumpkin treats including a delicious pumpkin cream cheese Danish! Nice outdoor patio. Opens early (8am) so you can stop by for a cup of joe before visiting the orchard.
Enjoy the mountain views at Jump Off Rock
Take in spectacular mountain scenery (and a little bit of history) at this historic site. A 300 year old legend involves an Indian maiden who jumped to her death after hearing news of her lover dying in battle. Also on-site are several easy hiking trails.