9 Charming Small Towns in the Blue Ridge Mountains of WNC
Western North Carolina is a beautiful natural region which is home to hundreds of mesmerizing waterfalls and endless miles of tranquil forest trails for hiking and mountain biking. This region is populated by many small towns, most notably Asheville. All of these quaint towns make for a great base location for exploring the wonders of the Blue Ridge mountains. Along with being an easy daytrip away from endless outdoor activities, each small town in WNC is home to many of its' own unique amenities. From coffee shops and foodie restaurants, to art galleries and museums, there's more than enough to explore after a long day working up a sweat on the trails.
Featured below are 9 wonderful Western North Carolina towns to add to your bucket list.
1. Asheville
Known for: The Biltmore Estate, River Arts District, Foodie and Craft beer scene
Top attractions: Woolworth Walk, Grovewood Village, Biltmore Village, North Carolina Arboretum
Best restaurants: Andaaz, Chai Pani, High Five Coffee, Biscuit Head, Blue Ridge Buffet at the Omni, Nine Mile, Vinnie's
The most famous Western North Carolina city is Asheville, the largest and most popular tourist destination in the region. Tours of the massive 8000 acre, 250 room Vanderbilt Estate draw almost 2 million visitors per year. The enchanting Blue Ridge mountains surround the city, and many gorgeous hiking trails lie an easy daytrip away. With multiple entrances to the Blue Ridge Parkway, there's no excuse not to enjoy a cruise on "America's Favorite Drive." From scenic overlooks to dazzling waterfalls, you could easily spend the entire day exploring. After enjoying the great outdoors, there are plenty of top-rated restaurants where you can refuel and relax. Around town, a variety of local galleries, craft breweries, and coffee shops give you plenty of entertainment options off the trails. Woolworth Walk, featuring amazing handcrafted works from over 175 local artists, is a must visit.
2. Hendersonville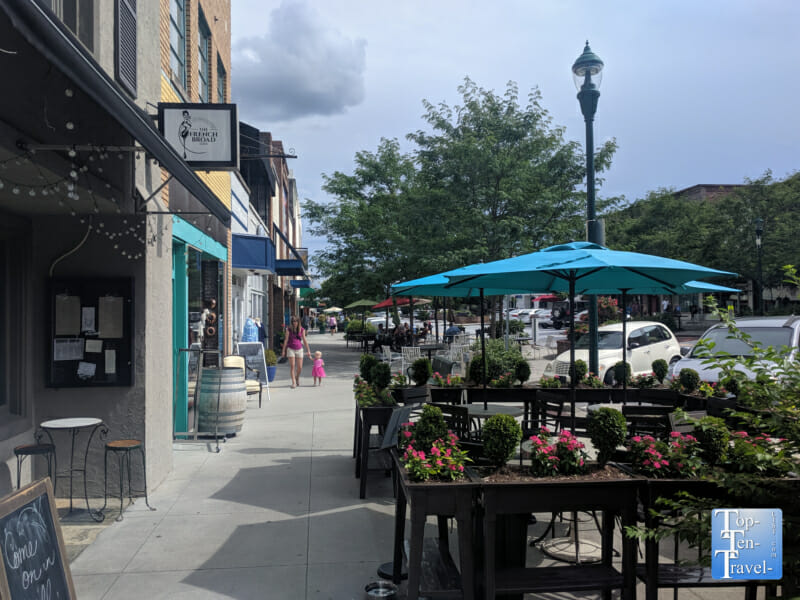 Known for: Historic downtown district, Orchards, Labor Day Apple Festival
Top Attractions: Grandad's Apples, Jump Off Rock, Appalachian Pinball Museum, Dupont State Forest
Best restaurants: Black Bear Coffee, Mountain Deli, White Duck Tacos
The second largest city in Western North Carolina, Hendersonville, is most notably home to a charming Main Street. Incorporated in 1847, this old-fashioned downtown is lined with independent cafes, restaurants, and antique & boutique shops. Nicknamed "The Apple Capital of North Carolina," the city is located within close proximity to many great orchards. During the fall season, you will definitely want to visit a U-pick farm like Sky Top Orchards or Grandads. Great daytrips for fitness buffs include hikes within the Pisgah or Dupont State Forest. Triple Falls is a wonderful 2.2 mile trail to 3 incredible waterfalls. Another great destination for nature lovers is Jump Off Rock, a quiet overlook which overlooks the dazzling Blue Ridge mountains. After a long day out enjoying the fresh mountain air, shop and dine local in the historic downtown.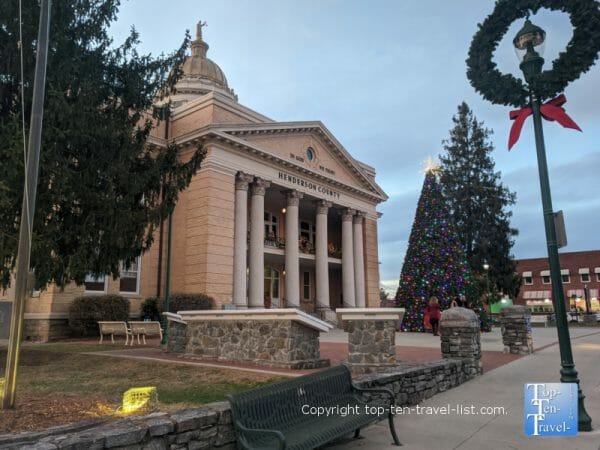 3. Brevard
Known for: Easy access to waterfalls, Quaint downtown, Mountain biking trails, Farmer's Market (May-Oct)
Top attractions: Looking Glass Falls, Courthouse Falls, Transylvania Heritage Museum, Black Balsam Knob
Best restaurants: Quotations Coffee Cafe, Sully's Steamers, Quixote
Smithsonian recently named Brevard one of the "Coolest small towns in America." Brevard sits amidst the beautiful Blue Ridge mountains in Transylvania County, "The Land of Waterfalls." With easy access to more than 200 waterfalls, you will never run out of outdoor adventures. Looking Glass Falls (an easy 30 min drive) is a mesmerizing 60 foot waterfall located right off the road. It's busy year-round – but thankfully no hiking is required! For those looking to work up a sweat, check out the Art Loeb, Pink Beds, or Log Hollow Falls trail. After a day exploring the great outdoors, you will want to take a stroll around the charming downtown. Local restaurants, coffee shops, antique stores, breweries, and galleries line the small, yet vibrant Main Street. Keep an eye out for the white squirrel (the city is home to a high population of eastern grey squirrels with an albino gene mutation).
4. Black Mountain
Known for: Quirky downtown, Art galleries, Beautiful mountain scenery
Top attractions: Town Square, Lake Tomahawk Park, Europa Gifts, Mountain Nest Gifts, Seven Sisters Gallery
Best restaurants: Veranda Cafe, The Dripolator Coffeehouse
Trip Advisor users recently ranked Black Mountain as one of the "prettiest small town vacations." Beautiful Lake Tomahawk Park is the oasis of the gorgeous Town Square. The half mile path circles around the lake and features mesmerizing views of the mountains. Downtown Black Mountain is an eclectic place with a variety of interesting local shops and restaurants to enjoy. Here, you will find lots of touristy gift shops and galleries to browse through. The arts community here is very vibrant. Numerous art related events and festivals take place throughout the year. Stop by the Black Mountain Center for the Arts to further explore the local art scene. The best easily accessible hike is Catawba Falls, a moderate 1.5 mile trail to a stunning 100 foot multi cascade waterfall. This one is best enjoyed during the colorful fall season.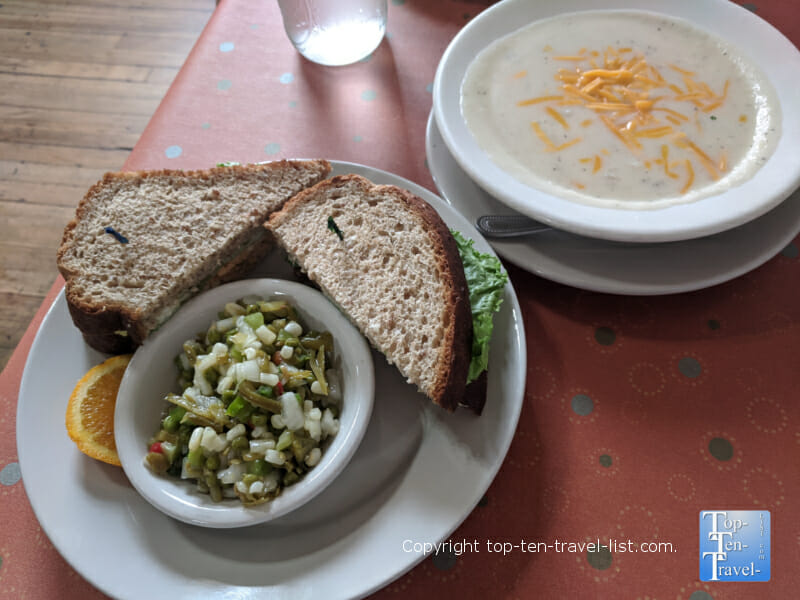 5. Boone
Known for: Ski resorts, Appalachian State University, Charming downtown, Easy access to the Blue Ridge Parkway
Top attractions: Appalachian Ski Mountain, Foggy Mountain Gem Mine, Grandfather Mountain, Mast General Store
Best restaurants: Casa Rustica, Coyote Kitchen, Mellow Mushroom
Boone, a small quirky college town, is quite popular with tourists seeking to ski or hike. Several ski resorts and hundreds of miles of trails are easily accessible via a short drive. The lively downtown is home to a number of coffee shops, local restaurants, and a popular old-time general store. Main St. is a great place to stroll around and enjoy delicious local foods and drinks. Summer is the perfect time to enjoy a hiking adventure or take a leisurely drive on the Blue Ridge Parkway. The Greenway Trail loop is a great choice for beginners. Avid mountain bikers will want to take a ride at the Rocky Knob Mountain Bike Park. Waterfall lovers will want to check out Glen Burney and Linville Falls. During the winter season, take a quick drive over to Appalachian Ski Mountain for a day of skiing, ice skating, or snowboarding.
6. Blowing Rock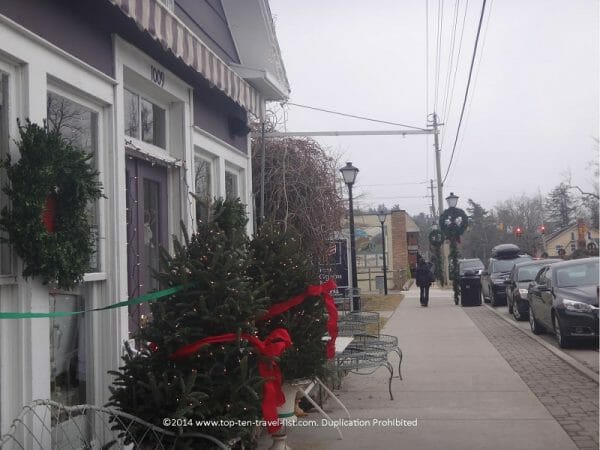 Known for: The Blowing Rock, The only operational narrow-gauge railroad in North Carolina, Beautiful mountain views
Top attractions: Tweetsie Railroad, Blue Ridge Parkway, Appalachian Ski Mtn, Julian Price Park, Grandfather Mountain
Best restaurants: Six Pence Pub, Village Cafe
This tiny charming mountain community is a great choice if you would prefer to avoid the busy student crowds found in Boone. In Blowing Rock, the ambiance is a bit more relaxing and tourist centered. In addition to having numerous restaurants and tourist shops at your leisure, the Blue Ridge Parkway and many fabulous hikes are located within an easy daytrip. The most famous attraction in the region is The Blowing Rock, a 4000 foot cliff which affords dramatic views of the mountains. This popular tourist attraction opened in 1933, making it the oldest tourist destination in the state. Julian Price Park and the Glen Burney trail are wonderful hiking areas for nature lovers. Dock's Rocks Gem Mine and the Tweetsie Railroad are 2 popular tourist attractions to consider.
7. Flat Rock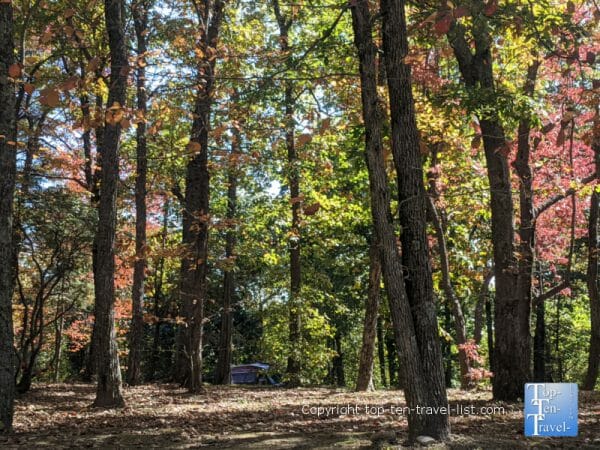 Known for: The hometown of Carl Sandburg, Historic charm (nicknamed "the Little Charleston of the Mountains")
Top attractions: Flat Rock Playhouse, The Park at Flat Rock, Sky Top Orchard
Best restaurants: Flat Rock Village Bakery, Seasons at Highland Lake
This small village in Henderson County is located just a few miles outside of Hendersonville. While quite small with a population of just over 3000 people, it's a great base for exploring the Blue Ridge region. Additionally, it's an easy drive from Hendersonville and Asheville. The Carl Sandburg Home National Historic Site is the most notable attraction in town. Tours of the poet's home, along with 5 miles of trails and a dairy goat farm, are the highlights to explore here. Other attractions in town include a small downtown modeled after Charleston's famous Rainbow Row, the beautiful Park at Flat Rock (one of the nicest in the region), the Flat Rock Playhouse, and The Gallery at Flat Rock.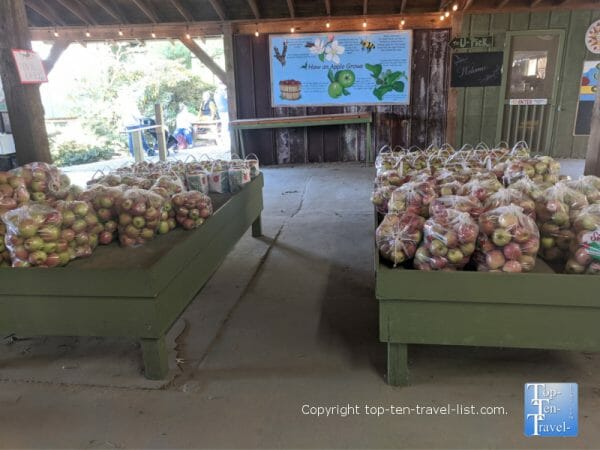 8. Chimney Rock/Lake Lure
Known for: Chimney Rock State Park, Annual Dirty Dancing Festival
Top attractions: Hickory Nut Falls, Chimney Rock Village, Lake Lure boat cruises, Lake Lure Flowering Bridge
Best restaurants: Coffee on the Rocks, Medina's Cafe, La Strada at Lake Lure
Challenge your legs to a 499 step climb up the historic 535 year old monolith known as Chimney Rock. The views are stunning anytime of the year, even more so during the colorful fall season. Adjacent to the park you will find Chimney Rock Village, a rustic section of town featuring a number of restaurants, cafes, and touristy shops. It's a great place to relax and unwind after your intense climb! Just minutes from Chimney Rocks lies Lake Lure, which was rated one of the most gorgeous lakes in the world by National Geographic. The beautiful scenery was featured in the 80's classic Dirty Dancing. Take a narrated boat cruise to see where popular scenes from the movie were filmed. Consider staying at the Esmeralda Inn where the Dirty Dancing cast stayed during filming.
9. Waynesville
Known for: Vibrant Main Street, Proximity to The Smokies and the Blue Ridge mountains, Christmas tree farms
Top attractions: Main Street, Soco Falls, Mingo Falls, Graveyard Fields, Museum of North Carolina Handicrafts
Best restaurants/cafes: Orchard Coffee
Located about 30 minutes southwest of Asheville lies Waynesville, a small mountain town located in between the Blue Ridge and Smoky Mountains. "The gateway to the Smokies" is quite popular with outdoor buffs and fitness fanatics due to its' central location. It's easy to explore the many outdoor wonders in the Appalachians via a quick daytrip. The downtown, which is lined with local restaurants, galleries, and tourist shops, is very popular with visitors for its' old time appeal. Bakeries, coffeehouses, galleries, and boutique shops line the charming Main Street. This is a great place to relax with some good food and pick up a souvenir or 2 after hiking, biking, and waterfall viewing. A quick 30 minute drive will take you to beautiful Cherokee. The Indian reservation is home to a popular Harrah's casino and 2 beautiful waterfalls – 200ft Mingo Falls and the mesmerizing 120 foot Soco Falls.