5 Things to do in Brevard, North Carolina
Brevard is a small Western North Carolina mountain town located within beautiful Transylvania County. Despite the spooky name, this county has been nicknamed "The Land of Waterfalls." With over 200 amazing waterfalls to choose amongst, outdoor enthusiasts will have a field day exploring nature at its' best. A bustling downtown, a lively year-round events lineup, close proximity to the Blue Ridge Parkway, and easy access to endless recreational opportunities makes Brevard a great base for your Western North Carolina adventures. If you need more to do, you are conveniently located within an easy daytrip of Asheville and Greenville (SC), each offering a multitude of their own unique amenities.
1. Visit Looking Glass Falls
Of the numerous roadside waterfalls in North Carolina, Looking Glass stands out as the most impressive of the bunch. This powerful 60 foot waterfall is very popular with tourists due to its' immense beauty. Despite the oftentimes crowded setting, this waterfall is quite a marvel of nature and photographs beautifully. Consider visiting on a weekday or during the off-season (winter) to bypass the crowds. As for the name, it comes from the mirror-like appearance that the rock takes on during the winter season as rain freezes. The ease of accessibility (no dirt roads) and no hiking required (you can walk down a staircase for better views), makes Looking Glass a must-see for every nature lover.
2. Shop and dine in downtown Brevard
This charming Main Street is loaded with unique shops, restaurants, and coffeehouses. Before or after exploring the great outdoors is the perfect opportunity to check out this unique downtown. Art galleries, an old time soda shop, antique stores, and a variety of local restaurants line one of WNC's most popular downtowns. Smithsonian Magazine recently named Brevard "One of America's coolest small towns." Note that many businesses have reduced hours/close on Sundays.
A few places to check out during your visit:
White Squirrel Shoppe – Local shop dedicated to everything white squirrel. Brevard is known for being home to a high concentration of these unique squirrels. Interestingly, these Eastern Grey Squirrels are white due to a recessive pigmentation gene.
Sully's Steamers – Delicious steamed bagel sandwiches available in all sorts of tasty combinations. Many veggie options.
Quixote – Beautifully designed modern Tex-Mex restaurant serving creative fare.
OP Taylors – Fun old time toy and game shop.
Highland Books – Best sellers plus a huge used books selection.
Also be on the lookout for ongoing events such as the Transylvania Farmers Market and the Brevard Music Center Summer Festival. Also, HalloweenFest and the Christmas Parade are popular holiday festivals to look forward to.
3. Explore the gorgeous Pisgah National Forest
There's no shortage of fantastic hiking trails within a short drive of the city. The massive 500,000 acre Pisgah National Forest is an outdoor lover's dream destination. Whether you feel like taking a quiet walk amongst the trees, hiking to a mesmerizing waterfall, picnicking, whitewater rafting or enjoying a thrilling mountain biking adventure, there's endless options. Here are a few great trails to get you started. Note – stop by the visitor's center for more detailed hiking and adventure options in the region.
Moore Cove Falls – Beautiful short hike to one of the only NC waterfalls you can stand directly underneath. Bonus -this one is located just a mile up the road from Looking Glass Falls. More info
Graveyard Fields – Super popular short trail on the Blue Ridge Parkway to a gorgeous 50 foot waterfall. Especially scenic during peak fall foliage. More info
Art Loeb trail – Lengthy 30+ mile trail offers tremendous mountain scenery. If you are looking to keep it simple and scenic, Black Balsam Knob is a moderate 2 mile trek to a stunning treeless bald.
Log Hollow Falls – Short easy path to 2 beautiful waterfalls. Quiet compared to many trails in the region.
4. Relax with a great cup of joe at Quotations
There are a number of independent coffee shops in Brevard. The best-of-the-best is Quotations Coffee Cafe. This charming laid-back local coffeehouse features a spacious layout with plenty of seating. Big open windows allow you to take in the action downtown, while cozy couches are perfect for anyone looking to read or relax. They serve delicious Counter Culture Coffee, a renowned roaster based out of Durham. Their pastries are delicious, as are the NY bagels. Quiche, breakfast sandwiches, and yogurt parfait also available. If visiting in the spring/summer, enjoy your drink on the lovely shaded patio.
5. Explore Silvermont Mansion & Park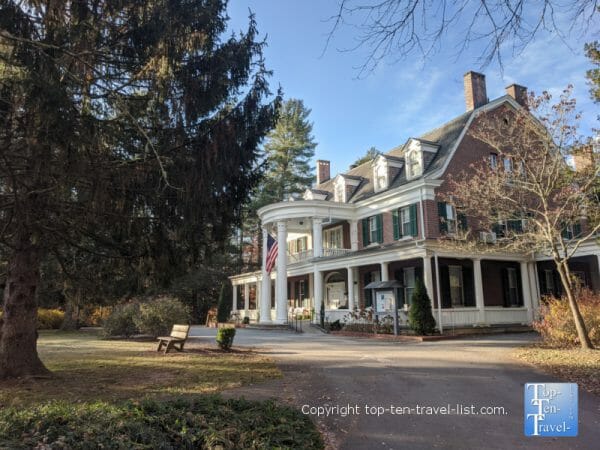 This 8 acre park, located just minutes from downtown, is a great place to take a stroll anytime of the year. The ~mile long wheelchair accessible path wanders through a conifer garden and a Woodland Garden of Native plants. Amenities include tennis courts, a basketball court, picnic facilities, and a playground. If open, take a tour of the early 1900's era 33 room Colonial Revival Mansion. On a side note, this is a great park to catch a glimpse of a white squirrel – bring your camera!