Attraction of the Week: Graveyard Fields
Seeing one waterfall is an incredible experience. Seeing 2 in a single hike is a rare, but exhilarating opportunity. The moderately intense 3.5 mile Graveyard Fields Loop is one of the more popular trails on the entire Blue Ridge Parkway. The Blue Ridge Parkway, with upwards of 14 million visitors per year, is the top visited National Park Service site in the country. As this hike is located within an easy hour drive of Asheville, tourists flock here pretty much year-round. During the dazzling fall season, it can be difficult to find parking. With 2 waterfalls accessible within a relatively moderate trek, it's no surprise that most tourists choose to add this gem to their Western North Carolina bucket list.
History of Graveyard Fields
According to the overlook sign, the odd trail name is actually not sinister in nature, but rather arises from a weather related catastrophe. At one point, a major windstorm left behind spruce needle covered tree trunks. These barren trunks resembled a graveyard. The NPS also notes that another theory for the strange name involves logging. As the story goes, in the early part of the 20th century, intense logging left behind many moss covered tree stumps which thus resembled a graveyard. Eventually a fire in1925 took out all the stumps. Today, visitors enjoy the dramatic mountain views.
The hike
Graveyard Fields is located at Milepost 418.8 on the Blue Ridge Parkway in Western North Carolina. The hike is located at an elevation of 5120 feet within the Pisgah National Forest. Some tourists choose to simply enjoy the beautiful view from the overlook, others choose to keep it simple and hike out only to the Lower "Second" Falls, while more avid hikers complete the full challenge to both the Upper and Second Falls. Both of these trails begin right at the overlook as you descend down a small staircase.
The plant life here is diverse, with mountain laurel and rhododendron blooming in June, along with beautiful wildflowers, meadows, and lush forests. Most of the trail is shady, and thus, summer hiking is ideal. In comparison to Asheville, temps will be much cooler at such a high altitude.
Note that this trail is very busy and parking fills up fast on weekends, during holiday periods, as well as pretty much the entire leaf peeping season. Anyone wishing to avoid the hassle of waiting for parking and dealing with crowds should opt to visit during non peak periods or better yet on a weekday morning.
On another note, there are so many beautiful overlooks and hikes in this region. Nearby Devil's Courthouse and Black Balsam are 2 fantastic hikes which offer the most incredible mountain vistas.
Second Falls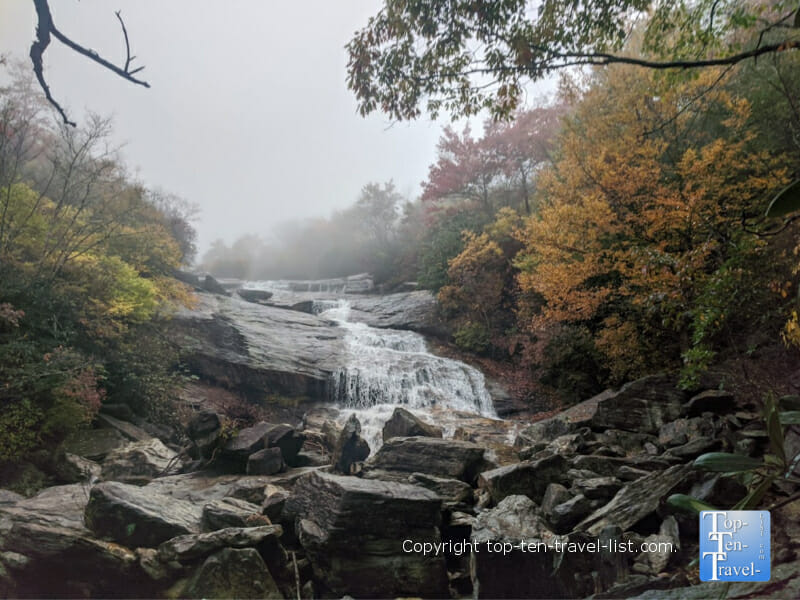 One great option here which is easily accessible to most anyone in basic shape is a 0.3 mile out-and-back trek to Second Falls, a gorgeous 60 foot waterfall. If you would like to get out into nature for a bit without going all out, this trail is the perfect option for you. This trek is mostly flat besides a steep staircase right before you get to the falls. As one of the more beautiful waterfalls on the Parkway, the short walk to Second Falls is a great bang-for-you-buck experience considering the little effort required on your part. Bring with your camera and get out here early in the morning for uninterrupted photos!
On a side note, this trail is super popular with blueberry pickers. Late August you will see many people out and about picking wild blueberries. Graveyard Fields frequently rates as one of the top blueberry picking trails in the state.
Upper Falls
For the more adventurous, there is a longer loop which also takes you to Upper Falls. Be prepared for a rather steep 3+ mile journey if you would like to see both falls. While impressive, Second Falls is a much more grandiose waterfall. Thus, a hike to Upper Falls is most recommended for those who wish to get in a hearty workout and/or spend more time in nature. Some tourists believe that the trail is not marked well enough. Keep this in mind if you are someone who prefers to avoid getting lost in the woods. Although we had no problem finding the way, there was quite a bit of traffic which oftentimes helps to ensure you are on the right path.
The loop covering both waterfalls clocks in around 3.6 miles. Plan at least a few hours time commitment, more if you plan to take a lot of breaks or pictures.
Leaf peeping season
Graveyard Fields is known to be one of the top leaf peeping destinations on the Parkway. Unfortunately, this means even more traffic than usual for most of the month of October. Beautiful bright foliage can be enjoyed both at the overlook and along the trail. Additionally, the drive over from Asheville is quite beautiful. Be aware that peak foliage dates vary in the mountains. Graveyard Fields sees color quite early due to the high elevation and the types of trees found in the area. High altitude areas typically change first around the last week of September or early October.
The first week of October usually is a great time to plan a leaf peeping trip to Graveyard Fields. The Explore Asheville website has a convenient fall color tracker which you can use to time your visit just right. Remember that the lot tends to fill up quickly on weekends. Getting out here early will ensure that you get a parking spot and enjoy the trail and falls in a quieter setting.
A few lovely views during the autumn season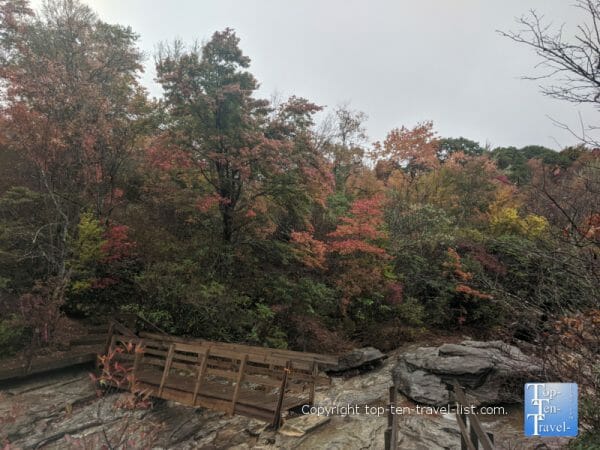 Location & Parking Details
Graveyard Fields is located at Milepost 418.8. Although the parking area is quite spacious, this is quite a popular trail. Parking is free. Restroom facilities are available. The trail is pet friendly (leash required). Bring with plenty of water, a few light snacks (trail mix or pretzels are good), a GPS watch, and wear comfortable hiking shoes. A stick comes in handy when hiking to Upper Falls where the terrain is a bit rougher and rockier.
More info on the Blue Ridge Parkway including a milepost guide, attractions, and road closures
What to do nearby
Hike to the summit of Devil's Courthouse – This just may be one of the most incredible hikes on the Parkway. This trail gets its' unique name from a legend involving the Devil holding court under the sinister looking rock. While the hike is just a half mile to the summit, it's quite intense with a quick 300 feet of elevation gain. The panoramic views of the Blue Ridge area are simply magnificent. Located at Milepost 422.4
Hike Black Balsam Knob via Art Loeb – This unique treeless bald offers breathtaking views of the surrounding mountain ranges. With a more alpine-like setting, adventurous tourists and locals love completing this trek. You will feel on top of the world when you reach the summit. The full hike comes in at just over 2 miles with scenic views throughout. Located at Milepost 420.