39 Must-dos in beautiful Western North Carolina
Western North Carolina is the picturesque mountainous region of the state most well-known its' abundance of awe-inspiring wonders. The region is home to over 200 incredible waterfalls, including one of the highest east of the Mississippi. The central hub of the region, Asheville, is a prominent foodie and vacation destination. Setting up base in Asheville puts you within easy daytrip distance to the region's best natural sights and cultural attractions.
From the Great Smoky Mountains National Park, to the picturesque Blue Ridge Parkway (voted America's Favorite Drive), to Mt Mitchell (the highest point east of the Mississippi at 6684 feet), natural wonders abound in every direction.
Below are 30 of the best things to see and do within the Western North Carolina region. Of course, there are endless recreational opportunities to explore, so this list is by all means not all inclusive, but rather a helpful starting point!
1. Climb to the top of Chimney Rock
Embarking on the 499 step climb up to the top of the 535 million year old megalith known as Chimney Rock is a rewarding experience for anyone who appreciates nature. Although the climb is a bit taxing, the grand 360 degree views of the Hickory Nut Gorge and rolling Blue Hill scenery really makes all your hard effort worth it in the end!
Although you may be tempted by the easier alternative route to the top (via one of the world's only mountain elevators), completing the iconic climb is really part of the journey itself. It's a much more rewarding experience to arrive at the stunning ending overlook via your own 2 feet. Plus, there are numerous incredible viewpoints the entire way up, enabling you to enjoy views you wouldn't otherwise have the opportunity to see.
2. Walk behind Dry Falls
As one of the only Carolina waterfalls you can walk behind, Dry Falls should be high on your must-see list. This hike to see this beauty is as close to no effort as you could possibly get. At just a quarter of a mile, this one is easy enough for just about everyone (kid-friendly, handicap accessible). While the 75 foot waterfall itself is absolutely enchanting, the real highlight here is walking behind the falls without getting wet, hence the appropriate name.
Location: 2 miles west of Highland off of Hwy 64
3. Marvel at the National Gingerbread competition
Each November, the ritzy Omni at Park Grove Inn in Asheville hosts the country's most prestigious gingerbread competition. The winning entries are displayed throughout the property. Last year's winners included everything from a cuckoo clock, to a mountain log cabin home, to a scene from A Christmas Story. The designs are so realistic and intricate – it's hard to imagine the patience required to create such masterpieces!
The gingerbread artists are incredibly talented. Who knew you could create such detailed scenes solely out of food? (all houses must be completely edible and constructed of at least 75% gingerbread).
This is the best time of the year to visit/stay at the Omni. As one of the nation's grandest gingerbread displays, this is one sweet event not to be missed. On a side note, the resort is decorated gorgeously for the holidays. Treat yourself to a signature salted caramel hot chocolate by the gigantic fireplace and be sure to check out the extraordinary buffet!
4. Escape the crowds at Tom's Creek Falls
Tom's Creek is one of the least visited of the major waterfalls surrounding Asheville. This is quite shocking as this is by far one of the most scenic & traunquil of the bunch. The trail travels through a quiet forest and is just over a half mile out-and-back. At the end, you will be treated to a peaceful view of this 60 foot multi-tiered waterfall. The most unique aspect of this waterfall is the beautiful mica embedded into the rocks. At one point, mica was mined in the area. Today, the remaining mica glistens in the sun.
Location: 1250 Huskins Branch Rd, Marion, NC 28752
5. Get back to nature at the Asheville Botanical Gardens
The Asheville Botanical Garden is a prime place to bird watch, hike, and soak in some nature, anytime of the year. The garden looks gorgeous year-round, whether encompassed by the beautiful hues of fall, or covered with a fresh blanket of snow. Best of all, it's free so you can keep on coming back to enjoy the diverse scenery changes throughout the year. The space is quite small at just 10 acres, however, it is conveniently located right in the center of the city, and thus, makes for a nice quick escape.
Location: 151 West T. Weaver Boulevard, Asheville, NC 28804
6. Take a cruise around beautiful Lake Lure
Take a narrated cruise around the lake most famous for being used as a setting in the 80's cult classic Dirty Dancing. This beautiful North Carolina tourist favorite was chosen as an alternative to the Catskills due to the similar gorgeous rolling hills scenery which dominates the landscape. You will see the location where Johnny and Baby practiced their dance moves, as well as the now-famous stairs where Baby practiced her dance moves.
7. Treat yourself to a Southern style Cathead biscuit
Biscuits are a staple of Southern cuisine, and catheads biscuits are definitely the way to go. These gigantic biscuits are called as so because they are "as big as a cat's head." They are light and fluffy and delicious topped with just about anything -gravy, jam, honey, butter, etc. In a foodie haven like Asheville, there are numerous places where you can feast on great biscuits, with Biscuit Head coming in as the best-of-the-best. While prices are super affordable, you will pay for this treat with a lengthy wait.
Don't worry, the wait is worth it. Whether you decide to go with a gravy flight served alongside your biscuit, or simply order your biscuit plain and top with jams of your choosing, you really cannot go wrong. Try the Half Breakfast special which includes a biscuit, a side, and 2 eggs for just 6 bucks. Not a bad deal. And, for those with food allergies, they conveniently offer a gluten-free/vegan biscuit (plus a vegan gravy), so you do not have to miss out on the fun!
Location: 733 Haywood Rd Asheville, NC 28806
8. View the largest waterfall in the state
Whitewater Falls is a must-see for any waterfall lovers visiting the WNC region. This one requires a tiny little 1/4 mile long walk to an observation deck overlooking the falls. At 810 feet, the combined Upper and Lower Whitewater Falls are the largest in the state, and one of the tallest east of the Mississippi. The rustic setting and beautiful natural surroundings really set this one apart. This is one amazing waterfall with a perfect unobstructed viewpoint. Definitely make the time to drive out to this one!
Location: Hwy 281 Sapphire, NC 28774 (about 8.5 miles to the parking area).
9. Step back in time to the heyday of pinball
The Asheville Pinball Museum is a true treasure for 80's pinball/arcade culture fans. This nostalgic arcade is located in downtown Asheville and almost always super busy. Not a surprise really as this place is pretty awesome. With dozens of retro pinball machines from yesterday, nostalgic 80's decor, classic NES and Sega gaming systems, and even a room dedicated to stand up arcade machines, this is the place to go if you love classic video gaming. Leave your phone at home and enjoy a few hours of old-fashioned fun!
10. Take a relaxing drive to Looking Glass Falls
Looking Glass Falls is the most dramatic of the roadside waterfalls in the Carolinas. This one is just 45 minutes from the city center and well worth the short trek to see such an amazingly powerful wonder of nature. Simply step right out of your car and treat your eyes to this 60 foot tall stunner. On an interesting note, the name arises from the unique appearance the rock takes on in winter as rain freezes and creates a mirrored or "looking glass" appearance.
Location: US-276, Brevard, NC 28712
11. Walk across the mile high swinging bridge
Grandfather Mountain is the most beloved of all North Carolina attractions. The prime sight to see here is a swinging pedestrian bridge which sits one mile above sea level. As you walk across the bridge, you will take in gorgeous 360 degree vistas of the mountains.
The bridge opened in 1952 and is now one of the most popular attractions in the state. If you despise crowds, you will want to save this one for the winter season. Surprisingly, the icy mountain views are just as enchanting this time of year, especially if a fresh layer of snow blankets the area.
Grandfather Mountain is conveniently located just off the Blue Ridge Parkway near Milepost 305. There are numerous attractions in this area. Combine with the extraordinary Linville Falls for one amazing daytrip.
12. Go gem mining
Gem mining is a fun tourist activity which the whole family can enjoy. There are numerous gem mines all over the Western North Carolina region. One of the best is the Foggy Mountain Gem mine in the quaint mountain community of Boone. The beautiful High Country rustic ambiance creates a picture-perfect setting for hunting for your gems. Like a miner in the old days, you will sift through dirt to find your hidden treasures.
Afterwards, a guide will help you identify your gems. If you wish, you can transform your rough gems into jewelry grade pieces.
Location: 4416 Nc Highway 105 S Boone, NC 28607
13. Hike to spectacular Catawba Falls
Catawba is a mesmerizing 100 foot tall waterfall which stuns with multiple cascading levels. The hike is just a little over 1.5 miles each way (although a bit steep at times) and features several stream crossings. This one is particular scenic in fall, so all leaf peepers take note. While one of the more heavily trafficked trails, this does not at all distract from the beautiful natural surroundings.
Location: 3074 Catawba River Rd Old Fort, NC 28762
14. Spend the night at a rustic lodge
One of the best things to do in the WNC region is to book a stay at one of the area's gorgeous cabins or inns. The perfect compliment to a day of hiking, rafting, or any other type of adventurous nature activity, is coming back home to a relaxing rustic lodge. Lazy Bear Lodge near Blowing Rock/Boone is a beautiful property which overlooks the Blue Ridge Mountains. It's secluded and close to numerous natural attractions including Grandfather Mountain.
Lazy Bear offers a scrumptious homemade breakfast each morning. The innkeepers are super friendly and helpful with local recommendations for dining and activities. The entire place is gorgeously decorated in a mountain cabin theme with a double sided fireplace in the dining/common area, as well as fireplaces in guest rooms. The grounds are gorgeous as well with Koi ponds, gardens, and a beautiful veranda with plenty of cozy seating to take in the grand scenery.
15. Brunch at the Blue Ridge Artisanal Dining Room
Nothing really beats a great brunch, that is, asides from a brunch accompanied with extraordinary views. It's not too often that we come across a buffet that comes with great scenery as an added bonus. Breakfast at the Blue Ridge Artisanal Dining room inside the Omni Park Grove is every bit as luxurious as the resort itself. Here you can look forward to a made-to-order omelet station, a donut bar, fresh squeezed juiced drinks, homemade pastries, as well as all the standard breakfast sides.
The best part of dining at this buffet is enjoying the stunning vistas via the floor-to-ceiling windows. Every seat in the room has a great view. Really, there is no need to plan for brunch anywhere else when you could dine in company of the beautiful Blue Ridge mountains.
Location: 290 Macon Ave, Asheville, NC 28804
16. Relax with a drink & good book at the Battery Park Book Exchange
The Battery Park Book Exchange is a really unique book store/champagne bar in downtown Asheville. If you are a lover of books and/or champagne, you will want to check this place out. What a unique concept to combine 2 of life's greatest pleasures! Thousands and thousands of used books fill up several rooms – you could literally browse here the entire day. Not a fan of champagne? Wine and coffee are also available.
Location: 1 Page Ave #101, Asheville, NC 28801
17. Spend the day enjoying nature at Gorges State Park
Gorges State Park is one of the best places to enjoy a day out in the Carolina wilderness. There are a number of trails here, the most famous being the hike to Rainbow Falls. The hike is just 1.5 miles out-and-back, although pretty steep for a good portion of the trail. If you are up for a good workout, you will be rewarded with an amazing adventure. The 150 foot waterfall is named as so for the rainbow which appears in the mist on a sunny afternoon.
If you are up for a longer hike, you can continue on another half mile or so to see Turtleback Falls. Bearwallow is another beautiful trail, this one featuring a smaller waterfall and seasonal wildflowers. Other things to do at Gorges include picnicking, mountain biking, and trout fishing. Bonus: This state park has one of the most gorgeous visitor centers I've ever come across.
Location: 976 Grassy Ridge Rd, Sapphire, NC 28774
18. Take a stroll around downtown Asheville
Asheville is home to a trendy walkable downtown district which is loaded with unique restaurants, coffee houses, and galleries. The architecture is beautiful and the landscaping is always maintained. Plenty of unique dining establishments to explore. For breakfast swing by Biscuit Head, Sunny Point Cafe, or Early Girl Eatery. Check out Chai Pani for lunch, an award winning Indian restaurant serving authentic street fare. If you are craving something sweet, treat yourself to a delicious liquid chocolate truffle at French Broad.
There's lots to do here including the Asheville Pinball Museum, numerous independent coffeehouses, the Asheville Art Museum, and all sorts of speciality shops. The Mast General Store is a must stop for the old time nostalgia. Also be sure to check out the lineup of events. There always seems to be something going on, whether it be an art fair, a farmer's market, or a seasonal festival.
19. Explore the Smoky Mountains National Park
It would be a shame to visit the area and not check out one of America's best national parks. As America's most beloved park, the Smokies sees a whopping 11 million visitors per year! (this is more than double than runner up the Grand Canyon). Not only is the scenery here incredible, but it's also home to the largest concentration of black bears in America. Sightings are not at all rare – in fact, I saw a bear on my first hike! The fact that admission is totally free makes the park all the more desirable.
The North Carolina entrance to the park is in Cherokee. The Oconaluftee River Trail is the closest trail to the Cherokee entrance. The trek is 1.5 miles each way and easy enough for dog walkers (the only trail in the area where dogs are allowed). Other fun things to do in this portion of the Smokies include scenic drives, mountain biking, horseback riding, and fishing. Of course, if you are up for a longer daytrip, there's much to see and do in Gatlinburg, the entertainment capital of the Smokies.
More info on the North Carolina side of the Smokies
20. Step back in time at the Mast General Store
The Mast General Store is an old-fashioned gem with numerous locations throughout the Carolinas. This is a really cute place where you can shop for nostalgic decor, regional food goods, outdoor apparel, and retro toys and games. Mast offers a huge selection of quality outdoor goods including well respected brands like Patagonia and Life is Good.
The old-time candy counter will really take you on a blast to the past. Take a trip back to the 50's and load up on all the goodies you probably forgot existed!
Location: 15 Biltmore Ave, Asheville, NC 28801
21. Take a walk underneath Bridal Veil Falls
Bridal Veil falls has the distinction of being the only waterfall you can drive behind in the state. While it's not the most spectacular waterfall in the vicinity, it is located on the way to Dry Falls, which is one of the most spectacular of the Carolina falls. As an easy and unique sight directly on the route to a must-see attraction, Bridal Falls is another great addition to your WNC itinerary.
Location: US Hwy 64 (Just under a mile away from the Dry Hills parking lot).
22. Enjoy the mountain vistas at Craggy Gardens
Craggy Gardens is a gorgeous overlook at Milepost 364 along the beautiful Blue Ridge Parkway. Pack a picnic and enjoy the 360 degree mountain scenery. During the warmer months, visitors flock here to see the rhododendrons. Fall is all about the colorful foliage. Winter, if open, offers the unique opportunity to enjoy remote icy views of the mountains.
Be aware that the Blue Ridge Parkway is oftentimes closed for adverse weather. As this viewpoint is located at a pretty high altitude (5000+ ft), early snowstorms are common. Thus, the road is often closed due to heavy snow. Check the National Park Blue Ridge road closures updates to stay up to date.
Location: Milepost 364 Blue Ridge Pkwy, Black Mountain, NC 28711
23. Soak your weary feet at Wake Foot Sanctuary
Treat yourself to an indulgent foot soak after racking up all those miles on the trails. Although a foot soak does not sound as appealing as a massage, it really is a unique experience. Really, you come here for the relaxation and the nice ambiance more than the actual foot soak. You will get to choose between a variety of foot baths, from a rejuvenating lavender chamomile, to a detoxifying white clay bath. A hotel towel is placed behind your neck before you drift off into pure me time.
Each foot soak lasts 45 minutes and costs $30. Hot water is refilled once during your session. The temp is perfect for ultimate relaxation. For an extra 30 bucks, you can add on a foot or hand massage. Unfortunately, they dock the time for the soak, so the added massage may not be the best deal. While the foot soak is a bit pricey for what it is, it's a nice indulgence for those with the extra cash. Basically, it's a nice treat for birthdays, anniversaries, dates, a vacation treat, and any other special occasion.
You will leave with your feet totally soft and rejuvenated and your mind totally relaxed.
Location: 1 Page Ave #115, Asheville, NC 28801
24. Stroll around Lake Tomahawk Park
Lake Tomahawk is a serene place to walk, picnic, and simply enjoy the great outdoors in the beautiful community of Black Mountain. The mountain scenery surrounding the lake is so tranquil and relaxing – one of the few places you can enjoy the scenery without big crowds. Amenities at the park include tennis courts, horseshoe pits, a fishing pier, and a paved pathway around the lake.
Also, Black Mountain's historic downtown is worth visiting while you are in the vicinity. Enjoy local dining, independent coffee houses, craft beer, local boutique shops, and an ongoing lineup of special events on this traditional Main Street. Enjoy an afternoon shopping and dining in "the little town that rocks."
Location: 401 Laurel Cir Dr #3061, Black Mountain, NC 28711
25. Ski & skate at Appalachian Ski Resort
There are 3 ski resorts to choose amongst the in the Boone/Blowing region. The high county of North Carolina is known as "the ski capital of the South," due to the abundance of snow the region receives (an estimated 33 inches per year).
The best ski resort is the Appalachian Ski Mountain. Here, you will find 11 ski trails, plus a sizeable ice rink and a snow tubing area. Due to the cold temps, Appalachian has a higher snowmaking capacity than other Southeast ski resorts, and thus, sees a much longer season.
Location: 940 Ski Mountain Rd, Blowing Rock, NC 28605
26. Shop & dine at the beautiful Grove Arcade
The Grove Arcade is a beautiful 1920's era Tudor and Gothic revival style building which now operates as a shopping complex. The arcade is most well known for its' Restaurant Row, an eclectic offering of dining establishments located within a block radius.
You will also find an abundance of artsy shops reflective of Asheville's unique creative heritage. Mission at the Grove is a really cool furniture shop to swing by. Also check out Mountain Made, featuring regionally produced works from over 80 local artists.
For the ultimate in relaxation, treat yourself to a foot soak at Wake Foot Sanctuary. Then, relax with a glass of champagne and a good book at Battery Park.
Location: 1 Page Ave, Asheville, NC 28801
27. Relax at Pearson's Falls
Pearson's Falls is a great little waterfall, unfortunately the entrance to this one is a bit pricier than all the others. Thus, this one is best suited for those looking to avoid a lengthy hike. On the bright side, you will only have to walk a quick quarter of a mile to see this 90 foot stunner. The waterfall truly is beautiful, although it is not the best bang-for-your-buck experience. It only takes 10 minutes to hike the trail, yet costs $5 per person. In comparison, most other waterfall hikes are free and just as beautiful.
Regardless, if you seek a beautiful maintained place to enjoy a leisurely nature stroll, enjoy bird watching, and would like to see a grand waterfall without much effort, you may want to put Pearsons' high up on your list. Anyone who is up for a bit more adventure should pick amongst the multitude of free hiking options in the area.
Location: 2748 Pearson Falls Rd, Saluda, NC 28773
28. Enjoy the state's best theme park
Carowinds is one of the only theme parks in the entire state. Fortunately, it's a pretty good one. The park lies on the border of the Carolinas, and thus, has become a favorite amongst residents of both states. Featuring a mix of kiddie, family, and thrill rides, the park is fun for everyone, whether you are a kid or simply a kid at heart.
Carolina Harbor is the place to go on a hot, humid Carolina summer day. Featuring numerous water slides, a lazy river, and a wave pool, this waterpark is easily the best in the state. Be on the lookout for seasonal events including SCarowinds Halloween fest and Winterfest, a festive Christmas celebration featuring themed shows and over 5 million colorful lights.
29. Check out the independent coffee scene
The 3 most popular tourist destinations in Western North Carolina (Asheville, Hendersonville, and Boone) all see a thriving independent coffee scene. There are tons of unique coffeehouses to check out, particularly in Asheville's acclaimed downtown district.
For the highest quality, head right over to Izzy's Coffee Den, which serves coffee from renowned NYC roaster Stumptown, as well as excellent NC roaster Counter Culture. For a delicious dessert to go with your cup of joe, head over to Old Europe for a rich slice of cheesecake or chocolate croissant. If you prefer the most eclectic ambiance, sip your espresso in a double decker bus at Double D's. Outside of downtown, check out High Five at Riverside where you can enjoy your drink next to the river.
If visiting Boone, check out Higher Grounds. In Hendersonville, cozy up with an espresso at the charming Black Bear Coffee shop.
30. Cruise down the Blue Ridge Parkway
The Blue Ridge Parkway is a picturesque 469 mile stretch of roadway which has been rated "America's Favorite Drive." The drive, which runs from Shenandoah National Park to the Great Smoky Mountain National Park, is so lengthy that you could plan a whole day exploring different sights. For those limited on time, simply enjoy the scenery enroute to a waterfall or state park.
A view of the Parkway during leaf peeping season (late October)
Here is a handy BRP map to plan your adventure.
31. Hike the Triple Falls trail
Triple Falls is the best bang-for-your-buck waterfall hiking experience in the state. On this hike, you will get to see 3 gorgeous waterfalls via a moderate 2 mile out-and-back hike. Hooker Falls is a powerful voluminous waterfall, while Triple Falls and High Falls both stun with a height of 125 feet. Attention movie fans -you may remember seeing Triple Falls in The Hunger Games.
This hike is lovely anytime of year, especially during the prime of fall. Be sure to take the detour to see the gorgeous covered bridge – it will only cost you an extra 10 minutes or so and is well worth the extra effort!
32. Explore Linville Falls
Linville Falls is one of the most popular stops along the Blue Ridge Highway. This is understandable given the intense beauty of this multi-tiered 150 foot tall waterfall. Not only is the waterfall beautiful, but the hike itself is simply amazing with its' numerous overlooks, tranquil forest scenery, and extraordinary overlooks of both the waterfall and surrounding woods.
The hike is a bit steep in certain areas, however, the numerous overlooks give you plenty of time to rest and recover before continuing on. The massive 12,000 acre Linville Gorge (part of the Pisgah National Forest) truly is a gorgeous area. Appropriately, it has been nicknamed "the Grand Canyon of Southern Appalachia."
Location: Milepost 316 along the Blue Ridge Parkway
33. Plan a Whitewater rafting adventure
Rafting is a fun alternative when you tire of hiking. For the more adventurous types, whitewater rafting is a worthy addition to any WNC trip itinerary. If you've never been rafting before, you are in for the ultimate adrenaline loaded adventure.
The Nantahala Outdoor Center is amongst the most popular whitewater outfitters in the state. They offer a variety of options from relaxing float trips to advanced Class IV rafting. What better way to enjoy a hot Carolina summer afternoon than a little bit of fun-in-the-sun on the Nantahala river?
More info on Nantahala river rafting trips
34. Take a stroll through downtown Hendersonville
The charming town of Hendersonville is just a short drive from Asheville. Like Asheville, this town is also known for its' booming downtown district which includes an abundance of local dining and shopping options. There's a lot to see and do here including the Appalachian Pinball Museum, Pisgah Forest Gem Mine, and The Center for Arts. Also, be on the lookout for the 20 adorable bears that adorn Main St. Here's a handy bear map guide.
In terms of dining, there' plenty of eclectic restaurants to choose amongst. Craving some tasty pub fare? Check out Hannah Flanagan's Pub. Craving something sweet? Why not treat yourself to some dessert at CA's cheesecake? Prefer to go the simple quick route? Check out Mountain Deli, offering fresh homemade soups and sandwiches.
A full directory of downtown Hendersonville shops & dining
35. Hike to Hickory Nut Falls
Hickory Nut Falls is a mesmerizing 404 foot tall waterfall located within Chimney Rock State Park. Although climbing to the top of Chimney Rock is quite a feat, save a bit of energy to hike to this enchanting waterfall, most well-known for being featured in The Last of the Mohicans. The trail is just a mile each way and loaded with peaceful nature scenery. You will be glad you decided to take this extra trek once you come across one of the most incredible natural wonders in the state!
36. Go leaf peeping
The Western North Carolina area is no stranger to amazing fall foliage. Leaf peeping abounds at just about every turn. Whether you are hiking, mountain biking, relaxing at a park, or strolling downtown, there is fall color to be enjoyed everywhere. Mid-October to early November is typically peak fall foliage, with the higher altitude areas seeing color first.
A few great fall color hikes include Catawba Falls, Graveyard Fields, the trails at Biltmore Estate, and Mount Mitchell State Park.
Track peak color via this NC state park Leaf Watch
37. Go apple picking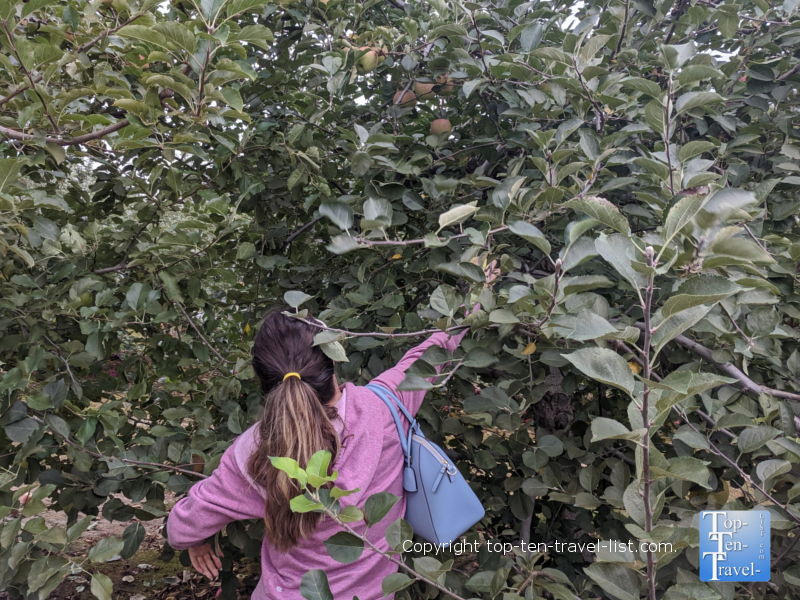 You will find no shortage of family run apple orchards in the western North Carolina region. Skip all the others lining Chimney Rock Rd and head straight to Grandad's Apples. Nothing beats picking out your own apples from the family orchard on a crisp fall day. The country mountain scenery is also gorgeous. Best of all, the on-site bakery offers fresh apple cider, apple cider donuts, and apple pie. The line is often super long, yet well worth the wait!
Location: 2951 Chimney Rock Rd, Hendersonville, NC 28792
38. Pick out your own pumpkin
With so many family farms and orchards in the area, there is no reason to resort to picking out your fall pumpkins at a grocery store. The weather is amazing this time of year for any outdoor adventures. Put on a cozy sweater, grab a Pumpkin Spice Latte, hop in the car and enjoy the crisp weather and beautiful colors of the season at any WNC farm. Check out Hickory Nut Gap Farm, Grandads, or Stepp's Hillcrest Orchard.
39. Take a stroll around the Western North Carolina Nature Center
The Western North Carolina Nature center is a 43 acre habitat for animals who otherwise would not survive in the wild. Some of the animals you see were injured, while others have been imprinted. You will see over 60 species here despite the small size including black bears, bobcats, and red pandas. The setting here is truly gorgeous, with the path around the park feeling more like a rustic nature trail. Admission is just 10 bucks and well worth the cost to support the sanctuary efforts.
Location: 75 Gashes Creek Rd, Asheville, NC 28805