12 things to do in downtown Asheville
Downtown Asheville is the central gathering place of tourists visiting nearby attractions like The Biltmore Estate, the Blue Ridge Parkway, and hikes within the gorgeous Pisgah National Forest. As the popular downtown offers a host of unique amenities of its' own including many local restaurants, independent coffeeshops, galleries, and more than 200 locally owned shops, it's no wonder that most tourists end up here at least once during their vacation. After exploring the wonders of the Blue Ridge mountains, here are some great things to do and see downtown.
1. Enjoy a great cup of coffee at High Five
Downtown Asheville is populated by many independent coffee shops. High Five is my personal favorite as they serve delicious Counter Culture coffee (a renowned roaster based in Durham) and fantastic double seeded bagels (try the homemade veggie cream cheese!). The ambiance is beautiful (brick walls and hardwood floors) and the baristas are friendly.
A full guide to downtown coffeeshops
2. Explore the works of 170+ local artists at Woolworth Walk
Asheville's vibrant art scene has landed it the appropriate nickname of "San Francisco of the East." Not only is the city home to many art galleries, but there are numerous creative festivals and markets throughout the year. The best gallery for new tourists to explore is conveniently found downtown amongst many other attractions. Woolworth Walk features unique works from over 170 local artists. Prices range from totally affordable to splurge worthy, meaning there is something for every art lover. I have found so many unique gifts here. Also on-site is a retro 50's style soda fountain.
3. Sip on champagne in a lovely library-like setting at Battery Park
Bibliophiles and wine lovers alike will want to look no further than Battery Park Book Exchange. This wine/champagne bar/book shop is located in the heart of downtown inside the historic Grove Arcade building. Here you can browse through thousands upon thousands of used and rare books all while enjoying beautiful architecture and decor, along with the finest wine and champagne. The setting is gorgeous and the collection massive.
4. Treat yourself to a high quality hot cocoa at French Broad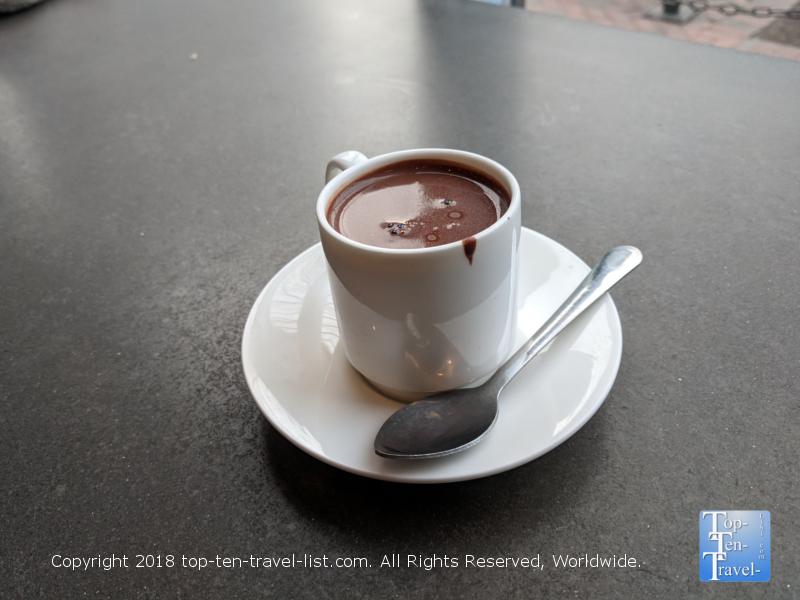 Just a short drive from downtown lies the French Broad Chocolate Lounge, where you can sign up for a tour and learn more about the process of making chocolate. At the downtown cafe, chocolate lovers can enjoy their pick amongst a variety of drinking chocolates, hand made truffles, and house made decadent desserts. Their signature Liquid Truffles (high quality rich velvety drinking chocolate) are a treat like no other). Try the Buddha (Dark Chocolate). Be prepared for a long line most weekends – don't worry it is worth the long wait!
5. Enjoy retro gaming at the Asheville Pinball Museum
Take a step back in time to the heyday of arcade and pinball gaming. Leave the cell phone at home and enjoy some fun old-fashioned pinball, arcade, and old style gaming systems like Nintendo. The retro decor/vibe here will really bring you back to the 80's. For the budget conscious, it's a fun and affordable activity which will only set you back $15 for unlimited game play. The Pinball Museum is a wonderful throwback for anyone who loves nostalgic old style gaming. Note – reservations are not taken and the line can often be very long.
6. Treat your weary feet to a luxury soak
Wake Foot Sanctuary, although quite pricey, is a luxurious treat for your feet and mind after a long day of hiking. The luxury foot spa is located inside the beautiful Grove Arcade building. The setting is super relaxed and tranquil. Here you can escape all the tourist crowds in exchange for some R&R in a beautiful zen-like spa setting. A variety of soaks are available including a relaxing lavender chamomile and a detoxing white clay. Do try the Salty beach rose featuring a heavenly combo of jasmine, rose salts, and lavender. For extra pampering, add on a hand and/or foot massage.
7. Explore the historic Grove Arcade building
This architectural gem was built in 1928 as America's first enclosed shopping mall. Original tenants included cigar and candy shops, fruit stands, barbershops, and a stenography office. At one point, the building was used to house millions of National Weather Records. Today, the Grove is a gorgeous place to dine and shop. Inside Western North Carolina's largest commercialized space, you can enjoy a variety of upscale boutique shops and restaurants, along with the Battery Park Book Exchange and Wake Foot Sanctuary. The beautiful ornate design alone warrants a visit. Grab a cup of local joe and enjoy the vibe.
To-do list
A glass of champagne at Battery Park
Coffee and authentic New Orleans's beignets at Bebette's
A relaxing foot soak at Wake
Dessert at Well Bred Bakery
Browse Blue Dharma & the Mountain Made Art Gallery
8. Explore the vibrant restaurant scene
Asheville consistently ranks as one of the top foodie cities in America. Tourists come from all over to enjoy a wide range of culinary experiences. You will find a variety of diverse choices here including Southern, soul food, as well as many globally inspired restaurants. Here are a few must-try's downtown.
Chai Pani – Award-winning street Indian food, delicious lunch thalis.
Laughing Seed – Unique vegetarian cafe serving eclectic fare.
Jerusalem Garden Cafe – Low Key Mediterranean cafe, delicious Vegetarian platter and falafel.
White Duck Tacos – A la carte tacos in a variety of creative options, hip & eclectic vibe.
Blue Dream Curry House – Delicious UK style curries.
Tupelo Honey – Popular Southern cafe serving all day brunch. Great sweet potato pancakes!
Red Ginger – Authentic Chinese in an elegant dining space.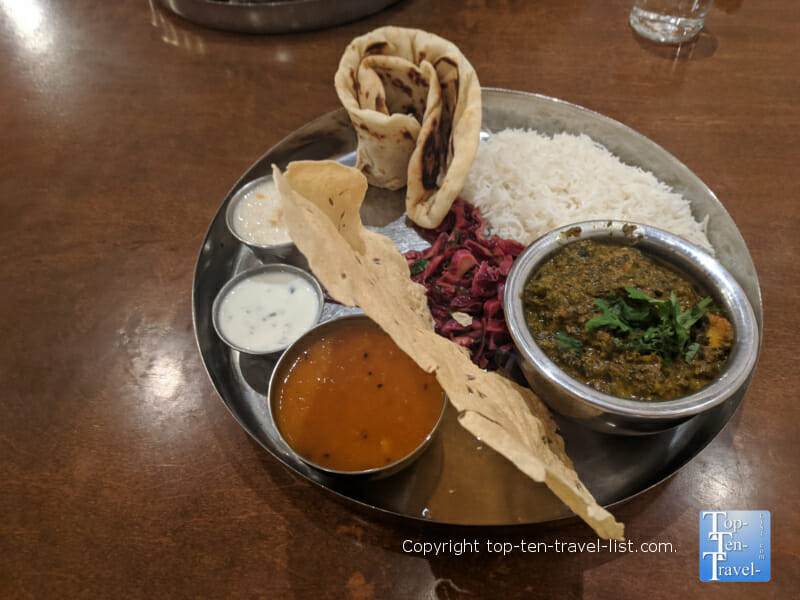 More Asheville restaurants to explore
9. Shop for unique gifts
Many independent shops populate the downtown area. You will not find any chains shops here which is great if you prefer to spend local. A few of the best:
Mast General Store – Old time general shop with a candy counter, a large outdoor apparel section, nostalgic toys & games, and local gifts/foods.
Asheville Bee Charmer – Honey of every flavor imaginable, free tastings.
L.O.F.T – Amazing selection of gifts and trinkets.
Asheville Emporium – Huge selection of creative gifts and souvenirs
10. Relax at a cozy tea house
Escape the downtown crowds for a bit at the super relaxed Dobra tea shop. This beautiful tea house features gorgeous decor and lots of cozy nooks where you can read a book, get some work done, or simply relax in a beautiful setting. The tea list is long with options for every tea lover including green, white, black, oolong, and herbal blends. Presentation is beautiful too. Overall, it's the best place to kick back and enjoy a relaxing drink in a tranquil environment.
11. Find your next novel at an independent bookshop
While you will not find a Barnes and Nobles downtown, you will find a handful of quality independent bookshops. My favorite, Downtown Books and News, is a great place to score deals on used books. The setting is so cozy and quaint with an attractive old-time vibe. Malaprops is another great local choice. Highlights here include "Blind Date with a Book," a large selection of staff favorites, and an on-site coffeeshop.
12. Explore historical sites and art via the Urban Trail
Take a self guided walk along this 1.7 mile long trail to explore more of the city's unique art and history. Along the route, you will encounter 30 different stops, each marked by an eclectic sculpture. As the downtown gets pretty crowded by mid-morning, it pays to set out early. This way you can read the signs and take lots of pictures without crowds in sight! Check out the Urban Trial map to plan your journey.
**Of course, the best attractions lie outside the city limits in the beautiful Blue Ridge mountains. Check out this handy guide: best attractions in Western North Carolina.