10 Restaurants to try in downtown Asheville
As one of the South's hottest foodie cities, there are plenty of exciting restaurants to discover in Asheville. Downtown is home to some of the area's trendiest and most well-regarded restaurants. With options spanning the culinary board, there is something here for everyone. From southern comfort fare, to fresh and creative vegetarian hotspots, to globally inspired international cuisine, Asheville offers many enticing choices. Here are a few great restaurants to check out while exploring the bustling downtown district.
1. Chai Pani
What to try: Vegetarian Thali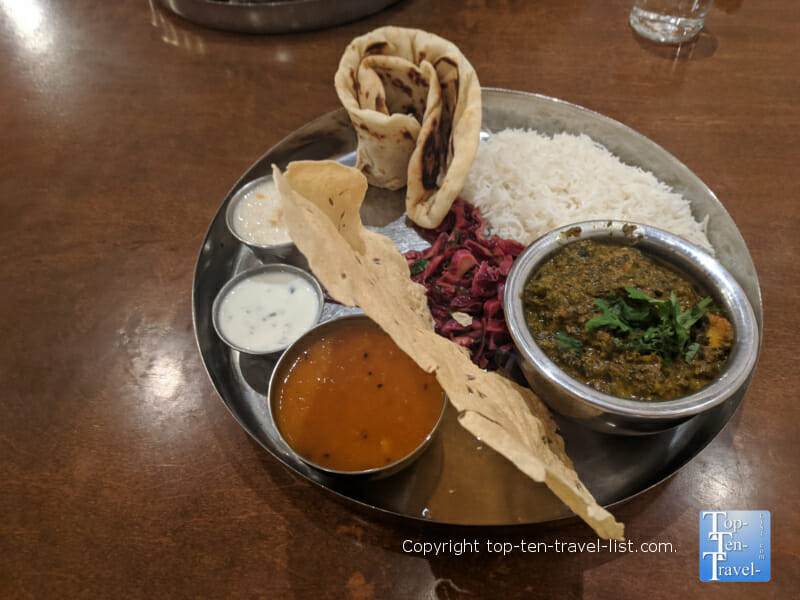 This award-winning Indian restaurant has received much praise in recent years. In fact, Chai's Chef, Meherwan Irani, has been nominated 5 times for a prestigious James Beard award. Chai Pani "tea and water" translates into going out for a snack in Indian slang. Along with a long list of tempting appetizers and snacks like Kale Pakoras and Aloo Tikki Chaat, the highlight here is the delicious lunch Thalis (veg and chicken). Try the Vegetarian Thali which includes Saag Paneer, along with basmati rice, daal, raita, masala slaw, and papadums. Add some Naan bread on the side and treat yourself to a Mango Lassi for dessert!
2. Red Ginger Dim Sum
What to try: Veggie Lo Mein
For authentic Chinese cuisine, look no further than Red Ginger. Not only does this restaurant serve the best Chinese food downtown, it also features the most gorgeous dining room. The farm-to-table ingredients, beautiful design featuring an open concept kitchen, trendy vibe, and authentic offerings has earned it the award for "the best Chinese food in Asheville" for the past 6 years. Highlights include the Vegetable Lo Mein, Hot and Sour Soup, Spring Rolls, and a large selection of seafood entrees.
3. Jerusalem Garden Cafe
What to try: Vegetarian Platter
This low-key Mediterranean Cafe is the best place to indulge in falafel, pita and hummus, and other tasty authentic Mediterranean style fare. As the tourists head over to the more popular restaurants in the vicinity, you can enjoy a laid-back experience, complete with great food served in a colorful dining room. Do try the Vegetarian Lunch Platter which includes Falafel, Hummus, Babaganoush, Olives, Stuffed Grape Leaf, Tahini Salad, Tabouleh, and Pita. If visiting for brunch, the Shashuka, a traditional Middle Eastern dish featuring poached eggs in a savory tomato based sauce, is a real winner.
4. Blue Dream Curry House
What to try: Masala Curry
This eclectic local eatery specializes in global curries. If you are seeking a casual, affordable, and delicious place to eat, it's one of the best picks downtown. This quaint cafe is never overly crowded and reservations are not necessary. Interesting appetizer selections here include Naan taco and Channa Croquettes. As for the curries, you really cannot go wrong with the flavorful Masala, a creamy tomato based UK style curry. The menu includes plenty of vegetarian and gluten-free choices, plus the option to add extra proteins and veggies to each curry.
5. Tupelo Honey
What to try: "Old Skool" Breakfast Bowl
The best southern style breakfast can be enjoyed at Tupelo Honey, a popular Asheville bred chain which has spawned many locations throughout the Southeast. Scratch made fare includes housemade buttermilk biscuits, sweet potato pancakes, fried chicken and waffles, and shrimp and grits. Start with delicious biscuits, served alongside honey and jam. For your main dish, try the Old Skool Breakfast bowl, a savory and filling entrée which includes eggs, parmesan and rosemary potatoes, salsa, cheddar cheese, roasted red peppers sauce, and heirloom grits with goat cheese.
6. Roman's
What to try: Tuna salad sandwich with tomato vegetable soup
For a delicious bowl of soup and a hearty sandwich, Roman's is the place to go. This award-winning deli has been named one of the top 12 diners in the state. Hidden on the bottom floor of the historic Vanderbilt Apartments, this no-frills local cafe draws a loyal following. Many vegetarian and gluten-free choices are on the menu so even those on a special diet can enjoy the fresh cuisine. Roman's is locally owned and works with many local businesses, thus ensuring the freshest ingredients possible. Great selection of healthy sandwiches, soups, along with fresh deli sides like potato and pasta salad.
7. Sonora Cocina Mexicana
What to try: Calabacitas tacos
For upscale Mexican cuisine, give the underrated gem Sonora a try. The dining room is colorful and modern, the vibe hip and inviting. Everything at Sonora is fresh, from the housemade tortilla chips and salsas, to the drink mixes. Start out with a trio of 3 tasty homemade salsas – pico de gallo, roja, avocado and spicy mango habanero. The menu includes an assortment of burritos, tacos, and apps (the Elote is fabulous), all featuring fresh ingredients. Tacos are priced a la cart (a mere 4 bucks) and include choice of protein and salsa. Each is topped with onion, cilantro lime slaw, queso cotija and cilantro. Veg protein include potatoes and calabacitas.
8. White Duck Tacos
What to try: Zorba taco
This popular colorful and eclectic a la carte taco cafe has been popular with locals and tourists since first opening in Asheville's funky River Arts District back in 2011. Today there are many locations including a less crowded downtown cafe. While the ambiance is not as eclectic, you can still enjoy the same incredible tacos, available in various carnivorous and veggie creations. Priced at just 4 bucks a piece, so you can mix and match several creative varieties. A few favorites include: Buffalo Chicken, Zorbra (falafel), Chicken Tikka Masala, and Black Bean Cheese. Do start with the amazing salsa trio.
9. Pack's Tavern
The best sports bar in the Asheville region is by far Pack's Tavern, featuring 35 taps, live music, big screens, and a diverse menu. The vibe is modern and clean with a really spacious attractive dining area. The menu is a bit unusual for a pub with many unique choices including a wonderful Elote dip served with tortilla chips. Burgers, pizza, calzones, subs, sandwiches, beer flights – lots of goodies to be found here. Featuring a 110″ projection screen, a wide variety of comfort foods, and a great beer menu, Pack's is the perfect place to watch any sporting event.
10. Green Sage Cafe
What to try: Pure Vida bowl
Health fanatic, eco conscious consumers, and vegetarians will definitely want to dine at Green Sage Cafe. Featuring a 95% organic menu, no GMO's, and thoughtfully sourced ingredients, Green Sage is sure to please the health conscious. Fortunately, the food here is pretty great which is not the case at many health food restaurants. On the lineup, you will find an assortment of healthy breakfast entrees, bowls, sandwiches, and salads. For breakfast, savor an organic cup of joe along with the Pure Vita bowl, a filling and delightful egg bowl which includes sautéed kale and onions, root hash, black beans, brown rice, and avocado salsa.
A few more decent choices
The Soda Fountain – Old-school 50's style soda shop located inside Woolworth Walk. A great choice for the nostalgic factor alone, although the food is just okay at best. Woolworth Walk, on the other hand, is an amazing local gallery featuring the works of over 170 local artists. Treat yourself to a sundae, banana split, or malt!
Laughing Seed – Features a 100% vegetarian menu. Dishes are creative, although a tad pricey. Nice ambiance, great daily specials. Highlights include Spinach Pesto Manicotti, Shepherd's Pie, and Thai Panang Curry.
Bargello – Upscale restaurant located inside the Kimpton Hotel. Beautiful dining space features an open concept kitchen. Visit for breakfast to take advantage of the tranquil vibe/lower pricing.
Mellow Mushroom – Popular chain serving a large menu of specialty pizzas in a funky artsy setting. Lots of vegan/GF choices. Awesome pretzel bites served with beer cheese.