15 Vegetarian Dishes to Try in Greenville, SC
South Carolina does not immediately spring to mind first when thinking of destinations with lots of vegetarian friendly cuisine. However, the popular foodie destination of Greenville has been making headlines in recent years for its' diverse culinary scene. To date, more than 1000 unique restaurants have opened across this small city. You can find almost everything here, from world-class International fare, to ramen, to homestyle Southern style cuisine, to classic European favorites like Italian, French, & Greek eateries.
More and more restaurants are offering an abundance of options for those following a vegetarian diet, with some even getting in on the vegan or plant-based scene as well. This is really great because having a healthy meal to come back to after a long day exploring the natural beauty of Upstate South Carolina is a must. For all those following a healthy diet, here are a few vegetarian friendly entrees to consider while visiting this beautiful city.
1. Tomato Pie at Kitchen Sync
Kitchen Sync is an eclectic farm-to-table restaurant specializing in healthy seasonal fare. Although there are not a whole lot of vegetarian options on the menu, the few which exist are pretty darn fantastic. The highlight here is the fresh Southern style tomato pie, typically offered during the summer months. This is one of the most delicious dishes you will try in Greenville, or elsewhere for the matter.
A tomato pie is similar to a quiche in appearance, only with savory seasoned tomatoes instead of the eggs. Served with a fresh spring salad, this is the perfect cooling dish to indulge in during Greenville's hot summer season. Also try the vegetarian friendly zucchini hummus dip for an appetizer, and treat yourself to a decadent S'mores blackout cake for dessert!
2. Half Breakfast at Biscuit Head
Biscuit Head is a trendy southern style biscuit place which originated in Asheville. Since 2013, this place has become immensely popular, and thus, has expanded to include locations in numerous southern cities including Greenville. This is the place to go for delicious cathead style biscuits, a traditional southern biscuit named as so because it is "as big as a cat's head."
Order your biscuit with gravy (a vegan chorizo gravy is available as a meat-free alternative!), or opt for the self-service jam bar with over a dozen delicious flavors. The Half Breakfast deal which includes eggs, a side, and a biscuit is the way to go. Biscuits are naturally vegetarian, with the option to pay an extra buck for a vegan/GF version. Order a fresh squeezed orange juice or cup of joe (from local roaster Pennycup) to go along with your meal.
3. Veggie on Pita at Greektown Grill
Greektown Grill is the most delicious local Greek restaurant in Greenville. This restaurant is located on a side street just off from Main Street, and thus, tends to stay a bit quieter than the more trendy places located right on tourist central. They offer a number of tasty vegetarian appetizers and entrees. Start with the spanakopita appetizer, which is a bit pricey but worth the splurge. The Flaming Saganaki Cheese is another great choice.
The veggie pita is one of the best lunch deals in town. Available daily from 11-3 as part of the special discounted lunch menu, this one is a real steal at just 8 bucks. This savory pita is stuffed with sauteed onions, peppers, and tomatoes, along with cucumbers, lettuce, feta cheese, and the tastiest tzatziki sauce. The best part of the meal is the perfectly seasoned fries, served Greek style (parmesan cheese) alongside your pita. Go ahead and treat yourself – you are on vacation, and they are worth every calorie!
4. Green Vegas bagel at Sully's Steamers
Sully's is not your ordinary bagel shop. The bagels here are steamed and gooey and delicious. Sully's offers a variety of bagel varieties, including a GF millet and flaxseed option. They offer all sorts of creative sandwiches, including several tempting veggie creations. Do consider indulging in the Green Vegas, a savory combo featuring veggie cream cheese, swiss cheese, sprouts, lettuce, avocado, and honey mustard. It's my favorite quick breakfast in town!
Sully's serves delicious coffee from local roaster Methodical, another must try while visiting downtown Greenville. Order a cup along with your bagel or head next door to Port City Java, which also serves amazing coffee. There are so many wonderful local coffeehouses in downtown Greenville!
5. Coffee and Blueberry Slab Pie at Swamp Rabbit Cafe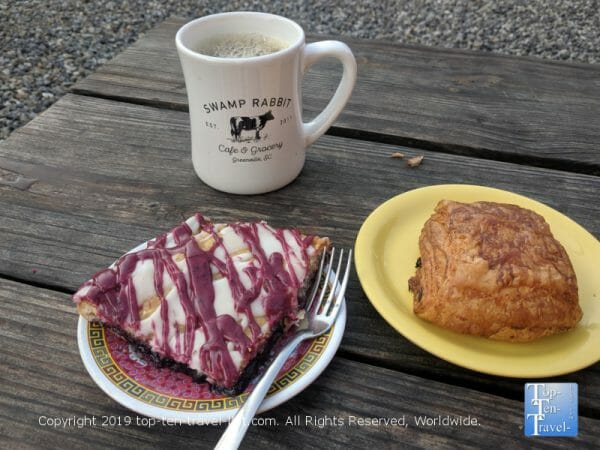 Swamp Rabbit Cafe is a haven for coffee lovers, pastry fans, health nuts, and outdoor lovers. This co-op/coffeehouse serves delicious coffee, homemade pastries, and freshly baked stecca bread. Everything here is always wonderful, whether you like chocolate croissants, donuts (vegan!), or cinnamon rolls. Try the Blueberry Slab Pie (pictured above) if it is available – it's delicious! They use local and organic ingredients when possible and everything is always homemade.
Take a seat on the outdoor patio and enjoy the mild Carolina weather as you savor organic coffee and freshly baked treats. If you are up for a bit of exercise, the Swamp Rabbit bike trails starts just behind the cafe. A fitness buff's dream, this trail runs for 22 miles, connecting various points of interest including downtown Greenville.
5. Garden skillet at Stax Omega Diner
For the heartiest, most delicious traditional breakfast fare in town, do plan for a stop at Stax Omega diner. This bustling family business has been a favorite of both locals and visitors since opening back in 1998. The menu is huge with something for everyone, including plentiful vegetarian choices.
For breakfast, you will definitely want to treat yourself to the Garden Skillet. This savory bowl includes 2 eggs your way, potatoes, cheddar cheese, and a range of sauteed veggies including mushrooms, tomatoes, peppers, and onions. It's served alongside fruit and your choice of toast (GF available) or a biscuit. It's so delicious and so filling – a real treat. Order the endless house coffee (it's great too!) and save yourself the Starbucks run!
6. Black bean tacos with chips and queso at White Duck
White Duck is your best bet for vegetarian friendly Mexican cuisine in Greenville. There are not a whole lot of quality Mexican dining choices in town, but fortunately, White Duck is there when you are craving good tacos. Start with the awesome queso dip, served with thin & crispy homemade tortilla chips. Then treat yourself to a few black beans tacos, served a la carte. Or mix and match – the mushroom, potato, & romesco and Banh Mi Tofu are also vegetarian.
Additionally, there are a number of craft beers on draft, margarita specials, and $2 tecarte. White Duck is a popular summer hangout due to the shady outdoor patio. Extra bonus – electric car charging on site!
7. Lunch buffet at Handi Indian
The best Indian cuisine is conveniently found right in the center of Main Street. Handi Indian offers a delicious affordable lunch buffet, 7 days of the week. It's always a good idea to try the lunch buffet when visiting a new Indian restaurant, one because it is much more affordable, and two because you will have the opportunity to test out a bunch of different entrees to see what you like.
Everything on Handi's buffet is always replenished and well-maintained, and the place always has a clean fresh feeling. A few of the highlights typically offered include samosas, pakoras, veggie korma, aloo gobhi, and chana masala. Do try any of these if they are offered. At least half the buffet consists of meatless entrees, thus making Handi a perfect vegetarian choice. As a bonus, the service is fantastic and the dining room is beautiful!
8. Cheese pizza at Todaro's
Todaro's is a great little local pizza place serving authentic Jersey style pizza. The basic plain cheese is always the way to go, whether one is vegetarian or not. The pizza here is by far the most delicious in town – the only place in town which serves Northeastern style pizza. The garlic knots are awesome too. If you happen to be visiting on a Monday night, you will want to stop by for $1 pizza night.
The ambiance here is super casual – overall it's just a fun place to enjoy pizza and a few drinks. Catch a game, play some bags, meet up with friends…Todaro's is the perfect summer hangout.
9. Harvest Table Buffet at Roost Restaurant
Inside the beautiful Hyatt Regency in downtown Greenville you will find a fresh farm-to-table restaurant. You do not need to be staying at this hotel to enjoy this wonderful restaurant. There are numerous veggie options on the regular menu, plus a fantastic weekday salad and soup bar known as the Harvest lunch table.
Enjoy fresh greens and veggies, various cold salads, 2 daily homemade soups (1 is always vegetarian), and flatbread. It's a great value at just 10 bucks, not to mention super healthy. If you are looking for the healthiest fare downtown, Roost is by far one of your best bets. Food aside, the indoor dining setting is modern and attractive, while the patio is perfect for people watching during the mild spring and fall season.
10. Farm Fresh Veggie plate at Tupelo Honey
Tupelo Honey is a southern comfort fare restaurant with numerous Southeastern locations. They are known for their homestyle country ambiance, southern fare, and delicious biscuits, which are served complimentary with honey and jam prior to your meal. Try the Farm Fresh Vegetable Plate, which includes 4 sides of your choice for just 12 bucks. There's lots of comfort style vegetarian choices included baked mac and cheese, parmesan and rosemary potatoes, and Yukon mashed potatoes.
The downtown Greenville location is pretty fantastic as you are just a short walk away from numerous sights of interest including beautiful Falls Park and the popular old-fashioned Mast General Store.
11. Veggie Kabob at Pomegranate on Main
Pomegranate is the place to go if you are seeking unique cuisine, which is both exotic and vegetarian. Lots of fresh healthy wraps and salads comprise the menu. The Veggie Kabob, served with basmati rice, is the perfect lunch entree. It's healthy and delicious at the same time. Start with some hummus (or any of the other delicious dips) and pita bread and you have yourself one fantastic healthy, meat-free meal!
Be sure to sit outside in the beautiful patio, if weather permits. Pomegranate is home to one of the most decorated patios downtown. Luckily, this restaurant is located on the quieter West end of Main Street and tends to receive much less tourist traffic!
12. Spanakopita at Olympian Grill
Like Greektown Grill, Olympian serves terrific authentic Greek Fare. While they do not share the same trendy downtown location, they do offer quality home-cooked fare in a no frills local setting. They also offer a number of Italian and Mediterranean options, with diverse options for everyone. Thus, this laid-back cafe is a great choice when you have a party that can't agree on one type of food.
The pizza here is quite delicious, although what really stands out is their spanakopita. It's much tastier and more filling than the appetizer offered at Greektown. This dish easily serves as its' own meal. Served alongside a side of your choice (the seasoned veggies are fantastic!) and hot rolls with tasty herb seasoned butter, the spanakopita meal is sure to please anyone.
13. Veggie fried rice at Lieu's Chinese Bistro
Chinese food is usually a safe bet when you are seeking vegetarian friendly fare. Spring rolls, miso or hot and sour soup, along with various vegetable based entrees give you plenty of choices to consider. Lieu's is a popular Chinese place which draws back repeat tourists and locals. The food is decent enough to warrant a visit, although the ambiance could be improved.
The veggie lo mein is a great choice for anyone seeking a satisfying dish that is loaded with healthy vegetables. Order a few spring rolls and soups an voila! you have the perfect vegetarian friendly meal.
14. Veggie lasagna at Portofino's
Portofino's is one of your better Greenville choices for an authentic Italian dinner. As the places downtown are a bit snooty and overpriced, Portofino's is a great alternative for the budget friendly traveler. They also offer many more vegetarian options than the downtown Italian joints, which tend to focus more on seafood. First off, you will be brought out fresh rolls and their trademark house salad. This starter is good enough in itself to justify a visit.
As far as entrees go, there are lots of ways to go. The veggie lasagna is a particular delicious choice, especially during the colder fall and winter months when you are craving something a bit more savory and filling. Definitely a delicious dish, not to mention a great value at just 12 bucks, considering the complimentary bread and rolls.
15. Roasted roots crepe at Tandem Creperie
Tandem Creperie is a cute local coffeehouse located in Travelers rest just a few minutes north of Greenville. This place is super popular most weekends as it is conveniently located enroute to many great attractions including Paris Mountain State Park, as well as endless state parks and waterfalls. Despite the crowded ambiance, the food and coffee make it worthy of a stop.
They serve Counter Culture coffee, an excellent roaster based out of Durham, NC. As for their menu, there are numerous vegetarian friendly choices, both sweet and savory. Blueberry Creme, Key Lime Pie, and Tiramisu are just a few of the sweet selections to consider. If you prefer to keep your breakfast sugar-free, consider ordering the Roasted Roots crepe, a savory selection that is loaded with healthy veggies.