20+ Amazing Local Restaurants in Asheville
Asheville is widely considered to be the top foodie destination in North Carolina. While you can find plenty of Southern staples like BBQ, biscuits and gravy, and sweet potato pancakes in town, the culinary scene is diverse enough to attract visitors from around the world. Many of the city's award-winning restaurants feature international dishes from around the world.
From Indian, Caribbean, Italian, Greek, Spanish, French, and Mediterranean cuisine, there's a unique culinary experience for everyone in Asheville to enjoy. Whether you are visiting solely to explore the local food scene, or seeking a delicious quick bite after exploring the beautiful Blue Ridge mountains, you will find something to please your palate. From a local point of view (skipping overpriced tourist traps), here are 20+ amazing local restaurants to check out on your first visit. In no particular order…
1. Chai Pani
Location: Downtown
Highlight: Best Indian food in the city
What to order: Vegetarian Thali
This popular restaurant serves Indian street fare (Chai Pani is Indian slang for "going out for a snack"). Chef Meherwan Irani has been nominated 5 times for a prestigious James Beard award. This place is trendy and busy, so arrive early to ensure timely seating. The decor is minimalistic, fresh, and modern. So many great apps to indulge in here including the Aloo Chaat (fried potatoes, chutneys, and spices). For your main meal, try their famous Thali lunch specials, available as veg (Saag Paneer) or meat (Butter Chicken).
Each thali is served with basmati rice, daal, masala slaw, raita, and papadam. A bit on the spicy side, but incredibly delicious! Be sure to add on the delicious naan. Unfortunately, there is no buffet here, but you really get a lot of food with the thali, all of which is spectacular. Be aware that the food is a bit on the spicy side. Oh and don't forget to treat yourself to a wonderful cooling rice pudding or mango lassi on a hot summer day!
2. Biscuit Head
Location: West Asheville, South Asheville, Biltmore area
Highlight: Giant cathead biscuits, GF/V options
What to order: Half Breakfast special
If you love southern style biscuits, then you definitely will want to plan for breakfast at Biscuit Head. Offering giant cathead style biscuits ("as big as a cat's head"), gravy flights, a self service jam bar, and GF/vegan options, you really cannot go wrong here. Not only is the food totally delicious, but it's also one of the more affordable breakfast options in a pricey city.
With 3 convenient locations, it's easy to plan a quick meal around your itinerary. Note: All locations usually have a long line, with the South Asheville cafe seeing the least tourist traffic. Try the wonderful Half Breakfast special which includes a huge biscuit, a side, and 2 eggs your way for under 10 bucks. Bonus – they serve coffee from local roaster Pennycup.
3. Nine Mile
Location: Montford, West Asheville, South Asheville
Highlight: Unique Caribbean fare
What to try: Cool Runnings
A frequent recipient of many "best of" awards, Nine Mile is a must try for anyone seeking something out of the ordinary. The food is Caribbean inspired, and almost any entree can be made gluten-free or vegan. For anyone with any food allergy, Nine Mile is one of the top choices in town. The décor is colorful and eclectic, and the vibe trendy, so a perfect choice for a weekend date night destination.
One unique choice here is the Cool Runnings dish featuring Cajun chicken, bell peppers, mushrooms, and fire roasted tomatoes in a smoky gouda chipotle queso sauce, served with rice, Caribbean black beans (a bit spicy), and pineapple sauce. Note most dishes can be made vegetarian by subbing veggies for protein. There's also a fantastic vegan pesto based sauce (Ire Ites). Entrees are pricy, but include a salad and Natty bread (garlic bread).
4. Vinnie's Italian
Locations: North Asheville, South Asheville
Highlight: Old school Italian vibe
What to try: Baked Ziti
For an old-school Italian meal, plan for a fabulous dinner at Vinnie's Neighborhood Italian. The vibe here is more Brooklyn or North End of Boston, rather than Carolina, and the cuisine totally authentic. Featuring all of your favorite classic Italian dishes, a cozy dining space, along with friendly service, it's no surprise that Vinnie's is often rated the top restaurant in the city.
Do start with the minestrone soup and the fabulous (although quite pricey) garlic knots. Whether you are craving Eggplant Parmesan, Fettuccini Alfredo, Chicken Marsala, or NY style pizza, Vinnie's has you covered. If weather permits, enjoy your meal on the lovely covered patio.
5. Apollo Flame Bistro
Location: West Asheville, South Asheville
Highlight: Best Greek food in the city
What to try: Vegetarian Pita (served with a Greek salad)
For the best Greek salad in the city, plan for lunch/dinner at Apollo Flame Bistro. Apollo, a family-owned business, uses family recipes passed down for over 3 generations. It has been rated the best Mediterranean restaurant in Asheville for the past 19 years! As such, you can expect crowds most of the time. Although with a spacious dining room and 2 locations, there is never a long wait.
Asides from their wonderful Greek salad, their gyro sandwiches, vegetarian pita, and Greek spaghetti are all totally worth ordering! On a side note – Apollo serves the best fries in town. Unfortunately, there is no fryer at the Hendersonville Rd. location. Also, the Brevard Rd. location is much more spacious and features a lovely patio.
6. Pack's Tavern
Location: Downtown
Highlight: 30+ local beers on tap
What to try: Elote Corn dip
This popular tavern, located near Pack's Square Park downtown, is a favorite for indulging in comfort style pub fare. It's also a great place for watching sporting events and enjoying local craft beers. The vibe is fun and youthful and the space is much bigger than most downtown establishments.
As for the menu, there are lots of fun appetizers, pizza, calzones, subs, burgers, and traditional pub entrees like Fish and Chips. The Elote (a Mexican Street corn dip) served with tortilla chips is the highlight here. Over 30 beers are on tap, plus they offer 4 different flights. As the best sports pub in the city, you don't want to miss out on this one come game day!
7. All Day Darling
Location: Montford neighborhood
Highlight: Great food and coffee in a non touristy setting
What to try: Shashuka
This unique cafe/coffeeshop serves a full coffee menu from NC award winning roaster Counter Culture, plus a unique menu of healthy breakfast/lunch fare. They offer a number of specialty drinks including a Hemp Latte and Golden Mocha featuring immune boosting turmeric. The standout dish here is a Middle Eastern favorite called the Shashuka, which consists of poached eggs in a savory tomato sauce, served with pita and sautéed kale.
Their pastries are also delicious, especially the moist blueberry muffins and flaky croissants. If you are seeking something a bit more traditional, the bagel sandwiches are terrific. The historic Montford neighborhood location sets it apart from most of the touristy downtown choices. The ambiance is just as fantastic as the food with huge floor-to-ceiling windows overlooking a leafy garden patio.
8. Jerusalem Garden Cafe
Location: Downtown
Highlight: Delicious falafel
What to try: Vegetarian Platter
This hidden gem downtown does not receive nearly as much traffic as it should due to the immediate presence of more popular tourist destinations. Nevertheless, if you are seeking delicious Mediterranean fare, you need to give it a try! A few of the standouts on the menu include the Shashuka and the Vegetarian Platter.
Offered at lunchtime for just 12 bucks, the veggie platter will enable you to enjoy a number of traditional favorites like falafel, pita bread, hummus, baba ghanoush, olives, tabbouleh, and tahini salad. The decor is eclectic and the service is great. Bonus – on Friday and Saturday nights at 7pm you will be treated to live music and belly dancing.
9. Blue Ridge Artisanal Buffet
Location: Omni Park Grove Inn
Highlight: Incredible mountain views
What to try: Chia seed pudding
Blue Ridge breakfast buffet menu
For the best views in the city, head right over to the luxurious Omni Park Grove Inn, a four star resort surrounded by the mountains. The Blue Ridge Artisanal Buffet dining room features floor-to-ceiling windows overlooking the gorgeous Blue Ridge region. There is no better view in town. While quite pricey at $30 per person for the breakfast buffet, the offerings are quite extensive. A few regular offerings include an omelet bar, juiced drinks, a donut bar, all the usual breakfast sides, bagels, croissants, and chia seed pudding. Coffee and juice included.
Service is wonderful and the ambiance beautiful. Note: Self parking is free for the first 3 hours. Use this time to relax with a coffee or drink by the massive lobby fireplace or explore the resort boutique shops. If visiting in November/December, do not miss out on the Annual Gingerbread Competition.
10. Ivory Road Kitchen
Location: Arden
Highlight: Shady outdoor patio
What to try: The Franklin Panini
This little gem is a fantastic place for a relaxed lunch experience minus the tourist crowds. Located just a few miles from the North Carolina Arboretum, it's the perfect dining option following a day of hiking. Ivory Road is located in an old converted house, and thus, the vibe is extra cozy. The large shady patio makes for one of the best alfresco dining experiences in the city. Due to the heavy shade coverage, this is a great summer dining choice.
The vibe remains attractively rustic and laid-back thanks to its' off-the-beaten path location in Arden (about 15 min from downtown). The menu is basic, although they do serve a great pimento cheese sandwich with tomato and avocado (The Franklin Panini), as well as a savory tomato basil soup. Everything is homemade and very fresh tasting. Also, they are known for their housemade desserts and large loose leaf tea selection.
11. White Duck Tacos
Locations: Downtown, South Asheville, River District
Highlight: Delicious tacos priced a la cart
What to try: The Zorba
The longtime favorite for delicious quick Mexican fare, White Duck, has expanded to include multiple locations. Start off with their delicious chips and salsa trio – the chipolte crema is so good! Tacos are served a la cart so you can mix and match between 10+ creative options. Several choices are vegetarian and/or GF free, so lots of choices for everyone here. The menu changes frequently, so there may be something completely different each time you visit.
The black bean/cheddar, tikka masala, jackfruit, and Zorba (falafel) are the best-of-the-best. Add on a side of green chile black beans and gazpacho soup for a full meal. Drink specials include $2 tecates. It's always busy although they do have a spacious outdoor seating area. The vibe is casual, funky, and trendy, with tourists and locals alike often willing to wait in a long line to enjoy the tasty fare. Note – the South Asheville location receives much less tourist traffic.
12. Laughing Seed Cafe
Location: Downtown
Highlight: 100% vegetarian menu
What to try: Massaman Curry
Laughing Seed is an international vegetarian restaurant offering healthy ethnic dishes. Contrary to most standard vegetarian cafe menus, Laughing Seed offers much more than simple salads and wraps. There's a lot to choose from here including tacos, Indian dishes, pasta dishes, and even cheesecake for dessert. The menu is 100% percent vegetarian with options for GF/vegan substitutions. The inside is very appealing with attractive decor and a spacious layout. A few great selections include Mushroom Risotto, Spinach Pesto Manicotti, and Massaman Curry.
13. The Cantina
Location: Biltmore Village
Highlight: Lively vibe
What to try: Spinach and Calabacitas Enchiladas
If you are seeking decent Tex-Mex fare in a fun setting, then head over to Biltmore Village for lunch at The Cantina. The space is colorful and inviting, the food is good, and the cafe is within walking distance to many great shops in The Village. All the traditional Mexican favorites, plus a few creative local dishes can be enjoyed at this tourist favorite.
You will find numerous GF and vegetarian options here, many more than you would typically find at a Mexican restaurant. Definitely start with the unlimited chips and salsa while waiting for your entrée. As for the menu, you will find all the tempting comfort fare selections which we all love. Whether you go with enchiladas, tacos, burritos, or fajitas, you will leave full and satisfied. Note there is a veggie version in each category.
14. Tupelo Honey
Location: Downtown, South Asheville
Highlight: Scratch made modern Southern fare
What to try: Traditional Breakfast with a side of Sweet Potato Pancakes
This Southern favorite has spawned numerous locations all across the Southeast. The original cafe opened in Asheville back in 2001. Tupelo is super busy and a bit overrated, yet still the place to go if you want to indulge in some Southern comfort fare. Their scratch made biscuits and jam make for a delicious starter. Also, their sweet potato pancakes are the best in the region. Probably loaded with calories, but a great vacation splurge.
Tupelo is known for their variety of Fried Chicken and Waffle combinations, along with Shrimp and Grits, Creole Shrimp Linguini, and Smothered Chicken. For those watching their diet, a nice fresh healthy alternative is the Farm Fresh Vegetable Plate where you can mix and match 4 sides of your choosing. Expect a long wait at one of Asheville's busiest tourist favorites, especially if you visit the downtown cafe.
15. Mehfil Indian
Location: Downtown
Highlight: The best Indian food at the best price point
What to try: The affordable & delicious lunch buffet
Mehfil is your absolute best bet for delicious, affordable, and authentic Indian cuisine in Asheville. They serve the best Indian food in the best location in the city. The lunch buffet (priced at just $10) is incredible. The nice thing about this buffet is that everything is mildly spiced and there are lots of healthy vegetarian entrees and sides to choose amongst. Buffet offerings change often, so you get to experience a wide variety of Indian specialties with each visit. I love the tandoor veggies, naan, mushroom matar, and saag aloo. Overall, Mehfil by far offers the best bang-for-your-buck lunch experience in the city.
In addition to the fabulous food, service is always wonderful and the restaurant's design is gorgeous. I love the beautiful colorful umbrellas adorning the ceiling! If you arrive early enough (this place gets busy!), request a window seat so you can people watch. Bonus – Mehfil is located downtown within walking distance of many attractions including The Asheville Art Museum.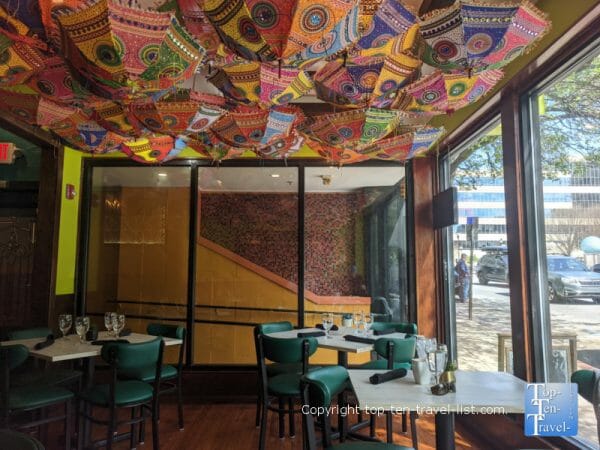 16. Red Ginger Dim Sum and Tapas
Location: Downtown
Highlight: Gorgeous modern ambiance
What to try: Veggie Lo Mein
For the most delicious and authentic Chinese food in town, plan for a wonderful meal at Red Ginger. This beautiful downtown restaurant features modern decor and an open concept kitchen. The buzzy vibe and beautiful setting make it a great choice for a fun date night out. The dedication to farm-to-table ingredients and elegant ambiance has won Red Ginger numerous awards over the years.
The dim sum style menu means you can share a bunch of small plates amongst your party. There are so many great shareable plates to choose amongst here including a sizeable selection of vegetarian options. From a mango lover's sushi roll, to buddha bean curd rolls, to mushroom dumplings, there are lots of healthy choices to indulge in. If you love seafood you will enjoy the variety here which includes entrees and apps such as grilled Chilean sea bass, amazing lobster roll, and grilled mountain trout Szechuan style.
17. Fahrenheit Pizza
Location: South Asheville
Highlight: Self-serve craft beer station
What to try: NY style pizza
Although Asheville's pizza scene is no New York or Chicago, there are a few decent local places here and there. Fahrenheit is one great local establishment to check out. This casual pizza and beer joint is located off on a side road far away from the downtown, so this is a great choice if you would like to explore the non touristy side of Asheville.
The menu is simple and includes a variety of specialty pizzas, wings, a few salads, and garlic knots. The knots are really delicious and worthy of the caloric splurge. The New York style pizza is amongst the best you will find in this region – give it a try. Another highlight here is the self service beer station. Although the design is a little bland, Fahrenheit is a great choice for a casual, no frills, comfort food splurge.
18. Andaaz
Location: Biltmore Village
Highlight: Elegant ambiance
What to try: The weekend brunch buffet
Andaaz is a gorgeous upscale Indian restaurant located in historic Biltmore Village. Not only is it the best local restaurant in the Village, it's one of the best in Asheville. Offering a delicious lunch buffet 7 days a week, you really cannot afford to miss out on this one. The elegant upscale ambiance, combined with great service and authentic Indian cuisine, makes Andaaz an easy choice for an afternoon date destination.
Everything on the buffet line is delicious especially the vegetarian options, the Naan, the rice pudding, and the paneer. The buffet line is always clean and restocked despite the heavy lunch time crowds. Be aware – this place can get really busy and noisy. Despite the rowdy setting, it's easily one of the better overall dining experiences in Asheville. Bonus – the weekend buffet includes specialty juices and mimosas.
19. Sonora
Location: Downtown
Highlight: Fresh homemade dishes
What to try: Burrito Sonora
This colorful cantina serves up modern Mexican fare in a cool space. The dining room is colorful and attractive, clean, and modern. The food is delicious and affordably priced. The freshness is really there and you can taste the homemade quality. Nothing from a can here! Because Sonora does not receive as much traffic as trendier restaurants, you can usually get right in. Don't let the lack of foot traffic fool you – this is one of Asheville's hidden foodie gems.
For starters try the delicious Elote dip and chips and salsa (all made fresh in-house). Standard favorites include burritos, specialty tacos, empanadas, and enchiladas. The best way to go here is the a la cart tacos selection. This way you can customize your protein and salsa. Vegan protein includes calabacitas and potatoes. Tacos include cilantro lime slaw, onion, queso cotija and cilantro. For under 5 bucks, this is a great deal in an otherwise pricey tourist region. For anyone really hungry, Sonora serves the best burritos in town.
20. Blue Dream Curry
Location: Downtown
Highlight: Delicious curries
What to try: Masala curry
For a quick curry fix, head downtown to local gem Blue Dream. While most tourists head to the trendier establishments, Blue Dream remains attractively quiet. The serene setting and laid-back charm make Blue Dream the perfect choice for anyone looking to hide from the tourist crowds (if just for a bit!). The dining room is simple, yet colorful and unique. During the slower afternoon hours, you can usually pick your own seat.
Blue Dream offers a simple menu of appetizers (the Naan taco is especially popular) and a selection of specialty curries. Each curry dish is flavorful and spiced to your preference. Bonus – they use local ingredients. For just 12 bucks, you can enjoy one of the more delicious meals in Asheville. I highly recommend the Masala, a creamy UK tomato based curry. All curries come loaded with seasonal veggies (protein choices for an extra fee) and can be customized (1-10) for spice level. Do add on a side of delicious Naan bread from local bakery Geraldine's.
21. Corner Kitchen
Location: Biltmore Village
Highlight: Historic charm
What to try: Eggplant Wrap
This tourist favorite is located in Biltmore Village, and thus, receives steady traffic throughout the year. The quaint setting inside a Victorian cottage definitely gives it the edge over nearby establishments. Corner serves up an enticing menu of upscale New American cuisine. As Corner Kitchen works with a number of local companies, you can expect high quality produce, meats, and cheeses. Fresh ingredients means the menu changes seasonally. Local craft beers and coffee (Pennycup) are also served here.
Sadly, they no longer serve breakfast, however, you can enjoy local farm-to-table cuisine for lunch and dinner. Recent menu highlights have included a Fried Eggplant Wrap, a Grilled Chicken Pesto Sandwich, and a Superfood Salad. If you plan on exploring Biltmore Village, Corner Kitchen is a perfect compliment to a lovely day out.
22. Mayfel's
Location: Downtown
Highlight: Best patio downtown
What to try: Beignets
This popular breakfast joint serves Louisiana style fare in a trendy space. On any given weekend, there is typically a line just to get in. The eclectic menu features traditional and New Orleans style breakfast and brunch offerings. Definitely begin your meal with an authentic beignet dusted with powdered sugar. Popular entrees include Shrimp and Grits, Chicken Creole Pastsa, Po'Boy, and Biscuits and Gravy.
The best part about dining at Mayfel's is the beautiful patio. During the spring and summer season, you will definitely want to enjoy a leisurely brunch experience on the covered patio. Inside the setting is a bit cramped and noisy, but eclectic and interesting at the same time. Mayfel's partners with a number of local businesses including Mountain City Coffee, West End Bakery, and Imladris Farm.
23. Blue Sky Cafe
Location: Fletcher
Highlight: Local charm
What to try: Black bean wrap
This casual no-frills cafe in Fletcher (just 15 min outside of Asheville) is very popular with locals. The laid-back setting, consistent quality, and affordable pricing definitely make it worthy of a drive. As a bonus, the cafe is located just minutes away from Fletcher Park – one of the nicest community parks in the region.
The design here is simple, yet colorful and inviting. This place is usually always busy. Although it's a bit of a hassle ordering at the counter, prices are low and the food is good. The menu includes a selection of salads, wraps, burgers, sandwiches, as well as healthy apps like hummus. Servings are big without sacrificing the quality. The French fries are so delicious – seriously order an extra side. I highly recommend the Black Bean wrap and Mediterranean sandwich. Each entrée comes with your choice of side (great options include pesto pasta, sautéed veggie and rice, onion rings, and a delicious Greek salad).
24. Roman's Deli
Location: Downtown
Highlight: Healthy sandwiches and deli sides
What to try: Garden veggie sandwich
For delicious soup and sandwiches, plan for lunch at Roman's. This award winning family-owned cafe downtown is the perfect stop in between exploring activities. Because the setting is so casual and relaxed, you can easily swing by for a quick meal at any point. The menu is simple with lots of sandwiches to choose amongst, including several attractive vegetarian selections.
The highlight here is the delicious homemade soups and amazing deli sides. Both the pasta and potato salad are so delicious that it is hard to choose between the 2. And the tomato vegetable soup is homemade freshness at its' best. Everything here is local, fresh, and bursting with flavor. Roman's works with a number of local companies so the quality is there. Try the Garden veggie sandwich featuring avocado, cucumber, vine ripe tomato, bell peppers, local lettuce, sweet onions, sharp provolone, and lemon herb mayor on multi grain.
25. Green Sage Cafe
Locations: Downtown, Merrimon, South Asheville
Highlight: Organic, non-GMO fare
What to try: Pure Vida bowl
For health conscious breakfast fare, there is no better choice than Green Sage Cafe. This local gem is known for their dedication to providing each customer a healthy, organic, and environmentally friendly dining experience. With 3 locations, it's easy to incorporate in a healthy meal. Lots of vegan and gluten-free choices will please even the pickiest eaters. Green Sage works with a variety of local companies. The meat and dairy are both responsibly raised and contain no added hormones. Also, most of the menu is plant based, so you will definitely get in your veggies for the day!
The vibe is clean and modern at each location with the Merrimon location seeing the least traffic. The Pura Vida breakfast bowl (featuring brown rice, black beans, 2 cage-free eggs, sautéed kale and onions, root hash, and avocado salsa) is amongst the healthiest morning meal you will find in Ashville. Not only is it super tasty, it's also very filling. Their fair-trade coffee is also perfectly brewed. Lunch offerings include a selection of healthy bowls, sandwiches, and wraps. Protein choices are varied and include wild salmon, falafel, grilled chicken, and tofu.
26. Pi Squared Pizza
Location: Arden
Highlight: Authentic Detroit pizza
What to try: Veggie Pi
The only place where you can enjoy delicious Detroit style pizza in WNC is the newly opened Pi Squared. Although this cafe is located outside of Asheville, it's worth the drive if you are craving a unique Detroit pie. If you have never tried it before, you are in for a treat! Detroit pizza features a thick and chewy crust. Next comes Wisconsin brick cheese and then sauce on top. The pie is cut into large rectangular slices.
There are two North Carolina locations including one in Arden (15 min outside of Asheville). The setting is simplistic with a unique faux brick wall and Detroit memorabilia. Lots of great specialty pies including Buffalo Chicken, BBQ Mango, and Chicken Parmesan round out the menu. For a healthier meal, try the Veggie Pi featuring mushrooms, garlic, basil, peppers, onions, black olives, and tomatoes. Also, start with an order of their amazing cheesesticks!
Also be sure to check out the best breakfast restaurants and the best local coffeeshops in Asheville.