7 Best Local Coffeeshops in Asheville, NC
Asheville's thriving local coffee scene continues to receive praise from locals and tourists alike. Instead of a common chain, consider supporting a great local business on your trip. From authentic homemade bagels, to European pastries, to award winning coffee, each coffeehouse listed below offers something special which makes it worth seeking out. There is a coffeeshop for everyone here, whether you are seeking a causal friendly vibe, a funky eclectic setting, or a beautiful patio to enjoy during the warmer season. Below is a guide to the best local coffeehouses throughout the city.
1. High Five Coffee
Location: 13 Rankin Ave (downtown), 190 Broadway St, & 2000 Riverside Dr, Woodfin
Hours: 7am-6pm (Rankin & Broadway), 8am-6pm (Woodfin)
What to try: Everything bagel with veggie cream cheese, Americano, Drip coffee
This local favorite has grown to include 3 locations, with 2 shops in Asheville, as well as a lovely riverfront cafe in nearby Woodfin. The downtown location features gorgeous original wood floors and exposed brick walls. It has that beautiful historic touch you usually only find in older cities. The Broadway location receives less traffic, and thus, is the perfect choice for studying, reading, or a quiet date. The lovely brick patio adds a unique touch. And, Woodfin is the perfect choice for anyone looking for relaxation as you can sip your cup of joe while looking out at the river.
High Five features premier Counter Culture coffee, an award winning roaster based out of Durham. The blend they use is delicious, although more on the sweet side. If you prefer medium/dark roasts, the Americano is a perfect alternative. Alternatively, if you are seeking something refreshing on a hot summer day, treat yourself to a mocha milkshake.
As for the food, their homemade bagels are the best in the city – there's no question. Try the Everything which is loaded with seeds on both side. The veggie cream cheese is the best I've ever tried anywhere, and alone makes High Five worthy of a visit.
2. Sweeten Creek Coffee
Location: 330 Sweeten Creek Rd
Hours: 7am-4pm (Mon-Fri), 8:30-3pm (Sat & Sun)
What to try: Drip coffee, Americano, Banana nut muffin, Everything bagel
This amazing local coffeehouse is attractively located far outside of the downtown limits, meaning tourist traffic is severely reduced. The vibe is cozier and friendlier than most other establishments in town. The wood furniture inside is beautiful, and they also have a nice covered patio for the warmer months. The vibe is typically tranquil and chill, so Sweeten is the perfect coffeehouse if you are seeking a laid-back option. Service is always friendly and the presentation is very nice.
Their coffee is the best in town as they serve award winning beans from a local Columbus shop. Crimson Cup and Tea won Roast Magazine's "Roaster of the year" competition in 2016. While the drip coffee (they use Armando's blend) is outstanding, they are also known for their creative espresso drink options. Try a frozen drink (Mocha, Match Green Tea, Vanilla Creme, Chai Latte, or Hot Chocolate Freeze. The Mocha Magic aka "Death by Chocolate" is a chocaholics dream with coffee blended with layers of chocolate and a mocha whip cream! On the more traditional side, their Americano is the smoothest and most delicious you will find anywhere.
Food options include authentic NY style bagels, muffins, and various pastries (baked locally).
3. City Bakery
Location: 88 Charlotte St (N. Asheville), 60 Biltmore Ave (downtown)
Hours: 7:30-2:30pm (closed Sun)
What to try: House coffee, Americano, Chocolate croissant, Poptart, Cinnamon roll
This local favorite is one of the best coffeehouses downtown, as well as one of the better bakeries in the city. Besides their fresh baked artisan breads, City Bakery specializes in all sorts of pastries, bagels, croissants, muffins, quiche, and Danishes,. They work with a number of local companies including Dynamite (fabulous organic, fair trade coffee roaster), Three Graces dairy, and Buchi Kombucha. A full espresso menu is available, although the standard house coffee is pretty perfect.
Although totally messy, their chocolate croissants are by far the best in the city. Also, the maple pop tarts and cinnamon rolls are worthy of a splurge. If you are seeking something a bit more savory, try a bagel or cheddar scallion biscuit sandwich (numerous options available include veggie).
City Bakery has 2 convenient locations – downtown and North Asheville. The downtown cafe is just 2 miles from the Biltmore and within walking distance of many local shops and restaurants. The setting is cozy and casual with a big open layout compared to most of the small cafes downtown. The Charlotte St. cafe is less hectic, the service is better, and the ambiance nicer. Because they open early, you can get a head start on your daily activities. Unfortunately, they are closed on Sundays.
4. Summit Coffee
Location: 4 Foundy St suite 20
Hours: 7am-5pm (Mon-Wed), 7am-6pm (Thurs, Fri), 8am-6pm (Sat), 8am-5pm (Sun)
What to try: House coffee, Americano, Lemon pound cake
Based in Davidson (near Charlotte), Summit has grown to include several Asheville locations. The certified organic roaster sources coffee from small lot producers from the freshest farm to cup product. A variety of espresso drinks, pour over, seasonal specials, as well as craft beer and wine are available. Food includes bagels, housemade pastries, and specialty toasts.
Summit is a great choice for anyone seeking to explore the more eclectic side of Asheville. This funky roaster is located in the artsy River Arts district. Surrounding the cafe are many colorful murals. If you are a fan of street art, you will definitely want to take a walk around. Also, there are a number of trendy restaurants and breweries in this area.
The spacious cafe is located in a beautiful reformed warehouse. The 2 floor layout means that there is plenty of space even for late risers. The exposed brick walls, bustling vibe, and artsy design make it a must visit for anyone looking to explore trendy options in town.
5. All Day Darling
Location: 102 Montford Ave.
Hours: 7am-9pm
What to try: Shashuka, Bagel sandwich, Americano, Matcha Latte, Blueberry Muffin
Located in the historic Montford neighborhood, All Day Darling remains attractively undiscovered by tourists. The vibe is charming and local. While the coffee here is delicious (they also serve Counter Culture), what they really excel in is their diverse breakfast offerings. Start with a delicious Americano or drip or splurge on a specialty drink. They offer a number of creative drinks including a Hemp Latte with CBD and Golden Milk with turmeric, both great for reducing inflammation. Do treat yourself to a Blueberry muffin as a starter – they are so moist and fresh, and not overly sweetened with sugar.
As far as food goes, there's lots of tempting options to consider. First off, the bagel sandwiches are delicious, as are the specialty toasts (mushroom/brie, smashed avocado, and almond butter with oats). Breakfast bowls, GF pancakes, a Lox Plate, and House granola with fruit are yet more tasty options. The real winner is the Shashuka, a traditional Middle Eastern dish which includes poached eggs in a savory, slightly spicy tomato sauce, served with pita and sautéed kale. It's really delicious and definitely worth trying out while you are in town.
The ambiance here is gorgeous with huge windows overlooking the garden patio and historic homes in the area. The patio is shady and tranquil, and thus, the perfect quiet weekend brunch destination. Service here is great and prices quite affordable.
Bonus – they open super early (7am), so you can get a head start on your Blue Ridge adventures.
6. Old Europe
Location: 13 Broadway St.
Hours: 7am-11pm (Midnight on Sat & Sun)
What to try: Veggie quiche, Banana bread, Almond Croissant, Macaroons, Godiva Cheesecake, Tiramisu, Turo Berry Torte
This long running tourist favorite opened in 1994, making it the longest running cafe in Asheville. Tourists flock here to indulge in their splendid assortment of desserts. As soon as you walk in, you are bombarded with an endless display case of treats of every kind. While the coffee here is not as fantastic as the other shops on this list (way too bitter), Old Europe is still worth a visit to indulge in a one-of-a-kind treat. As far as the coffee goes, the Americano is a bit smoother and lighter than the extremely dark, bitter drip. Additionally, the regular espresso drinks (cappuccino, mocha, and latte) are available.
Old Europe specializes in Hungarian desserts (the owner is from Hungary), with additional options such as various croissants, Danish, muffins, scones, macaroons, cookies, eclairs, cannoli, and cakes. Old Europe is centrally located downtown, thus making it a great place to stop for a dessert after dinner.
The dining space is small, so expect a wait during the busier tourist season (summer and early fall). The quaint ambiance and delectable pastries will make you feel as if you took a mini vacation to Paris.
7. West End Bakery
Location: 757 Haywood Rd.
Hours: 8am-2pm (Sun/Mon), 8am-9pm (Wed-Sat), Closed Tues
What to try: Pumpkin chocolate Chip Muffin, House coffee, Hummus Toast
The West End is a relaxed local coffeehouse located in a quieter section of Asheville. If you are seeking to avoid the downtown craziness, the West End is the perfect alternative. This coffeeshop serves Pennycup coffee, a popular local roaster. The drip coffee is delicious and includes free refills (one of the only place in town to do so).
The highlight here is the scratch made bread and pastries. Do try a slice of homemade bread, toasted, and topped with your choice of avocado, hummus, or local jam. It's really delicious and worth the high price tag. It's hard not to take home a delicious loaf of seeded hearth bread.
The vibe here is relaxed and local. The cafe is very spacious and able to handle busy weekend crowds. Another bonus is being located within walking distance of Biscuit Head, famous for their cathead biscuits, gravy flights, and self-service jam bar.
And another great option located nearby…
Fletcher Bakery and Cafe
Location: 235 St John Rd Suite 70, Fletcher
Hours: 7am-3pm
What to try: Blueberry Danish, Sesame bagel, Chocolate Croissant, Drip coffee
This local gem is located just outside of the city in the small community of Fletcher. It's worth the 20 min drive for the fantastic homemade pastries, fresh baked bread, and cozy vibe. Their flagship location in Flat Rock opened in 2001. Home to a large brick oven, this is where they bake their breads. Breads available after 11 at the Fletcher location, although they do offer 1/2 price day old bread (still delicious).
Fletcher Bakery offers a delicious assortment of daily treats including Danishes, bagels, muffins, cookies, and quiche. Additionally, they offer a small breakfast menu with sandwiches, various toasts, and granola available. Everything is made fresh on site so the quality really is top knotch. They use organic wheat flour and work with a number of local companies including Stepp Farms (berries), Deerwood Farms (eggs), and Farm to home milk. Bagels are boiled and baked each day. Any of the fruit Danishes and chocolate croissants are all definitely worthy of a caloric splurge. They also serve award winning Counter Culture coffee with 1 free refill for dine in guests.
The presentation is always great and the staff always friendly. The ambiance is cozy casual, similar to a Panera Bread. Fletcher is a great pick if you are looking for a local cafe far away from the tourist scene. The old-fashioned vibe means you won't see many guests on their phone or laptops. Don't leave without picking up a loaf of fresh organic artisan bread (I highly recommend the Whole grain sourdough).
Other decent options include: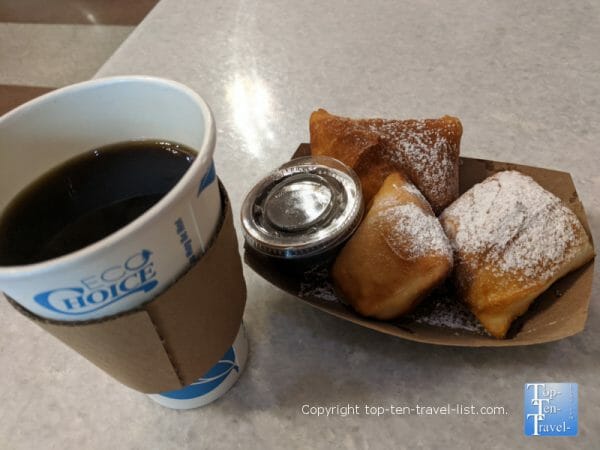 Bebette's – Serves delicious authentic New Orleans's style beignets in the historic Grove Arcade building downtown. Unfortunately, only paper cups are used and the seating is a bit limited. (1 Page Ave.)
Well Bred Bakery – Nice location at upscale historic Biltmore Village. Serves a wide variety of pastries and dessert, plus quiche and breakfast sandwiches. (6 Boston Way)