10 Relaxing things to do in Asheville, NC
At one point, Asheville was predominantly known as a low-key, artsy Bohemian city, surrounded by beautiful scenery, with close access to the Blue Ridge mountains. While the city's art scene is still considered one of the most eccentric, today, the city is more well known for its' craft brewery and foodie scene.
Asheville is a very popular tourist destination with over 10 million visitors per year. Some choose to stay and explore the various attractions around town including the Biltmore, award-winning restaurants and coffeehouses, and art galleries. Others choose to hop in the car and explore the Blue Ridge Parkway and Smoky Mountains National Park.
North Carolina in general is popular with transplants (it's the 9th fastest growing state) and Asheville's yearly population continues to grow. With all this extra traffic comes congestion, heavy traffic, and more often than not very overcrowded attractions and restaurants. Oftentimes, it's difficult to even find parking downtown (especially at night!). Fortunately, there are still a few places where you can kick back and avoid the crowds, if only for an hour or 2.
Below are 10 places where you can relax in nice surroundings without dealing with tons of tourist traffic (for now anyways!).
1. Take a stroll around the Botanical Gardens of Asheville
This small 10 acre local oasis is a beautiful place to take a stroll, anytime of year. Along with a half mile nature trail, there is a small gift shop. Pick up a birdwatching book to accompany you on your walk as this is one of the best birdwatching spots in Asheville. My favorite time to visit is during the colorful fall season, although right after a winter storm is also a magical time. While summertime sees some crowds, the traffic is considerably lighter than that which you will find on most of the more popular trails. And because you do not have to drive on the Parkway, you can cut out some added time and stress.
Location: 151 W. T. Weaver Blvd.
Admission and parking are both free (donations suggested).
Other peaceful parks for a nature walk include the Beaver Lake Bird Sanctuary and Collier Cove Nature preserve. Fletcher Park (although a bit of a drive) offers a nice long path with woodsy views.
2. Soak your achy feet at the Wake Foot Sanctuary
This luxury spa offers specialized foot soaks, available in 10 creative varieties. After a few days exploring trails in the nearby Blue Ridge mountains, your feet will probably be aching and in need of some rest and recovery. Wake Foot Sanctuary is a beautiful foot spa located inside the historic Grove Arcade building. Foot soaks are $32 – a bit on the pricey side – but worth it if you are seeking a vacation indulgence. You also have the option of adding on a massage.
The Salt Beach Rose soak is particularly relaxing. This invigorating soak features detoxing rose salts, lavender and jasmine. The scent is amazing. The room is dim and gorgeously decorated, the bath super warm and cozy (the staff will refill hot water as needed), and the ambiance just perfect for ultimate relaxation. Your feet will feel so soft and refreshed after your 45 min soak. To make the experience even more relaxing, consider adding on a fresh pot of hot tea.
I highly recommend scheduling an early morning soak so you can beat the crowds. The downtown is much more peaceful early in the morning, plus parking is a breeze to find!
Location: 1 Page Avenue
Check out the full specialty soak menu
3. Relax with a cup of tea at Dobra
Dobra is the best place in Asheville to enjoy a high quality cup of tea in a relaxing environment. Here's why they are the best. First off, they offer dozens of varieties of loose leaf tea. Second, the presentation is fabulous. No paper cups – but rather a beautiful presentation with a personal tea pot and mug(s). And finally, the space is quite big and beautifully decorated. It's easy to find your own quiet nook here. Bring a book, relax with a friend, or simply enjoy a flavorful healthy cup of tea and de-stress for a bit. The extensive menu includes many varieties of green, yellow, Pu-erh, oolong, black, and herbal teas. Specialty chai drinks are another delicious option.
Location: 78 N. Lexington Avenue
Check out the full menu of specialty teas at Dobra
4. Explore nature at the North Carolina Arboretum
Asheville's premier arboretum is located about 20 minutes outside of downtown, and thus, does not receive as much tourist traffic as it should. Although admission is free, the high parking fee ($16) may also keep some budget friendly tourists away. Despite the cost, this is a gorgeous place to enjoy nature. While most Parkway hikes and waterfalls are located at least an hour away, the 10+ miles of maintained trails here are relatively close to town in comparison.
The 1 mile Natural Gardens loop is one of the most relaxing and lush hikes you will find in the area. The 2 mile Carolina Mountain/Bent Creek loop is also a wonderful easy trek which sees very little foot traffic. I love hiking here during the peak of fall. Hands down, the arboretum is the best leaf peeping destination in the area. Visiting before 10am almost guarantees you a solitary hiking adventure. Also of interest is a world-class bonsai garden and a beautiful Quilt Garden which changes seasonally. If you have the time, take a cruise along the Parkway, located adjacent to the entrance. This portion of the drive is particularly scenic and a bit less congested.
Location: 100 Frederick Lam Olmstead Way
More info on the North Carolina Arboretum
5. Savor a cup of coffee at Sweeten Creek
Asheville is home to a number of fantastic local coffee shops. Many of these are located in the busy downtown district, and thus, are quite popular with tourists. Old Europe and City Bakery serve delicious homemade pastries, although both often have a lengthy line just to get in. One local choice which is quite laid-back is Sweeten Creek, located far away from the downtown crowds in a cozy little house. This place is never overly busy and the inside décor is cute and cozy. There is also a nice large patio which you can enjoy during the warmer months.
They serve excellent coffee from Crimson Cup, a Cleveland co. which won Roaster of the Year a few years back. Local pastries and bagels, and a whole lineup of specialty espresso drinks, are also on the menu. Anyone with a sweet tooth will want to indulge in the Mocha Magic featuring espresso layered with chocolate and topped with mocha whip cream and drizzled chocolate – it's a chocolate lovers dream!
A few other more relaxing local coffeehouses in town include High Five on Broadway and All Day Darling in the quiet Montford neighborhood. Fletcher Bakery Cafe, about a half hour outside of Asheville, is also one of the best.
Location: 330 Sweeten Creek Road
Check out my full list of best coffeehouses in Asheville
6. Explore Biltmore Village
Biltmore Village is a more quaint shopping/dining area compared to rowdy downtown Asheville. Although it receives its' fair share of tourists, no where near as many as trendy downtown which continuously receives awards for its' chef inspired restaurants. If you visit earlier in the morning, Biltmore Village is actually pretty quiet. The area is lovely with historical architecture, cobblestone streets, and pretty trees everywhere – a beautiful place for an afternoon of dining and shopping. The famous Biltmore Estate (open for tours year-round) is located just a short drive away.
Highlights of the Village include:
Andaaz – An upscale Indian restaurant serving a terrific lunch buffet in a gorgeous dining room
The Cantina – The best Tex-Mex food in town served in a spirited colorful dining room
Olde World Christmas Shop – Year-round Christmas shop filled to the brim with holiday cheer
Well Bred – Award-winning bakery specializing in pastries and desserts
7. Enjoy a drink at the Battery Park Book Exchange
The Battery Park Book Exchange is a beautiful champagne bar/book shop located in the historic Grove Arcade building in the center of bustling downtown Asheville. Here you can browse through thousands of used and rare books while sipping a glass of wine or champagne. The ambiance is very upscale and sophisticated, and thus, perfect for a date. Although quite popular with tourists, the space is quite large with plenty of seating and rooms to browse around. Also, the high pricing tends to draw many away. If you are up for a splurge, this beautiful and unique combined bar/bookshop is a must visit by any bibliophiles.
Location: 1 Page Avenue
8. Walk/bike along the French Broad River
The French Broad River Park is a beautiful space featuring plenty of greenery, serene river views, and a small nature loop. It's popular with locals whom enjoy jogging, cycling, and picnicking. As one of the shadiest parks in the region, it's the perfect oasis to escape the harsh sunlight during the summer season. Despite the close proximity to downtown, the park is peaceful most of the year, especially if you enjoy your workout during the morning hours. Connecting to the park is the 2.8 mile long French Broad Greenway. This path is perfect for long runs and leisurely bike rides. For a quiet morning of exercise with scenic views, French Broad is your best choice near downtown.
Location: 508 Riverview Drive
9. Enjoy a delicious breakfast buffet at the Omni Grove Park Inn
The 4 star Omni Grove Park Inn is no doubt the most gorgeous hotel in the Asheville area. However, it's also one of the priciest. Even if you are not staying at the resort, it's worth taking a drive over to enjoy breakfast in the gorgeous Blue Ridge Artisanal restaurant. The breakfast buffet is offered 6 days a week and includes a made-to-order omelet bar, chia seed pudding, fresh squeezed juice, donuts and pastries, an oatmeal bar, and various traditional breakfast offerings.
The best part of all is the fantastic mountain scenery as the dining room's floor-to-ceiling windows overlook the mesmerizing Blue Ridge mountains. Due to the hefty price tag, this buffet is not highly trafficked (outside of busy holiday periods). After your meal, there are a few shops to browse, an on-site hiking trail, and a massive lobby fireplace to enjoy a drink/cup of coffee.
Location: 290 Macon Avenue
10. Explore Grovewood Village
Asheville's thriving art scene includes many galleries, as well as a whole lineup of art related events and festivals during the year. Woolworth Walk is a gorgeous gallery featuring the works of 175 different artists. This place gets quite busy though. If you are seeking something a bit more off-the-beaten path, Grovewood Village (located adjacent to the Omni) is a wonderful choice. This hidden gem in an oasis of art and history. The 11 acre property is on the National Historic Register. Free attractions include an antique car museum, Grovewood Gallery, a gorgeous sculpture gallery, and Biltmore Industries Homespun museum.
The village at one point housed the weaving and woodworking operations of Biltmore Industries. Today, it is home to working artist studios and several museums. Visiting Grovewood is a great opportunity for tourists to explore the history of the area and browse for local artwork. Combine with a visit to the Omni for a perfect half day out.
If antique shopping is more your style, there are plenty of options throughout town. My favorite is Sweeten Creek Antiques. This place is huge – you could spend hours searching for treasures!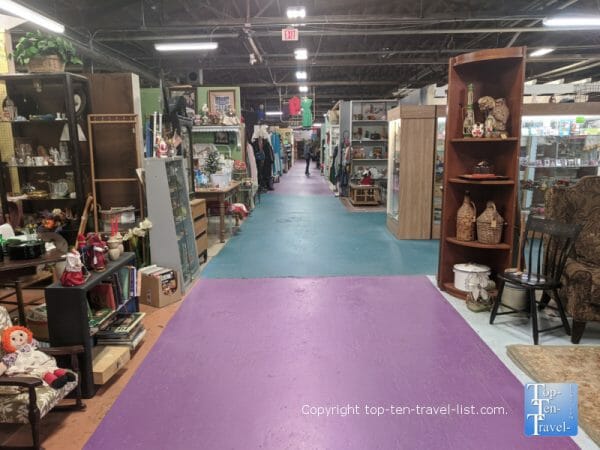 Location: 111 Grovewood Rd.
More relaxing fun in Asheville
Browse for used records. Harvest and Voltage Records are both great choices.
Hit local bookshops. Downtown Book and News and Malaprops are both fantastic.
Book a massage – always a welcome treat after much exercise.
Schedule a salt cave session. This popular alternative therapy is known to offer respiratory/sinus relief.
*Also, keep in mind that there are many great places to explore within an easy daytrip of the city. Check out these 10 amazing easy waterfall hikes and the most scenic overlooks near Asheville. All of the waterfalls and overlooks featured here require little to no effort in exchange for mesmerizing views. Thus, these are the perfect daytrip destinations for those seeking quiet, laid-back, no-stress vacation activities.